My Best Windows 10 tablet and mobile games
Games are a great way to pass the time, burn off a little stress or escape from reality. The Windows 10 Store has a huge selection of games to choose from and we all have favorites or essentials that never seem to grow old.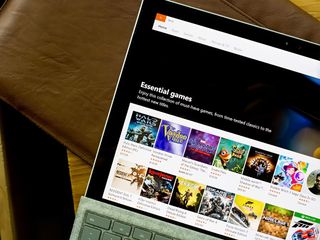 Windows 10 devices can be a great tool for productivity, but they are also make for great gaming devices. Windows 10 Mobile allows you to unwind with a game while on the go. If you sport a tablet, you have the benefit of mobility and a larger screen to satisfy your gaming itch.
Each of us has a collection of essential games that remain rooted on our hard drives, and while we may dabble with other titles, we find ourselves coming back to these go to games. These games may grow dull after a while, but never get rusty and lose their appeal. These are my personal favorites or essential Windows 10 games.
2048 Plus
I blame a former co-worker here at Windows Central for getting me hooked on 2048 Plus. Years ago, Sam Sabri suggested I give the game a try and I keep finding myself coming back to this puzzle game often.
2048 Plus is a simple game to learn but can be painfully frustrating to master. This version of the 2048 game) offers six game modes that include three game board sizes, a practice mode and two variations of the traditional format. The goal for each mode is to combine tiles of the same value until you create a collage with the value 2048. You begin gameplay with a few tiles on the board and to combine them, simply tap and slide them together. The challenge is that when you slide one tile, the entire field of tiles shifts in that direction.
With each move of the tiles, an additional tile is added to the game board. You can combine multiple tiles in one move to open up more space on the board, but keep in mind the game ends when you run out of moves on the game board. Success requires a strategic approach to not only identifying your current move, but also two or three moves in advance.
Over the years, 2048 Plus hasn't lost its appeal and remains a fun way to pass the time. Game progress is automatically saved, making it an ideal game for times you only have a few minutes to spare. 2048 Plus is a free game and available for Windows 10 Mobile.
Download 2048 Plus from the Windows Store (opens in new tab)
Asphalt 8: Airborne
There are times that I need to unwind by testing my skills behind the wheel of a muscle car and Asphalt 8: Airborne allows me to satisfy that need for speed without the risk of a costly traffic citation. The free, Xbox game title is arguably the best casual mobile racing game available in the Windows 10 Store with the likes of Asphalt Xtreme (opens in new tab) possibly being its closest rival.
Available for Windows 10 PC and Mobile, the racing game puts you behind the wheel of a huge assortment of cars (over 140) and take to the street to prove you're the king of the hill.
Graphics are nothing shy of stunning, full of detail and the slow-motion sequences brings a smile to your face. Tilt controls are responsive and do not be shocked if you find yourself leaning into the turns as you race in over 400 career events and dominate over 40 racetracks. Asphalt 8: Airborne includes a single player career mode, mastery challenges and a real-time multiplayer race for up to 12 opponents. Gameloft regularly updates this Windows 10 game with new cars and tracks to add a little more zip to the game.
If you are looking for a fast-paced, intense Windows 10 game, Asphalt 8: Airborne easily fits that bill. Gameplay is solid from a Windows 10 Mobile phone and utterly fantastic from a Windows 10 tablet.
Fallout Shelter
Fallout Shelter is a colorful city-builder game that has you managing an underground vault and surviving a post-apocalyptic world. The free game is from the creators of the popular game series Fallout (opens in new tab) and is available for Windows 10 PC and Xbox One consoles.
The goal is simple. Build the perfect vault, recruit survivors, survive missions to the Wasteland, survive attacks by raiders and Wasteland creatures, manage your resources and make sure your vault inhabitants are happy. This Windows 10 game delivers a challenging juggling act, testing your management skills.
The art direction and visuals are outstanding, and the various dwellers give the game a bit of personality. Vault construction ranges from building power plants, water treatment facilities, diners, medical centers and more. Feeling adventurous? You scavenge the wasteland for loot that can be used to build bigger and better weapons or uniforms or tackle missions to earn new gear.
There is a lot to this Windows 10 game and overall, it's a great time killer of a game. If you need any help in the post-nuclear world, check out our survival guide for Fallout Shelter.
Download Fallout Shelter from the Windows Store (opens in new tab)
Yatzy Free
Yatzy Free is an addictive, online dice game that delivers the classic game to the comfort of your Windows 10 PC or Mobile device. The free game includes three versions of the dice game, a practice mode, with support for multi-tabling that allows you to play up to four games at once.
Its gameplay pits you against an online opponent to see who can score the most points from the Yatzy scorecard. Each player is afforded three rolls of a set of five die in an effort to match key scoring goals outlined on the scorecard.
You play for gaming chips, and Yatzy Free has four betting levels that are based on your experience and chip counts. Online leaderboards allow you to compare your scores to others and a gaming statistics are available to let you review game history and performance.
Match time lasts in the neighborhood of five to ten minutes, making Yatzy Free ideal in a carpool line, waiting for a table at a restaurant or any other situation where you need help passing the time.
Download Yatzy Free from the Windows Store (opens in new tab)
Disney Emoji Blitz
There are gobs of match-three style games available in the Windows Store, and Disney Emoji Blitz may be the most animated and colorful of the bunch. The free game is available for Windows 10 PC and Mobile and has you searching for matches using Disney character emoji. There are over 500 Disney and Pixar characters immortalized in emoji form that you shift around the game board to create matches.
Gameplay includes a series of performance-based missions to tackle and plenty of power-ups to help you get there. Coins are collected during gameplay that can be used to unlock personal Disney emoji that offer unique powers that can be used during a game. For example, Mickey Mouse can generate lightning clouds on the game board that when used, wipes out entire rows of emoji from play. Tinker Bell's power is to spread the game board with pixie dust that creates random power-ups. Each character's power levels up as they earn points during gameplay.
Its graphics are wonderfully drawn up with the animated emoji providing a host of reactions as the game progress. Gameplay with Disney Emoji Blitz only lasts 60 seconds, making Disney Emoji Blitz a good choice when you only have a few minutes to spare for gameplay or when you are in the mood to lose track of time.
Download Disney Emoji Blitz from the Windows Store (opens in new tab)
If you have given any of these games a try, let us know what you think of things in the comments. Also, if you have a Windows 10 game that you keep coming back to spend a little down time with, feel free to share your Windows 10 essential game recommendation in the comments as well!
George is the Reviews Editor at Windows Central, concentrating on Windows 10 PC and Mobile apps. He's been a supporter of the platform since the days of Windows CE and uses his current Windows 10 Mobile phone daily to keep up with life and enjoy a game during down time.