My Perfect Treo Pro Setup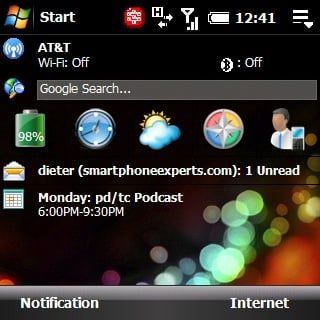 Yes, folks, my Treo Pro just landed here at WMExperts. Big thanks to everybody who sent in tips that their Treo Pros have shipped. If this weren't the internet, I'd invite you to touch my blessed, blessed head. Since we've already covered the thing six ways from Sunday (Find the full Treo Pro Review and links to a lot more coverage here), I figured the thing to do was lay out just how exactly I'm rocking this thing.
After the break, find Dieter's list of what's installed on his Treo Pro and what accessories he's rocking with it, too.
Software
SPB Mobile Shell 2 ($29.95)
What can I say about Mobile Shell that hasn't already been said in this full review? Not much: except that I still love it and using it with a flush screen makes it even better. I don't use their custom Today Screen replacement, however, as I prefer the modularity of their standard Today Screen Plugin
Kinoma Play ($29.99)
Are you surprised after I gushed about Kinoma Play in our review? You shouldn't be. Kinoma Play + 3.5mm headset jack + 8 gig memory card == bliss.
Resco File Explorer 2008 ($29.95)
Read the full review. If you want a powerhouse file manager and a great Registry editor, Resco is the one.
Opera Mobile 9.5 Beta (Free)
It's not perfect, but it's still my favorite next-gen browser for Windows Mobile Pro Touchscreen devices.
Skyfire .8 (free)
Just out and just great for multimedia web browsing.
Still the easiest way to get push email from non-Exchange email. Note: they're moving offices right now (Sept 26th), so there will be some intermittent downtime
GooSync (Free or Subscription)
I live in Gmail, so I need that gmail contact and calendar info synced. GooSync is the best of what I've tried.
GPS Info on your today screen: as Malatesta said, is "killer."
BeeJive IM (Free)
My favorite multi-client IM app right now.
...That about does it for software that's not baked-in. Of course I use Live Search, Google Maps, Telenav, and a few other pieces of built-in software like, oh, Outlook on a daily basis. I'll be adding some games and a few other games and bits as time goes on.
Accessories
maximo iMetal Isolation Headset ($69.95)
The stock headphones with the Treo Pro aren't actually all that bad, but I need noise isolating headphones and I didn't really want to give up having a microphone and button. These maximos do the job quite nicely.
BlueAnt Z9i ($74.95)
It's my favorite Bluetooth headset right now -- check out our review of its precedessor, the Z9.
SPE Sync 'n Charge Retractable Cable ($11.95)
Good in a pinch and small.
SanDisk 8gb microSDHC Card ($89.95)
Two of them, actually.
Redfly Mobile Companion ($199)
Yep, I need to pay for this stuff too and yep, the $200 price drop got me to purchase the Redfly.
Get the Windows Central Newsletter
All the latest news, reviews, and guides for Windows and Xbox diehards.