Namco Bandai has Pac-Man, racing, and fighting games in store for Xbox One and 360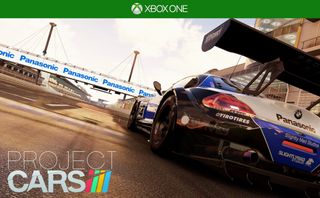 When console gamers think of Namco Bandai, they probably think of Pac-Man or Dragonball Z. But you might not know that Namco also publishes quite a few racing games – they have no less than three racers planned for Xbox consoles later this year. Let's look at that lineup!
Project CARS will make a big splash on Xbox One this November. On Xbox 360, Pac-Man and the Ghostly Adventures 2, Digimon All-Star Rumble, F1 2014, and MotoGP 2014 all arrive this fall. Finally, Dragonball Xenoverse and Tekken 7 are coming in 2015. Read on for impressions and trailers!
Coming in 2014
Project CARS
The Xbox One already has a strong racing lineup, with Forza 5 filling in the simulation end of the spectrum and the upcoming Forza Horizon providing a more arcade-style experience. Project CARS from developer Slightly Mad Studios and Namco Bandai play much closer to Forza 5 than Horizon, as it aims to be a serious racing simulation.
The scope of the racing is one thing that sets Project CARS apart – players will take control of a wide variety of vehicles, including karts! The developers promise over 60 different tracks, including real-world tracks like the Silverstone Circuit, the Hockenheimring, and the Dubai Autodrome. That's a lot of road to tear up!
Another unique feature is 2-player co-op! Players can team up as driver and co-driver, which sounds like a lot of fun. The game will also feature dynamic weather (cool!) and user-created content.
Project CARS is due out on Xbox One, Playstation 4, and PC on November 30.
Digimon All-Star Rumble
It has been much too long since a Digimon game came to America. You'd think the series had died, but it's still going strong in Japan. All-Star Rumble is the sequel to Digimon Rumble Arena 2, which graced the original Xbox way back in 2004!
The story of All-Star Rumble involves the "Digimon Evolution Tournament," a competition meant to restore the Digimon's lost ability to Digivolve (transform) into more powerful monsters. The campaign provides an actual story as well as 3D stages to explore.
The Digimon Rumble games started out as Super Smash Bros. clones, but All-Star Rumble opens up the stages a lot more. Up to four local players can battle it out in 10 different stages. The controls are designed to be easy to learn, making this a great fighting game for kids and family.
The stars of the show are (of course) the Digimon themselves. All-Star Rumble allows players to select from 12 Digimon favorites, including Agumon, Biyomon, Dorulmon, Gabumon, Gatomon, Gomamon, Shoutmon, Tentomon, and Veemon. Each monster can Digivolve into a different form, doubling the total number of characters.
Digimon Rumble Arena arrives on Xbox 360 and Playstation 3 on November 11. Yes, I still like Digimon and I'm excited for this one!
F1 2014
We covered the announcement of F1 2014 earlier this summer. The game is being developed by racing experts Codemasters and published by Namco Bandai in some territories.
This year's F1 game promises another serious racing simulation. But a new driver evaluation system will make the game more accessible to beginners by tuning settings to the player's skill level. That sounds useful to me, as I tend to slide around and bump into things a lot in racers!
The game features many authentic tracks, such as Austria's Spielberg circuit, a track filled with dramatic elevation changes. This is the first time the Spileberg circuit has appeared in one of Codemaster's games. Three more tracks make their debuts in F1 2014, including the Sochi Circuit in Russia, the Hockenheimring (also seen in Project Cars), and the Bahrain Grand Prix.
F1 2014 arrives on Xbox 360, Playstation 3, and PC on October 17. An Xbox One version is planned for next year.
MotoGP 2014
The latest in Namco Bandai's long-running MotoGP series comes from Italian developer Milestone s.r.l., who also made last year's version. If you're a fan of motorocycle racing, MotoGP is pretty much the only game in town.
This year's MotoGP features a whopping 18 tracks and more than 100 riders to put them to the test. Players can also create and customize their own unique riders and then put them through a detailed career mode.
All official nike manufacturers and racing classes appear as well, making for an highly authentic experience. Namco Bandai calls 2014 the most refined entry in the series.
MotoGP 2014 crosses the finish line on Xbox 360 and Playstation consoles on November 4. Let's hope we get an Xbox One version next year!
Pac-Man and the Ghostly Adventures 2
Last year, the CG animated cartoon series Pac-Man and the Ghostly Adventures debuted on the Disney XD channel. The show finally arrived on Netflix recently, and I must say it's quite a good show for kids. It must be doing pretty well, because Disney renewed it for another season.
Naturally Namco Bandai released an Xbox 360 game based on the Ghostly Adventures last fall, which we previewed from E3. The sequel promises more of the same great 3D platforming and colorful Pac-Man worlds. Think Mario 64-style gameplay, but with Pac-Man and ghosts.
Like the first game, Pac-Man can eat special power pellets to gain unique costumes and powers. One new transformation will change him into a towering Pac-zilla! And new to this game, players will get to control Pac's friends from the show: Cylindria and Spiral. The gang will travel through a variety of stages, including an undersea habitat and outer space.
Pac-Man and the Ghostly Adventures 2 arrives on Xbox 360, Playstation 3, and Wii U on October 14.
Coming in 2015
Dragonball Xenoverse
This year finally saw the US theatrical debut of Dragonball Z: Battle of the Gods. I caught it and came away totally impressed with the amazingly fast action and reverence for the pre-Dragonball Z era of the series. Next year, Dragonball Z fans can look forward to the most exciting DBZ game in ages.
What sets Xenoverse apart from the thousands of previous Dragonball Z games? Players get to create their own male or female custom characters, choosing from human, Saiyan, Namek, and Majin. You'll play as that character in the all-new story mode, which centers around a hub area called Toki Toki City.
The game is scheduled to feature exploration on top of actual fighting… But there will still be crazy-fast battles for up to four players. Thanks to the power of the new consoles, character faces will express emotion and pain during battle.
There are plenty of Dragonball games in the sea, but this marks the series' first appearance on Xbox One. Xbox 360 players won't have to miss out either, since Xenoverse is coming to previous gen consoles as well.
Tekken 7
If fighting while flying through the air and firing planet-destroying bursts of energy are too fantastical for you, the slightly more grounded Tekken 7 might be more to your liking. The seventh numbered entry in the long-running Tekken series will be powered by Unreal Engine 4, making for better visuals than ever before.
Namco Bandai hasn't revealed much about Tekken 7's actual gameplay, instead focuses on story teases. This entry promises to conclude the "Mishima clan saga" that has evolved throughout past games. Players will learn the mysteries behind elderly antagonist Heihachi's misdeeds, including the murder of his wife.
Tekken 7 is due out on unnamed platforms in 2015. The safe money is on Xbox One will being one of those platforms. We'll have more news in the months to come!
That's all for this preview, loyal readers. Which of Namco Bandai's games are you most excited about?
Get the Windows Central Newsletter
All the latest news, reviews, and guides for Windows and Xbox diehards.
Paul Acevedo is the Games Editor at Windows Central. A lifelong gamer, he has written about videogames for over 15 years and reviewed over 350 games for our site. Follow him on Twitter @PaulRAcevedo. Don't hate. Appreciate!