Out This Week on Xbox One: NBA 2K16, Tony Hawk Pro Skater 5, and more!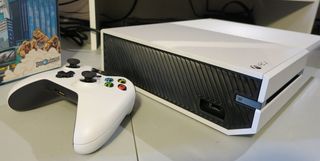 Every week, new games are released for the Xbox One. Whether they are indie titles or AAA titles, we want to make sure they're on your radar. So get your wallet ready and clear some space on your hard drive. Let's take a look at what's coming out this week for Xbox One.
Tony Hawk's Pro Skater 5
a little bit of old and a little bit of new
Tony Hawk's Pro Skater 5 takes the game back to its roots by doing away with the open world and instead has players skating at a variety of skateparks. That being said, the game also features tons of new modern features that will make any gamer happy.
Some of those features include the ability to play online with up to 20 players, create and share skateparks, and the ability to create your own skater. So if you're looking for some old-school thrashing with some modern fun, check out Tony Hawk Pro Skater 5 when it shreds its way onto the Xbox One, September 29.
NBA 2K16
be the story
The NBA 2K series has had a hold on the basketball simulation genre for a while, yet it continues to try and innovate and add new features to keep things interesting. Last year, we saw the evolution of the MyPlayer mode that allowed you to scan your face into the game and play an actual NBA career.
This year the guys at 2K Sports have teamed up with director Spike Lee to give your player a story and a purpose. Start from high school and make your way to the NBA despite some trials and tribulations. NBA 2K16 launches tomorrow, September 29 for the Xbox One.
NBA Live 16
don't call it a comeback, it's been here for years
The NBA Live franchise had been struggling to become relevant again since its fiasco back in 2010 when the canceled the game and it didn't return for three years. This year, they're focusing on player movement as well as a pro-am mode.
Players can now move freely during pick-and-rolls and post-ups and no longer rely on scripted animations. The new pro-am mode allows players to play online with their created player and has them playing in iconic indoor and outdoor courts. Along the way, you'll meet some famous athletes that gained their popularity on these courts.
NBA Live 16 dribbles its way onto the Xbox One tomorrow, September 29.
Fat City
greed city
Fat City is an action puzzler from Heavy Iron Studios. The has you playing as a former special ops agent who's loved one's life has been threatened. To save them, you create a team to help you plan and execute some of the most elaborate heists.
When performing a heist players must use their wit not only to rob their targets but to get away as well. Otherwise, you'll end up spending some time in the big house. Fat City breaks onto the Xbox One this Friday, October 2.
Fat City - Xbox Store - $18.49
The Escapists: The Walking Dead
protect the living, escape the dead
The Escapists when launched last year, it received mixed reviews due to its difficulty as well as its lack of 'guidance'. Well this year, it's back and bigger than ever and it has teamed up with the largest name in pop culture today.
The Escapists: The Walking Dead has you playing as Rick Grimes as you band together a group of survivors and take on the zombie horde as well as other potential threats such as The Governor. Play in some of The Walking Dead's iconic locales such as Woodbury and Alexandria as you craft items and create routines to survive.
The Escapists: The Walking Dead launches on the Xbox One Wednesday, September 30.
The Escapists: The Walking Dead - $!9.99
Which games are you grabbing this week? Or are you saving your money for bigger and better things? Let us know in the comments below!
Get the Windows Central Newsletter
All the latest news, reviews, and guides for Windows and Xbox diehards.