NBA Live 15 Demo coming to Xbox One on October 23rd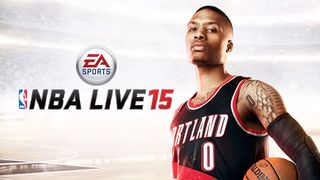 NBA Live 15 officially releases on October 28th in North America, and EA Sports has just revealed its plans for the demo. EA Access members on Xbox One can play the game before anyone else, with a 6-hour trial starting on October 23rd. The trial is the full game, and your progress and stats will carry over if you decide to purchase at a later date. We've just reviewed NBA 2K15 and loved it. Will NBA Live 15 be able to compete?
If you are not an EA Access member, you will be able to play the same six-hour trial starting on October 28th when the game launches. Again, this is the full game with a 6-hour limit. In comparison, Playstation 4 owners get a classic demo version, which only provides a Cleveland vs. Oklahoma City matchup with five-minute quarters.
Why are we looking forward to NBA Live 15? EA Sports says they've doubled down on visuals with an all-new scanning and lightning technique. They say this version of the game has most photo-realistic player models in franchise history. There are also 100+ new animations with 3x the variety of dunks, layups and signature shots. There's also a new rag-doll physics system in action. Contacts and collisions are going to look better. Gameplay is now supposedly more responsive. Watch the visuals trailer below for a quick preview.
If you're into fantasy basketball, NBA Live 15 features the Live Ultimate Team mode. You can build your own team, manage players, and go against other people's custom teams. You can earn coins to buy new packs of players, uniforms, contracts, and more.
We're certainly downloading the NBA Live 15 Demo as soon as it comes out. While you're here, let us know if you prefer full game demos with a time limit or classic demos with limited content.
Source: EA Sports
Windows Central Newsletter
Get the best of Windows Central in your inbox, every day!
Lets see, but my money is always on 2K.

NBA LIVE got so bad that after the 2009-2010 season, they tried to rebrand the series to NBA Elite. That was such an appalling failure that the game never made it to market, and they skipped making games for 3 years (2010-2012), un-rebranded the game back to NBA LIVE for the 2013-2014 season, and released a game that basically got 3 years' worth of time to be finished. What we got was NBA LIVE 14, quite possibly the worst game in the franchise, and they had THREE TIMES the development time. So, will I be getting NBA LIVE 15? No, I will not.

Im not a sports game fan, but a six hour demo of the entire game is huge! So far loving EA Access

I guess they should have Steve Ballmer in the poster

lol that would be awesome

Im not a fan of 2k so I'm hoping this game is great! I wasn't to disappointed with live 14.

Ea sports suck in NBA.....the only reason they are alive in FIFA because they bought the league rights

Also FIFA is a pretty good game, EA seems to get the football games right but horrible at basketball

EA needs to bring back MVP baseball...the fact Sony seems to have to exclusive rights to the only baseball sim is sad

I will be downloading to compare with 2K15 to see if I need toe exchange the games. Last time I played Live was in 09 so hopefully they have came a long way.

I'm pretty interested to see what live comes with. I'm a live hater but I got a gut feeling this game might be good for some reason. I loved NBA live on the ps1 but since dream cast and ps2 I've been playing 2k so that is like 14 years of 2k and I'm kind of bored with it. I want to love live again like I did when I was a kid. But if it sucks then I'll just get 2k.