NCAA March Madness Live comes to Windows Phone, watch all games live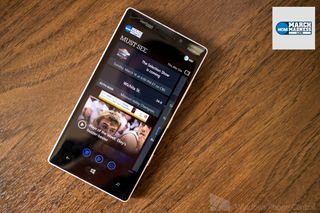 March Madness is coming soon to college basketball here in the United States. For college hoops fans this is the best time of the year. It's when 68 college basketball teams come together and compete to be number one in the entire country. Late last month we learned that there would be an official app coming to Windows Phone and Windows 8 to allow you to watch every game this tournament. That Windows Phone app is now here.
Head into the Windows Phone Store and you'll find NCAA March Madness Live. The app is the ultimate guide for everything college basketball the next couple of weeks. Here's what you get with the app:
Watch LIVE streaming of all 67 2014 NCAA Division I Men's Basketball Tournament games (paid TV subscription to TBS, TNT & truTV required for games broadcast on these three networks; CBS games do not require a paid TV subscription; 3 hour live video pass available prior to logging in.)
Follow live scores, team and player stats
Get the latest news and video highlights throughout the tournament
Make your picks and create groups in the Capital One NCAA® March Madness® Bracket Challenge, the official bracket game of the NCAA®
Stay up to date with Live tiles providing the latest news and video highlights
Receive live game alerts for your favorite teams and for upsets, overtimes, and close games
Join the conversation via Tournament Tweets
This is an app that is specific to the United States and you'll need to log in with your TV provider credentials to get the live streaming video access. That said, we're very impressed to see the app available in the Windows Phone Store five days before the tournament starts.
Download NCAA March Madness Live in the Windows Phone Store for free. There's a Windows 8 version coming too, though we're not seeing that app yet. We'll update when we find it.
Thanks for the tip everyone!
Windows Central Newsletter
Get the best of Windows Central in in your inbox, every day!
Boom!!! Just like that. And here's to hoping it works better than the on-again off-again NBC Sports Live app.

Downloaded. Signed in. Waiting to create my bracket.

is there an app for monitoring your ESPN march madness bracket????

Errr... Uhh... My team will be lucky to make the tournament.
The Georgia Bulldogs.

I live in GA and have had friends play and had the opportunity myself and I wouldn't expect to see them going deep in bracket for a while. But I love Athens ;)


Yeah they haven't been much good since the Dominique Wilkins days. That was a long time ago.
I'm just surprised they are in it at all.

A few weeks ago I joked that my Orange could lose all their remaining games and make the tourament. Oops.

I'm having issues signing in.

I was just going to ask you on twitter about the status of the app!!! Thanks for the update ... And go Arizona!!!!!

This is what I'm talking about! Downloading now!

Anybody but Duke. I got Wichita St going all the way. Probably the most underrated undefeated team in the history of sports.

Sweet! I would say they are the most underrated "overrated" team. Lol. I am a fan of them and they don't get respect. Go shocks!

A #1 seed underrated? If anything I'd say they are overrated, given their weak schedule. They have only played three top 50 schools and their conference is ranked #11, they haven't proven anything yet they will be seeded higher than teams with a lot more QUALITY wins. But that's the beauty of the tournament, right? It doesn't really matter what any of us or the talking heads on TV think, they'll have their opportunity to prove themselves.

Undefeated is undefeated. Lots of top teams have lost to unranked teams this year. They always talk about "Quality Wins", but rarely "Terrible Losses". This team just handles their business. I hope they make the Final Four...unless they are in Michigan's region! :) GO BLUE!!!

Sorry man. Business was poor today. I have Big Blue losing to Arizona.

I agree with you. They are basically untested this year. Will be really interesting to see if they are going to handle the #1 seed and go as deep as they did last year.

Come on man, it took them winning 33 or 34 games straight to FINALLY earn them the #1 ranking. Many people seem to forget that Wichita St made it to the Elite 8 last year in the NCAA tournament. It's tough to stay undefeated, regardless of your competition because they're all looking for the big upset. Ask Syracuse.

Sorry, considering the rest of my bracket I had to come back...OVERRATED!!!! No further than my Bison. As an NDSU fan though, I feel for them...nobody wants to play the little guys, makes it tough.

Shout out to San Diego State!

New Mexico Lobos all day!!

Congrats, you shut us down last night. Good luck the rest of the way!

Sorry to be off topic but, im facing some problem in my phone. While operating my phone it automatically goes to the bing search engine, many times automatically shuts down apps and returns to the main screen. Can anyone help me with a solution please!!!!!!!!

Bro. Forums. Forums. Forums. Don't be off topic in the comments. C'mon. Forums. Forums. Forums. http://forums.wpcentral.com/

Sam I got all excited as I started to read this my mind went to Formula 1. Must have live timing app. I can't even read correctly with F1 this weekend that's all that's on my mind

Have you downloaded the ESPN F1 app?

This so great... The Madness begins on next week.

Is there one for Windows 8??

And to think i had watched The Fab Five documentary last night on Netflix and then this was posted, perfect timing lol

This year's team has already done what Fab Five couldn't do: Win the B1G!
GO BLUE!

What's the the big go blue dalydose? The actual final?

This is awesome!! Except for the fact that I can't download it since it is not available for frickin WP 7.8 (not getting rid of my Lumia 900 until I see what WP8.1 will bring for hardware). Already got screwed once upgrading right before WP8 came out. Damn!

Whaa whaa whaa... that's what you said, right?

Anyone else have trouble adding a team under settings. Doesn't give me any options to select or anywhere to type anything...

It occurs to me this functionality won't be available until they've actually selected all the teams. Duh. :) Still, go Bruins!!

Come on, it's 2014. Give consumers what they want. I had to change region to USA otherwise app wasn't available. Even from PC it seems I wont be able to watch Jayhawks again this year as this requires relationship with cable operator. I need to setup a Slingbox at parent's. [Edit:] guess I could get parents' cable login as well.

TARHEELS!!!!!!!!!!!!!!!!!!!!!!!!!!!!!!!!

In the email they sent out, they called it "Windows Store" instead of "Windows Phone Store". Not a big deal (they had it right on the webpage), but still annoying. And for once, thanks AT&T! EXTREMELY disappointed that the NCAA doesn't allow paying them directly to watch all games streaming, as they have done before. I don't have cable, so only CBS games will be available for me.
Windows Central Newsletter
Thank you for signing up to Windows Central. You will receive a verification email shortly.
There was a problem. Please refresh the page and try again.