The Necromancer class is coming to Diablo 3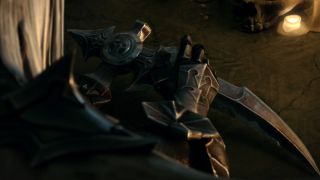 Fans of the Necromancer class from Diablo 2 will get a chance to play the class once more, as it is officially coming to Diablo 3 for PC and Xbox One. Blizzard made the announcement at Blizzcon alongside a class introduction video that should have Diablo fans hyped.
While there wasn't much information revealed about the Necromancer on stage, Blizzard did note that it will be based on the Diablo 2 version of the class with all of the improvements of Diablo 3. In other words, you can likely expect to see a lot of familiar abilities. The Necromancer will become available as part of a character pack that will go on sale in 2017.
Lastly, to celebrate the 20th anniversary of Diablo, Blizzard announced that it is bringing a playable version of the original game to Diablo 3. The experience will take you back to Tristram to venture through 16 levels with the original music and graphics filters to make the game look more like the original. The experience will be released as part of a special anniversary patch which will hit test realms next week ahead of its official release.
Get the Windows Central Newsletter
All the latest news, reviews, and guides for Windows and Xbox diehards.
Dan Thorp-Lancaster is the former Editor-in-Chief of Windows Central. He began working with Windows Central, Android Central, and iMore as a news writer in 2014 and is obsessed with tech of all sorts. You can follow Dan on Twitter @DthorpL and Instagram @heyitsdtl.
I thought Diablo was dead. I was hoping, but I was no longer daring to bet anything on that hope - And then... Not only do they rekindle my hope of more to come, but speaks of Diablo in the very long run! I cannot find words for how positively taken back I am.
By the way, I am not too sure how serious Frank was about graphics filters, I could be wrong, but I think he was just joking about that one. Time will tell.

No joke, they showed a video of 'retrovision' and it looked glorious.

Diablo is not dead. His soul is still somewhere out there :P

Excited to see this. Used to play a Necro back in D2!

So did I! Honestly can't wait to see that bone armor swirling once more!

Will we get the character on the XBox One or just PC?

You will be able to buy it on consoles too

Have played d3 quite a lot, mainly demon hunter and witch doctor, but moved along to other games since last year...if the price is right this definitely gets on my list for 2017 :)

They must remaster Diablo 2. It is the best Diablo game ever.

I am actually disappointed because we already got Witch Doctor who is pretty close to Necromancer. So Druid would be a much better fit into these classes. And they will add it in form of a PAID PACK. What the hell Blizzard, if youre gonna add character make DLC, not 2 maps and a new character. The video looks so sloppy like they dont care anymore about this game, which is not surprising.

This year at Blizzard:
"Hey guys, we have to announce something for Diablo this year at Blizzcon, because it's its 20th anniversary." - "Announce something for Dia-what??" - "It's one of our games, didn't you know that?" - "Well, ok. But we don't have any plans or ideas for new content" - "Ok, then plan b: Just throw some old content to them, and hope they are fed up!" - "Sounds great! What about...ahm...a cheap remaster of the first and a character of the second installment of this game?" - "Perfect! You know that? We can even make some money with it, we'll charge for it as a paid dlc!"
:P No seriously, of course another huge expansion with tons of new content would have been much better, but a whole new class and whatever they add around it is not too bad I think. What do we expect here, the game IS old after all. D2 also only had one big expansion, Act V with Baal I think.
Like I said above, i really like the game and if they don't make the price too insane I don't think I will be able to resist buying this, even if it's not another game-changing expansion but "only" a new class.