Netflix to stream Mystery Science Theater 3000 reboot in U.S. and other countries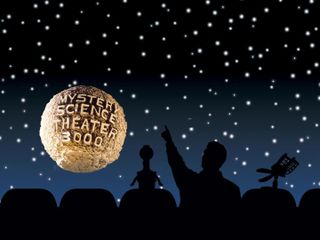 Netflix has announced it has bought the rights to stream the upcoming reboot of Mystery Science Theater 3000 in the U.S., Canada, the UK, Ireland, Australia and New Zealand.
The revival of the classic comedy TV series, where its stars make fun of really bad movies while the film is running, first received funding in 2015 via a highly successful crowdfunding campaign. It ended up wth over $6 million to spend for 14 new episodes. Netflix stated (opens in new tab):
Netflix will begin streaming the new MST3K show "in the Not-Too-Distant Future".
Awesome! Looking forward to this.

Bill and Kevin will more than likely reprise their roles as Brain Guy and Professor Bobo respectively.

Never heard of this to be honest, maybe because I'm in the UK and it may have been before my time, but it's sounds interesting, and it's coming to the UK, so I'll give it a watch, especially as it has the same writer as The Daily Show!!!!

Turn down your lights (always applicable)

One of my favorites back in my college days. Hope it's a good reboot. :)

Can't wait for it to hit thepiratebay! :)

Is that ****** baggy millennial free loader pride I smell? :)

Haha. Perhaps. I live in a small African country. I already have a Netflix subscription but with the poor selection here, half of what I watch is from torrents. The VPN block didnt help either.
Maybe I'll get extradited to the US
:D

Aren't Netlflix originals available in all markets?

Did you read the article? Did you see Africa listed there?
Opens up utorrent client.

I did, and what I'm asking is do you get other Netflix orignals as from what I understand they are available to all markets.

Yes we get some Netflix originals like Daredevil and Jessica Jones. However some are missing like Orange is the New Black. Some are a full two seasons behind like House of Cards.

Ah ok. That sucks. At least here in Canada we get them. Plus my VPN
service still works for US stuff.

Yes we get some Netflix originals like Daredevil and Jessica Jones. However some are missing like Orange is the New Black. Some are a full two seasons behind like House of Cards.

You have Netflix in Africa!!!???

Yes and the monthly fee is in dollars, same as you in the US. However the library selection is poor due to DSTV monopolising rights to most popular shows.

I thought I told you, your lasers have no effect on me. I'm the Prince of Space!

Lots of bad movies to choose from. Pilot should include latest Star Wars.

Best news I wonder if the classics will also be available? Posted via the Windows Central App for Android

Never heard of this but ill give it a blast

Is this becoming like The Verge now? What has this got to do with Windows? Are you trying to be cool posting about cultural events? Just stick to the point of this site, let other places that deal with such events cover it. You're watering down your brand. I'm already skipping half the posts here about Xbox as it doesn't interest me, but at least that's Windows so I understand you posting it. Stick to what you're good at.

It's about Netflix which has applications on Windows-based platforms.

Given that logic, where was the article announcing that Netflix has acquired [insert name of random film here]?

It was in the half he skipped.

I read it all actually, and that's my problem it wasn't anything to do with Windows. Netflix is too tenuous a link, as someone else pointed out we'd be here all day if they posted all content news for Netflix & other such apps.

Repeat to yourself "It's just a site, I should really just relax."

And so it is & I am relaxed. I just think it's a shame they are so desperate for articles that they post such tenuously linked material. I like this site, I've been coming here for years, I just worry about the direction they are taking as they have good content still but if they keep doing this it'll be a hassle to filter only interesting posts.

I understand your concern. I have been with this site for a long time as well. However, there is a difference between releasing articles on a regular basis that have nothing to do with Windows and releasing one every once in a while on a Sunday during a time where there isn't really anything to report that is of interest. Seems that looking at the comments, most people found the article interesting and most that didn't obviously passed over it. It doesn't hurt to stray away from the main topic every now and then when there isn't much to add to it. There are many sites I used to go to that don't exist anymore because they stuck strictly to the subject they were designed for. They died out because there was no content when there was no news. People stopped going to them. You have to have some filler to keep a news site alive. Best thing that can be done is keeping that filler interesting.

I wouldn't call this a "Reboot", in that the continuity is going to continue from the previous series (Felicia Day will be playing Dr. Clayton Forrester's daughter, for example). Perhaps "Revival" is a better term.

(For newcomers to the series,you won't need to have seen the original series to watch the new episodes. They all work well as standalone episodes.)

Why did they need to soak people with a Kickstarter if Netflix is going to profit from this?

How else would they have funded it? The kickstarter was over 8 months ago and this streaming deal with Netflix is recent and wouldn't have happened if the show wasn't already in production.
Windows Central Newsletter
Get the best of Windows Central in in your inbox, every day!
Thank you for signing up to Windows Central. You will receive a verification email shortly.
There was a problem. Please refresh the page and try again.