Netgear Orbi AX6000 Mesh Wi-Fi 6 vs. Eero Pro 6 Mesh Wi-Fi 6: Which should you buy?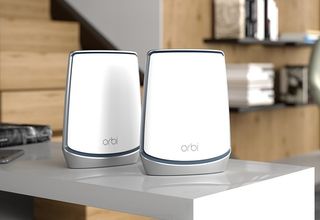 (Image credit: Netgear)
Extreme speed

The Orbi AX6000 is an ultra-fast Wi-Fi 6 system that blankets your entire home with coverage. With multi-gigabit speeds and support for a huge number of devices, the AX6000 should be all you need. It is a pricey system, however, and can quickly surpass $1,000.
For
Whole-home coverage
Speeds up to 6Gbps
Supports up to 100 devices
Against
Expensive
Includes only base and one satellite
Slower but cheaper

The Eero Pro 6 is a flexible and more affordable Wi-Fi 6 mesh system for your house. It's a solid pick if you value smart home connectivity and bank-grade security. However, it's not as impressively fast as competing devices.
For
Greater coverage potential
Built-in ZigBee
Advanced security options
Against
Can't connect as many devices
Not as fast as Orbi
Wi-Fi 6 offers the highest potential for speed, connectivity, and coverage. The Netgear Orbi AX6000 and Eero 6 Pro are relatively new entrants in the market for consumers. Where the AX6000 focuses on raw performance, the Pro 6 centers on extras like smart home powers and security. Let's see how they measure up and which may work best for you.
Netgear Orbi AX6000 or Eero Pro 6: How much coverage do you need?
Mesh networks are generally the best way to cover your entire apartment or house with a Wi-Fi signal. Consumer mesh network kits typically consist of a base and one or two satellites. The base connects directly to the modem, and the satellite helps extend coverage. Netgear and Eero go about their mesh systems in much the same way, but there are distinct differences that set them apart. Let's look at the specs.
Swipe to scroll horizontally
Header Cell - Column 0

Orbi AX6000
Eero Pro 6
Wi-Fi
Tri-band 2.4GHz/5GHz/5GHz
802.11a/b/g/n/ac/ax
Tri-band 2.4GHz/5GHz/5GHz
802.11a/b/g/n/ac/ax
Processor
2.2GHz quad-core
1.4GHz quad-core
RAM/Storage
1GB/512MB
1GB/4GB
Ports
1 2.5Gbps (in), 4 1Gbps (out)
2 1Gbps (in/out)
Smart Features
Google Assistant, Amazon Alexa
Amazon Alexa, ZigBee
Dimensions
10 x 7.5 x 2.8 inches
5.3 x 5.3 x 2.1 inches
Security
802.11i, 128-bit AES encryption
WPA-2, WPA-3
The basic Netgear Orbi AX6000 Wi-Fi 6 package includes a base and one satellite, while the Eero Pro 6 Wi-Fi 6 system includes a base and two satellites. Both Netgear and Eero offer single satellites for sale, so you can extend your coverage, depending on your home's size. The AX6000's two-piece system covers about 5,000 square feet, and the Pro 6's three-piece package covers about 6,000 square feet. That may not sound like much of a difference, but if you want a solid connection in your basement, or perhaps out in your yard, that extra bit helps.
Perhaps most importantly, both these systems will cover the vast majority of homes. The average U.S. house is about 1,600 square feet. The 5,000-6,000 square feet of coverage from the Netgear and Eero should reach every corner of your home with no problem. While coverage is important, it isn't the only factor.
Netgear Orbi AX6000 or Eero Pro 6: Which is faster?
Some people prefer speed to coverage, and that's totally fine, but there's a limitation you should know about. When it comes to raw performance, the Netgear wins handily. It is capable of speeds up to 6Gbps, while the Eero can reach only 1Gbps. Of course, you have to have the corresponding connection speed from your service provider, but most people don't.
While Verizon and other internet service providers offer gigabit service, the average consumer home internet speed is a pokey 50Mbps. In other words, the experience you see on your devices won't differ much whether they're connected to the Netgear or the Eero. You'll be able to stream just as much Netflix or Disney+ content without hiccups.
The Netgear offers more capacity or the ability to connect more things. To start, it has double the ports. That's a huge deal. In addition to an input on the base, each satellite includes four ethernet ports. That means you can connect devices such as a PlayStation 5 or Xbox Series X directly to the satellite for top wired performance. This leaves your wireless capacity more widely available to laptops, tablets, and smart home devices. The Eero, by way of comparison, offers only two ports on the satellite for direct connections.
Netgear Orbi AX6000 or Eero Pro 6: What about smarts and set up?
Speaking of smart homes, both the AX6000 and Pro 6 pack some smarts. Where the AX6000 supports Google Assistant and Amazon Alexa smart commands, the Pro 6 supports Amazon Alexa and ZigBee-based smart home products, such as lights and switches.
Apps are essential. Both Netgear and Eero know that ease of use is paramount. Apps for Android and iOS are available in the Google Play Store and iTunes App Store, respectively, and can be used to set up and manage the mesh systems.
Netgear Orbi AX6000 or Eero Pro 6:Which should you buy?
You can't go wrong with either the Netgear Orbi AX6000 Wi-Fi 6 or the Eero Pro 6 Wi-Fi 6 mesh systems. The most significant differentiator between the two is pricing. The Netgear starts at $649 for a base and one satellite. A base with two satellites costs a sobering $949. That's a lot for consumer-grade Wi-Fi. The Eero starts at a slightly more affordable $599 for the basic package. Additional satellites cost $89. Whether you're looking for speed, security, flexibility, or raw square footage, both the AX6000 and Pro 6 have you covered.
Speed Demon
A full-speed offering that costs a pretty penny.

The Netgear Orbi AX6000 Wi-Fi 6 Mesh System is an excellent option for those seeking the absolute fastest speeds available. However, you'll pay extra for that speed, and adding more satellites makes the system even pricier.
Better Coverage
The better — and more affordable — choice for most people.

The Amazon Eero Pro 6 Wi-Fi 6 Mesh System offers slightly more coverage than then Netgear at the expense of raw speed. However, most consumers can't tap into the extreme speeds of the Netgear, making the more affordable Eero Pro 6 a wiser selection.
Get the Windows Central Newsletter
All the latest news, reviews, and guides for Windows and Xbox diehards.