New features heading to Windows Phone 7: Multi-tasking, IE9, Skydrive and more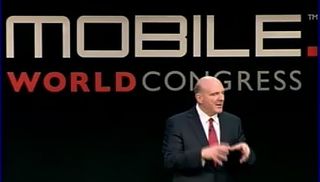 While many didn't expect much from Microsoft's Keynote Address at the 2011 Mobile World Congress, Steve Ballmer and company did find a way to surprise us. While the first part of the presentation was a re-cap of the progress Windows Phone 7 has made, the Microsoft CEO also touched on how well the new phones are being recieved by consumers. Nine out of ten Windows Phone users would recommend the phones to other and many feel that Windows Phone 7 is the easiest and most delightful to use.
Building phones that people love and that are operator friendly is the top priority at Microsoft. Ballmer also mentioned that the first update for Windows Phone 7 is only a few weeks away, being release in March and will include the copy/paste feature and overall performance enhancements. No surprises there.
But what was of some surprise is what's heading to Windows Phone 7 later this year. Here's a break down of the three major features in development for Windows Phone 7.
Internet Explorer 9: Internet Explorer 9 is heading to Windows Phone 7 and the demo presented by Joe Bellifoire was impressive. You will see HTML 5 support and hardware acceleration. IE9 will use the same engines on both the PC and Windows Phone to allow for better consistency in operation and development. It will also make use of hardware acceleration to improve the overall user experience.
Skydrive Integration: One of the glaring omissions from the Windows Phone 7 Office Hub is the lack of access to your Skydrive Account. Updates later this year will allow you to access Skydrive directly from your Windows Phone. [Users get 25GB of storage space]
Multi-Tasking: We've already touched on this but sometime in 2011 we'll see a more traditional multi-tasking ability come to Windows Phone 7. Multi-tasking that will let you resume apps instantly and that will bring a Task Switching View (e.g. Task Manager) that will allow for you to switch easily between apps. Microsoft hopes to bring a balance between protecting your phone's battery and having the ability to easily switch between apps.
There was also mention of Twitter and Kinect integration with future updates. They didn't expand much on the Twitter aspect beyond saying it would be integrated into the People Hub. But the Kinect integration looked interesting. This would turn your Windows Phone 7 device into a companion for the Kinect. In the video demonstration of this feature, the Windows Phone becomes a controller of sorts for the Kinect games. It turns a game of dodge ball into a two person game where you launch the balls from your Windows Phone and you opponent dodges them via the Kinect.
Nokia's CEO, Steve Elop, also made a cameo during the presentation to re-cap the events from the past few days concerning the Microsoft/Nokia partnership. He re-affirmed Nokia's commitment to provide the best ecosystem possible and that the partnership with Microsoft is a balance. Ballmer commented that scale and variety will help Windows Phones to thrive but also recognized that fragmentation, that is plaguing other platforms, will make the system suffer.
As always, Ballmer hinted that there was more to come with Windows Phone 7 updates. The one thing that struck me from the presentation is that Windows Phone 7 is a work in progress. Progress that Microsoft and its partners are making in careful, strategic steps in hopes of providing a competitive platform.
George is the Reviews Editor at Windows Central, concentrating on Windows 10 PC and Mobile apps. He's been a supporter of the platform since the days of Windows CE and uses his current Windows 10 Mobile phone daily to keep up with life and enjoy a game during down time.
Dumb question:What is meant by "Hardware ecceleration"?

It means that it uses your GPU to speed up the performance, in this case the IE, so it renders graphics smoother compared to having it all done on the CPU which is slower at that type of work.

Yawn.Flash video support needed in browserAbility to send/upload the videos I record on my WP7 phone to other people or to facebook/youtubeMore complete WiFi connectivity

YAWN?Skydrive Office Integration is going to be killer feature. I was rather disappointed when I first got hold of WP7.I agree that those three things need to come to WP7 sooner rather than later but this is hardly yawning territory.

Flash support is up to Adobe, and not in MS's hands. Video uploading could be coming, they said a few times that these are only some of the things coming, why show all your cards this early on, still lots of time left in 2011.

With MS, if it wasnt explicitly mentioned you cant infer anything from their cryptic comments that more things are coming. We've heard this sort of thing from them before only to have nothing happen. I personally was not impressed, by ceding control to carriers we could see the same delay with the IE9 update as we had with the C/P update, which means "2nd half 2011" could well be December or even 2012. And now they are claiming to be the most operator friendly platform? Only bad can come of this.

I will believe it when I see it. Still have yet to see 1st update.

Little over 2 weeks to go till the first update, not that far off now.

@BurnEthanolIt means that pages in Internet Explorer will be able to access the power of the hardware components like a native app would. This means that games and videos found on a webpage can behave and perform as if they were in an app running on your device. All-in-all it should make for a more enjoyable web browsing experience.

I am glad to see some sort of road map. Where is flash? i do see the omission but if HTML-5 is going to take over then i believe Flash is not as important. I do believe that though for a web browser to support all types of media content. can they do this without making the software bloated and slow/buggy?does this multi tasking mean full on multi tasking like Windows Mobile has?

Flash is up to Adobe to work out, MS isn't stopping them like Apple did. And with hardware acceleration the browser can support the new bits without being slow at all, check out the early build of IE9 running on the phone that they showed, compared to the iPhone4, it was night and day.

Great additions.I would like to see Zune get fleshed out though. As of now you can't access purchases you have made with your Zune account in a central library unless they are already on the phone, and there is no video marketplace. I can't say how disappointing that was to find out the first time I fired up "Music+Video". Not to mention it freezes and won't start back up unless I restart my phone, talk about a buzz kill.Oh and SmartDJ would be AWESOME.please fix the overly sensitive control buttons at the bottom of your phones, or at least tell the oems too. On my focus I am constantly miss clicking those damn buttons and taking myself out of applications. Tell your oems to make them actual buttons you so they aren't so easy to click on accident.
Windows Central Newsletter
Get the best of Windows Central in in your inbox, every day!
Thank you for signing up to Windows Central. You will receive a verification email shortly.
There was a problem. Please refresh the page and try again.