New Microsoft Lumia 950 and Lumia 950 XL slides confirm phones and specs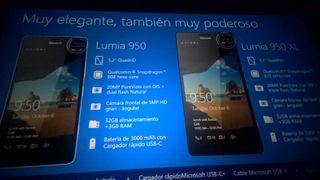 It is no mystery at this point that Microsoft intends to announce the Lumia 950 and Lumia 950 XL early next month in New York City.
Today, some slides from an internal Microsoft presentation reveal the phones in all their glory. The images were posted by the Facebook page Forever Nokia Latinoamérica, which earlier leaked the Lumia 550 as well.
Nothing new is exactly revealed as the specifications of both phones, and even their designs have been known for some time now. However, instead of just third-party renders we can get an indication of how Microsoft is going to present the phones to the public.
Included in the images are some photos of the back of the phone and the Continuum dock codenamed 'Munchkin'. The specifications for both phones are repeated below:
Lumia 950
Matte White or black polycarbonate body
5.2 inch WQHD (1440x2560) OLED display
Snapdragon 808, 64-bit Hexa-core processor
Iris scanner (near infrared) for Windows Hello
3GB of RAM
32GB of internal storage with a microSD card slot
20MP PureView camera with double LED flash
5MP Wide-angle front facing camera
3000 mAh removable battery
Qi wireless charging
USB Type-C
Lumia 950 XL
Matte White or black polycarbonate body
5.7 inch WQHD (1440x2560) OLED display
Snapdragon 810, 64-bit Octa core
Iris scanner (near-infrared) for Windows Hello
3GB of RAM
32GB of internal storage with a microSD card slot
20MP PureView camera with triple LED flash
5MP Wide-angle front facing camera
3300 mAh removable battery
Qi wireless charging
USB Type-C
Windows Central can also add some more information to these specifications, including:
Lumia 950 will now have Qi wireless charging without a flip cover
Corning Gorilla Glass 3 is used for both phones
Both phones will have Qualcomm fast charging with included rapid chargers
Some countries will have a limited promotion with a free Continuum dock with a purchase
Iris scanners are making progress and may be available without the need for an update to enable them
Both phones will have Glance
Certainly Microsoft has a lot to overcome in the following months especially with Apple launching the iPhone 6s and 6s Plus today. Do these images change your mind at all about these phones? Let us know in comments.
What to expect from Microsoft's Windows 10 devices event in NYC
Windows Central will be in New York City on October 6 to cover Microsoft's press conference. Stay tuned for our live blog and hands-on coverage of that day's events!
Update: Looks like those images must have been legit as Microsoft evidently made Forever Nokia... take them down.
Source: Forever Nokia Latinoamérica
Daniel Rubino is the Editor-in-chief of Windows Central, head reviewer, podcast co-host, and analyst. He has been here covering Microsoft since 2007 when this site was called WMExperts (and later Windows Phone Central). His interests include Windows, Microsoft Surface, laptops, next-gen computing, and for some reason, watches. Before all this tech stuff, he worked on a Ph.D. in linguistics and ran the projectors at movie theaters, which has done absolutely nothing for his career.
So much for an event now.

I still dont understand why they went with on screen buttons on the bottom instead of the real ones. No space is being saved as you can clearly see. The spot where the buttons would be, is still there.

Because on screen buttons are superior in every way.

That's just like your opinion man.

The option to turn off irritating haptic feedback wins in so many ways. I've been stuck with poxy vibrating buttons for years because the oem deemed it not an option to access.

What does haptic feedback have to do with HW buttons? You can just turn it off in the setting.

Read what he said. The vibrate disable was not an option from all handset manufacturers.

The real question with that screen is will it support and include glance. Edit: Found it. Yes, it will be included. Sold.

I miss that on my one m8 for windows.

Paul Kinslow ; Just did the heavy lifting for you by copying from the article and pasting here.. Just for you.. Windows Central can also add some more information to these specifications, including: Lumia 950 will now have Qi wireless charging without a flip cover Corning Gorilla Glass 3 is used for both phones Both phones will have Qualcomm fast charging with included rapid chargers Some countries will have a limited promotion with a free Continuum dock with a purchase Iris scanners are making progress and may be available without the need for an update to enable them Both phones will have Glance

Hopefully, the "some countries" include US. :-)

Unfortunately US sales are not meeting expectations so that market is being deprecated along with the Lumia photo apps. j/k I think.

The apps are being deprecated because it's either being rolled into the Microsoft Camera or they are changing the name.

They will probably keep the same policy as always of prioritizing the almost non existent US wp market.

lets hope that microsoft actually make this phone available to people in america instead of resticting it like they did the icon and 930, that at least will give it a chance to expand in the us.

I think "Some Countries" will be the ones where Windows Phone has failed to make any in-roads. Expect US to be "continuum dock Exclusive to AT&T" even though they said they will be doing away with exclusives. The reason is that one side of a negotiation cannot simply say, we're not playing that game anymore and have things change. If you don't play the carrier game, you don't get to be on their netowrk.

Oled with glance? Isn't that a nightmare willing to happen

Actually, OLED is ideal for glance because only the active pixels use power and emit light. Glance on LCD requires the entire screen to be backlit, though dimly, even though most pixels are not going to be lit up. Glance has logic to move the output around slightly to prevent screen burnout so it's all good. Several previous Lumias with OLED screens had Glance so it's well tested at this point.

Actually there's no backlight on IPS either. Just checked about a month ago. I think it was Nokias webpage about glance technology

really? what phones are oled with glance?. My 930 is the last flagship phone and they didnt put glance on it cause of some memory issue with oled so im really currious to know.

My Lumia 925 has an AMOLED screen and glance. It's a beatuiful thing.

sweet. I just realised my 930 is amoled so not sure what the difference is between oled and amoled, i just know i love them both. Im guessing oled so that glance could go on cause the 930 has=d some sort of memory in display issue that prevented glance, a feature id love to have.

AMOLED is basically Samsung's version of OLED. They are essentially the same thing if I am not mistaken. OLED being the more generic term for the technology.

Well Glance was actually designed with OLED displays in mind. Faster reaction times, more efficiency, and it looks nicer with 'infinite' contrast.

ill let you know. I have a 930 and i think its the best phone with 8.1 out of my 6 years of iphones and a g4 android but id have loved to have glance on it. If glace does prove a nightmare on a oled then its really simply ill turn it off because i would much rather have a oled screen as my 930 has. But if glance works then im gona be very happy too. Either way ill wait and see the phone i very much doupt microsoft would put glance on if they hadnt sorted it, after all they didnt put it on my 930 because they hadnt sorted it lol.

It would have been another fail if Glance wasn't there..
Well at least these phones look bit better than on leaked pics

I may still buy it as its the best WP, but MS has a lot of work to do on improving the visual apeal of its flagship phones. At at time when market has iPhone 6s, Galaxy S6 edge etc, releasing a phone that looks like a 2012 model is un-pardonable. Especially if Microsoft dreams about pulling in new users to its ecosystem. Heck, even the OS seems to be falling behind the curve now a days.

While I'll agree that the phones don't look as "pretty" as the Samsung or iPhones, I'll be happy to take the polycarbonate over metal any day. I have personally witnessed so many Samsung Galaxy and iPhones shatter, dent and disfigure from being dropped, while my polycarbonate Lumia Icon has been dropped several times and still looks great and works perfectly. So, the question is would you prefer rigid, pretty and breakable (or have to cover it with a protective cover hiding the pretty anyway), or would you prefer "decent looking" and flexibly solid that you don't have to cover up? Personally, I'll take the high end specs and the polycarbonate.

My polycarbonate 920 & 1020 phone screens shattered with a negligible fall. I got 1020s screen replaced but left 920 aside. So ur point doesn't hold value. Just keep your devices covered and safe so that they wont break.
And coming to the design, 2015 flagship devices with this design? MS what's wrong with you??! At least have options like 925 design or 830! Make a metal/glass one along with polycarbonate, everyone will have a choice! Anyways, I'm counting days on my 1020 now.

My 920 indeed has fallen on tar road while I was getting on a bus and it did held up. It seems that the screen standing tall depends on how it has fallen. If you want to know which phone can stay strong, I suggest you to check phone bump videos.

I dropped my 920 from over 12 foot before and my 1020 went through similar abuse with just dents. I only shattered one 920 screen because of a rock. I have an iPhone 6 which fell flat on fresh clean concrete with a case and shattered the screen. A we'll done polycarbonate absorbs much more force and can be much more durable than meta. Metal just feels fancier. That said, I would still like to see a metal Lumia.

Me too, see a metal Lumia.

The point of slimming down the Lumia line is to not releaes forty thousand different models. Having a whole bunch of design options defeats the purpose of...not having a whole ton of options.

My 920 is 50/50 the screen shattered once from a 2 ft fall after I replaced it with a another screen I threw it at my door hard enough to damage the for but it didn't break.

He's talking about the body, you're talking about the display... two different things. polycarbonate does tend to jold up netter than metal and glass phones. Also these displays are gorilla glass 3, so they should hold up better as well.

i love the look of these new phones but yeh i wish theyd ketp going with the 830-930 designs. I love the 930 look.

How many riot shields do you see made of aluminium? None. How many riot shields are made of polycarbonate? ALL OF THEM, because it's unbelievably tough and almost indestructible (hint - RIOT shield, for use in RIOTS, where people aren't known for being gentle, and tend to hurl large, heavy objects at them). What matters more - a pretty aluminium surface, or a BRIGHT, FUN, INTERCHANGEABLE polycarbonate one which protects your investment whilst it bounces back and looks FUN? Yep, the latter. Clearly not many people with much knowledge about materials science on this thread.

cool, i am buying one of these so i can shield myself in riots.

Everyone just needs to remember not to use Mr Sheen or Windex on polycarbonate surfaces as it degrades the plastic fast. It will certainly ruin the finish and weaken the structure.

Lets hope no rioters are reading this thread, or they will simply grab a bottle of windex and render the police defenceless!!

There is no way to cover a screen so it won't break, and still be usable. There are things that do a passable job protecting from scratches, but with most any material, the harder it gets (scratch resistant) the more brittle it gets (shatter prone). You just have to hope the phone doesn't land in such a way as to trigger that fault line and crack something. Softer cases on the back certainly help that, by cusheing the impact. A liitle lip on the front helps the screen from contancting anything hard and pointy, as long as it fals on a flat surface. A small sharp rock in the middile is going to be a problem. Some screen protectors will help with that. There are dozens of anecdotes for all phones where the device was left on the roof of a car, slid off in traffic and emerged with minor case scratches, and others where a 2 ft fall from a lap to a carpet yielded a shattered screen. It's a crap shoot, and that's why there is insurance, if you are prone to dropping your device.

Damage to a metal phone will depend on where it's dropped. I've seen metal phones dropped on smooth concrete floors with no damage. The greatest damage tends to occur on concrete and asphalt outdoors-but polycarbonate will scuff and the screens will shatter as well. With their recent metal phones, HTC is good not only about replacing screens, but casings as well. But regardless of the build materials one prefers, that doesn'thave to limit styling.

Indeed, regardless of aluminium or polycarbonate, if the phone fell in rough concrete and if its quite high, chances it will case damage regardless. Smartphones isn't meant to be dropped anyways though they would likely just survive with some damage but still functional. For me flagship should always go with style + specs + features since it give premium experience and makes it worthy for expensive price. I think its not because its being plastic makes it dull, its just the way it looks make is dull. No material can save if the design is uninspiring to begin with. And lastly, it doesn't matter if you put case on it because first it will be shown on the store and not all people use case.

I'm on the opposite end. Where my 920 has a bunch of dents and chips that are noticeable in the poly shell, my One really only has scratches that kind of blend in with the brushed metal. I never dropped my ATIV enough to find out how the aluminium/plastic held up. It really comes down to the personal preference on poly vs metal. I'm metal all the way since I feel like it looks more professional.

The Ativ is definitely an entirely plastic phone with faux metal finish.

@NOLATechy... Pretty is not same as that of polycarbonate buddy. My Lumia 920 is polycarbonate AND pretty. Albeit a little on the heavier side.

Also wireless charging with polycarbonate

my 930 is mostly poly at back and feels very preimium so not too fussed, that new blue design looks alot sexyer than most flagship phones i see and i include the iphone 6 in that, im not a fan of the design on them, though the galaxy g6 series is a huge improvement.

i actually apriciate the galaxy s new look but im not a fan, and the last iphone i tohugh looked good was the 4s so for me these are great looking phones, my favorite looking is between a lumia 930 and that curved moto one.

The SIM tray in my wife's 920 fails to remain seated after a drop on the corner mangled the polycarbonite to the point where it altered the shape of the SIM slot. Your point is invalid.

As long as the insides say "premium smartphone," I'm less concerned with the outside.

Idunno. How many iPhones and Galaxies are not in a case? Thanks to the polycarb, I have never run a case and that wins the styling department.

i dont have my 930 in a case, i dont even have a screen protector and there is not even a scratch on the screen. I have a small mark on the metal but its unoticable and ive droped this phone a half a dozen times. very durable.

Nokia designed those phones, Microsoft just changed around small things like adding Windows Hello and specs. Granted, Microsoft could have made their own design in all that time we've waited(McLaren was so sexy that i knew i had to have it when i saw the leaks).

More like archived designs which are rejected or because Microsoft di md tweak the design to the point it doesn't harmoniously comes together. Too bad, that McLaren prototype may come out good but also may come out bad of Microsoft tweaks it by a committee without a design sense. Still I wished they try to based from it or just reuse and update the looks of 830.

I have to agree with you, it's a big shame they didn't stick with the original mclaren phone as it most likey exhibited much more refined industrial design using existing proven Fabula design language concepts. The 950 and 950XL look like something that was dedged up last minute from the bottom of the scrap pile. They are ill concieved with a very basic and lack lustre design asethetic. Something that sports a much more generic and mid rang android OEM feel IMO.They are in no way a good direction for MSFT and their luxe/flagship line of handsets. MSFT shouldn't have rejected the most visible element of the windows phone aesthetics which includes sharp edges and sqaured off shapes. It was a positive distinction they should have pushed through all they new handsets. Why not look to the well recieved and still pleasing shapes found in the 930 and 925 for inspiration? Looking at the majority of forums it would seem most agree and fans are outright panning the designs as boring, bad and ugly, with a view to waiting for the Surface phone or relying on their existing handsets until something distinictive and befitting of a flagship is brought to market. These were not the flagships phones many have been waiting 2 years for.

i remember the mclaren it had a pretruding camera which was nearly the circumferance of the phone, a horrid lookin tab on the bottom and a very square old nokia sytle, personally i totally understand why they stoped producing that phone looking wise it was one ugly device.

I have no problems with the way it looks. I have an iPhone 5s which the contract runs out in November and will be switching most likely to the Lumia 950 XL. Need to get my hans on it first though and test it out. I also want to know if there is any truth in the Rumour of a Surface Phone being launced next year. If they are tru I'd rather hold out for that.

Remember who these flagship phones are designed for, as in not the consumer market. The target audience is the enterprise market.

Wrong that isn't the focus. MS (most likely Surface) phones with Intel's CPU will be enterprise driven devices at launch.

The Continuum dock is definitely for the mom and pop consumer market. Yeah, right.

exactly. You parents and grand parents and any mid 40s people that dont use computers in the home will love continum, for me and most of the younger generation we all have tablets, desktops, laptops so continuam isnt a huge thing. But it doesnt hurt that we get continum and it doesnt hurt that our tablets can run the millions of already out there pc software and cough cough apps, i think it might help in time, but we need a linked inbox plse .

"You parents and grand parents and any mid 40s people"...What are you? 15? Those are the people that have the money to buy 'tablets, desktops, laptops,' & phones that support continuum. Your younger demographic needs to pay of those college loans. If we had loans, they were paid off long ago. We grew up with computers, BTW, while you whippersnappers don't even remember when phones were cabled to the wall, word processing was done on a manual Royal, TV came through the air not a cable, and physics homework was done with a sliderule. (still have mine and know how to use it, in case I'm ever stuck on a desert island, with no electricity or internet, and need to do some physics). ;)

i know about 50 poeople i regard then as firneds and out of that 50 they mostly have parents and believe me thatrs alot of over 40s that dont have tablets computers some even still dont have smart phones, but in the last year or 2 that is also changeing, notice i said some. That means there are peope i know off all ages that have laptops, tablets and smart phones, id say about 20-30 % of the over 40 and im over 40 and dont include myself in this, have just a mobile phone, so im saying that 30% of people i know, again people you dont know will benifit from continum greatly but then again you know the people i know better than me dont you. I would benifit from it because well i have 1 10 inch tablet 1 desktop, i laptop and well a mobile phone, but when at home its lapy or desktop mostly. Most people around 20-30 have jobs and are working like people 40-60 but that has nothing to do with it. Plenty of poeple i know in their 40,s just dont use tech that mouch, granted its geting smaller but there is still a gap. I a complete tech freekakl but alot of my friend ssimply arent and they manage quiter well with their none smat phone and 10 year old desktops, see continum would even replace their 10 year old machines lol. Thks for the 15 comment special person.

Nope, these 2 phones are for consumers. The rumored MS/Intel phone would be for enterprise.

enterprise phones are mostly for text and email ........

If that's the case, then Microsoft shouldn't even expect them to sell well in stores and also Lumia will remain niche.

it doesnt mater if they are niche cause microsoft has downsized their phone devision so they will make a profit while us 100 million windows users can keep buying what we cansider(yes a opinion) the best smatphone os in the market. And i mean 8.1 at this stage, hopefully 10 will bring back some of the yet missing features till i can say if its up there.

MS can (and have) provided the option to fully control SW buttons. HW buttons require support / cooperation of the vendor. I couldn't ever disable it in my HTC devices.

And this is a Lumia. Any problem with disabling haptic feedback you sense?

i actually like haptic feedback but its not really something either way i have to worry about. Gestres beta would be a much more important set of features. A linked email inbox option, groove without the hamburger menu geting the photo app treatment are ALL THINGS I PUT WAY ABOVE HAVING OR NOT HAVING HAPTIC FEEDBAC.K tHAT AND A SEXY PHONE, WHICH I THINK THE 950 IS.

I'm not disagreeing with you but I've had the option to disable vibration for years now, but I only use Nokia phones so maybe others don't have the option.

Here the oem seems to be "Microsoft" and if you buy this, you will be buying a Lumia. So it is a win(disabling haptic feedback) even if it is hardware buttons.

And you gave your opinion as well. His opinion however, makes more sense than yours. If they are hardware buttons, like them or not, you're stuck with them, but on screen we can make them disappear if we don't like them. It's all about doing something that works for everyone, not just a few.

They are not going to only license these phones right? It will be released by Microsoft themselves and just like the previous poster's Lumia Icon, this Lumia is also going to have the option to disable haptic feedback. If you are going to buy a non Lumia windows phone, may be software buttons makes sense if you hate haptic feedback.

how is haptic feedback.something to hate?

There can be a legitimate debate about the relative merits of real buttons vs. on screen ones, but there is really no case to be made for capacitive ones. They use up space that could be used for more screen real estate or bigger speakers, are far too easy to hit accidentally, are 'stuck' in whatever form they come out of the factory in, and can't be hidden. I really wouldn't say it's an opinion, because there is nothing...not one thing...better about capacitive buttons.