New Microsoft Stores to open in November in Tampa and King of Prussia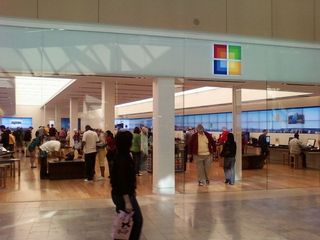 Two more US cities will see full Microsoft Store locations open in early November. The company has revealed that Tampa, Florida will see its store open on November 5 at International Plaza and Bay Street. Two days later, the King of Prussia Mall in King of Prussia, Pennsylvania will open its full Microsoft Store on November 7.
Both new store locations already had the smaller "specialty" Microsoft Stores, but these will be full retail stores, with a large number of Microsoft hardware and software products on sale. The company usually makes a big deal of the opening of new stores, with special one-day deals, celebrities appearances and even free concerts by well-known music artists.
Microsoft is also putting the finishing touches on a flagship store location in New York City on 5th Avenue, but so far, the company has yet to offer a specific opening date for that store, other than "fall 2015".
Source: Microsoft Store (Facebook)
When in California. Need more in LA

When outside America? There's Apple Stores all over Europe.

The first Apple store opened in 2001. The first UK store opened in 2004. The other European stores opened after 2008. You guys make it sound like Microsoft should open stores around the world at the same time. That doesn't happen. That said, it is a bit surprising that they haven't opened a few store in key European cities at this point. I'm guessing they want to build out the US more before they focus on Europe. Hell, the New York City store is only now being opened. I would think NYC would be one of the first places you would want to open a store.

Specialty store lol? King of Prussia had a kiosk. Glad to see they're going to put in a full store, lord knows they're doing serious construction on KoP.

Yea that kiosk wasn't cutting it BUT they did have a power cord for the OG Surface Pro when I desperately need one.

They need one actually in Philadelphia. Going to King of Prussia is a ridiculous hassle.

With the Gallery at Market East being internally demolished and remade into a high end shopping center, maybe we'll get one there in a few years.

KoP is the largest mall by store number in the country . . . This is long overdue.

"King of Prussia" - what a name!

It's the perfect name fit for the largest mall in the US :)

And also the name of a city? Really? Most be on the top 10 most weird if not down right stupid names :D

Is wasnt Ben. As with many places in PA it was the site of an Inn that people would stop at on their way from Philly to somewhere else. The Inn's name predated Franklin's Edict by the King of Prussia

Namining a mall after a defunct European empire is a perfect fit?

The perfect fit comment was a joke

I thought mall of America beat KOP....interesting. Saw your comment about Christiana Mall (my old hometown of Newark) and though it was a drive, the sales tax savings can add up on a large purchase still making it worth the drive or a quick trip down the R2 to Delaware Park then a cab, Uber, or DART over to the mall :)

Very glad to see the full store treatment coming to Tampa.

FINALLY a full store in KoP and I don't have to drive 45 minutes to Christiana Mall. The kiosk was not nearly enough.

Pff, what "arbetaren" says: Apple stores are located abroad in Europe, Microsoft is invisible. Mainly on Mobile Windows is doing well in Europe, so more attention ( hey cortana, bing etc....) would be Nice.

We have to keep the dream, although I don't think we'll see much of them any time soon

Sorta embarrassing to ask, but is there a real store in Atlanta besides a few kiosk locations?

Unless they've changed anything since I last went, 2 full retail stores (Lenox Square & Perimeter Malls) and 1 specialty store (North Point Mall), all along GA-400, funnily enough.
https://www.windowscentral.com/e?link=https2F%2Fclick.linksynergy.co...

The nearby Christiana Mall had a private Weezer concert for its grand opening. Hope the King of Prussia store gets something equally cool.

KOP now has a MSFT Store and Shake Shack! I'm movin' in!

And we have 2 chipotles in the mall!! And a Tesla store!!

Coincidentally I was planning going to Sarasota's store this Sunday with my kids.... Nice to know that now I live in Tampa and that's great.

Wilson, King of Prussia, I lay this hate on you!

When will there be a microsoft store in the UK??? At the very least a store in London, and then maybe expand to Birmingham, Manchester etc. Having said that it's taken Microsoft a relatively long time to establish a store in NYC and even then it hasn't opened yet.

Why Microsoft is opening store after store in the country where iPhone has ten times more customers than Windows Phone and there is no Microsoft store where Windows Phone is prefered over iPhone and have 1/4 of the market.

Microsoft is more than phones . . .

Woo woo! Tampa! Barring if I have to work, I'm definitly going to be there for the opening!

Mall of GA desperately needs one

Houston please Houston! And Pakistan, Karachi! Good business i assure you! :D

Snapped this 9/10 http://imgur.com/4XNP3It
Windows Central Newsletter
Thank you for signing up to Windows Central. You will receive a verification email shortly.
There was a problem. Please refresh the page and try again.