New render of Alcatel OneTouch Fierce XL for Windows 10 Mobile leaked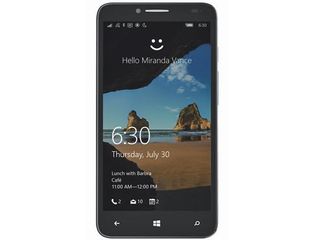 A render of a still offiically unannounced Windows 10 Mobile smartphone has allegedly been outed. The phone is the Alcatel OneTouch Fierce XL, which was first revealed via a previous leak in September, but this new leak is the first visual look at the smartphone.
Both leaks have come from noted Internet gadget rumor source Evan "@evleaks" Blass via his Twitter feed. This new leak shows that the Alcatel OneTouch Fierce XL will reportedly also come in a version running Android, and that both will be sold by T-Mobile. The render seems to suggest it will run the Windows Hello security feature, but it is more likely this is just a mockup image.
Blass's previous leak claimed the phone will have a 5.5-inch 720p display, a Qualcomm Snapdragon 210 processor, 2GB of RAM, 16GB of internal storage, an 8MP rear camera, a 2MP front-facing camera and a 2,500mAh battery. He also said the phone would go on sale in December but did not reveal a price point. If these leaks are indeed accurate, we should hear something official from T-Mobile or Alcatel OneTouch in the near future.
Source: Evan Blass (Twitter)
Get the Windows Central Newsletter
All the latest news, reviews, and guides for Windows and Xbox diehards.
giving competition to 550

It would be cool if it has windows hello feature. There seems to be some extra sensors, I hope its iris scanner.

Well the sensor thing you see on the top is just traditional Ambient and Proximity sensors. But if its got really Windows Hello, then on that image it doesn't show a specific infrared sensor which should be bit visible. Maybe because its still mockup image.

The Windows logo could be a fingerprint.

I haven't seen a hardware that can hide fingerprint sensor under the glass in a way from that image. It would be nice if there is but I doubt it.

There are three sensors showing at the top. Round one, speaker, oval one, then a small one.

Windows hello on such a low price bracket.. Not gonna happen..

Fingerprint sensors are a dime a dozen now, I don't know for sure if windows 10 supports that but if it does, Alcatel would surely jump on that as a killer feature if even their budget devices. Posted via the Windows Central App for Android

The smile icon pictured there is part of hello.

Yeah! We still need W10M to low-end market. The more the better especially if they're price right.

I think this much better than 550 im terms of specs'

The RAM feels out of place on a low range windows, though it could be there so the android version works properly. All that remains to be seen is what the SD210 can do with the camera

Hmmm... Looking nice, still with traditional capacitive button touch

But it has capacitive button on the bottom of the screen, better than Lumia 950(xl).

I'm agree with you, why Lumia flagship without Capacitive button, it's look like not Windows phone.

At least in my experience, it's too easy to press the search button accidentally when you're trying to use the phone one-handed. I prefer on-screen buttons.

I agree. Sure, maybe sometimes it takes a second to swipe up, but it's also nice to not have the buttons flash your eyes when you're watching a video or playing a dark game at night.

Thats a nokia problem as it doesn't happen on ativ based chassis(smart idea on Samsung's part) ms just needs to modify its code to turn off while idle. To those who complain because they dont know how to properly hold a phone think of the iphone antenna-gate apple simply said your holding it wrong but well make a condem to hold it

But they haven't added any gestures either, so it doesn't really make sense

yea is a shame they're sticking with old. But at least it's an option for those who prefer them over on screen

Agreed, I do prefer the real thing that software buttons. One of the things that set the lumia phones apart from the rest. Software buttons have nothing to do with "moving forward" and everything to do with "load your cheap android phones with windows please..."

Yeah, because buttons that rotate with the display and can change depending on the context are a step back. On screen buttons are superior in almost every way. Is there any upside to capacitive buttons? Posted via the Windows Central App for Android

Lol yeah you kind of have to wonder if Android is their backup plan if their not willing to commit their own hardware to capacitive

Aw real thing lol. Capacitive buttons aren't real buttons at all and onscreen are superior

Vive la France Chinoise...

Depuis 2005, Alcatel OneTouch appartient en totalité à TCL... Donc totalement chinois :-)

Windows Hello? The render seems to show that, anyway.

Last sentence of the second paragraph. ;)

Most OEMs opt out of this feature, alas. Not much demand. It seems most people are fine settling with using volume buttons as a replacement (Which, in fairness, Windows 10 really should add Volume up to shutter, especially for those lacking camera buttons). I miss the days when Microsoft made it a requirement. I know, I know: It's dramatically easier now to port your existing Android hardware to Windows 10. But still, it was fantastic knowing that any Windows Phone you picked up with have a nice physical shutter button.

The ability to launch camera from under lock screen is one of my favorite features. I prefer tapping on screen to actually take pics

I love the ability to quickly launch with the camera button. However, it does irritate me that devices with a shutter button have to swipe down the Action Center just to quick launch the camera. Should be an easier and faster way. And of course, volume button shutter for devices without shutter buttons. And then for devices that DO have shutter buttons: It should be optional if the volume keys trigger the shutter, OR zoom in and out. That'd be pretty nifty, I think.

That's because there is an Android version as well.

I'm aware. But it still upsets me how unloved shutter buttons are in the smartphone industry today.

Windows Hello? Will it have a finger print scanner or something ?

I think it wouldn't have...

Last sentence of the second paragraph. ;) It's more of a mockup than the actual screen.

Looking at the quality of the screen render, unfortunately it's merely a mockup.

A low end phone supporting Windows Hello? Or is the render screenshot just stolen from a more capable phone?

Windows Hello work regardless low end or high end..it only need certain hardware to work.

Not sure if its truly low-end...
2 GB of ram....with Snapdragon 210?

Snapdragon 210 is already a low-end device. 2GB of RAM is starting to become new entry-level I think. This could be a upper low-end device.

Curious about that as well.

Last sentence of the second paragraph. ;) It's more of a screenshot stolen from a more capable phone.

There seems to be some type of camera towards the far right corner in addition to what's next to the speaker up top.

Looks more like standard FFC, proximity and ambient lighting sensors. Pretty standard. The infrared scanner on the 950 and 950 XL, while subtle, is still fairly obvious and noticeable. It appears this might just be a stolen screen shot for mock-up purposes, as opposed to an actual feature (As mentioned in the article).

I want to know who is Miranda? XD

Are you the reason for those two missed calls?
:-D

It's mirandasings from YouTube

WHAITA?! Are you kidding me?

And who is that cow? Posted via the Windows Central App for Android because it's superior to the Windows Phone one

Gotta love that phone title "Fierce XL". Oh, yeah, it's a Fierce one! And is this a gimpse that every screen size above 5.2 inches will be classified as XL? So does that mean we can really call the 950 the L?

Doing those low-end specs, fierce is the wrong name

Acatel apparently thinks 5+ inches is "XL" category. That's there marketing decision. No standard for what count as small, medium or large really.

Seeing a lot more phones from partners, It can only bode well. But they have to be decent competition to lumias of same class. And Windows Hello? Hope its not just a placeholder. Front facing speakers a bonus.

I offiicialy didn't like the design. :P

What more are you looking for???

Nobody liked 950/XL when they were first leaked by this same person

Well the design of 950/XL are controversial one, it divides the community regarding of its looks because of it. It still look bland but at least it was looked better with Mozo shells.

Except that many have changed their opinion once that saw them in real life

Depends on their opinion, especially for people find it ugly first starting to like it (whether they indeed liked it or because they just get used to it, we don't know). Others just find it bland but not ugly and stays same way. But yeah number of people sounds like they changed their opinion because of the 3rd-party shells from Mozo, but that's mainly because of the shells. People who tried it will likely going to find it to like it because of its feature set and specs, looks will be alright in person. ​There is even a reviewer find the device quite "okay" in terms of looks, that person reviewed tons of Lumia before even personally owning one. The device just looks 'fine' really and there is an assurance of it feels good in a hand (thanks to nice polycarbonate matte texture), but looks is still considered average especially for a flagship. It won't turn off alot of people but its hardly desirable looking hardware.

Well this is considerably low-end device so that would be understandable. I wish they will release their current flagship device with W10M.

I offiically don't like this phone. :P

I supposed that on screen buttons would help to reduce the phone bezel, but this cheap phone has less bezel than Lumia new "flagships" LOL :D

In fairness: It also has less hardware it needs to pack into its shell.

Why "flagships"? And bezel looks very similar to new Lumias

Price can be the only strong point.

Enough with these snapdragon 2xx devices already

Well these are entry-level device and very important for W10M to grow especially on emerging markets. But still if they gonna release entry-level, at least they should release W10M version of their current flagships too.

But they contribute to the demise of Windows Phone Posted via the Windows Central App for Android because it's superior to the Windows Phone one

Looks like a lumia. But thats a good thing. So glad to see lower emd phones getting better and better specs. Even low end Androids are following suit. Guess we have Microsoft to thank for beimg a trend setter. But whats with these sd 210s? Maye they are better than ome might expect

Well it looks bit like 950, 950 XL and 550 at the front but I bet its still different at the back. Honestly that's a bit bad thing on Lumia side since it now shows Lumia to be generic in comparison to other phones. It supposed to be distinctly unique even at the front. Older Lumia is still distinguishable since their front shows some colors around the bezels and some have distinct aesthetic elements. Anyways, Android OEM adopting W10M is always a good thing. Even its low-end, it helps the platform to grow on emerging markets, especially on those markets its not all too saturated yet. Snapdragon 210 should be really better than older 200, especially it supports LTE and drive HD resolution.

I agree even though I don't like the device for me personally. Another thing is that the app store in emerging markets have more stops thank her in America.

Maybe thank the Moto G who really was the one that started it all Posted via the Windows Central App for Android because it's superior to the Windows Phone one

I thought windows hello was for flagship phones

Windows Hello is restricted only to hardware and hardware alone. High end or low end is irrelevant. However, because the hardware required to enable Windows Hello can drive the cost up, we'll mostly see it at the high end for now. But it should trickle down over time. But OEMs are free to offer devices with Windows Hello as cheap as they like. All depends on their design and manufacture decisions.

The design reminds me of the ATIV S

It looks like this phone will be sporting Windows Hello as it appears to have more than on FFC,one by the speaker and something over to the right.

Looks like a typical FFC, proximity and ambient lighting sensor. Pretty standard to smartphones these days, including Windows Phones (With a glaring omission by the Lumia 630/635). It doesn't appear to have the required infrared flash for iris scanning, but it is possible to have something else up its sleeve. Regardless, don't get too excited, it's probably for render purposes only, as the article mentions.

5.5 screen with that battery size no thank you. Posted via the Windows Central App for Android

It kills me how t-mobile will carry Alcatel crap phones but not Microsoft Lumia phones.

I like the style of this phone more so than the Lumia. It would be nice if they made a higher level version too

Why release a phone that's not Continuum compatible? Maybe they have a second phone oh the works.

Why some people hate capacitive buttons?

Yes - capacitive buttons!!!

Microsoft phones are shit. System good. Alcatel maybe i wiil buy

To me, it's too big but it's alright looking.

Captive buttons suck i don't understand the problem with on screen buttons there 100% better then captive buttons

So much wrong cannot comprehend

There is no upside to capacitive buttons. They perform just like on-screen buttons but cannot rotate with the display, hide while playing games so you don't accidentally hit them and they cannot change depending on the circumstance. Not to mention, more bezel is required for capacitive buttons. There is a reason the most advanced mobile OS recommends them. Posted via the Windows Central App for Android

Obviously because you can't understand that everything he said was correct. On screen buttons are better Posted via the Windows Central App for Android because it's superior to the Windows Phone one

Hey look T-Mobile we got one but I don't want it.lol Hopefully a 950/XL will show up by "November - December." Posted via the Windows Central App for Android

According to the Microsoft store in Canada, the 950s are coming in December :( so far away.

Lucky for people on T-Mobile I am still stuck on ATT. ^^

Amazon India is selling Blu Win JR LTE (Black) at an very affordable price. The device is available for only INR. 2,999. This offer is available for only today. Here is the direct link to reach Amazon.in: http://www.amazon.in/Blu-Win-JR-LTE-White/dp/B00XVYD2UC/ref=pd_sim_107_2?ie=UTF8&refRID=015XSY3PCPDJZSBMW0Z8

Amazon India is also offering Blu Win HD LTE (Grey) for only INR. 4,999. It is really a steal deal for Windows Phone lovers. As you know the Blu Win HD LTE has scored many positive reviews for itself. Here is the direct link: http://www.amazon.in/Blu-Win-HD-LTE-Grey/dp/B00XVYDQ1M/ref=pd_sim_107_2?ie=UTF8&refRID=0M7T8QVV49JHAY5M9AZN

I'd avoid the blu phones (at least the windows phones). I had my HD LTE for only a few months and the battery no longer reads it's power level. It thinks its empty and shuts off. Then I restart the phone and the battery is full. Also the speaker phone MIC doesn't work.

WC fanboys be like, this my next phone.

​Miranda Vince has a lot of devices!

Could of least been 1080p with a better chip set at that screen size tbh

Other than the crapdragon 210, that is a pretty beastly low end phone. 2gb of ram, 16 gb of storage, 720p, and a 2500 mAh battery.

If true, this is fantastic news for T-Mobile users wanting a 950/XL. Here's why: if T-Mobile offers a native Windows 10 Mobile device on their plan, it will require development of their Wi-Fi calling/texting app for Windows 10 Mobile. As this is quite integral to the T-Mobile experience, it means that once the download source for this app is located, it can be sideloaded into any bring-your-own-device Win 10 phone you want. This may also be possible with other T-Mo apps, such as visual voicemail. I have had issues with the Wi-Fi calling app, and had to reinstall several times already on my official T-Mo Lumia 925. For whatever reason, the app is unlisted in the app store. However, I was able to find the source online, which leads me to believe the same should be possible for Win 10 phones with a T-Mo SIM.

First that phone right there is a fake and second I use T- Mobile with my 640 & and will buy the 950 XL from Microsoft & put my T-mobile sim in it. 950-640=310 Wildwest310 that is. And last but not least with Skype minutes and WiFi who need Tmo WiFi calling.

Hoping wont be to expensive to import

Hunt the truth looking for miranda vance

She looks like the inventor of the first gen Cortana.

The phonies are everywhere!

Only processor is small acc. To its specs. Otherwise its awesome