Twitter PWA for Windows 10 receives first round of updates
Twitter for Windows 10 has been updated with a couple of new fixes and capabilities following its new PWA launch last week.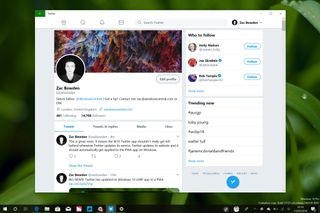 Twitter has rolled out its first round of 'updates' for its new Twitter Progressive Web App for Windows 10. Last week, Twitter became the first developer in the Microsoft Store to re-release its app as a PWA, bringing with it new features and capabilities that the old UWP app was lacking.
Unfortunately, while the PWA brought with it lots of new features and enhancements, it also introduced a few new bugs and was missing a couple noteworthy capabilities that the older UWP app had. Thanks to the nature of PWA, however, Twitter has already rolled out a round of updates that add and improve on a few things.
First, and most notably, the app will no longer request a review every time you open it. This was one bug that affected pretty much everyone, so it's good to see it's already been fixed. Also fixed is the EU cookie dialog constantly popping up; if you dismiss that dialog, the app should remember that now.
Progressive Web Apps (PWA): What they are, and what they mean for Microsoft
Finally, Twitter has added the ability to paste images directly from the clipboard into a tweet. This was something many people complained was missing from the Twitter PWA, so Twitter added it back. What's impressive is all of these changes rolled out without Twitter having to submit an app update in the Microsoft Store.
Thanks to PWA, Twitter can update its PWA on its end, and those changes get automatically applied to the Twitter PWA app on Windows 10 without requiring an entire app update through the Store. This means Twitter can move faster on app updates when required, which is beneficial for users and Twitter.
There's also more of an incentive for Twitter to update its PWA than there was for Twitter to update its specific UWP app. PWA runs on any platform, so any changes made to the PWA gets applied across Windows 10, Android, iOS and any other platform that supports PWA. That's the beauty of the Progressive Web App.
Twitter says it will be adding more features to the Twitter PWA over the next few weeks, including the ability to upload video, and even live tile support. If you don't have the new Twitter PWA yet, that's because the app is only available on the upcoming Spring Creators Update.
Download Twitter for Windows 10 (opens in new tab)
Windows Central Newsletter
Get the best of Windows Central in in your inbox, every day!
Zac Bowden is a Senior Editor at Windows Central. Bringing you exclusive coverage into the world of Windows on PCs, tablets, phones, and more. Also an avid collector of rare Microsoft prototype devices! Keep in touch on Twitter: @zacbowden.
YES!! My People support is a must (including Contacts Sync), Microsoft may need to help Twitter about this. Twitter PWA also needs Share Contract support and Live Tiles with Lockscreen Support (sadly this is a forgotten feature).

Dark mode, don't forget dark mode!!

Isn't PWA suppose to be parallel in features as the website itself

Yes but with W10 UWP benefits as well

PWA for Windows 10? Why "for Windows 10"? Surely that can't be correct if PWAs are platform agnostic.

Because this is Windows Central. People come here for news on the PWA that's available on Windows 10. Not everybody understands how PWA works, so we need to make it clear that these changes are on Windows 10 too.

So now they are even more misinformed, thinking it is for Windows 10 only?

Not if they read the article :)

So you have to read the article to realize your title is misleading?

Try using PWA on anything Apple for now and see how universal PWA is in April 2018.

It says it is compatible with Safari 7 and above. If they aren't universal, then what is the point? If they have to target Windows 10, as this article implies, it doesn't change anything.

Because this also has UWP features as well.

Yea isn't something off if twitter on Edge supports dark mode setting but not the PWA app? I was using twitter on Edge pretty good with notifications and dark mode

I think it is because the app is based on the mobile website (mobile.twitter.com), just like Twitter lite on Android

Not sure I'm getting the update here in UK, still getting the EU cookie reminder

PWA, is it just like web wrapper apps that there's a ton in every store ?

That's right. Google rebranded HTML5 app as PWA. It's a better web app, but slower and less functioning than native apps.

In some scenarios, they are not necessarily visibly slower. I was very skeptical but the Instagram PWA is extremely native-feeling on my Android. And Instagram is an app with loads of content and scrolling--all smooth. Even buttons behave very natively. If done well, PWAs can produce a great experience. Less functioning, yes. PWAs are only meant for some kinds of apps. Ones that don't need native APIs (besides the hooks that PWAs can access).

Instagram PWA, so… that should work on Windows 10 too than?

True, PWA's is not for every type of app or any app that rather has complex integration especially to hardware or complex functionality. The most social network can be migrated as PWA apps as they are first and foremost web-based. Most basic apps like those apps from your favourite shop, cafe, events, universities, etc. can be just PWA. Apps like video editor, photo editor or any complex apps or games will be best being native app.

"It's a better web app, but slower and less functioning than native apps."

Considering one of the features of PWA is offline cache support it's not obvious why it should be any slower. PWA apps are lighter in size than native apps (sometimes around 75% smaller) requiring less memory, storage space, and can even pull less data.

Does this work on the last build of WP10 or is this just desktop?

I don't think any PWAs will be coming to W10M. In fact, updates to just about everything for W10M are thinning out daily.

Now PWA on W10M. Just use the website or the tons of 3rd party Twitter apps

I suppose the proof reader is still on Easter holiday 😉

Ironic that you're missing a full stop. 😝 What is wrong in the article?

Did you read it? Really? Maybe give it another go. Incidentally, I find that smileys and punctuation can clash. I suppose you won't find smileys in many English grammar guides 😁

What;s wrong with the article?

Twitter PWA also removes CR from posts and puts it all in one para.

Thanks for clarifying that its only in the next update. I was wondering why it wouldn't update ( though also kinda glad because I hate the promoted tweets etc)

I'm still getting the cookie message, though - anyone else?

Yes, still having the cookie message :-/

Hi, could you please share the wallpaper at Timeline and My People?

Hmm, I'll have to try this out sometime.

Even after the updates, it's really bad. It LOOKS like a mobile app. Well, actually, that's an insult to mobile apps. I'll stick with Tweetium.

Excellent to see quick updates.

Look, the future of Windows! Instead of having an actual Twitter app, you can access Twitter Lite through a web wrapper! App gap solved!

Why I'm still not getting the new PWA app? I've reinstalled the app but still its the old UWP app.

You have to be an Insider, or wait for Spring Creators Update to go official.

PWA for Windows Central. When do we get that!!
Windows Central Newsletter
Thank you for signing up to Windows Central. You will receive a verification email shortly.
There was a problem. Please refresh the page and try again.