New Windows 10 ad shows a Broadway set designer using it on the HP Spectre x360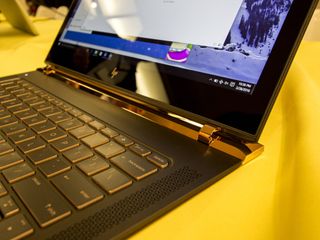 Microsoft is running yet another Windows 10 TV commercial in the U.S. This time, the ad shows how a Broadway set designer uses the OS on a HP Spectre x360 2-in-1 notebook.
The new commercial, as posted on the Windows YouTube channel, focuses on Beowulf Boritt, who has been in charge of the set design for Broadway plays and musicals such as On The Town and Rock of Ages. The commercial shows how Boritt is using the HP Spectre x360 and Windows 10 to help create the sets for the upcoming muscial version of the movie A Bronx Tale. He states that using Photoshop and an optional pen on the notebook's touchscreen to create the set sketches is something he could not do on a Mac.
Image 1 of 2
In addition to the main 30-second commercial, Microsoft has also posted two shorter 15-second versions of the ad. The HP Spectre x360 that was showcased in the Windows 10 commercial is available for $1.399.99 (opens in new tab) from the Microsoft Store in its gold-plated color.
See at Microsoft Store (opens in new tab)
Windows Central Newsletter
Get the best of Windows Central in in your inbox, every day!
Wasn't he in a previous advert? those drawings look familiar

We have had them in the UK for weeks. I had to do a double take, then I saw the ad on Sky and realised it was the same one we've had.

Ah, that would explain it - thanks

Yeah, my daughter has this HP Spectre x360

"...I could never do that with a Mac" Was this sentence really neccessary in this ad?

It's a competitive ad, not mentioning the competitor defeats the purpose.

If you cant do it on a mac, then the sentence is justified, especially when Apple are saying the iPad pro is a computer, which is technically correct, but not a full OS device, so MS and Apple have been having a spat just lately. Ps, this ad has been in UK for a few weeks now, along with another showing a travel company and how they can provide info and images by using W10. We are also being swamped with cloud ads as well. Also, HP are heavily advertising their enterprise cloud etc...

Which is true btw. Macs suck at doing 'real' work. No touch is an issue for many professionals today !

Yes because it stays consistent with the rest of the series of this ad campaign

This whole "can't do that on a Mac" is getting old. Microsoft needs to concentrate on creating ads to sell customers on the features of W10 and the hardware beneath it. They need to build excitement for the product and have it sell itself.

LOL! The whole ad was talking about W10's features and ability. There's 1 sentence at the end that he "can't do that on a Mac" and thats all you're focusing on? Did you even see the ad?

Right, they still mentioned the Mac, not necessary. And yes, I saw the ad... If you watch any Hulu you'll see that a majority of the ads are Microsoft and every single one mentions the Mac.

He was using a Surface Pro 4 in the other ad.

Does anyone know what pen he is using with the spectre x360? That isn't the standard HP Active Pen.

He is using the Dell Synaptic pen. That's the same I use on my X360.

NICE, i was dying for a pen to use with the Spectre!
Windows Central Newsletter
Thank you for signing up to Windows Central. You will receive a verification email shortly.
There was a problem. Please refresh the page and try again.