New NinjaCat avatar props for Windows 10 can make you look cool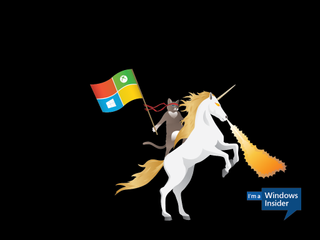 Microsoft launched Windows 10 in 2015 with the help of a smal but powerful mascat, the NinjaCat. Now the company has released two NinjaCat avatar items for Windows 10 users to access via the Xbox Avatars app.
As revealed by Microsoft's Windows Insider head Gabriel Aul on Twitter, the items include putting NinjaCat on a T-Rex, and one where the cat is on skis and jumps your main avatar, along with a Windows 10 flag and a shark, in a nod to the "jumping the shark" phrase for a TV show that has gone past its prime.
I look forward to when the Xbox Marketplace and the Windows Store are merged. Hopefully it'll make things like this way easier. Windows Central for Windows 10-Microsoft Lumia 640

Same as my computer sticker.

I never knew what "jumping the shark" really meant in television; I've heard it talked about, though. You learn something new every day!

To add more to it. It specifically refers to when Fonzi from Happy Days jumped his motorcycle over a shark tank.

The Fonz jumped the shark on water skis when the happy days gang went to Hollywood for something or other. Evel Knieval jumped the shark tank on a motorcycle. Yes, I'm a child of the 70's. The best decade to be a kid.

You are RIGHT. He did do it on skis. I got those two mixed up.

Also, where can you get it?

Thanks for the info. Downloaded all Posted on Windows Central App for Windows 10 Mobile

Surely this is a joke article. There is nothing about the thow "cat ninja horse dinosaur whatever" that's cool. It'sa turn off.

Opinions are like bungholes.

The days of exclusive goodies are over. If this is for insiders why release it to everybody. I remember when you'd get an avatar t-shirts for testing project natal.

I thought it was a left-shark reference!

Before NinjaCat was big, I requested the designer and received a copy of the original file in email. :D
Yey me! - Posted via W10M

Is this US only? I get an error saying I can´t purchase that item at the time.

The skis prop downloaded fine on mobile, but I had same error problem with the t-rex prop on W10M and W10. I then tried downloading it on my Xbox (360) console, that worked straight away. Good job the stores are unified. I'm in Europe by the way.

I tried on mobile as you suggested and got them with no problems. Thanks!
Windows Central Newsletter
Get the best of Windows Central in in your inbox, every day!
Thank you for signing up to Windows Central. You will receive a verification email shortly.
There was a problem. Please refresh the page and try again.