New Windows 10 preview build joins Xbox One in adding MKV file support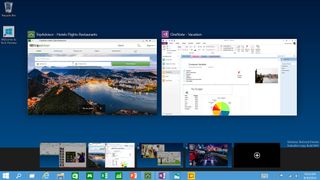 Microsoft apparently likes the MKV media file format. A couple of weeks after the company added support for MKV to the Xbox One in its October update, the company has also quietly added support for the format to the new 9860 build of the Windows 10 Technical Preview, which is not available currently for Windows 8.1.
The support isn't quite ready for prime time yet, as you could imagine from an operating system that is still several months from going gold. As reported by Neowin, Windows 10 preview users who try to open a MKV file in Windows Media Player will still get a warning that claims the player does not support that file. However, if they go ahead and try to play the file anyway, they should find that it handles it with no problem. How do you feel about Microsoft adding MKV support in Windows 10 and in the Xbox One?
Source: Neowin
Windows Central Newsletter
Get the best of Windows Central in your inbox, every day!
Awesome, Microsoft doing it right

No need codec pack anymore. ANIME ANIME ANIME @@

That would be the icing on the cake, plus 10bit support.

We need it, códeca and subs support to.

Do you have a 10 bit source file to make that 10bit mkv file from? Also I'm unaware of any films mastered in 10 bit for consumer release.

In response to im.thatoneguy, I'm not talking about 10 bit source files and I'm also unaware of any films mastered in 10 bit. Rather, I'm referring to the Hi10p profile (also known as 10bit) used in anime. If you're interested you can read more about it at the following link http://wiki.bakabt.me/index.php/Hi10P.

I would hope so. That was one of the main reasons MKV got so popular for bootleg torrents; you didn't need the extra file for subtitles.

Man, if mkv support with subtitles and alternate audio support was baked in I would be so happy! I rip ask my own files from Blu-ray and use mkv, and I use subtitles a lot at night.

Not yet also no sound yet. Codecs is what we need from the beginning. Great to see that it is coming but functional now, hell no

About Time, now I had to buy an mkv player for my surface. Hopefully the Xbox video app will get updated with mkv support before windows 10 gets released.

That's unfortunate, I use smplayer regularly to play mkv files... And it is FREE!

KMPlayer and GOM Media Player are very good. Their keyboard shortcuts are very handy.

How do I feel about Microsoft adding MKV file support in Windows 10 and in the Xbox One? Fine. Just fine. Uh,... What's MKV? [Asks Cortana...]

Microsoft should turn Xbox Video in a VLC-like player! Specially because of Windows Phone! I mean, The current Xbox Video player is completely VOD focused...

Yeah. The Xbox one must be the new all in one center capable of completing with Microsoft powered HTPCs mkv subs codecs 10bit support. Like media player classic or VCL

Good... :) And if it supports subtitles it's even better...

Prepare for more great news.. In a few months WP will get this too.. Hehe

About time. VLC has been king for a while

Media Player Classic Home Cinema is better

I didn't know about this! I'm gonna check it out. I tend to stick with familiar software to avoid malware/unwanted processes.

you could also check potplayer, I find it better and nicer. it's frecuently updated, and now it supports many languages nativaley, no more haunting for the english version. http://www.videohelp.com/tools/PotPlayer or the official version http://potplayer.daum.net/ I never liked VLC, and how limited it is, with potplayer you get touch gestures, you get 2nd subtitles, you can put any codec you want although the ones that you install here are good too. you should install the codecs it tells you at the end of the installation if you decide to use it. You can record video from webcam, or use it as a screen capture. things like that, its' a little too complex if you try to go into the settings but it's not that bad! more choices the better.

Ah. Seems advanced for my use of basic music/video playback. How do you use this software?

hmm I use it for everything even as a mp3, right now I am listening to music with it, while it doesnt have a music managment stuff like mediamonkey or something. I just drag and drop and end. also you can create "albums", which are tabs on playlist and you can add anything there. it's basic as long as you don't want to adjust stuff like codecs and go into deep settings and change everything around, but I don't think it's complicated, just right click and you will get all the options. if you need them by default you get different skins when you listen to music or watch a video. but you can you can deactivate it, I sometimes do it, becuase the small skin while nice, I like to see the artwork, or a virsualization. and you can make it smaller with a "mini mode" which looks like maximize button. I also use it to watch youtube videos, you can do it directly with ctrl+U, and then with H you adjust the quality. I honestly haven't changed much from default mode, so make it advanced as long as you want it advanced, and go deep in settings, for example, they added text to speech and all, in recent betas, but you can completely ignore it. all I change is, put thumbnails in timeline, also make the thumbnails on playlist so I see it and not just text. time jump, and activate dxva. and sometimes I make the UI disappear while playing so it's only the video with no buttons or anything so I don't go fullscreen. I dont even use much the gear icon on the right bottom, which is all you need to adjust audio equalizer, video color and brightness and subtitle position if needed.

Potplayer is indeed the best!

I had always preferred smplayer as it loads very fast. Since I moved to openelec/xbmc setup I don't care about those anymore.

Huh. Can I run this as an .exe or have to install?

Smplayer supported both modes, copy as well as install. It was based on mplayer or vice versa. I usually kept its copy on same external drive as my media to make things portable :)

Got it. Definitely will check it out. Thanks.

#awesomeness! Finally, native support. But I still use VLC, just hurry up with Windows 10 for Microsoft Mobile so the native support carries over!

Real ? Why is the MKV format preferred over MP4?

The quality is usually WAYYY better.

Lol not true, the container (MKV) does not have any effect on the quality which is rather influenced by the codec and both, MKV and MP4 are just container which can both contain h264 on which quality would depend.

no, not true at all, they can look exactly the same, and have the same audio and subtitle streams, it's not like using different containers automatically fix the codecs the containers can use. but of course MKV is used mostly if the pirated movies have multiple audio streams and subtitles, it doesn't mean MP4 is not able to do it, but it's not usually used for unknown reasons (some people think mp4 is so more limited than mkv, I am sure that's the reason which is not true either)

(some people think mp4 is so more limited than mkv, I am sure that's the reason which is not true either) (some people think mp4 is so more limited than mkv, I am sure that's the reason which is not true either)

That would explain why bittorrent pirates use MKV for every video under the sun. 99% of the time I just change the MKV extension to MP4 and the file plays in Windows with no problems.

Just changing the file extension won't make it playable though unless your media player can already play MKV. That's just VLC going "Weird, this MKV file has a MP4 file extension, well ... silly human I'll play it like an MKV anyway. The header information is completely different on an MKV from an MP4 file.

Change the extension from mkv to mp4 works to burn you eyes watching movies on wp too?

In short, it is a better container than MP4. It has lots of advantages over MP4.

You can't just say "no" without an explanation. If you have some good reasons you should share them. You might just win a few people over.

Mp4 sucks. Most bluray rips found online...so I hear....are MKV. Much better quality and unlike the mp4 format the audio is not prone to go out of sync.

They are very nice. Problem with MKV is that when I burn them using ConvertXtoDVD sometimes the audio will be all messed up. Maybe they fixed it recently... But ive used several versions with the same result. I'd say 40% do it. Mkv are certainly nice anyhow

Why are you burning them. A 1tb external drive cost next to nothing these days.

Most MKVs are just MPEG4 H264 Video files. MKV's should only be use to add subtitles and different audio tracks.

Technically its just a wrapper for the h.264. However file compression and audio handling work better in an MKV wrapper than the mp4 variant. Especially in the multichannel audio associated with movies 5.1, 7.1 and the various Dolby versions. AC3 and stereo is probably just fine for an MP4 file. Which is why s lot of phones make a simple mp4 file for video.

It'll be amazing if that comes to Windows Phone also. I had to buy moli player only for mkv.

Great. Now I don't have to use a separate player.

Upgrading wmp will probably remove the error.... Js.

that is great. Although It is not so important on desktop Pc because we have so many players supporting mkv, I see the need for WP and WinRT. Now I bought Power Dvd player to play MKV on my RT tablet.

I think this comes to w(p) 10 next year.

Meaning the 2015 Lumias will support MIC. Nice

So how is this going to work, what is going to be the main media player on Windows? Xbox Music/Video? Or Windows Media Player? Cause right now it feels like two, even three services that could easily be one. If they're going with WMP, it should be given a major overhaul, because right now, it's extremely outdated.

Yeah hope they're planning to merge WMP to Xbox Music and Video, but seems won't happen soon especially Xbox Music & Video isn't as good as WMP.
We need at least update the looks of WMP to make Modern UI looking and maybe some UI changes too. Currently it doesn't blend with Windows 8.X, but I still use it because of alot of features missing on both Xbox Music and Video app.

About bloody time. This is awesome.

I guess better late than never.

Ermmm message several year ago stated it. that warning was since windows media player 10 and if the codec is right and not the container the player maybe hable to read it.

Please let this be a update on RT as well

This reminds me when the media center beta had a codec built in with a dll time bomb. They stripped it out at release

Why not just integrate something like k lite codec or something like that

YES YES YES... now i will be able to download torrent anime and movies and TV series as much as i can without being troubles to look for MP4 versions :D

So I tried playback of some of my MKVs in WMP, and even though it brings up a warning saying that MKV is not supported, it plays back just fine. ... On the other hand, chapters, alternate audio and subtitle support, and HVEC are missing, making this mostly useless. But it is an improvement so I won't bash them too hard.

finally, thats the way to go, maybe after w10 i will no longer need to install 3rd party codecs

I guess now it is a matter of time, they will implement this in windows phone . Hope it comes with gdr2

Good stuff. Looking forward to see other good news such as Cortana support and SMS and call redirection

thats funny i'm still using .tivo :)

Too bad Xbox One doesn't support all MKV's. At least not yet.

Looks like another software no need to install on Windows 10, at least if they support all MKV format. :D

Yes please baked mkv support into windows 10 pleased Microsoft

Is there any way to get the new build through Windows Update in the previous build of the Technical Preview or do I have to reinstall the new build over the old one ?

I checked via Windows update, and it installed some security updates before Dl'ing and installing the latest build. It looked like a full install btw... at least it was going through certain parts of the install again ...

Wow they just barely got around to adding support for mkv? They sure took their time.

Why? .mkv is an open container format, and MS is in NO way obligated to add this to the OS. But as a very popular format, it's nice to see MS is willing to add it to Win10. If MS is also willing to add full support for all subtitles formats (vobsub please...) in mkv and mp4/mv4, and add it to WinRT10, my video needs are covered :-)

They don't need to add support, since you just need a player that does (like VLC).

Fantastic! Now I want a Modern/Metro TV Guide application that schedules recordings for my TV Tuners. The recordings should include the meta data like WTV files. And when I browse the folder of videos I should be able to sort and group by that meta data. Then I can say good-bye to Windows 7 Media Center. Maybe.

What?!, they just now are including mkv support...man i've played mkv files since win xp, on VLC of course

all these -3rd party, open source- container formats went through a TON of iterations. MS kept them, wisely, out of Windows as they don't want incompatibility issues here.... You get a blue screen, you blame MS. But it could be that badly written codec...... Get it?? ;-)

Couldnt you do this anyways?
MKV is just a container. So long as it supported the video codec that it contained, MKV was similar enough to AVI that WMP can play it. I'm pretty sure that you could do this before, and positive that you could do it simply by renaming it to *.avi Here we're getting an error message, that doesn't seem like support at all. it could just be that they're making a best-effort fallback for unrecognized filetypes now.

That is great news. Can't wait for it to go gold.

Yay, been waiting long time for this, never thought it would happen.