A new Xbox One build is heading out to the public improving download speeds and more
A new Xbox One build is heading out to the public, bringing improvements for download speeds, fixes for background music and more.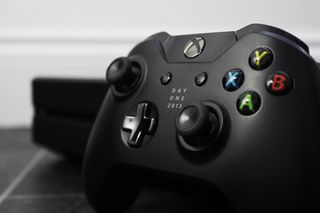 (Image credit: Windows Central)
Many of these fixes have been in testing on the Xbox Insider Program, and now they're rolling out to Xbox One consoles everywhere. Here's everything you need to know.
To check if you have updates available follow the steps below.
Double-tap the Xbox One button on your controller to open the Guide.
Move the cursor to the cogwheel icon at the bottom using the left joystick on your controller.
Select All Settings.
Select System.
Select Console info & updates.
Beneath the name of your console, it should say Update Available if the download is ready.
The build number is as follows. If you already have this OS version, you're all set!
Update Details
OS version: 10.0.14393.2152 (rs1_xbox_rel_1610 161208-1218) fre
Release date: 12/14/2016
Performance and general improvements
Download performance
We've made several optimizations to game and app downloads on Xbox One.
Customers with high-speed connections (greater than 100Mbps) should experience up to 80% faster download speeds.
Customers with connections less than 100Mbps should experience more consistent performance that is up to 40% faster than before.
Additional optimizations have also made background downloads more resilient to intermittent connectivity issues.
Download speeds will be influenced by network contention within the home and at the ISP level. Download speeds will also be impacted when games are running on the console as system resources are prioritized for gameplay over background downloads. For more information, visit Troubleshoot slow game or app downloads on Xbox One.

(opens in new tab)
Wireless controller
Firmware update to improve performance.
Background Music
General performance improvements for added reliability and consistent experiences across steaming music apps.
Miscellaneous
General stability and performance improvements.
Stay tuned to Windows Central for all the latest information on Xbox One updates, and let us know in the comments if you have been able to download this build!
Windows Central Newsletter
Get the best of Windows Central in in your inbox, every day!
Jez Corden a Managing Editor at Windows Central, focusing primarily on all things Xbox and gaming. Jez is known for breaking exclusive news and analysis as relates to the Microsoft ecosystem while being powered by caffeine. Follow on Twitter @JezCorden and listen to his Xbox Two podcast, all about, you guessed it, Xbox!
Nice and btw guys I have an idea of how Microsoft can make the Home page of the Xbox One look a bit much better than it already does. Does anyone know how I can pass the message on to them.

The Xbox Insider app on the Xbox.

The whole Xbox UI is a complex mess and not easy to navigate. They need to make it more like windows 10 tablet mode with the left pane being specific for the xbox stuff.

Become an Insider and submit feedback, and post on the Insider forum. http://support.xbox.com/en-US/browse/xbox-one/console/Xbox%20Insider

easy. just get rid of ads on front page and push the pinned apps up more near the game view so we can have more pinned apps and custom group pins. Then add file explorer for games, app, doc, music, pic, vid

I like the ads, they tell me when the new Games/Deals With Gold are available. They take up no room anyway.

My console says it is on the version number in the article, but hasn't updated itself since 12/9/16....... Am confused

Now they need to make that groove app with music videos available to those not in the top secret insider program

It's not really a top secret. Can't we enroll the same way as we do on Windows 10 now??

Mine just installed Fine and im in Puerto Rico!

Can somebody please enlighten me as to why these updates hit 75% and then comes to a screeching halt for the remaining 25%.

I wish they would fix that. The last 100mb takes forever to download.

Turns out JotaKa was way off and shame on me for accepting his well thought out and detailed explanation. During the download of the last part there's a file check as well included to make sure that the download is fine & it's not corrupted.

Hope the controller firmware update fixes the nagging connectivity issuesive had on my Xbox one. Disconnects which kills me on games sometimes. Have a long micro USB but that's not all practical. Lol

How to download the wireless display app with new xbox insider hub? I just got a lumia 950 and want to test continuum feature

it would be listed under beta apps to download. it may be there it may not i dont kow anymore i have it installed from way back.

Update went smooth. Thanks for the heads up WC.

Can anyone point me to an "Xbox One S" that comes in black? The closest I see is the Battlefield 1 Edition which is Storm Grey.

None yet. The BF1 edition is dark green and is pretty inconspicuous. I like the white but not in my home theater setup.

Exactly! Need black to match my other theater components.

I want the Wireless Display App!

This! Why is it taking so long!?

Yeah the app is really bad. Super laggy and artifact galore! My TV has google cast built in (Vizio P series) and it works so much better than the MS app.

Had the update for little bit but not seeing controller firmware update... still on version 2.3.2381.0 :/

I also don't see the firmwareupdate on my Win10 App but my FW is 2.3.2385.0. You might download the XBox Accessories App to update via PC
Which version is the newest?

Silly question but .......im planning for a new console for a present to myself for Christmas....still deciding btw the ps4 and the x box 1 only deal breaker for the xbox is this "will I need always on wifi connectivity for the x box or I can connect aa I need, as im not on a data plan .....pls be honest and give detailed explanation as to the pros and cons.........upgrading from a ps3 so would like to know before I commit.....using a lumia 930 & 650 and am partial to windows products as cant stand android and hate ios ......cheaper price on the xbox as opposed to the ps4 is also making the xbox look more attractive so..... .pls help????

Xbox.. You don't always need to be online for that..

Ta v much. Will start to look out for a good bundle pack......is there uncharted 4 on the x box that as well as forza horizon are my picks .....any solid recommendations from you☺

Xbox One doesn't have to be always online. You can play games offline (except the games that require internet). I would recommend Xbox One.

Thanks ......much appreciated

I was wondering why my download speed increased to over 100Mbs on wifi the other day. I wonder if I got the update already.

No update for my controllers

Installed fine, the controller connects much faster now. (in off to on terms) just one blink and its connected instead of 3blinks.
Nice!

I am installing it no but after restart the lights on the box and the Kinect just keep flashing its been doing that for and hour and a half so far

I am installing it now but after restart the lights on the box and the Kinect just keep flashing its been doing that for and hour and a half so far can anyone help or is this usual...just to update in case anyone else has the issue I restarted manually and re run the update it is now fine and running really smoothly thanks Troy Marcel

Hold down power button for 10 seconds hopefully that will clear the cache and restart

My downloads are worse, it constantly cuts out stops and starts
Windows Central Newsletter
Thank you for signing up to Windows Central. You will receive a verification email shortly.
There was a problem. Please refresh the page and try again.