New Xbox One update rolling out to public with Wi-Fi improvements and more
A new Xbox One update is now available to the public – here's what you need to know.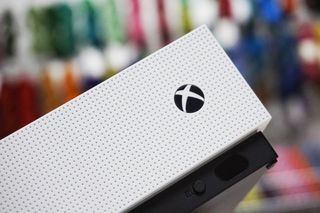 (Image credit: Matt Brown | Windows Central)
While Microsoft continues to test the next Xbox One update among select Xbox Insiders, a new batch of changes is rolling out to consoles worldwide. The latest build, now available to the public, delivers a range of fixes upon last year's fall update to all Xbox One owners.
Although no new major additions are making a debut with this update, fixes are being deployed across several console features. Among the highlights are fixes to Party chat, Dolby Atmos and the Microsoft Store, alongside wireless fixes across the console family. New Wi-Fi firmware updates have also been deployed for the Xbox One X and Xbox One S, promising improved performance and stability.
For those who use the Xbox One's "Instant On" mode, the update will begin automatically downloading to your console when ready. If you choose to manually install the build, navigate to "All Settings > System > Console Info & Updates" and check for an update. For a complete list of tweaks made to the console, read below for the complete changelog, provided by Microsoft (opens in new tab).
OS version: 10.0.16299.4055 (rs3_release_xbox_dev_1711.171203-1700) and 10.0.16299.4059 (rs3_release_xbox_dev_1711.180109-1130)
Release date
01/22/2018
Store
Resolved an issue that sometimes prevented users from pressing B to go back when navigating the Store.
Privacy & online safety
Resolved an issue that caused child accounts with family restrictions to retain the restrictions after graduating to an adult account.
Party chat
Resolved an issue that caused some users to lose party chat audio and voice quality fixes.
Audio
AVRs with HDMI-passthrough should no longer break Dolby Atmos for home theater if the TV and console are turned on before the AVR.
Wi-Fi
Wi-Fi firmware updates for the Xbox One S and Xbox One X improves wireless performance and reliability.
Resolved an issue that omitted certain wireless networks when scanning for available wireless networks.
Resolved an issue that sometimes caused unexpected network disconnections when using a wireless connection.
What do you think of today's update? Make sure to leave your thoughts in the comments section.
Windows Central Newsletter
Get the best of Windows Central in your inbox, every day!
Matt Brown was formerly a Windows Central's Senior Editor, Xbox & PC, at Future. Following over seven years of professional consumer technology and gaming coverage, he's focused on the world of Microsoft's gaming efforts. You can follow him on Twitter @mattjbrown.
No fix for sudden switch on (I put my XBOX to off, some time later... Xbox is switched on. I didn't do it, my console decides to switch on)

Sorry i pressed report instead of reply then. How do i undo it? My computer froze just as i was pressing the button. I have 4 Xbox One's though and none of them switch on randomly however I did find certain remote controls can interfere with the Xbox at times though. Check if this is happening when you switch on another device or use a remote control. My set top box often switches on one of the Xbox one's for instance.

Hope it really does fix party chat issues sometimes everyone in the party is stuck connecting and u have to make a a new party to fix it

I certainly hope that this will fix the download speeds. When I do the bandwidth test it shows between 230 Mbps and 300 Mbps. When downloading a game though it rarely goes over 160 Mbps. It worked great over cable as it did go over 250 Mbps so the ISP or the router are definitely not the problem.

It's on the MS server side. That 160Mbs is actually the improved speed. It used to stay around 10-25 for me. Some people may remember slower back when the console first came out. It all depends on how many people are downloading from the store when you try to update. Overnight and early mornings I get my top speed ~150-170Mbs and during peak times I usually get in the 40-60 range.

Does the WiFi only remember one network at a time? Considering the phone and PC have the same settings for this, it seems like the Xbox should have at least similar functionality.

I had it where the Home would not show the other day on pressing X. The current game ran fine. Could even Quit out of it to the dashboard but the sidebar would not show. A reboot fixed it.

I had the same issue and fix also.

Got a one x, can't use Kinect and as a result, no device control. How about some hdmi-cec goodness eh Microsoft?

What, why would Microsoft ever want to encourage a use for UWP apps to be made (sarcasm)? Someday they will stop being stupid and actually put capabilities into their whole ecosystem to allow for proper app development! I mean why require all of the begging for each little feature and start actually thinking ahead of what would be needed and put it in. Why not allow controllers to be used on Windows 10 by having Xbox app have the actual XBox Home/Guide. Then your PC could actually be an Xbox with keyboard and mouse added in. Why not finally add keyboard and mouse to Xbox? Having the same controls available would only help the Play Anywhere capabilities.

A 1st party HW e.g. Surface maybe... but custom build PC cannot be a xbox, too many unique issues for devs, os / hw provider, OEM to handle.
Tighter control == lesser (individual) trouble == better security == easier for programmers to code / optimize / QA.
Don't tell me you've no idea how sxxxid users can be....

I stopped using the Instant On mode because there was always a fan or drive spinning when "Off". Could be the external drive? Maybe they should fix that next!

It is the external drive I always thought it was my Xbox but no.