NexDock shipments should now be completed by mid-September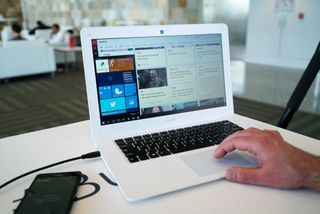 The company behind the NexDock lapdock accessory is reporting that it has found the reason why some of the first units that shipped had issues with powering up when they were not connected to an AC cord. The plan is now to begin shipments of the remaining units next week and to complete them by mid-September.
NexDock allows Windows 10 Mobile phones to work like PCs when connected to the accessory, via its Continuum feature. The first shipments of the device began earlier this month, but the decision was made to delay the rest of the NexDocks until the power issue could be found. In updates on its Indiegogo page, the company has revealed that the reason for the power issues:
In the latest update on the page today, it looks like the rest of the NexDock units have passed inspection:
Thanks to Hans for the tip!
Windows Central Newsletter
Get the best of Windows Central in in your inbox, every day!
Why I don't do Kickstarter.

You don't do Kickstarter because this product is shipping and fulfilling their commitment to backers?

No, because audio control issues and delays are seemingly more common or of larger concern. How awesome to be someone whose early one didn't power on properly!

When where can I buy one,????

I have one of the defective units. It still works you just have to start with it plugged in. To be honest if this thing had USB-C it would have been quite a breakthrough. If Microsoft plays their cards right and there is a line of accessories for the surface phone I could see this having some traction.

I think HP's Dock will bring USB-C.

have one two. it dont turn on using microsoft display adapter but with my gole1 it does. powered hdmi works with it unpowered ones dont.

I look forward to see big players like Dell,hp,etc make this kind of device in near future to promote Continuum. Once USB Type C 3.1 Gen 2 becomes mainstrem a lot things like these will become useful and popular. Intel and Microsoft should work together to promote this tech, Google or apple is not very keen on promoting this tech.

HP already has one that they sell with the elite x3, probably unavailable without it though.

I would love a surface-type unit like this for my 950xl. Same detachable keyboard, same form and finish. But it would be a little lighter and more importantly, cheaper than a surface pro.

Anyone had to send theirs out for repair? Mine arrived with a defective trackpad and I was just curious what people experiences have been.

will be sending mine soon defective power on and no experices since we are the first wave. and how trackpad defective? sometimes it slows down a bit less open the mousepad on phone first. even using mini pc is slows sometimes

Left click on the trackpad doesn't work at all, it doesn't look like it was assembled properly, not sure how it got past the QA process.

I have one with the power on issue. Nexdock sent me an email that said I will have to send the unit to California to be fixed. Nexdock is providing a pre paid shipping label. Posted via the Windows Central App for Android

As far as I can see, Continuum is the first step in replacing personal computers for the outdoors (laptops & tablets). There is a lot to go to further develop Continuum to become independent of its own innovation. These accessories are what we need and msft should inspire OEMs by showcasing the possibilities of Continuum from their own hardware innovations if they're taking Continuum seriously.
Windows Central Newsletter
Thank you for signing up to Windows Central. You will receive a verification email shortly.
There was a problem. Please refresh the page and try again.