The NFL is making Microsoft Surface a winner on and off the sidelines
The NFL and Microsoft forged a partnership to promote Surface on the sidelines. But Surface is now being pushed into communities, schools, healthcare and more.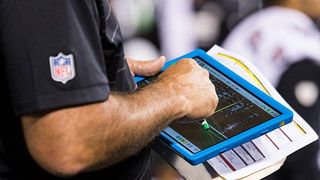 In 2013, Microsoft struck a five-year $400 million deal with the National Football League (NFL) making it "the official sideline technology sponsor of the NFL" and the Surface, "the official tablet of the league." The NFL is now pushing Surface beyond the sidelines.
Microsoft launched Surface in 2012 as the tablet that can replace your laptop against Apple's iPad and a host of Android tablets. The Surface's versatility with a removable keyboard, pen, and context conforming UI, matching the device's tablet and laptop modes, was Microsoft's differentiator.
Still, Microsoft needed mindshare to compete in competitive tablet space. The partnership with the nation's most watched sport was conceived so that millions of viewers with eyes on the sidelines would see Microsoft's Surface in action. The partnership has suffered fumbles along the way but Microsoft passed Surface to key NFL players who, combined with passion and personal projects, are running the brand into the end zones of communities, schools, healthcare and more.
Microsoft Surface: Ready for some football
Where the NFL brought Surface to the mainstream, Surface modernized football by increasing efficiency for coaches, players, and referees on the sidelines.
For instance, the near real-time delivery of color images to the Surface replaced black and white photos that had to be printed, sometimes laminated, bound in a binder and delivered to the sidelines in the past. Additionally, referees can view instant replays right on the field increasing the game's speed.
Microsoft outfitted these "gridiron" Surfaces to endure the hardships of the 8,000-square-foot "offices" they're used in, as Yusuf Mehdi, Microsoft's corporate vice president, refers to the NFL sidelines. The abilities to endure temperature extremes, rain, glare, drops, and holding a charge for the entire game were all basic expectations.
The on-field NFL Surface are also unable to connect to the internet (opens in new tab) (since a local network connection for photo and video transfer of the game's plays to the Surface is all that's required for the pre-configured app), can't install additional apps and are all configured the same way to ensure no team has an advantage. Flawless connection to the stadium's network is also essential. Sadly, even the best-laid plays can be fumbled.
Microsoft Surface fumbles
In 2014, NFL commentators calling Surfaces "iPads" or "iPad-like devices" on live TV tackled Microsoft's attempts to establish mindshare against Apple's well-known tablet.
Sadly, TV networks CNN and ABC also allowed the iPad to intercept Surface's time in the limelight. In 2014, CNN anchors were caught on-air using Surfaces as crude stands for their iPads. And last year I reached out to ABC's Laura Hutchinson on Twitter after noticing anchors never interacting with the Surfaces positioned in front of them while the iPads were in constant use. Her response is below.
I use both! The iPad for me is always left on the story I'm reading next. Surface is for looking ahead at scripts into next half hour. https://t.co/KXGhF73H41I use both! The iPad for me is always left on the story I'm reading next. Surface is for looking ahead at scripts into next half hour. https://t.co/KXGhF73H41— Laura Hutchinson (@LauraHutch8) June 4, 2017June 4, 2017
Hutchinson also added the iPad acts as a backup TelePrompTer and travels throughout the studio.
To add insult to injury, Bill Belichick, coach of this year's Super Bowl losers, the New England Patriots, publically slammed and stopped using Surface in 2016. Belichick said, "I'm going to stick with pictures ... there just isn't enough consistency in the performance of the tablets." Despite these troubles, Microsoft and the NFL extended its five-year partnership into the 2018/2019 season.
NFL and Microsoft bring Surface beyond the sidelines
Microsoft and the NFL have taken their Surface partnership and touched down on the personal passions of some the league's renowned players. Here's a quick list of them.
Larry Fitzgerald, Arizona Cardinals
Fitzgerald established the First Down Fund which distributes 17 grants to underprivileged communities each year to bring technology, resources, the Surface, and other opportunities to schools.
Von Miller, Denver Broncos
Miller founded Von's Vision which provides low-income children with eye-care needs. Surface is used to keep the children's records, as part of a learning program, and its accessibility features are used to help facilitate the cause.
Richard Sherman, Seattle Seahawks
Sherman established Blanket Coverage which brings resources to children so that they can pursue education goals equipped with tools they need. This included a Surface computer lab in Sherman's high school.
Martellus Bennett, New England Patriots
Bennett created the Imagination Agency which creates children's books, apps and films. Bennet says he's drawn to Surface because, like him, it works in multiple ways and is a device that can do a little bit of everything he wants it to do. "There's only a couple of things like that; there's a tight-end, Microsoft Surface and Bat Man's utility belt," he said. He also encourages girls, especially African American girls, to get involved in tech.
Microsoft, African Americans, tech and inequality
Greg Olsen, Carolina Panthers
Olsen created the HEARTest Yard after his son was diagnosed with a congenital heart condition. Olsen had the resources to hire life-changing direct, in-home care for his son. Through HEARTest Yard, Olsen provides similar care for sick children in families who can't afford to pay for the services. Surface and Microsoft integration in this program allow access to medical records and changes in how health care is provided to families.
Russell Wilson, Seattle Seahawks
Wilson founded the "Why Not You Foundation?" which, among other efforts, partnered with Strong Against Cancer to help children with cancer. Surface is used to instantly connect with others to facilitate the foundation's goals.
Microsoft Surface and the NFL
Microsoft's NFL partnership has evolved from product placement on the sidelines to being part of game-changing efforts in people's lives. The real-life impact and the human connections established through the personal passions of the NFL's heroes may resonate with football fans and non-fans alike.
Windows Central Newsletter
Get the best of Windows Central in in your inbox, every day!
Jason L Ward is a columnist at Windows Central. He provides unique big picture analysis of the complex world of Microsoft. Jason takes the small clues and gives you an insightful big picture perspective through storytelling that you won't find *anywhere* else. Seriously, this dude thinks outside the box. Follow him on Twitter at @JLTechWord. He's doing the "write" thing!
I don't watch the NFL so i have to ask. Do the old problems of this deal still remain? They had some problems with the devices and especially with the way they are aloud to use them. As I remember they just got them shortly before the game and had to give them away right after the game.

They weren't a winner this holiday season. Even with all the new models introduced in 2017, sales were down over Christmas!

They made up for it with the higher price.

Surface were higher priced last year?

Personally the Surface is my favorite. Unfortunely I can't say I know a single person that has one. I know that is just in my own little world sample but iPads on the other hand....

Well. Yesterday a salesperson passed my house and he was carrying a surface pro and half an hour after I have to renew my insurance and the guy that helped me used a surface pro. I asked him if he was the only one that use surface pro in his company, he said no, all of us use surface pro. He said, believe me we're many guys using it.

Surface doesn't really compete with iPad as much as it competes with laptops. If an iPad meets your needs, you likely aren't even looking at a Surface Pro let alone the Surfacebook or Laptop.

Correct, iPad is nothign but a toy.

True, anything Surface is overkill if an iPad is already doing what you need.

I'm planning on getting a iPad Pro 10.5 this year. But it's not to replace my Surface Pro 3, it's just that for reading and true touch apps the iPad is better suited. Those 12inches are just a tad to big (and heavy) to use it as my main kindle device. The iPad true tones display combined with full fledged civilization 6 on the go, pushed me over the hill and made me decide to get my first iOS devices in almost half a decade. For real tablet stuff there is nothing close to an iPad. For hybrid stuff there is nothing like a Surface. Both Windows and iOS excell in there respective categories and there is nothing wrong with that!

That is because you can buy a iPad anywhere like Target or Walmart. If you want a Surface, you have to go an electronic store like Best Buy or Fry's. Microsoft's products are just not readily available to the public.

Because the public doesn't readily buy them.

Actually there's a few in my family that use Surface Pros. There's also quite a few at my company as well as some Surface Books.

Living in Japan, I have one and so do my friends. Ppl using'em in MacD or coffee store isn't that rare imo.
But I've to agree, Surface isn't for everyone and MS wouldn't want to (and shouldn't) lower the price to compete with OEMs.
It's kinda like a direction / concept showcase machine... plus, you have 1st party support.
Besides Surface, the only OEM brand I'll trust is Alienware (unlike Lenovo or Asus, etc, my older Win8.1 Alienware was not affected by forceful win10 update even if I requested it manually and that's a good thing. I eventually upgraded it. All drivers work fine, 0 issue so far). I've never had a Razer, but I'm interested. The only concern... touch screen is kinda useful in some use case.

There is no disputing that iPads aren't the simpler device to use. I genuinely don't get why Microsoft bothers with the NFL and news anchors. If they have proven time after time that they are far too dumb to use the devices why bother. It will only ever create bad reputation for the brand. IMO they need to make it clearer what the product which is being advertised is. The current 'here is a creator which uses the product' adverts only show some of what the device can use. That being said, they generally just need to do more advertising in the UK. Although professional in the US are beginning to use Surface Devices they are still quite uncommon in the UK.

I've seen plenty that use them in Sweden. Mostly people that work for tech/consulting companies. But i think a higher grade of people use it nowdays in school here in sweden compared to when i studyied (surface 3 was the newest thing around back then)

I was in Mayo (AZ) in early January, popped into the cafeteria (not the greatest food there) but there were six (6) people with Surface Tablets in various areas doing whatever on their devices. After grabling a quick meal I took my device (SP3) out of my backpack and then there were seven (7). Perhaps a little extraordinary but it seems more users are understanding the device's value.

I run my own business with my father. And we have just upgraded to Surface Pro. And they have made our workload significantly easier than the Ipads we did we did have. We will never go back. My daughters school did have Chromebooks for 1 year. But have now just replaced them with Surface products across the board.

Is it a private school? Though I'd like to see it happen, I just can't imagine how public schools can switch from Chromebooks to Surface, which is a lot more expensive. At my kids' schools, it's all Chromebooks.

What school is paying for a Surface? Bull.

Weren't all the issues they encountered on the field with the Surface Pros were related to network outtages?

I see numerous people using them in Starbucks everyday.

I see them in Starbucks regularly but not quite as much as iPad Pros. I see a ton of Surface devices in airports though. They have become common to see.

On long flights, detach the keyboard and plop the surface pro on the food tray. That's what I did when my entertainment monitor crapped out during a 15 hour flight.

Associate your product with the loathed instant replay, that's the way to do it.

maybe in addition to special nfl type covers sell a version of that blue silicon case with bottom cutout for type cover ? I want one.

In my (multinational) company, 3 years ago there used to be a lot of iPads for managers and frequent travelers to read their mail etc. For most of them the iPad was in addition to their iPhone and Dell laptop. Nowadays the Surface Pro's are rapidly wiping out the iPad installed base so I suspect in 2 or 3 years from now it will look like 60% Dell, 39% MS Surface Pro's and 1% ipads.

The ratio for my company is more like 50% Dell, 30% ipads, 20% Surface Pro (but steadily growing).
Windows Central Newsletter
Thank you for signing up to Windows Central. You will receive a verification email shortly.
There was a problem. Please refresh the page and try again.