Nickelodeon All-Star Brawl: Characters, trailers, and everything you need to know
A new challenger has entered the ring, and it's packed with nostalgia.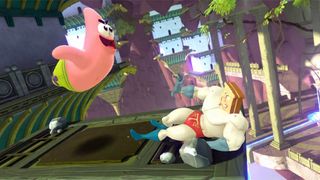 (Image credit: GameMill )
Super Smash Bros. Ultimate is the undisputed crossover fighting game king, packing a roster of over 80 beloved characters from across videogame history. While there have been many Smash Bros. clones in the past, the one on everyone's mind is Nickelodeon All-Star Brawl, a new fighting game that might just have what takes to go toe-to-toe with Nintendo's premier fighter. Fueled by nostalgia and taking more than a few cues from the hit multiplayer series, Nickelodeon All-Star Brawl might end up being a surprise hit, and one of the best multiplayer games on the Xbox. Here's everything we know about Nickelodeon All-Star Brawl.
What is Nickelodeon All-Star Brawl?
Nickelodeon All-Star Brawl is a new multiplayer fighting game that pulls characters from Nickolodeon's 30+ years of cartoon history. Taking tips from Super Smash Bros., the gameplay consists of fast-paced multiplayer brawls, where the objective is not to deplete your opponent's health bar but to knock them out of the arena.
Which characters will join the brawl?
The reveal trailer offered a look at 14 characters, each with their own unique playstyles and abilities:
Oblina — Aaahh!!! Real Monsters
Danny Phantom — Danny Phantom
Helga Pataki — Hey Arnold!
Zim — Invader Zim
Reptar — Rugrats
SpongeBob SquarePants — SpongeBob SquarePants
Patrick Star — SpongeBob SquarePants
Sandy Cheeks — SpongeBob SquarePants
Leonardo — Teenage Mutant Ninja Turtles
Michaelangelo — Teenage Mutant Ninja Turtles
Lincoln Loud — The Loud House
Lucy Loud — The Loud House
Powdered Toast Man — The Ren & Stimpy Show
Nigel Thornberry — The Wild Thornberrys
You'll notice that there's already a good collection of fan favorites like Zim, newcomers like Lincoln and Lucy Loud, and more obscure choices like Powdered Toast Man (which might be older than the fanbase this game is marketed to). Fans have already begun examining the black silhouettes of the game's box art for clues on other members of the roster. According to online speculation, it seems like Aang and Korra from the Avatar series (not to be confused with Avatar: Frontiers of Pandora) Ren and Stimpy, and CatDog might join the cast.
Does Nickelodeon All-Star Brawl have rollback netcode?
The answer to this is a surprising yes, at least on supported platforms, that is. In short, rollback netcode is a feature that can predict a character's movements when playing online, to reduce input lag, to better keep players in synch when playing online. While some fighting games, like Street Fighter V, have implemented rollback netcode to positive results, many fighting games, including Super Smash Bros. Ultimate, do not. This alone might make playing Nickelodeon All-Star Brawl online that much more enjoyable.
What about wavedashing?
Smash Bros fans will also be excited to know that wavedashing will be included in Nickelodeon All-Star Brawl. For those who didn't grow up playing Super Smash Bros. Melee on the GameCube, wavedashing is a technique that allows players to cancel out of a low, diagonal air dash to mimic a slide. This technique is standard practice in the Smash Bros. community but is something that has been sorely missing (and missed) since the GameCube classic.
What kind of stages can we expect?
Super Smash Bros is known for its insane character roster, but also for its stages, often based on the worlds of the characters, and from the company's history, too. We've yet to get a good look at the stages, but judging the trailer, we'll have some interesting locales to battle on. Spotted in the trailer were the rooftops of a city, which are probably connected to TMNT, but also quick shots of Bikini Bottom and what looks like Ba Sing Se from Avatar.
Will there be DLC?
It's not uncommon for a game to have a DLC waiting in the wings at launch, but as far as Nickelodeon All-Star Brawl goes, nothing has been announced yet.
Will the Xbox version make use of Smart Delivery?
As with many current Xbox games, Nickelodeon All-Star Brawl will support Smart Delivery, which means that if you buy the Xbox One version of the game, you will be able to upgrade to the Xbox Series X or Xbox Series S version, free of charge.
How many players are supported?
Right now, it seems like a max of four players in both local and online matches. There's no word about crossplay as of this writing.
When does Nickelodeon All-Star Brawl release?
Nickelodeon All-Star Brawl will release this fall for all major platforms, including the Xbox Series X. It'll cost $50 at launch.
Your favorite cartoon characters duke it out!
Nickelodeon All-Star Brawl
Fight with your favorite cartoons

Nickelodeon All-Star Brawl is a ridiculous Super Smash Bros.-style game that brings your favorite Nick cartoon characters together for an epic brawl.
Get the Windows Central Newsletter
All the latest news, reviews, and guides for Windows and Xbox diehards.
Zackery Cuevas is a writer for Windows Central, Android Central, and iMore. I like playing video games, talking about video games, writing about video games, and most importantly, complaining about video games. If you're cool, you can follow me on Twitter @Zackzackzackery.