Hidden object adventure Nightmares from the Deep: The Cursed Heart coming to Xbox One this fall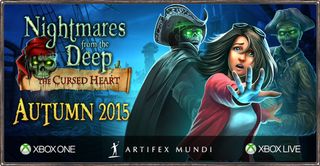 Polish game studio Artifex Mundi has made a name for itself as the premiere publisher of hidden object puzzle adventure (HOPA) games on mobile and tablet. They've given Windows Phone and Windows 8 approximately 20 such titles over the years, including such popular series as Nightmares from the Deep, Enigmatis, and Time Mysteries.
Soon Artifex Mundi will make the jump to console games as well. Today the publisher announced that it will bring Nightmares from the Deep: The Cursed Heart to Xbox One in the fall via Microsoft's ID@Xbox program. Not only will The Cursed Heart become the first hidden object game on Xbox One, but it will include some welcome console optimizations as well. Read on for the announcement trailer and more details about the game and its Xbox-specific improvements!
Nightmare at the museum
The Cursed Heart is the first of three games in the Nightmares from the Deep series. While the Nightmares from the Deep games all feature eerie nautical settings and themes, each title has a largely standalone story. The protagonist from this one does show up in the next game, though…
Cursed Heart centers around a supernatural pirate named Remington whose decayed body comes to life inside of a museum. Soon he wrecks the museum and kidnaps the museum director's daughter. As the director, you must follow Remington to his island base and rescue her before he completes his evil plan.
The story in Artifex Mundi's premiere Xbox One title will come to life via fully voiced and decently acted dialog. The CG rendered movies and hand drawn cinematic sequences aren't going to wow console gamers, but they do keep the game from feeling too static.
Like most Artifex Mundi titles, The Cursed Heart is a hidden object puzzle adventure game. Players will navigate a variety of well-illustrated environments, interacting with various objects to solve puzzles and move the story along. Hopefully, the console controls will handle such tasks well.
At various intervals throughout the game, players will engage in hidden objects puzzles as well. You know how these work – you'll have to find all of the objects from a list amidst a crowded scene. The Nightmares from the Deep games dole their hidden object scenes out less frequently than some games in the genre, probably due to their greater focus on narrative.
Players who don't care for hidden objects should be pleased to know that The Cursed Heart offers Mahjong Solitaire as an alternative to the hidden object sequences. Xbox One doesn't have any mahjong tile games just yet, so this will scratch an extra itch on top of the hidden object stuff.
Check out our review of the Windows Phone and Windows 8 versions for more gameplay details.
Setting sail for Xbox One soon
Artifex Mundi promises that The Cursed Heart will run at 1080p and 60 frames per second on Xbox One. Not a huge surprise, given the relative simplicity of the game's graphics and engine. It will certainly be interesting to see the game jump from phones and tablets to big-screen HDTVs. Perhaps that'll make the hidden objects easier to see too.
Other improvements include console-specific controls and Xbox Live Achievements. The publisher promises the new controls will "allow for smooth and comfortable gameplay in minigames." As for the Achievements, they'll be different than the non-Xbox Achievements included in mobile versions. Hopefully, Artifex Mundi keeps them casual instead of the annoyingly hardcore Achievements that former mobile publishers sometimes go with.
Nightmares from the Deep: the Cursed Heart will arrive on Xbox One this fall.
Do we have any hidden object fans in the house who are excited to play Nightmares from the Deep on Xbox One?
Paul Acevedo is the Games Editor at Windows Central. A lifelong gamer, he has written about videogames for over 15 years and reviewed over 350 games for our site. Follow him on Twitter @PaulRAcevedo. Don't hate. Appreciate!
This is one heck of a game! Among all the Artifex Mundi Windows Phone titles, I rate this second only to Enigmatis. :) Seriously, if HOPA is your type, Artifex is the best way to go and this is the best game to start with (I started with this as well, got it for free via MyAppFree in Halloween 2013 I believe, and then I was so much impressed that I bought all their games last year) :) Hope to see more games from them on Windows and Xbox soon! :-D
P.S: Another one of their games, Grim Legends 2 is available for $1.49 via Red Stripe Deals, I just bought it, haven't played it yet. :)

I have bought most of their games and agree with Usama. Enigmatis is the better series, but this one is pretty good as well. Not sur eif bringing it to Xbox will make anything better than on my little Surface RT, but I may give it a go. Will these come as a universal app? I ask as I would not liek to pay for this twice and it would be nice to be able to play it on my phone tablet and xbox and have it save my progress. Just a thought Artifex...

It's very unlikely they'd make it universal across Xbox One and WP/W8/RT, even if they could. They'll want to make $10 per sale rather than letting people who paid like $3 for the phone and tablet versions have it. I could see them doing a universal Xbox One and W10 version though.

I have a few of the games in the series on Steam. I play them on my HP Stream 7, works perfectly with a touchscreen. These games are really fun.If you are a fan of hidden picture puzzle games, I highly recommend these. They do a great job telling good stories.

If it does well on console, hopefully we will get more. I've only played one of the games in the series so far and enjoyed it.

I'll have to let my wife know about this publisher. She loves the hidden object type games. Might have to replace her old iPad with a Surface 3.

Yep! My wife plays these all the time... she used to borrow my SP3 all the time, but I've just bought her a HP Stream 8 to play them on. She likes the smaller tablet as she can just chuck it in her handbag easily

Another ID @Xbox game to look forward to!

That's great news! This is my favorite Artifex Mundi title, with Enigmatis 2 coming in a close second. I purchased all of the games that were on sale back in January for 99 cents each, which is something I've never done unless I try the game first. I just bought Grim Legends 2, and I have about two more titles left to purchase. Funny thing is, I've only completed 3 of all of the games I've purchased from them! The gameplay is quite abundant. Definitely worth a buy for your phone or tablet.

Absolutely love these games by Artifex Mundi!
Windows Central Newsletter
Thank you for signing up to Windows Central. You will receive a verification email shortly.
There was a problem. Please refresh the page and try again.