Out This Week on Xbox One: No Time to Explain and Rory McIlroy PGA Tour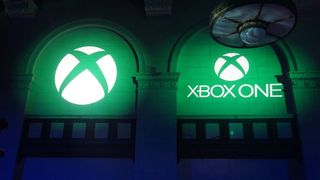 Every week, new games are released for the Xbox One. Whether they are indie titles or AAA titles, we want to make sure they're on your radar. So get your wallet ready and clear some space on your hard drive. Let's take a look at what's coming out this week for Xbox One.
No Time to Explain
Cannons, sharks, and giant crabs?
No Time to Explain is a ridiculous platformer in which you chase your future self through different times and alternate realities. The game has been completely rebuilt from the ground up for the Xbox One.
The game has you using your awesome future cannon as a jetpack as well as a deadly weapon to use against sharks, monsters, and giant crabs. The biggest addition in the Xbox One version is the ability to play four-player local co-op.
The game comes from tinyBuild who is planning to release a plethora of other games on the Xbox with SpeedRunners being the most anticipated. Not sure about this new developer? Well, fear not, you can grab the No Time to Explain demo that gives you 30 minutes of playtime in the game for free. If you like it, you can grab it for $14.99 this Friday.
No Time to Explain - Xbox Store - $14.99 (opens in new tab)
Rory McIlroy PGA Tour
Golf without limits
Rory MCllroy PGA Tour is EA Sports latest game in the long-running golfing franchise. It also marks the first time since 1998 that the game is named after someone other than Tiger Woods. It is also the first PGA Tour game that is built for next-gen consoles with the Frostbite engine.
Some of the game's new features include a new backswing meter, aiming arc, as well as three distinctive ways to play. These three modes are Arcade, Classic, and Tour. Arcade is the easiest way to play and is geared towards novice players. Classic features your usual gameplay mechanics for those that are familiar with the franchise. Finally, Tour allows players to get as close as possible to the real thing. This mode turns off all assists and handicaps and puts you in total control.
These are some awesome additions to the franchise but what will attract most people to this year's version of the game are the new fantasy courses and the Night Club Challenge. Think of the fantasy courses as a grown up version of mini-golfing. One of the most talked about fantasy courses is Parcel Storm which is inspired by a Battlefield map and the course if features a battleship storming into the course.
Say goodnight to the sun and hello to the neon lights in the Night Club Challenge. This mode features tons of skill-based challenges and while bringing some fun into golfing.
As with every EA title on Xbox One, you can jump to EA Access to try out the game before it launches this Tuesday for $59.99.
Don't bother. I was super-excited for Rory McIlroy as well, but it's not even half of a game. You get 12 golfers and 8 courses (9 if you pre-order). For $60, that's a joke. EA Sports UFC was/is in a similar development cycle, and it only took it about 6 months to reach EA Access. You'd be better off just getting The Golf Club for $40, if you want quality golf simulation.

Is No Time To Explain buggy, or is the a rare example of a proper launch? I want it.

Again ... no PC release! Damn it!

It's already on steam. Xbox got it late

The segment is called Out This Week on Xbox One. That being said, No Time to Explain Remastered will be hitting Steam the same day as the Xbox version.

PGA is slightly buggy as well. Been playing it since Thursday, almost 9 hr in. I've owned the last 5 Tiger games and found this to be pretty weak in comparison of features. Graphics obviously are much better but the career mode and player creation is extremely basic this year. No more scanning or importing your own face. You can't even make adjustments to the pre-selected faces (only about 10-12 to choose from btw). Can't even add facial hair. 90% of the outfits are EA branded. And again, only a fraction of outfits to select. No Masters or Augusta. About 9 courses to choose from. I also find the game to be extremely easy. Within 20 min of playing I'm already hitting eagles and birdies and driving 350 yards. They have an assist that shows you exactly where your ball will land. Problem is that it even shows you where it will land and compensates for lie and wind. So basically you just have to swing and it lands 5 feet from the hole 90% of the time. If you turn off that assist (like you can with most) it makes it more challenging. But when turning it off you can end up inadvertently driving the ball into a tree that you can't tell if its in your line of sight. Camera views are limited and I find myself frustrated with them at times. And the game has froze up on me many times, once forcing me to restart. Audio hitches are common as well. Games needs a solid day one patch. Despite my complaints I do like it. Probably because it's the only option for a quality golf game but it's just lacking so much when compared to the previous years.

As long as the announcer is not Joe Buck.

The Golf Club is a very nice sim game, and Powerstar Golf is a respectable arcade game. TGC lacks a career mode or the persoanlization, and its visuals are sub-par, but it plays quite well, and is made by the previous Tiger Woods regime. It just lacks the flari and polish of a major release. I admittedly rail on it for those poor visuals, but it has limitless content (thanks to the course creation/sharing feature), and the core gameplay is quite solid. It's just a bit disappointing that they don't give you more customizatoin for your golfer (no club variety or paly style variety/progression).

PGA was originally supposed to have optional Kinect controls, which would've been awesome, but then EA quietly killed that Xbox-exclusive feature, which is unfortunate.

It was announced the games executive producer, Brent Nielsen via an interview with Game Informer. Here is a link, reported by 123Kinect.

It doesn't even mention Kinect in the announcement on that page.

I'll wait til they all get FFG.
Windows Central Newsletter
Thank you for signing up to Windows Central. You will receive a verification email shortly.
There was a problem. Please refresh the page and try again.