Nokia and Rogers tease the Lumia 900 with "The Dark Knight" for a promotion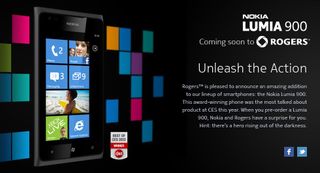 While we just learnt the base price of the Nokia Lumia 900 on Rogers it also now appears there will be a Batman "The Dark Knight" tie in as well. If you head over to their promo page, you'll see them advertising the ability to register to be notified when the pre-order is available--nothing unique there (though good tip if you're interested). But near the bottom of the ad there's a curious addition:
No word on if that involves movies passes or maybe the big granddaddy of it all: a Dark Knight edition of the Lumia 900. Sound crazy? We steer you to the Dark Knight Lumia 800 that had a super limited run (so limited we don't even know where to have gotten one). We're sure more will come out eventually on this "surprise" so stay tuned.
Source: Rogers; Thanks, buggyglint, for the link!
Daniel Rubino is the Executive Editor of Windows Central, head reviewer, podcast co-host, and analyst. He has been covering Microsoft here since 2007, back when this site was called WMExperts (and later Windows Phone Central). His interests include Windows, Microsoft Surface, laptops, next-gen computing, and arguing with people on the internet.
It's so not fair that the US customers don't have Lumia 800 (the $899 doesn't count), and we also have that ugly at&t logo on the top right hand corner. I'm willing to pay $100 extra just to get rid of that death star logo.

too bad batman doesn't come in cyan tights. i want a cyan lumia 900..

and folks, i know it's not confirmed, but what do people think, will wp7 devices be upgradeable to wp8? if they are, im buying the 900 off contract, ill just plug in my rogers sim card and ill be done. if they're NOT upgradeable, i have to wait a gruelling 6 to 10 MONTHS before wp8 devices arrive in canada.

note: to this day, there's only THREE 2nd gen devices in canada, lumia 710, the 800 (released march 2) and the htc radar. THAT'S IT. no titan, no focus S, no focus flash!! that's a lot of consumers that missed out and continue to miss out on those great phones!!

I doubt it. They would have told us by now if the news were good. I suspect they're waiting until the last minute to drop the bad new on us. I really do hope I'm wrong.

They have to update these phones... They cannot stop updating a 6 month old device.. For sure..

Just guessing, I assume WP7 phones will be upgradable to WP8. However, unless they have an NFC chip waiting to be switched on they will not have NFC capability when it finally gets supported in WP8. That is making me think twice buying a 2nd gen phone now and I think they are making a mistake not including a NFC chip in 2nd gen phones. It is going to be expensive enough for many of us to early upgrade so I certainly don't want to early upgrade now and then again when NFC finally gets supported.

I think NFC is a neat gimmick, but really? That's a major selling point for you?

I didn't say anything about it being the major selling point. Sure NFC is not useful today but just watch because it is going to be huge.

No way! BATMAN! Canada? When did we start getting stuff up here?

That must have been around the time that Nokia got a CEO from Canada :-)

now im thinking about jumping to Rogers, they actually support wp :)

WTF At&T??? Announced in Jan & not a spec of news as to when we can have it & Rogers alrerady has an ad...... F U At&t.

I called L900 cameo in DKR months ago! I was watching the last one and there was a Nokia in it and then there was the special edition L800 recently.

Oh man if they actually release a Dark Night 900 I will put a kidney on eBay to get it...

Actually Daniel, the movie is called The Dark Knight Rises. The Dark Knight was the latest one to be released, not the 2012 one coming up (obviously it will tie in with the new one). FYI for those interested, TDKR takes place 8 years after TDK. Not a spoiler, just written on movie sites like Yahoo/IMDB. Also I can't WAIIIIT till the movie is out. It's going to be awesome (along with The Avengers). #offtopicsowhat

I really think they should give Frank Miller the go ahead to film a Dark Knight Returns after this...(to continue the off-topic trend developing) =P

Nah he's better at writing. Hr can do that. Zack Snyder can direct, even if he is doing superman as well!

It was pretty obvious since it reads "rising" out of the "darkness."

I wouldn't say pretty obvious as I too was confused that the second movie appeared to be referenced in the piece. So I wasn't sure if this was referring to a tie-in with the third movie or a generic Batman tie in.

Upgrade is up to the carriers,right?
We pretty well know AT&T's position!

What's so bad about the AT&T logo, I like it!

I am pretty confident that they will be upgradeable to windows phone 8. I mean come on, if it can run on an old windows mobile phone obviously it will be able to run easily in even 1 gen windows phones

I seriously hope its upgradeable. I would be devastated if it wasn't. Plus I convinced a friend to get it. He has an iPhone 4
Windows Central Newsletter
Get the best of Windows Central in in your inbox, every day!
Thank you for signing up to Windows Central. You will receive a verification email shortly.
There was a problem. Please refresh the page and try again.