Nokia and Verizon teaming up to promote Nokia Music in Austin, Texas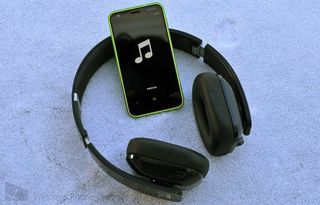 If you're rocking a Windows Phone device from Nokia, you've had access to Nokia Music for over a few months now. The music streaming service gives Lumia owners access to over 17 million tracks in the Nokia Music collection. Users can make create free fixes from their favorite songs or artists. Nokia also recently rolled out a 'Plus' version of Nokia Music that offers higher audio quality among other things for a low monthly fee.
Now they're teaming up with Verizon Wireless to promote the service with a concert series in Austin, Texas.
Nokia and Verizon are kicking off the concert series with a performance by R&B artist Solange at Arlyn Studios in Austin – which takes place tomorrow, March 10. The rest of the week from the 10th to the 14th will feature a partnership with Jay-Z's label Roc Nation and music venue Raptor House. There you'll get performances from artists like Haim, Caveman, Body Parts, He's my Brother, She's my Sister, Mayaeni, The Mowgli's, Wardell and more.
It's bad enough I'm jealous not to be in Austin for the South by Southwest Music Festival, now Nokia and Verizon have rubbed some salt in my wounds. Anybody lucky enough to check out the events let us know how it went. For the rest of us, the events will be streamed online through Livestream. Bookmark this link to check it out if you're interested.
It would come out of left field if Nokia and Verizon decided to unveil their 920 variant during the festivities, but crazier things have happened. However, you can count on them to highlight the Lumia 822 and Nokia Music. If you haven't really played around with Nokia Music you should. It's a nifty little app for discovering new music and downloading offline playlists is great. There is a lot of functionality overlap with Xbox Music, but more choices is always a good thing.
If you need to jog your memory, check out our hands on with Nokia Plus here.
Source: Press Release (opens in new tab)
Windows Central Newsletter
Get the best of Windows Central in in your inbox, every day!
I wish they would come to Dallas.. I would love to take my G. Friend.

I cant believe you are in Dallas bro... Whereabouts? I am in Irving.

The Cliff? Holy Sh*t, Batman! I lived on Burns St. for 20 years just down the road from Cockrell Hill. Went to Kimball HS. Living "The life of Rylie in Wylie" now. My neighborhood streets were all named after English poets: Burns, Shelley, Keats, Dryden. How does this tie in with thread? Well, I've been to Austin. Several times.

I'm in A town!!! Home of the biggest WP fan!!

Just down the road. Toll toad, that is. Nice city. Nice touch with the Preston Rd. cattle trail monument.

How about Nokia and Verizon come out with a 920...

Hold on, it may happen sooner than we think :)

I hope they do unveil the 928 so we can move on and get to the New Flagship Pureview and the EOS Pureview

I do believe Mr Elop was right when big things were brewing this year with Verizon. I don't recall Verizon working with Nokia on something so big. Verizon must be feeling the pain of purchasing iPhones at a heavy price.
Btw Sam I heard SxSW is awesome. If you have never been to Austin I would definitely go during one of their numerous festivals. 6th Street, Barton Springs Pool, and the State Capitol are some of my favorite spots. State Capitol is tallest in the country, even higher then its Washington counterpart. Texas baby!

I'm an Austinite since 2001. I love it here. Not huge like Dallas but you still get the city mixed with small town feel. My favorite festival is ACL Fest. Also did you mean 6th Street? That's the club district and where they have Mardi Gras, The Halloween Costume Party, The Old Pecan St. Festival, etc. Also visit the SOCO(South Congress) food trailers for good eats. Another must must see on SOCO is Lucy in Disguise for costumes. I alos love the quirkyness here like the city giving their unofficial 1st guy the now deceased Leslie his own day. We are also A liberal boat in a red sea. Great place to live.

Lol corrected to 6th Street I blame that on the hour when I posted, yes I love Austin, have visited a few times, accidentally ended up in the Pecan St. Festival once. Definitely a small town vibe. Visited the famous pizza place on SOCO, forget the name but the line was 3 hours to dine in. Have you been to Madras Pavilion, one of my favorite Indian restaurants anywhere. I like Dallas, but if you like the outdoors I feel Austin is the better city.

Acl doesn't get the love it deserves. Been there a bunch of times when I come down to visit my brother in san Antonio. Great city.

Still not sure why no Nokia Music in Canada.

I second that thought..don't understand why no Nokia music up here in Canada

Due to the legislation in Canada. What you can do, is change your phone's regional settings to US and restart the phone... then download and install Nokia Music. Then go back to Canada settings :) This has worked for some users...

Poor Sam :( I wanna try and help you report what's going on. Any Austinites and/or SXSW attendees going to this event on the 10th? Let's meet up somewhere. I'm the only one at the Bing lounge with a windows phone and I need to find some other awesome WP people around here!! (Side note: got a wristband for unlimited alcohol for being the only windows phone owner at the Bing lounge. Heads up!)

I will be there next year...dammit...promised my girlfriend to stay home in san Antonio for Luminaria

C'mon Nokia, get your premier phone on Verizon. At&t is killing Nokia here in the states.

THIS. There is no logic that will ever convince me that blocking HALF of American subscribers from their top-model phone is smart.

Damn, I so nearly went to SxSW this year, wish I had made the trip now!!

ATX! Highly recommend a visit to Austin. Been here since 2001 and really enjoy it. As a previous poster mentioned the city has a great vibe..."keep Austin weird"

I'm 60 miles north of atx. I'll be there this weekend for the music stuff. Can't wait!

When are the Purity Pro's gonna be available?? Amazon out of stock for weeks now.

Yeah, it was first anounced for Novembre 2012, and we have absolutely no informations since then. Nokia, just ship it already ! :D

I still think Music+ is a poor investment myself. If they gave you offline lyrics access, I'd be more favorable to it. However, that, and the complete lack of a filtering system, ruin it for me. I find myself spending 60% of my time skipping tracks I don't like, it seems.

This event is taking place about 100 meters from my workplace! Any extra Nokia t-shirts to hand out? :-)


I hope I can get my friend to do this road trip. Coming in from Houston and already rocking a Lumia 810!
Windows Central Newsletter
Thank you for signing up to Windows Central. You will receive a verification email shortly.
There was a problem. Please refresh the page and try again.