Charge your phone wirelessly with the Nokia DT-910, available on Amazon for £33.95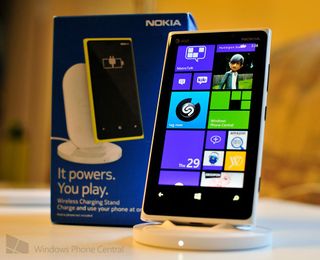 Charging your Windows Phone is a thing of the past with certain Nokia Lumia smartphones. The ability to rest the handset on a cradle or stand makes it painless to give the device a few hours of charge before heading out. If you haven't yet bought a Qi wireless charger to go with a compatible Windows Phone, the Nokia DT-910 (opens in new tab) is available for just £33.95 on Amazon.
Sporting not only Qi wireless charging, the DT-910 also comes with NFC and can launch a pre-determined app when charging. This particular unit is the black version. Selecting the white variant will up the price to £46.73.
We're not sure when this deal went live, but it's worth noting if you're on the hunt for a compatible charger. Should you need some more details before making the purchase, check out our quick review of the DT-910.
Thanks, serenityangel, for the tip!
Windows Central Newsletter
Get the best of Windows Central in in your inbox, every day!
Rich Edmonds was formerly a Senior Editor of PC hardware at Windows Central, covering everything related to PC components and NAS. He's been involved in technology for more than a decade and knows a thing or two about the magic inside a PC chassis. You can follow him on Twitter at @RichEdmonds.
Sorry Rich. Unrelated. But just got my new Lenovo thinkcentre edge 92z AIO!

Indeed it is! But how are you finding it?

Its fantabulously marvellous!

I live in the netherlands and I have a cyan wireless charging cover, but my there doesn't seem to be a wireless charger for less than 37,95 euros (dt-601). even the dt-900 is most of the time still around 60 euros. this sucks

US Amazon price is still full retail - $69.99 : (

Same here in Spain. Sucks!

Still wondering whether to bother with wireless charging on my 1020. Great deal and love the dock style, but cant see many advantages of using this over a normal dock only not having to connect the pin. That and having to use the bulk of a shell kinda put me off at the moment. Great deal for those with charging built in however.

I have wireless chargers for my 1020 in my car, on my desk at home, and at work. I don't mind the tiny bit of girth added by the cover and LOVE not plugging in the phone. It's going to stink when/if I ever have to go back yo the "old fashioned" method. ;-)

I wish there was a way to get wireless charging as well as use camera grip, which i absolutely love.

The charge cover actually make the camera bump less exposed and adds hardly any weight. I highly recommend getting it and the wireless charger

Still way too expensive to consider I think. USB charge overnight suits me well enough.

Bought the Nokia car charger and flat one (not sure of numbers) for 920 and both are used a lot, can say its worth paying extra for the quality. I bought a cheap car charger which just came apart one day, so thought I spend more and see if its worth it, imho it really is. Not used this model but would guess its the same Nokia high quality. As for wireless charging, once you try it you won't go back!

I can't charge my 1020 with this charger, it only seems to compatible with my 920 and nexus 5

You need the wireless charging case to use it with the 1020. http://www.microsoftstore.com/store/msusa/en_US/pdp/Nokia-Wireless-Charg...

Does it work with the 1520? My 900 and 901 chargers sometimes call problems setting the 920 in a vibrate loop. Annoying since it is even set on them,correctly

Just upgraded my faulty 920 to a new 1020.. i miss Qi charging already, but i love this phone!

Builtin Wireless charging is the only reason I haven't upgraded but I got the basic charger free and bought a yellow one for my old lady for her nexus 5 and 7, I refuse to let her google devices be the only wireless... Despit being completely windows she is allowed only nexus devices I think are best value devices for her needs

Gonna wait until that tylt vu charging stand goes down in price. Currently its £79.99 on amazon if it drops to £50 i will get that as it looks awesome

I was using a cheap micro USB cable that was frayed and suddenly smelled burning plastic coming from my 920. I quickly unplugged it, but it was too late. The charging port was melted and rendered useless. Fortunately, the wireless charging still works. Love it. That's the only thing that keeps me from getting a 1520

The 1520 works with wireless charging. It's built-in.

The lack of wireless charging on the 1520 (at&t version) is the only reason I haven't updated. It would be my perfect phone, but the lack of wireless charging is a deal breaker for me. So, I'll stick with my 920 too.

There is a lack of "Built-in" wireless charging, you can still charge the 1520 wirelessly, but you need the case for PMA charging...

I have a dt-910. And its absolutely amazing (have a 1520). But, I have put some tape over the led indicator. Its way to bright if you have it on a nightstand next to your bed. Stupid of them to put in a white light. Lights up the whole room at night. But with the tape I can still see it but its a bit orange now. Otherwise its a great product and I strongly recommend it.

How you find the charger with your 1520, does it hold it OK? I have the flat charger and my phone seems too big for it.

I bought this at a T-Mobile store but my current phone doesn't support wireless charging

Well this isn't really a "deal" because it's not being sold by Amazon but by a third party seller.
If you browse Amazon's marketplace you often find prices lower than Amazon's.

yup, Amazon price is £46.73

Nope. Amazon price is 38.50 for the black one. Been this price since October:

The black is sold is Dispatched from and sold by total digital stores, not Amazon

Does anyone know if the 1020 with its shell fits well on this charger? Thinking about buying this for my 1020.

Yes it does. I have this and the 1020 fits there just as well as the L920 ;)

Many thanks, I will get one

You guys get commission with Amazon referral or something?

Haha, yeah right, they were probably tipped about this deal (which is a good deal)

Nice price drop. Still a little too expensive for some plastic some copper. But I understand the argument of design behind the pricing.

After the conversion back to US I still only end up saving about $5 off of the regular Amazon price. I don't really see too much incentive for us in the US. Thanks anyway WPCentral.

Yep, but a massive saving for people in the UK, who this article was aimed at...remember, Europe pretty much subsidises US technology...

I have a dt-900 and I want to do it, but I just can't find the wireless cover to my 1020 here in Brazil. It's out of stock since mid January.

That's a good price! Might just go ahead and get one for my desk at work, then the dt900 can go in the car....

Too bad Nokia left us early Qi adopters out to dry. Standard is being destroyed. Avoid this and any further Qi investment for your WP

Actually AT&T left it's customers out to dry, the international version has Qi charging.

I don't know if anyone else has been having this problem, but since the upgrade to Windows 8.1, my Nokia 920 no longer starts up an app when it's on the wireless charger. I've tried all sorts of combinations, but it just opens up the app in normal mode and then goes to sleep after the set period. It was so much nicer before, because I could leave the phone on the stand and it would play music
Windows Central Newsletter
Thank you for signing up to Windows Central. You will receive a verification email shortly.
There was a problem. Please refresh the page and try again.