Nokia gives away free Gameloft games to certain Lumia owners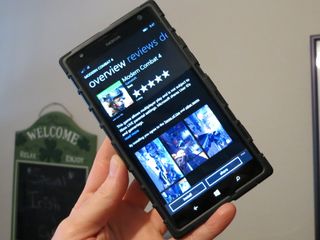 Nokia has been known to run various gaming promotions since it came to Windows Phone a couple of years ago. Most obviously they sponsored the production of more than 20 Xbox Windows Phone games; titles that we probably would never have gotten otherwise. There was also a brief period last year in which a non-Xbox version of Sonic CD became available for Lumia owners. We never found out why the giveaway game lacked its Xbox features, nor would Nokia comment on it.
Fourteen months later, it looks like Nokia has a new promotion going on. Owners of some very specific handsets (Nokia Lumia 625, 1020, 1320, Icon, and 1520) can get free versions of nine games from mega-publisher Gameloft! These aren't stripped down versions, either. They're the full Xbox titles with working Achievements, albeit with different Store pages than the general versions. Head past the link for more details on how to find the free games!
Eligible phones
The free Gameloft games are only available to download from specific Lumia devices. If you own a Lumia but it's not on this list, you won't be able to grab the games without paying.
Nokia Lumia 625
Nokia Lumia 1020
Nokia Lumia 1320
Nokia Lumia Icon
Nokia Lumia 1520
Giveaway Games
Nokia is giving away free versions of the following titles. To find the free versions, just search for them (or Gameloft) from your phone's Store. You have to scroll down PAST the paid versions a little in order to see the free versions. They don't appear in the Nokia Collection, in case you were wondering.
Asphalt 7: Heat – Launched at 99 cents, but now regularly sells for $4.99.
Assassin's Creed: Altair's Chronicles – Launched at $6.99, but now regularly sells for $4.99.
Brain Challenge – Regularly an insane $4.99. Free might still be too expensive for this one.
Earthworm Jim – Launched at $4.99 but dropped to 99 cents.
Let's Golf 2 – Regularly $4.99.
Modern Combat 4: Zero Hour – Regularly $6.99. Modern Combat 4, N.O.V.A. 3, and Order & Chaos don't run on the Lumia 625 since it only has 512 MB of RAM.
N.O.V.A. 3 – Regularly $6.99.
Order & Chaos Online – Regularly $6.99. Amusingly/annoyingly, this particular game doesn't run properly on the Lumia 1520, one of the phones it's being given away on. The inventory graphics glitch severely, making the game all but unplayable.
Shark Dash – Regularly 99 cents.
We don't know how long Nokia will be giving these games away. Nokia hasn't blogged about it on their Nokia Conversations website or elsewhere. So if the free versions are available on your phone, get them while the getting is good! Note that some users (including me) are experiencing trouble accessing the Store from their phones at all. Microsoft is already at work trying to fix it. Hopefully the Store gets straightened out well before the promotion ends.
Thanks to Mark "Tipsy" Tepper for the tip!
Windows Central Newsletter
Get the best of Windows Central in your inbox, every day!
Paul Acevedo is the Games Editor at Windows Central. A lifelong gamer, he has written about videogames for over 15 years and reviewed over 350 games for our site. Follow him on Twitter @PaulRAcevedo. Don't hate. Appreciate!
+820 and so damn racist!! ._.

Exactly the heart and soul of Lumia, The 520 doesn't get them.. (Maybe a bit exaagerated but still) no love the most selling WP8 Lumia??? +520

Get the 8.1 update on the 520 what a difference it make internet explorer 11 in private browsing so many different things its unreal & I'm running the Nokia Lumia 520 with the 8.1 update

Could you like take a screenshot on how extra row of tiles looks on 520?

They're columns, not rows.

Maybe Nokia taught "Hey, those stickers paid so much for their 1020 why not give them a few free games?"

What it have killed them to offer drive + seeing as 1020 is a high end camera phone meaning it meant to be used while traveling

Get the 8.1 update on the 520 you can save apps & games on your SD CARD

This is EXTREME RACISM among Lumia Phones....why Nokia...why?

Maybe these are the worst sellers and they don't have to give away too many? 520 is where wp thrives. Just an opinion, not a fact, lol. +1020

I want that deal on my 920!

Guess they couldn't have given away casual wp games(low ram spec.) that could run on all current wp8 nokia devices

Racism? Really? Seems a bit of an odd comment in relation to a phone.

No, how is a phone 'a race'? Seriously, far too many people misusing - poorly I might add - the word "racism". It's biased maybe, or it may even be 'modelist', but it's not racist.

+820... A big "screw you" to Nokia as well. What a douche move.

Are you kidding? If not, then...wow.

Nokia doesn't have to give you or anyone free games. Try not to feel too entitled.

No, they don't and no, I don't. My point is that either they'd give them to everyone who has a Lumia or not giving them away at all. Discriminating like this is just lame.

All they are doing is trying to sell/promote their current batch of phones. Not really discriminating at all. Thats a bit like saying all new Lumia owners should be able to get hold of the past offers/promotions I am sure the 930, 630/635 will also get deals and offers.

This is how you repay early adopters.

+920 , it's a disgrace, I really wanted Modern combat ...

buy it then if you want it that bad.

Not just cheating, this is saraasar naainsaafi ! (downright injustice)

+820 ... I thought less people use 820.. But there are fair amount of people using it.... 820 and 920 were building pillars of wp8...

+920
it's depressing that the 920 is the original flagship of WP8!

And this is why I chose Nokia...anx passed on mess from Samsung and HTC

-920 = 100 Please see if we can get a negative total in protest of ignored phones :-/

I really need to upgrade my 920

I did. Installed 8.1...it's like a new phone (with slightly less battery life...but worth it).

I believe my battery life improved on my L925. Tho whenever I have issues I let it die and fully charge it and its like new again. If u let it die daily than your going to get a weak battery.

I don't let mine die, but I can honestly say I've seen a dip in battery life. It's probably always on Cortana, but I've grown to rely on her reminders and help (yes, already).

True love the new update.

Less battery life beacuse it's a major update. The bugs and crashes which are there is because its in beta mode and the firmware update cyan will fix the battery drain. Don't worry.

You can control battery life in settings you can turn things off I love this 8.1 thanks for the push Microsoft

I feel like it's not worth it right now since the 920 still gets updates and it's still smooth, hopefully next year we'll see some amazing new tech from Nokia :)

I agree... I have almost purchased a new phone many times, but the 920 is still strong... No nee hardware is a true upgrade, to me... I want a real new WP that has a LL the hardware changes liek the lack of hardware buttons ans other design changes marked for the future.

Put the new 8.1 update on the 920

8.1 was on there the first day it was available... That is why I am saying there is just not real reason to upgrade phones other than I wanting a new model. The 920 is awesome and I have got a lot of freebies ans great service from.Nokia and Microsoft. It is ok that we aren't getting the free apps this go round. Shoot, they have to give a little more than free of apps to get me to leave the 920. A real Microsoft/Nokia phone in the future will be the one to do it.

Best selling phone like 925,520 720 gt no love but the others with moderate sale gt d benifits

well i guess they are boosting the sales of those listed phone with free stuff. marketing strategy right?

No worries as most of these games require 1GB RAM

925 has 1gb ram and 625 has 512mb ram.

Most? More like 3 out of 9.

928 never gets any love. :-\

But the 8.1 is fabulous on 720!

Yeah, only the live tiles go ridiculously transparent sometimes, display freezes. Hahaha! But it hurts that 720 never gets any love!

928 got $25 free app credit when it launched.

hm... Lumia 925 nothing...

Not in UK as far as I can see.

Installing the free version of Lets Golf 2 in the UK on my 1020!

Installing all free version, UK here, 1520.

I went to get Assassins Creed, and it was not free. I have the Lumia 1520 with AT&T....and they still wanted $4.99

Search for Gameloft and scroll down the list. The paid apps appear first, while the free versions are more down the bottom of the list.

Thanks I found them, but not till I purchased the $1.99 one. LOL oh well my phone will be really busy when I get home to my Wi-Fi.

Assassins Creed: http://www.windowsphone.com/s?appid=6d6c96ac-5f08-4a54-91b3-dccebbe76dc7

Thanks Ferxulz. Could you provide links to the other apps as well? Thanks!

For those of you struggling to find the apps, search for the name of the app and Gameloft and it'll show two items, the paid one and the free version. e.g. "Earthworm Jim Gameloft", "Modern Combat Gameloft" Worked for me on my 1020 in the UK!

I'm showing Asphalt 8 to be free as well. That right?

Asphalt 8 started as a paid game but switched to free to play permanently.

Yeah, asphalt 8 is a free to play.

Superb, good thing I invested in a 64gb memory card!!!!

ah ha I was just thinking the same thing!!!

Paul, if you are running 8.1, and still can't get to the store, you may need to reset your phone. I couldn't get to store on my Icon, but could on my 928, and my wife could on her 822. I did a factory reset on the Icon last night and it works fine now.

Thanks man. I'll give it a few days before going that route, but at least it's an option!

best bet is to search for a portion of the name and gameloft Finds the pay and the free quickly

You, lucky guy... 820 :( Posted via the WPC App for Android!

Not in Portugal, again.. as always.. - no swipe KB (only for the "official" Brazilian portuguese language) no Cortana, no freebies - CR@P!

Change the region to the US. Then search for Gameloft and they will show up. I'm also in Portugal and doing that worked.

Really? No Swipe Keyboard? How hard would it be to make it based in the brazilian one and the portuguese autocorrect we already have? If I had installed the preview, I would be pissed! Hope this to come in the final version! No surprise Nokia's marketshare in Portugal to be decreasing like hell! Everybody has a fucking Samsung now. Their phones look cheap as dirt but at least they support them well! Nokia used to have a great support here. Hate to say this but I'm very worried for when Microsoft takes Nokia's phone division under controll...

True! Pissed behond reason!.. My feeling's exactly.. Makes it seem like Portugal and Brazil speak two diferent languages :\ Adding insult to injury, apparently BR-PT is THE official language and not PT... PT! go figure..
Imagine US-EN being the official language, and the UK being left without all the features.. It's ridiculous!
Perhaps, it's the consequence of our country being under international assistance - the notion of loss of purchasing power - or perhaps it's just the ridiculous notion that we're few and unimportant as a market ..
What's most ironic, is that we have one of the best international mobile infrastructures, and the brands (Nokia included) always put us in the first row when launching new devices.. before the US smartphone invasion.. :)
DJCBS does have a point when he says european buy Nokia, not Windows Phones! I, honest to God, hope, Microsoft doesn't screw this up with it's "US first and foremost attitude".

Hmmm I've have the 1520, these games on the list are not free for me. *Edit... oh have to scroll down past the paid versions... yay FREE games!

I'm in the UK and definitely can see the free games, on a 625 and 1520 - am downloading to the 1520 asphalt 7. When I searched for it only the free game showed up with"install"listed as the download option, not "buy" as usual! Try again and get the games, it's really a fantastic offer!

I can't believe no Lumia 920!! This was the first Windows Phone 8 Lumia and a flagship device! Also it won Engadget Reader's Choice awards!

As the first flagship, we already had a whole bunch of freebies and exclusives. Stuff that other Nokia owners never got for free. Heck, 2 of the games listed here were free on 920 previously: AC and Earthworm Jim. I know because I still play them.

Wow, so much win! I found almost all of them for my Icon. I've got six games just waiting for my wi-fi connection :)

Thanks Nokia for showing my ICON some luv!

Downloading N.O.V.A3 now...1GB?!? wow...next 1020 revision needs an SD card slot...sigh...no rush though...enjoying not having a monthly phone/device surcharge :)

Its annoying how they either don't support devises at the low end market like 520, and when they do support these devices it isn't in the UK, so people like me still cant get involved...

It's annoying that they don't give away free stuff to people that didn't spend a ton of money on their phone? Let's also not use "support" as this is a free giveaway and has nothing to do with how they support their devices.

Pay more, get more. Nothing annoying about that.

Sweet! Downloading Modern Comabt 4 Zero hour

I have the Lumia 1520 and I have searched through the entire gameloft collection and there are no free versions :/

What country? Definitely works on the 1520 in the US, UK, and Germany.

Ah. You might have to change your region to the US in order to download them - that's been working for some people.

AWESOME! Downloading them all just in case I want to play one of them later. I actually considerd buying Moder Combat yesterday

Buy it if you own 1520 (quad core, big screen) don't buy if you own 4.5 inch screen, the experience is terrible

I own the 1520, and it wants me to pay. At $4.99 I don't play games that much.

You have to scroll down past the paid version in order to find the free one.

Found all in the UK! Easiest way to find them is search part of the game title with gameloft at the end for example 'Assassins creed Gameloft'

The easiest part is looking for something of gameloft and list all gameloft apps

Why does Nokia Lumia 920 always get ignored?

Because it is nearly 2 years old?

How much will be the cost of 930?

because it is from 2012. Time to get a new phone

Because we have seen a bunch of freebies already? Not Nokia's fault if you missed free games the first time around.

Damn! Too bad I already own most of these games. Smh

Same here. I was never expecting to have THAT much give away

What about adding QR codes to access them? From Hungary I can't find any of them. Actually I only want Order & Chaos.

i have 1520 and it still asking me to pay

WHY DO I HAVE HTC?! WHYYYYYYYYY!!!!!!!!!!

Because you bought one. (Hahahahaha aren't I funny?)

I was able to grab Order &Chaos, AC and NOVA 3 and Asphalt. Downloads are slow as balls.

Nice! Got them all on my AT&T 1020. Some of them took searching for the game exactly how it was written in the article - "order & chaos" only showed the paid version, but "Order & Chaos Online" showed the free one.

I've never heard of the Lumia '92' ;D

That's impossible. They have to include the 920! Its the "flagship" but has been treated as anything but! Ha

For those of you struggling to find the apps, search for the name of the app and Gameloft and it'll show two items, the paid one and the free version. e.g. "Earthworm Jim Gameloft", "Modern Combat Gameloft" Worked for me on my 1020 in the UK!

Nothing showing up on my 1020 in Portugal. Will try to change regions. Edit: Changed region to US. The games showed up.

available in India, I didn't change region..

No love for Nokia's beloved early adopters 920? =( =( =(

Awesome. Downloading, nova 3, golf and assassins creed

Simple they are giving the offer to the latest phones...upgrade tht 920 to enjoy

I feel 928 is the step child.

1520 owner, not happening in Finland, taken all suggestions here and they still want money for the games :(

Same here, still asking to pay in UK - 1520 owner

They clearly have a thing for the number 9. What is this racist thing I know my phone is yellow but C'mon man!

I already knew it yesterday, but thought it is because of my new phone..
already downloaded couple of games..

Can't find any of them in Canada. Either it's not available here or we still have to wait for them to appear on the Canadian side. Why not post the links with the article as always?

same here on 1520, none of them are free :(

None of these are free for me. I have an ICON on Verizon

I posted the direct links in the last comment :)

Is 920 bad now? :( Because it is old? Just a question not related to the topic.

What about the people who just got the 925 from HSN??? This is an injustice!!!!.....Bring in the Shield!

So glad I upgraded to the 1520. That being said, with all the games I am installing I have a whopping 20gig of apps at the moment.

If people are having issues finding the games for free I just went into the store and searched for gameloft games. All the games for free are listed further down the list. They actually list a paid version first but if you keep scrolling down you'll find all the games for free, just before the Asian looking listed games. Just thought I'd post this if people are having issues finding them. Be great.

It doesn't work for everyone. On my side they don't appear... If you have a couple of minutes you can shares the links as a comment. I verified using a link that someone posted to Assassin's Creed and even though I can't find it in the store if I have a direct link it works. They should have posted the link with the article as they normally do.

Nevermind, I was able to access them using the windowsphone.com website and posted the link at the end of the comments.

I have 1520 but they are still paid. What am I missing? Edit: Crazy elf is right, go towards the end of the list.

Apparently it's not all Lumia 1020 owners because my 1020 here in the US lists full price for them all.

Saw it just a minute ago and compared the two versions. Several appear to be much smaller. Some games are showing nearly half the size. I can't compare both side by side but I suspect some are trimmed down versions of the paid version. The large games such as Assassin's Creed are the same size.

Not free in Norway, but changing region to USA worked, although I had to search for "gameloft" then scroll through the list of apps on that screen. The free ones do not show up if you push the "more from gameloft" link.

Could someone that has access to them post the links as a comment here? Pretty please :) I verified with a link that someone posted higher up for Assassin's Creed and it works even though when I look for it manually it doesn't show.

Nevermind, I was able to access them using the windowsphone.com website and posted the links at the end of the comments.

That's not fair. Why 720 dont have. I'm so angry

Use crecked games.......easy to deploy it using wo power tool

No talking about cracked or pirated games here, man.

What the fuck is wrong with my brand new Lumia 925?? Screw you Nokia, can't wait till they buy you!

People love to complain. In the US we don't get headsets with our phones. Some promotions come with free charging plates. Some got free Store credits. They are promotions, not entitlements. To be honest, it you got a cheap low end device, the no-margin transaction for Nokia, WAS a promotion for you. They sold the phone for almost no profit and you still want them to give everything away for free? I got the charging plate with my 920, so I'm up $50 in promotions. Nokia doesn't owe me anything.

I agree. Family who own the 920 got a charging plate, a $20 app store credit, and also got paid $50 to get the phone through WalMart. I just got the bill for my 1020 and didn't even get wireless charging, no credits or anything. I think they are also only doing it to their newest, most expensive phones, which typically had no deal in the first place.

Just got assassin's creed on my 625.

And once again no one gives a sh*t about the 620

I'm gonna need to buy a memory card...

locked all of them on 1320 :D

Good thing that I have a 1520 in addition to my 920!! Plus 8.1 update! Just need a SD card.

Can someone share the direct links to the apps in the Store. I'm in Malaysia and can't seem to find the apps. This worked via direct link:
Assassin's Creed: http://www.windowsphone.com/s?appid=6d6c96ac-5f08-4a54-91b3-dccebbe76dc7

I posted the links at the end of the comments. :)

If I click the link it says: This app is not available for your phone. Really confused. Verizon, Icon, United States

For those having problems, this is the direct links:
http://www.windowsphone.com/en-us/store/app/shark-dash/4ed4c9a5-d461-4854-a2a2-869bace16bcf
http://www.windowsphone.com/en-us/store/app/modern-combat-4/8f92184e-6bbd-4eba-9c54-7383b8ec2938
http://www.windowsphone.com/en-us/store/app/n-o-v-a-3/f4923b46-957d-465d-a312-c985e4398bf4
http://www.windowsphone.com/en-us/store/app/order-chaos/beda47df-9c7c-4539-8b73-a2f92baa90ee
http://www.windowsphone.com/en-us/store/app/earthworm-jim/bcaaa91c-c2f8-4c37-af5b-ea19f7c4c81a
http://www.windowsphone.com/en-us/store/app/lets-golf-2/9420f0f6-8fd5-496c-a755-5ce236a253b4
http://www.windowsphone.com/en-us/store/app/asphalt-7-heat/6dba8926-9760-4219-a6a7-d7f56066846a
http://www.windowsphone.com/fr-ca/store/app/assassin-creed/6d6c96ac-5f08-4a54-91b3-dccebbe76dc7 I couldn't find the link to the brain game, but anyway it's not worth it, it's buggy as hell and unplayable.


Well, shut the front door!

Are they listing the giveaways as separate items to prevent the old install/uninstall/install again when it's not free anymore?

UK 1020 user. Already had Assassins and Earthworm Jim from previous promotions. Got the rest bar brain challenge, which I can't find the free listing for. Still, free games! :D

Damn it. Will get my 1520 in like 2.5 weeks. But I've purchased most of the games already thou. Only earthworm Jim and nova that I don't own already.

Tried to cheat the system using the still working pr0xy trick. I got the free versions to come up on my 822 and I click install. It pends for a few seconds and then stops. When I re-click into the title it says "owned" but it just won't download, with or without the pr0xy enabled. Nothing in my download history either on my phone either. If I go to the windowsphone website on my desktop though, it does show the "purchases" but it says "not available for your phone". Gonna try the manual install by downloading the xap file to see if that works. Probably not but I will report back.

assassin's creed Chronicles is not the one set for free...it's still 4,99 on WP Store...I cheched on the website logging out and the assassin's creed that disappears if I log out is "Assassin's Creed"...i guess is the first saga...downloading it anyway...I never actually played it! lol

owner of 1020 but my store is not showing me apps are free, they are still paid

So something that WPCentral always seems to claim is that if an Xbox game has a different store page (an App ID?) is that the games will have stackable achievement lists? Is that the case here Paul? I highly doubt it is, but havent tested it. EDIT: Just tested with Shark Dash. Nope, no more achievements. It will sign into your tag like normal and show the achievements you already have as unlocked already.

Stackables would've been nice!

Why no 820? *sobs in corner*

I actually did find a link to the terms and conditions for this promotion the other day. I cant come up with it now, but is said Gameloft game promotion was valid through June 30, 2014. Along with a whole bunch of other cover their ass stuff.

Lemme know if you find it again and I'll credit ya accordingly.

Hmm. I guess it was just this. Not very specific, and is actually the conditions for the Gift Voucher for UK thing, but #2 mentions Gameloft games. http://www.nokia.com/gb-en/campaign-world-of-entertainment-x/tc/

Downloaded all onto my 1020, will see which ones stay, but thanks for the games Nokia!

Darn, I already bought em all :)

1020 on AT&T, I can find the free versions, but I can't download them. Every time I try, I get a "We're having trouble connecting to the store right now."

Can't find Assasin's Creed on my 1520..

This should be the free Link Check out "Assassin's Creed" for Windows Phone http://www.windowsphone.com/s?appid=6d6c96ac-5f08-4a54-91b3-dccebbe76dc7

Them games are crap & take all the memory constantly crash

This is awesome! Downloaded all games to my sd card. 1520 rocking a 64gb SD card. I'm loving the 8.1 love we are getting lately. Whether this is a part of it or not, ITS AWESOME!!!!

So, I get passed over for the store credit because I have a 620, and then I get passed over again for the free games because I have a 620. Wow, that's the way to reward and encourage your customers

Here's a tip for those saying the games are not showing up for free: Type in the name of the game via market search and you will see two instances of the title. One that cost and one that's free. With a few of the titles mentioned, you may have to scroll down to the end of the results page to see the free title. :)

Sucks that I have a 920. I have a few of these games but it'd be nice to get the others. I know it makes me sound cheap, but is there anyway to trick the store into thinking you have a different phone?

sim unlocked 1020 on t-mobile and I was able to get all the free games whoo hoo!

Darn 928! Still all those games are really good. Gameloft has to be the best only mobile publisher.

Cool, just icon yesterday and free games, and Xbox games at that...older titles that I kind of wanted too

Curse this fucking shit, im changing to android.

Watch your language, and please try to make more valuable comments in the future.

Too bad I've already purchased most of these on my 1020

thanx Nokia.. finally i'll play mc4 :) for free on wp

Loving this and my new 1520..just ordered a new ultra 64 gig card from Amazon today...looks like I am going to need it soon Thanks for the heads up of the free games...I usually don't play them..but..will see how they work for it Mac

The "no love for 920" is very bratty. I have Assassins Creed, Earthworm Jim, Sonic and Mirror's Edge.. all were FREE because Nokia DOES love me. Funny... give free bagels to one person and not the other, the other complains. The next day you give free bagels to the Other but not the guy who already got free bagels... and that guy complains. Customers are dicks.

I have the Icon and in the US but I do not see the free versions of the games. Can you please assist? I've tried restarting the phone, changing the region, etc.. Thank you folks!!

Do you have to have 8.1 to get the free downloads?

1520 rules. Got all of them on the SD card. Will pull them on main memory one at a time and play.

The games were there yesterday and now they are not, yesterday I started downloading them, I got 3 or 4 to download then I had to go to work so I paused them, I didn't get back to them till after midnight, they were still there so I unpaused them, got an error, tried to find them again and they are gone

US Verizon Icon-All listed games not found as free. Any suggestions?

I'm having the same problem!!

once upon a time the same games were free for lumis 525 but only for 3 month.... now u guys enjoy.......

I have an Icon and see the ones you listed as free. I also see Asphalt 8 as free. Is that one usually free or is that another one with this promotion as it is made by gameloft as well.

It specifically says that Order & Chaos is one of the titles available for free on the Lumia 625, but the marketplace says it's not compatible with this phone. How can I get around this?

You can't. It's not compatible with your phone.

i got all of it on my 1520, but when i reformatted my phone for some reason it cant be installed anymore from my apps list in store... ;( says apps no longer published while status remain purchased..