Nokia Lumia 710 scores high on customer satisfaction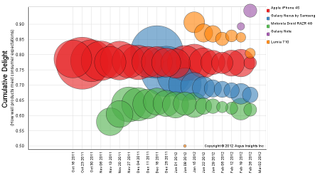 It shouldn't come as a big surprise but owners of the Nokia Lumia 710 are delighted with their Windows Phone. If there was doubt, we now have a customer survey to prove it.
Argus Insights, a leader in product innovation analytics, has released the results of a customer satisfaction survey that places satisfaction and delight with the Nokia Lumia 710 ahead of the iPhone 4S, Motorola Droid RAZR 4G and competitive with the Samsung Galaxy Nexus. Argus believes that the lower priced Lumia 710 pushed consumers who were waiting for a lower priced smartphone off the fence.
The survey results took into consideration responses on such issues as connectivity, quality/reliability, usability, display, speed/performance and functionality. All of which reflected overwhelming positive comments on the 710.
It would appear that consumers, based on Argus's findings, see the Lumia 710 as giving them the biggest bang for their buck.
Source: Argus Insights (opens in new tab); Thanks, damthman, for the tip!
George is the Reviews Editor at Windows Central, concentrating on Windows 10 PC and Mobile apps. He's been a supporter of the platform since the days of Windows CE and uses his current Windows 10 Mobile phone daily to keep up with life and enjoy a game during down time.
Nokia is the best could I get one unlocked and put an at&t simcard in it?

If you are going to do that get an 800. mine works great on ATT.

Its for my gf I'm getn the 900

You could order a Rogers 710 from Canada for $254 CAD off-contract, unlock it, and put an ATT SIM in it and it will support both of ATTs 3g bands, 850/1900. All he major Canadian telecoms use these bands.

Rogers will not sell this phone on their website, unless you are a new customer getting it on contract. If you go to a Rogers retail store, you can purchase it off-contract for $254.99. This phone does not need to be unlocked, you can just swap a Micro-SIM and it will work with other carriers; Wind, Bell, Telus. Rogers uses the same 3G frequencies as AT&T in the states; but the Lumia 710 they sell is pentaband.

Doesn't need to be unlocked?! Really? That's awesome. Wonder if it's also true of the 800...

This does not come as a surprise. I'm so much more happy with WP than I ever was with Android (and I loved Android because of the freedom).

WP though - is joy on a whole other level. So fast, simple and fun to use. It just works and I don't feel an obsession to tweak stuff all the time. I don't even want to if I could!

I have the ability to tweak and choose not too. (cept for the accent colors) love wp7

I couldn't agree more... I was a tweak freak and using custom roms and everything. The only thing I did on my HD7 was Chevron Unlock. And that's just to use some cool homebrew apps.

Yep same here. I couldn't stop flashing different Android ROMs, mostly because none of them was good enough.
Windows Phone was just perfect out of the box.
I'm never going back to Android.

With positive stuff like this and the phone standing on T-Mobile in a steady third place in sold phones, shouldn't we se bigger numbers in the OS % wars? Add to that, what seems to be a successful Lumia 800 launch in EU, and we should at least not see the numbers go down, WM or not? I'm curious as to what the real numbers really are, with all positive talk about WP I am suppriced that all talk around MSFT's position is all dark.

I have had every os wm bb webos android and wp7 and now the 710 is my favorite phone ever owned even better then my evo or my wife's epic

Not surprised! Not surprised at all. Now, if MS would use this resource to help new smartphone owners to make a more logical decision they would be doing the world a huge favor. "WP, the best kept secret" lol..

Unfortunatly it seems to be trending downwards. However it still stays above most other devices. I don't know what it says about the iphone 4s having a constant score... almost odd..

How is it trending downward?

I get a lot of complaints about the iPhones....heheheheh.. ;)

Agreed. I've finally found a phone that I like. =)

Love my 710. Coming from an Evo (and before that Windows Mobile - T-Mobile MDA / HTC Touch / HTC Touch Pro 2) I was skeptical if I would really like WP. Like others I have enjoyed tinkering with classic Windows Mobile and Android.
That said - I love my Lumia. Bought it off contract from T-Mobile for $200. Works like a champ. It is, by far, the best phone for doing phone stuff (calling, email, text, quick searches). While I'm not thrilled about the app selection (and price) I have a couple Android tablets running ICS for games.
My complaints with the Lumia:
-- Camera blows. Nokia is known for great optics and this one fails.
-- Camera, power, and volume buttons are difficult to find with just touch.
-- 8GB's of storage is a sin without an SD Card. I'm full with just a dozen or so apps and about a 10th of my music collection.
-- Really wish it had a larger screen. However, it's hard to knock the Lumia for this as I knew going in that it was going to be a lot different than what I was used to with my Evo.
Overall I give this phone a 9 out of 10. At $200 off contract it would be an easy 10 out of 10 when it comes to value.
Windows Central Newsletter
Thank you for signing up to Windows Central. You will receive a verification email shortly.
There was a problem. Please refresh the page and try again.