Nokia Lumia 830 vs Lumia 920: Is it a worthy upgrade?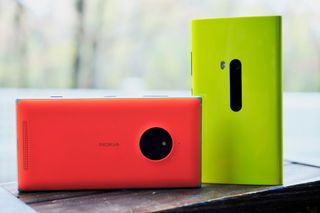 Is the Lumia 830 an upgrade or sidegrade to the Lumia 920?
The Nokia Lumia 830 is starting to hit store shelves worldwide, including the widespread availability in Canada starting today on Rogers, Telus, and Fido. Depending on where you fall on your phone usage and expectations, the Lumia 830 may be a practical upgrade from your current Windows Phone.
Today, we are taking a closer look the Lumia 920 versus the Lumia 830. Although the former was the Windows Phone star back in 2012, the Lumia 830 is positioned slightly below that as an 'affordable flagship'.
How well matched is the Lumia 830 against the Lumia 920? Let's find out.
Setup
We are using the free and cross-platform Basemark II OS app to compare the Lumia 830 against the Lumia 920. The app was loaded directly onto the internal memory of each device and not the micro SD card on the Lumia 830.
Related: Nokia Lumia 830 – WPCentral Unboxing and first impressions
Both the Lumia 830 and Lumia 920 in this test are running the latest retail software available – Windows Phone 8.1 and the latest firmware – Lumia Cyan for the Lumia 920, Lumia Denim for the Lumia 830. The Lumia 920 it is currently using build 14176 while the Lumia 830 is running build 14157. Both phones were soft-reset prior to the test, and AC plugged in for power with full batteries.
The test was performed numerous times on each phone with the best runs for both used for the results.
Results
In terms of benchmarks, both the Lumia 830 and Lumia 920 perform similarly. However, the overall edge goes to the Lumia 920, which had a higher score of 514 versus 485 for the Lumia 830.
Breaking the numbers down, and it becomes clear memory and graphics are the weaker points for the Lumia 830. Nonetheless, its higher system score of 599, likely due to its quad-core design, beats out the Lumia 920's lower 485.
The web measurement is nearly identical.
Real-world usage
In regards to how both phones feel and act in the real world, they are equal. Sometimes the Lumia 920 feels smoother, other times the Lumia 830 wins on loading and unloading e.g. Subway Surfers (see the accompanying video). The point is if you happen to enjoy the experience on the Lumia 920 with Windows Phone 8.1 Update 1, you get the same capability with the Lumia 830, sometimes even more.
Camera
Running the camera benchmarks reveals that the Lumia 830 has a slight score advantage over the Lumia 920 in normal and low light conditions. The test measures the speed of focus in various conditions with and without a flash.
The Lumia 830 loads the Nokia Camera app about two seconds faster than the Lumia 920, partially due to the shorter-response time in pressing down the camera button to cold-launch the app. However, the Lumia 920's image processing is consistently faster than the Lumia 830's by a little more than one second. This difference in behavior could be explained by the slightly more megapixels on the Lumia 830. Conversely, the Lumia 830 should see more benefits to camera performance with the forthcoming Lumia Camera update.
Image quality
The Lumia 830 has an f2.2 10 MP PureView camera whereas the Lumia 920 has an 8.7 MP PureView camera with a lower f2.0 aperture. Additionally, the Lumia 920 has a slightly larger 1/3.2 inch sensor when compared to the 1/3.4 inch one found on the Lumia 830.
Both cameras have optical-image stabilization (OIS). Another difference is the Lumia 830 gets an extra lens element bringing the total to six versus the older five-lens elements found on the Lumia 920.
In real-world tests, the Lumia 830 outperformed the Lumia 920 in terms of image quality and sharpness. This difference is likely due to the sixth lens element added to the Lumia 830, the higher aperture and newer software (Lumia Denim). As an example, the Lumia 830 tended to have objects with variable distances in focus more often than the Lumia 920, which had a shallower depth-of-field. This result is expected with an f2.0 versus f2.2 comparison.
Colors were often warmer with the Lumia 920 versus the Lumia 830.
Conclusions
The Lumia 830 and Lumia 920 are both excellent examples of quality Windows Phones. What makes the Lumia 830 interesting is the fact it not only matches, but also often excels against the Lumia 920. The Lumia 8xx-series though is understood as being less feature-packed than the 9xx series, but the Lumia 830 demonstrates that two-years let a lot of high-end "stuff" trickle down to lower-cost phones.
Here is where the Lumia 830 offers more than the Lumia 920:
Expandable storage with micro SD (up to 128 GB)
Removable back cover and battery
Larger display (5-inch versus 4.5)
Slightly higher megapixel count, better for cropping images
35 grams lighter than the Lumia 920
2 mm thinner than the Lumia 920
200 more mAh in the battery (2200 versus 2000 for the Lumia 920)
SensorCore support
Newer chipset/more likely to get new features
Dolby Digital 5.1 audio recording; better microphone placement on the rear
Equalizer works with rear speaker in addition to headphones
Brightness Profile for setting default display level
Maybe faster at loading large, graphic intensive games
However, while all of that is impressive, for Lumia 920 owners they may want even more, including a newer and faster chipset like the Snapdragon 801 or 805. Currently, it is understood that only the 800-series are getting the passive-voice activated 'Hey Cortana' feature. In this case, either trying to buy a Lumia 930 or to wait for the next big Windows Phone in 2015 is the best bet. The downside with the Lumia 930 is you lose some of those features cited above as benefits with the Lumia 830, like a removable back, expandable memory, and thinner design.
My final thoughts are this: If you are a happy Lumia 920 owner, picking up the Lumia 830 is a splendid "side-grade". You are not getting the latest and greatest hardware on the market, but you are getting (a) comparable, even slightly better, performance (b) a lighter, thinner design (c) a sharper camera, and (d) expandable storage. In my mind, those are all significant "upgrades" to the Lumia 920 but it is up to you whether all of that is enough to throw down some money or renew your contract.
The Lumia 830 is currently on sale around the globe, and it is expected to launch on AT&T for Friday, November 7. Do you need more information? Jump into our dedicated Lumia 830 forums to see what others are saying!
Windows Central Newsletter
Get the best of Windows Central in your inbox, every day!
Daniel Rubino is the Editor-in-chief of Windows Central, head reviewer, podcast co-host, and analyst. He has been covering Microsoft since 2007 when this site was called WMExperts (and later Windows Phone Central). His interests include Windows, laptops, next-gen computing, and for some reason, watches. Before all this tech stuff, he worked on a Ph.D. in linguistics, watched people sleep (for medical purposes!), and ran the projectors at movie theaters because it was fun.
No. Unless you want to be stuck with a phone with pretty much the same specs for four years in total.

Specs aren't everything. Performance and experience matter more.

Design is high up there for me.
Nothing has bested the 920 design-wise yet. (To me, anyway.)

I too love the design of the 920, but it is a beast in terms of size and weight by comparison.

I'd warm up to a 930-sized 1520; that pillow design isn't the best but it's nice. Wouldn't be THAT thick, and would probably be of reasonable weight. (Glance and MicroSD would certainly give bonus points.)

The 830 is a lot taller than the 920.

What idiot actually disagrees with this? Look at the specs and the pics. It is a lot taller than the 920.

I love the weight of the 920. I love the fact that I can always tell my phone is on me.

That's what I'm missing with my Lumia 920. I now have 930 and though I love it. I always miss the weight of my old Lumia 920.

Like a monkey on your back

I have to say Daniel that many times I have handed my 920 to someone and they would first comment on the weight but then about how solid it felt in their hand.

It is a brick!!! I think you could kill a burglar with that phone! Haha!

Lol. I agree with you Dan.

Have you seen the 930 in real live? Now that is design.

I have and am in the camp that finds it to be more of an 'obese iPhone 4.'
The 830 is certainly better, but I still believe Microsoft could make a more original and better looking metal phone.

The 925 looks the best imo. The 930 is good looking too, but the thick, square sides don't feel as good in your hand.

Yes! The 925 is still the most gorgeous WP. A 925 with the screen and guts of a 1520 would be my DREAM PHONE.

I don't like the design of the 925 anything especial. I love the design of the 930 the most and the 830 next.

I think the 925 is the best looking Lumia as well. I would love to see a bigger modern version with its design!

@Visa Declined, Love your name/handle/moniker

925 would be a killer phone if it had in-built wireless charging instead of the snap-on pack panel

The 925 truly is the best looking lumia. I hated it at first (I felt that lumia "purity" could only be expressed using a true unibody construction), but after awhile, it's beauty really struck me. A worthy successor to it would have a 5.2" FHD display (Clear Black Amoled of course). At least 32 GB of storage, with microSD expansion. The same shiny capacitive buttons (none of that awful, off-white rubbish that i see on the 1520). Inbuilt wireless charging. At least a 3500 mAh battery. Speakers either on the front or bottom and a better camera than the iphone 6 (let's be honest guys, that camera is pretty slick)(no camera hump either). It shouldn't be over 8.5mm. And finally, some type of novel, advanced sensory capability would be a nice bonus too. Will I see all this in the Lumia 935? A man can dream....

Well... A 3500 mah battery is way too much to ask for in a 5.2" phone. Other than that, you have a nice idea of it. (for reference, the 5.7" Galaxy Note 4 and 6" Nexus 6 have 3220 mah batteries if im not mistaken.) It'd be nice to have, though. I'd be okay with abandoning the thin race for something like a 10mm design with a big battery.

Z3 has 3200mah in 5,2" i think. I left 925 for Z1 and the 2 day battery life of Sony Androids spoiled me, never going for something sub-3000mah again.

Agreed! To me the 930 design is a mix of 925 and Icon. My 920 is now a spare phone hehe!

The Lumia 1520 is the best designed lumia to me. Well, if only it had a 5 inch screen...

Dude I have the same thought. Well not almost the same. Was hoping for a 5.3 or 5.5 inch and design of the Lumia 1520. Imagine it in either Blue/Cyan, Red/Pink, Green/Lime and Yellow/Golden Orange. Damn!

Tehre are a mix of colours for the 1520 :)

It's a sexy beast. I'm personally trying to fight the urge to upgrade for upgrading sake. My 2 years old 920 is still besting on all the new toys, especially the camera...and somewhat because of the elegance of the Windows Phone OS.

I like the polycarbonate uni chassis, too. I went from 920 to 1520 because I needed something a tad larger and with higher resolution. Unfortunately, 1520 is just a tad too big though not unmanageable. I'd consider the 820 if 930 or no other successors are announced in a month or two. Maybe even the M8. /duck I quite like the resolution, chassis, etc.

The 920 is such a beautiful looking device. I really hope that future flagships will follow the 920 design language (but thinner).

So you love the L730's design

I totally agree. And when complementing the design I'm not complementing the weigh and thickness. But the simple and clean seamless shape. I wish they could have continued with it in the 930. Using better tech to make it thinner and lighter.

I was suprised from the graphics and memory of 920 compare to 830

Sure, specs aren't EVERYTHING, but I am not going to upgrade only to find out the performance and experience weren't worth my money. People who opted for 920 in 2012 wanted a flagship that was a game changer not a reheated steak from two days ago. I'm still wanting the best in terms of experience, spec, performance and design. I am going to hold off till 1030 and 1530 come up.

Sometimes a reheated steak from two days ago is the most delicious thing on your plate.

"not a reheated steak from two days ago..." that made me laugh because that's how I feel too! I want to replace my 920 with a phone that is just as amazing, game changing, as the 920 was back in 2012 when it came out. There aren't any phones out now that are. I want a 1030, I think that could be an amazing phone... If Microsoft doesn't totally screw it up.

True, but so is price is a bit of a turn off due to the specs (which is partially where one things the price is coming from). If the price were a tad bit lower, encroaching on the similarly specced (but mayber less body build and camera) Moto G, I'd be way more inclined to side-grade. Especially since I love the form of the device. Otherwise though, could you do a similar comparison to the 730/735? I'd like to get a grasp if maybe it would be a better side-grade to the 920 for the cost.

I could, but all the internals are the same between the two for processor/ram, so performance should be similar. The rear camera becomes the differentiator. Will see though, this article took a lot out of me for time/effort, lol.

Really what's the quad core processor brought to the 830, nothing it seems? I'm still battling with the decision to upgrade my Lumia 920

I think what he means is that the CPU in the 920 is pretty old (late 2011? or very early 2012?), I mean it only has a 4kB cache on the cpu when modern chips have 8x that amount. While I am pretty sure that the 830 manages to keep up (and occasionally beat) the 920 is due to it's quad core nature, a 2 year newer duel core at the same 1.5GHz clock would handilly beat them both. Of course acquiring a modern high-end duel core processor today might be a bit difficult, which is proably whey they went witht he cheaper and more mainstream quad core. Besides, if people don't see 'quad core' on the box then they won't touch it because they have to check off their silly boxes when making a purchase.

FFS
The Snapdragon 400 CPU on the SoC is inferior to the one on the S4. The performance edge is due to software optimizations present for the 400 that are missing for the S4. S4 = Better GPU and CPU performance. Microsoft disappoints me in this respect.. At least on the Android platform there are talented community members that break these artificial limitations.

I wrestled with same and went 1520. Yes big phone but easily best phone I've owned.

Still can't grapple with the size...

Yeah its a beast, no doubt. Thing is you can't go by seeing it in store as it just looks crazy huge. Use it for a few days and you will not go back to smaller screen.

Wait for the 1530 or 1030.

S400 should be a lot more battery efficient than S4. Dan didn't get into that but I'd be interested in more data. Early reports are that the 830 doesn't heat up, even when gaming.

" Early reports are that the 830 doesn't heat up, even when gaming."

This is very true. The S400 is much cooler for heavier tasks, almost never gets warm.

im using 730.. no app resuming now.. switching between apps is very quick..

Quad core cortex A7 should have much better power usage than the snapdragon S4 in the 920. That's an important fact worth mentioning.

And it's appreciated! I may jump on the 735 then.

Was thinking of getting the 735 myself, the 830 seems a bit overpriced. True it has a nice camera; but that is not one of my main interests. I have a Moto G lte (besides my 820), and the 735 seems like a good fit against the Moto G lte (which I like). But the price would have to be right. If the price is right on the 735 I may get it to use until they come out with something more to my taste. My 820 would be my and my wife's backup, she has a beautiful 925.

I really missed my 925, but once I picked up this 1520 I feel in love so over again!

I think this is a critical problem for the 830 - not only is the 735 similar to the 830 but the 820 is the same, for processor and RAM, as the 920 you benchmarked it against. Which means if I take a straight 8 series upgrade from my current 820 I'll end up with a feature richer but slightly worse performing phone. Considering that it's now possible to put apps and games on the SD card which makes me more likely to install heavyweight games, but if the frame rates are disappointing then it will make it more obvious that they have given a feature rich and basically great sounding phone an engine with too few horses. Why does it have to be that every Lumia has a point that lets it down? 930 has no microSD or glance. 830 should've got Snapdragon 6xx. The phablets are simply too big from my perspective. What should I pick, come contract renewal?

You can't beat the sexualness of the 1520, I fit it in my front pocket no problem and it doesnt bend like an iphone! if the 930 did have a true 1520 it would suit more people, I won't go smaller thinking on smart watches now get notifications alongside.

I love WP8 but I had better performance and experience with WP7.8...

Really? Sounds odd, please explain!

Don, I assume you're talking to me...
XBox music is a disaster, I think we can both agree on that. Every time I'm playing music and I'm using headphones, I'll get a call and I'll unplug my headphones to talk. When the call ends, the phone keeps playing music on the cellphone speaker. On WP7.8 it would detect what I was using before and music would not keep playing. There's something wrong when I hook up my Bluetooth headphones to it. It doesn't happen all the time but music wont play and I have to restart my phone. I get more lag on my 1520, even after I did a factory reset. I still get the resuming screen. WP8 definitely isn't smoother than 7.8.

Ahhh, I get the same headphone/speaker issue. Very annoying in the car when you are using an auxiliary jack. I also agree that even with the 1520, I don't find it any smoother, OS wise, then my old focus. I'm heavily integrated in the MS ecosystem, but id sure like them to have iron out the wrinkles by now.

I know what you mean. In the process of getting a L800 for that exact reason.

You're reverting back to a Lumia 800 (and losing the notification window, the bigger system text, the folder support....and all of the WP8 only app support...)?!

Glad to see I'm not the only one. One other thing is my 1520 where it registers a tap VERY often when I try scrolling. I'm a music lover and that's why I pick on Xbox Music the most. Why don't we have a Recently Added column? Why does it take forever to download a song from XBM, if it even does decide to download...? Why doesn't it just download 2 songs at a time? Why doesn't it show a percentage like it did on my L900 when I download songs?

I've never try a 7.8 before but the first Windows Phone 7 by HTC.. Yes. Definitely and obviously WP8 or 8.1 is better.

Are you going to do a review of the 735? My biggest question is how the 830 screen compares to the it. I've been wanting an oled phone for while but I don't know if that's big enough of an advantage to choose it over the 830.

It's pentile though so I'd have to say the 830 has a better screen, unless you live and die for black levels.

So im seeing four tiles in the last picture on one of the phones, how did you do that??

It's just 2 rows: 4 small tiles vs 2 medium tiles whereas the 830 has 3 rows: 6 small tiles vs 3 medium tiles.

That was a good honest review that Daniel that's what i like about this WPC

Thanks! Tried to be fair. Glad you liked it.

Please do a 730 vs 830 camera review.. please..

+this, but at (full resolution)

Agreed, very good factuall review - only one part i have a gripe with............"What makes the Lumia 830 interesting is the fact it not only matches, but also often excels against the Lumia 920" ........The reality is my 820 mostly matches the 920, apart from a few things such as battery life, screen, and a small camera difference. Even the benchmark on my 820 is better than the 830 (498). Considering it is 2 years older, I don't think any one can argue Nokia really dropped the ball with the 830.

The quality of item's used in the older phone's is what makes good quality phones, I have available at hand a l925 I don't know why but I don't like it, A l625 that I use all the time and is running all upto date software, A l630 & l635 which my lads have, my Mrs has a l520 & l530, She wishes the 520 had the chunk & feel the 530 has but prefers OS on the 520, I'm impressed with the l735 that I'm getting next all the phones there are PAYG & on a upgrade I can get the l735 unlocked for £130 to me that's good incredible value. My oldest lad has a iPhone 5s on contact good phones but not for me all I have ever bought is NOKIA I have bought I Samsung but didn't like it. Nokia quality is second to none.
SORRY ABOUT THIS IT ISNT THE l930 I have at hand or don't like its a l925 TERRIBLY sorry

Well, I'm surprised you have a job, an assumption by me, because I can't read your writing...

Well I suggest you be a little less ignorant & open your eyes but then again I apologise & will send you ABC Learning content to educate you again in sorry you can't read

When I had my 920, it would lag in many instances, even with so many soft resets. If the 830 is identical, which is what you said, that sucks. Dislike my comment if you want (to everyone, not just you Daniel), it's up to you. But that is disappointing...

You installed too many beta apps? My 920 doesn't slow down.

I have them both bc I updated my 800 to the 830, and still have my 920 as well.
What I like:
- bigger screen, lighter weight
- it stays cooler, no more burning fingers
- battery life
- sensor core
- camera
- performance overall
What I don't like: Dimmer screen in auto setting. Would I update my 920? Maybe, but I'm glad I don't have to do that decision :)
Would I update any other phone? Yes.
Do I use it daily? Mostly.

There is a brightness profile setup in 830. You can set "auto" to be brighter.

Here's the trick: shut auto-brightness off, then choose the level you want, and flick auto-brightness back on.

Retard, you can change brightness level for automatic and manual (low, medium, high) settings. Set on automatic, adjust, sets minimum brightness. Set on any manual setting, then adjust, all three manual settings will be available...

How does that make her a retard?

Indeed, anyone who like me has a 920, isn't terribly thrilled with the 930 and waiting for the next flagship next year would be silly not to consider an 830. Is there a reason Daniel why you continually avoid describing the clarity of the screen? How does 720p at 5" look? Compared to the 920 screen do you notice any clarity loss?

Yes, it is all about how you use it, or so she would have us /me believe...

Which your girlfriend informed me that you aren't too good at using it

At least i have a girlfriend....and a wife. All you have is an aptly named joystick to place in your a**

Well when it comes to performance and experience it seems like they're pretty much the same according to your review. I'd like to get a better experience and specs when I upgrade. Tired of settling for WP issues/ lack of hardware etc.

What's the 830 like in low light? I was always (and still am) amazed with how the 920 performed in dark environments without flash, does the 830 surpass it?

Specs defenitly ARE everything, especialy if you want W10 to work on your phone :D

The problem is that you don't get a huge jump in performance in a phone that is 2 years meret than the old 920. How can this be a flagship if it barely gets you better stuff than 2 years ago? Posted via the Windows Phone Central App for Android

It doesn't have "pretty much the same specs", it has similar performance from different specs. Look at the list of specs at the end of the article. Big difference. Also, you can buy the 830 outright and not worry about a contract.

An 835 would be a great phone. Same as 830 but with SnapDragon 800 series.

A 935 would be even greater

Exaactly what I was thinking

What's wrong with being stuck with a phone for four years? Isn't that practical?

Agree with you 100% gizzmo

Why 4 years? Just buy the phone outright and upgrade whenever you like. Only chumps go on contract

If the price is right, Bob, I'm going with the Lumia 830.

Agreed, but I doubt it'll be under 300$ in the US (which is where I think it ought to be, personally!).

$299 on AT&T. Anything more and I won't do it. Or wait for a Black Friday sale. $299 is the right price.

It's $450 Canadian at the big three. so its $400 USD. That's my biggest gripe

will 920 be able to do "HAY CARTONA" ???

The article holds the answer to your question, unless you have no idea which CPU the 920 uses.

It is Hey Cortana. Were not trying to scare her.

For the record is this website windows central now? Daniel mentioned it in his last article

Seems faster :o ( side fact - its true )

The 830 has a lower resolution, the rest is just details. I could never "upgrade" to a phone this way.
I'll keep my 920 until a 1525 hits the market :)

Got a 930 :) had a 1520 ( still have it ), but awaiting The 1525s arrival so bad !

Actually it's not seen it in person, a red beast, sported by a MS rep who was doing a Ms event at my job. The screen was simply amazing

No one I know has actually heard or seen it. I have no reason to believe it is real.

Daniel if you can do 735 v 830 if possible thanks

"The 830 has a lower resolution"

Lumia 830: 1280 x 720 / Lumia 920: 1280 x 768 This is hardly a huge difference. Your argument is better-made by pointing out the lower PPI due to the larger display on the 830.

That wasn't my point, what I was trying to say (I didn't make that so clear ahhah) is that the problem is not that the 820 has a lower res than a 920, but that it hasn't a *higher* res. In other words, the reason why I would be happy to spend another 500$ on a phone right now is to get a bigger screen that can display more info and play full hd videos (other than having a faster phone with a better camera, of course). So getting an 830 would be pointless. Of course its resolution isn't much lower than the 920 though, I agree to that :)

Fuckin' crazy that Microsoft didn't load this beauty with a 800+ chip.
Oh and it should be more affordable due to this

Thing is, if they did, the battery life would have taken a hit, so they would have had to make it thicker. Now we're working our way up to the Lumia 930, which is kind of brick like by comparison.

Yeah but its still a sweet device all the same! Best I've ever had!!

I'm just feeling annoyed. The cycle of new phones from Microsoft just isn't working for me. I've had my 1020 for a year now and I'm itching for something new. I don't think you'll argue that if we had the 930 in the 830s body we would have plenty more converters out there! (id even take the 10mp over the 20 for it)

I don't disagree, but they are in a weird state right now: bought Nokia mobile, working on Windows 10. Those are two huge things, but it is causing a rather noticeable hiccup in their release cycle. I think we all knew this could happen.

Are we going to see anything else from Microsoft before Xmas? 930S maybe.... or would that be the 830+ ? Or dare I say it, the much anticipated 1030?

The better question, anywhere before June 2015?

I think Build in April would be a likely venue for an announcement.

ROFL...930S. Apple and Samsung would sue for stealing their lettering system.

Well than, why buy the cow if you can get the milk for free?

Do you think the majority of AT&T 920 owners with expiring contracts will upgrade to the 830, wait till next year or switch to a different platform?

I think that the majority of 920 owners have been waiting so long that the 830 is not nearly enough. If they switch now, I could only see the HTC one as a popular option; though like myself i think most 920 owners have waited long enough that we're just running the clock for a 1020 succesor. As someone said earlier, the 830 is not a clean upgrade by any means, and a two year contract for such a thing with Windows 10 coming next year probably wont sit well with 920 owners. Then again, most of our contracts are indeed expiring this fall so maybe HTC is about to become very popular.

I'm going to wait...however your colleague Daniel R. wrote a good, sound article (as always) to definitely make me venture down to my AT&T Corp store on Nov. 7th..lol

Most 920 owners are probably not on WP Central comparing WP devices. When their upgrade comes they'll probably go with the popular choice. I don't see them passing up the opportunity to get a iPhone or Galaxy, in order to wait 6 months for a windows phone. That ain't gonna happen. By the time Microsoft has a new device announcement, Apple will be announcing their new iPhones.

Beside the iPhone 6/6+ and Note 4, the Nexus 6 is also going to be available soon. Do we even know when the HTC M8 for Windows is arriving at AT&T?

I was wondering the same thing Laura, not been able to get a good answer?

What I don't subscribe to is the change for the sake of change. My 920 is a great solid phone that runs all the latest software with no issues. When a clear successor comes along I'll consider it. Bit to jump ship just for the next purported "best" thing is foolish. My 2 year old 920 still impresses my iPhone toting buddies even up against their newer hardware.

I don't accept either the Nokia purchase or Windows 10 as being valid excuses for failing to have competitive high end Lumia options available in the US this holiday season. As of today Verizon is only offering the Lumia 928 - a phone that is a year and a half old. At AT&T the Lumia 1520 is a year old and the Lumia 1020 is a year and a half old. T-mobile only has lower end lumias. And Sprint - no Lumias to be seen. The only high end refresh this year was the Lumia 930 - and why did it only make it to Verizon as the Icon and why is it now gone? I can go to any carrier and get a newly released iPhone or Android phone. I love Windows Phone, but this situation is just ridiculous. Microsoft just can't take this holiday off and think their marketshare in the US won't take a hit. Samsung and HTC might be good choices if you want to buy an Android phone, but neither are high on my list for a Windows Phone. I want good support for the 2 years that I will own my next phone and I don't think I'd get that in the Windows Phone world except with a Lumia.

Omg..you read my mine. Quick story...I was so pissed when I went into a Corp. Verizon store and as soon as you walk in both front tables have iPhone and android phone. So I ask where is the icon..salesman reply was..oh over there on the back wall. I was like what the he'll is the best Windows phone doing on the dam back wall. (I had to calm myself). They get an exclusive...and this is what they do.
I know this is off topic..but I'm now using a LG G3 because there are no New Windows phones..I'm Bummed I wanted a hot Lumia so bad... Posted via the Windows Phone Central App for Android

Couldn't have expressed these thoughts any more pointedly. Hooray to you.

Whether correlated or not, the fact that Windows 10 is looming and that there's clearly a lack of new devices..It's almost a warning sign.

Yeah the release slowdown feels more financially driven than anything else to me. Nokia knew they were going to be saved via acquisition so they didn't have to worry about future debt and could go crazy with new models. MS was like a dad having to pay for a huge party and it feels like they just don't have the same spending appetite - especially when the other kids (Bing) are crying out for their share too

Daniel, will the Icon and HTC one m8 WP be getting the "hey Cortana" feature since they have the 800+ chips or no? I have a 928 and really would like that feature on my next WP! Thanks!

Hey Cortana is Denim,so no to the HTC One. As for the Icon...its been orphaned

Cortana is WP and not Nokia. Probably it's on Update 2 and not just Denim.

You think HTC will get it on the one m8? People say they're not great with the updates. When I had the HTC trophy, I got all the updates fine..

For sure. They are probably just test driving with these 3 Lumia devices. GDR2 or WP10 should bring "Hey Cortana" to all capable WP devices.

In theory, yes, it should.

For the Icon, you mean? I keep hearing different stories about updates, like to cyan. I know Verizon bites when it comes to this.

well, lets put it this way, will microsoft push the update for the 930/icon to recieve hey cortana? yes, will it make it to the device itself? dunno. for the htc one: will it get the ability to use hey cortana? yes, will htc release the firmware to enable it? dunno htc one kinda seems unfinishe din terms of wp, ive heard that wp does support notification lights, and the htc one does have one, perhaps they are already working on a firmware upgrade to enable the little things like that along with adding HC

That's what I'm worried about... Say I get an icon and no software updates. I don't want to waste my upgrade next month if it's not supported. I know Verizon bites with this, but my 928 got some of the small updates, still no cyan or denim. Ugh!

In theory lol. It is crazy to me that anyone would buy an HTC windows phone until they prove they will support it

Well.. then your creating a loop.. htc wont support phones because people wont use them.. people wont use them because htc wont support them.. the chain has to break somewhere!

And icon will be no longer in Verizon either. So basically there won't be any new flagship windows phone from MS till somewhere mid of 2015 and I still doubt. Lol

So, I won't be able to get a new, high end flagship WP anytime soon? Maybe I'll just get a phone with skittles in it.. At least I'll get a sugar high!

The Sony Z3 Compact is 129grams, 8.6mm deep, and has a 2,600mah battery...
The 830 is 150grams, 8.5mm deep, and has a 2,200mah battery...
The Z3 Compact shows that Nokia/Microsoft need to work out how to design their phones better...

I seen the z3v on Verizon and love the specs. Same with the Droid turbo(yes, I know it's Android!) I want a huge freaking battery in my next phone, at least 3,000 Mah or more, expandable memory, an 800+ chipset, nice camera, etc. I hope WP would put something like this out, but low and mid range seen to be their market now.

Honest question, does the Z3C have Qi? Thinking about getting one.

I'm pretty sure it doesn't. It also doesn't have manual camera controls (which would be a real backwards step for me!).
Microsoft need to give us a Z3 Compact beater --- that phone will hopefully be the 1030...

There has to be an all-around high end WP with everything and no compromises, great and thin design, and available for mostly everyone. Microsoft needs to pull that off, and the 925 successor would've been it...

No 800 chipset is too much, for the price at least my opinion is a 600 chipset, price and battery wouldn't suffer.

Looks like I'm goin for a note edge or 4..... Sorry WP two years is all you get I guess.

The note 4 feels amazing in hand! Js

I just got the Note 4 too (after two years on a L920) and it does feel great in the hand. I wouldn't say WP is much further behind though, I can definitely still see myself jumping back to WP in future.

I'm waiting to check out the Note Edge also. I have been stuck with my 810 on Tmobile for 2 years, and I'm done waiting for MS to get their act together. I really want the non-existent 1525. But that's never happening.

You would love the 1520.3 on T-Mobile instead of the Note Edge unless you really want to switch to Android.

Yea, and I'm sure nothing will be out before Christmas... Ya snooze ya loose

I rather get the Nexus 6 than any Note 4 or Edge of a cliff.

+1520
But I think it's the best phone if you're new to the platform and you wanna give it a try. I just recommended it to my brother in law who wanted to buy the iPhone 6 but keeps breaking the screen all the time.

+1520 as well lol And I do agree with you. I have a colleague who is on the iPhone 5S and he's ready for something new. And I've shown him you can have iPhone 6 performance for substantially less money. It wasn't tough to convince him.

That's by far not enough to leave my beloved 920 behind. I would need a full-fledged flagship, let's give it another year and hope for a 930 or 1520 successor.

At least it's better than an iPhone.

That's the sad thing, its not. Lower resolution screen (I'm not a fan of the ridiculous resolutions apple comes up with but the density is there), slower processor (apple CONSISTENTLY pumps out incredibly fast processors, even in the low clock speed and core count), less impressive everyday camera (isight is marginally lower res but is more consistent at good shots in dynamic lighting), and everything else is up for debate. Those things up for debate are dependant on ecosystem preference but they're always the tie breaker. I love my 1520 and will never switch to iPhone but I can't see the Lumia 830 being a valid option to an iPhone user the way the 1520 or HTC one are. Even androids are better choices from someone on the fence. Just my two cents. Also the price on this thing is ridiculous for its lack of competent flagship specs. The 8xx series were unique in that they were cheap with the same guts as the 9xx series with downgrades on other things but performance wasn't.

Umm.. iPhone 6 and Lumia 830 both have 720p resolutions.. And the processor of iPhone 6 isn't anything to cheer about, it's only a matter of optimization (which is so great on iPhone, cause Apple makes the processor themselves, unlike MS). The camera thing is going to chance when Lumia Camera launches, currently it's using a 3rd party camera app (nokia camera).

750 x 1334, coupled with a slightly smaller screen, comes out to 326 ppi. The 830 has a ppi of 293, under the 300 mark where you can relatively lose sight of pixels. The processor benchmarked against the snapdragon 800, a better processor than the 400 of course, continues to pummel in the loading, multithreading, and graphics department. It leads in EVERY SINGLE benchmark. Optimization has a huge part in this of course but the processor is just built better. Its why games like modern combat 5 run better and look better on an iPhone 4 than my Lumia 1520. As far as the camera, I agree with you. It has a lot to do with the camera app but even using stock camera, pictures are a hit or miss. IPhones aren't good at all under harsh lighting and lack tons of options but they excel at taking great everyday photos. And they take full advantage of the 8ml sensor even at hdr. The 830 takes photos at a lower resolution than 10mp and even less in hdr. I'm not defending the iPhone or I anyway demeaning the 830, its a great phone. I just don't see it as a good alternative for the typical IOS user and its especially a missed opportunity at the price point. Its not even a great upgrade to the 820. Aside from aesthetics, camera, and screen, the phone is identical to the 820 and even downgrades a bit on the processor. Its the only device in the x30 series of Lumia that I see as a failed or misplaced device. I've been very happy with the 530, 63x, and 73x options and price points. Even the 930 with the lack of glance is a great device and worthy alternative to modern flagships.

You also need to consider the difference in price between the 830 and the iPhone! We are comparing, well .. apples to oranges...

No, the iphone 6 processor is actually pretty amazing AND it happens to be well optimized. ..but I can't wait to get my hands on the Lumia Camera when it gets around to being released.

Thats the thing though, the processor is the only no flagship thing on this phone, resolution is the same,camera is debatable, cause low light I'm pretty sure this thing wins cause of the ois, and it has rich audio recording, and even then, there hasn't been a head to head, expandable storage, screen should be similar, etc, topped with the fact that this is significantly cheaper then the iPhone, I say there's at least a debate there

If I have $800 to spend and I'm an iPhone user, nothing about the Lumia 830 will sway me to windows phone. That's all I'm saying. This phone was meant to be the "affordable flagship" when really, its what Samsung LG and HTC do with their "galaxy/g3/one mini" rather than what Sony does with the z2/z3 compact and even the Lumia 820 did. Make the flagship smaller, gimp the internals, and sell at an overpriced point instead of making the exact same flagship in a compact body with a smaller screen at a cheaper price. The Moto g has better specs, save for the camera than the 830 at half the price. Its not a good iPhone alternative but its also too expensive to be a midrange/low end affordable device. Its just not practical.

Lumia 820 did have the same processor as 920, but it did lack OIS, it had lower resolution screen, did not have wireless charging built in nor did it have more than 8gb of internal memory. So I feel like it's debatable that the 820 was what Z3 compact is to Z3. I really feel like what they put together in lumia 830 is really good for it's price point, it may seem pricey, but it is new. All of the new devices cost and fall in to a certain price range, of course you'll get an older flagship around the same price. Because it is old, there are already newer things out there. Lumia 930 in finland cost 550€ when it came out, and at best you can get it for 499€ atm. As 830 is 360€ I reckon the 130-180€ price difference is understandable and fair, when the only real downgrades are the screen, processor and camera, depending on your usage on the device. I think I'll grab the 830 while waiting for 2015 and some new flagships. It is light and thin, and I like the expandable memory/glance/swappable covers and battery. It all comes down to what YOU value. ....That being said, I feel silly to argue about this now. I think this phone does nice to many people, but I do agree that WP needs a better flagship. Looking forward to windows 10!

The Moto G is half the price of the 830? Where are you getting that?

This isn't meant for people who are going to spend $800 dollars, its meant for people who want something like a flagship at half the price

You're right! Hope MS have some new cool features and updates to introduce to the world. That's important...and I still think WP settings list is a mess! Like a aftermath of a riot.

IPhone may look same old 7years back phone coz of its grid app list as ui but if you look through small little tweaks have made it far interesting, for an e.g the way u can reply text msg through poped up notification bar, the way u can quickly send pic , videos etc, app support.

No ! I am waiting for next 1520 ! :D

The problem is; What did we wait 2 years for? I have a Lumia 920 on contract with AT&T which will end on November. My plan was to get another high-end WP smartphone on contract with AT&T so I didn't have to pay full price. It doesn't matter which way you put this; sidegrade, moderngrade... whatever, bottom line: it's not an upgrade!!! So, what's the point on waiting two years :-(

ATT doesn't have the 930...

L930 came 1 year before with Icon. 1 year after Icon and we have the same thing...

Look very closely at AT&T's pricing. You may do just as well to get the 830 on their installment plan and just pay for monthly service without a 2 year contract.

No we need a new Nokia FLAGSHIP that means top of the line specs and a size that people can enjoy. Sorry i don't want a 1520. And on all carriers so we can all enjoy... Who is with me!!!!!

Me :) but I want the 1525/30 !!!! Or the HTC one finally for europe

ATT doesn't have the 930.

Agreed, but I don't see anything coming until early next year. I have a feeling this lapse of new products will cost WP some loyal customers. Everyone wants something new, and few are willing to wait!

So my assumption here would be in comparison to the Nokia 925 its would be identical in performance to the 920? There are some slight differences of course...

Similar, although the 925 has a better camera than the 920 because it too has six lens elements, making it sharper.

Daniel will 830 be an upgrade to 925 or both are somewhat similar in performance ? Is the camera in 830 better than the one in 925 .

Haven't compared directly the 925 camera to the 830. In terms of the rest, the 925 is certainly closer to the 830 in some ways than the 920; still, you miss out on things like removable battery, micro SD expansion, SensorCore, Denim benefits, larger display, boost from quad-core, likely better battery life, phone doesn't get as warm, etc.

Thanks a ton Daniel. Yeah 925 often heats up when we try multiple tasks at the same time. So 830 it is ! :)

In very short words DO NOT UPGRADE unless you really need too.

The cat definitely enjoys the 830 more. Looking like "OMFG gimme two meow" Regarding the comparison, I'd choose the 830, mostly because it's newer and it looks more badass for me than the 920.

Isn't the 930 the successor?

No... Not really .. 920, 520 and the 1020

What? The 930 IS the 920s upgrade for sure. Just like the 830 is the 820s upgrade.

630 is 520 successor, 530 is new super low end range, by that logic, 620 => 730, 720 => 830, 820 => 930, 920 => ?

It would appear that you may be on to something...

Agree. And I am waiting in that line for L1020 = ??

its good to wait for something better.

I own the 930 and am pretty disappointed that it has no glance screen support.

That's eh the icon didn't got it either

Do you now. I own a 930 too and don't give a ratsass about Glance.

That's what holds me back from the 930. I really love that feature!

I thought that too but since I got the 930 harshly miss it all with all the other awesomeness the 930 has.

Really, I would take any Lumia that made its way over to T-Mobile but sadly it seems like the 635 is the only Lumia we're going to get. Hopefully T-Mobile will actually announce a date for the HTC One considering the Nexus 6 already has a launch date.

Looks like the Canadian 830's have AWS bands so you could look into getting one of those to use on slacker Tmo.

Will put you back a cool $449+12% tax all be it CDN so you Americans who can swing up here get a nice 10%savings cause our loonie has started to nose dive once again

I didn't realize the replaceable battery!!! Love it. Being it to the 1520 upgrade also!

EXIF data on the pictures please. Did you use the aperture/ISO on both phones?

Both set to auto as that is how most people use them. Things rapidly get complicated if I start setting manual controls.

Would love to see a comparison with the 735 too, just because that's the one I'm moving to from my 920. Purely selfish but could be interesting as the 735 does at least seem to have two very good cameras.

In theory, 735 and 830 will perform the same except for the not-as-good rear camera. Otherwise, they have the same specs.

But the difference in price is unreal between 735 & 830 & they are virtually the same spec I can pick up a l735 for £130 which is good money

I think that the lumia 830's design is more appealing and worthy of more money, but these are opinions debatable. Also the glance screen, dedicated camera button, OIS, capacitive keys(VERY debatable) and 5" screen are good selling points.

My wife is really interested in an upgrade... Since she has a 900, this decision is easy.

Yeah, definitely from a 900...that's a nice, affordable jump ;)

I have got a 900 that needs upgrading and I am looking at the 830. The thing that is swinging it for me is being able to exand the storage to 128 gb.

My wife's still using the LG Quantum...

On the other hand, will Lumia 735 from a Lumia 1320, be an upgrade? Any suggestions?

Gets complicated. Lumia 735 as compared to a 1320 has: Better rear camera/PureView/OIS Newer chipset Dolby Digital and HAAC recording The Lumia 1320 though has a beefier processor at 1.7 GHz, so it should edge out the 830 for some tasks.

So is 1.7 Ghz dual core > 1.2 Ghz quad core? Its so freaking difficult to decide what is a good phone for next 6-8 months. 1320 isn't just cutting it. Impractical size for outdoor adventures. Great size for work but awful camera for a night out!

My guess is you'll see the same difference: quad-core does some things better in the OS than dual core. Also, better battery, less heat. Yeah, the 1320's camera is pretty terrible :/

Yes. Lumia 830 is newer and if you have your 920 for a while you get a brand new phone

Hang on, every article I've read on WPC lately refers to up/side-grading from 920 to 830. A while ago, I read an article on here suggesting it was an upgrade from the Lumia 820 (my phone) which was the "affordable flagship" model of the 2 available (the 920 being 'the' flagship phone) two years ago. My contract is due soon, so is it worth my while upgrading from 820 to new Lumia 830?

Yes! 100.....where the heck is my percent symbol on 8.1 keyboard?

"My contract is due soon, so is it worth my while upgrading from 820 to new Lumia 830?"

It stands to reason that if the 830 can compare against the 920, then it should handily beat the 820 too. I think that is a safe bet, especially for size, camera, and battery life.

No. 820 was the fastest 8.0 phone having same hardware and lower resolution then 920. You need s800 to beat that, not s400. And 820 had amoled and if you liked it in low light (which i really do), then you will be largely disapointed with 830-s screen performance in low light (see "830 glow effect" on youtube). I wanted to love 830, but decided to wait for s800 phone with glance. If it won't arrive till beginning of 2015 then i will go for 930.

Pessoal, quero ver o 920 com o Lumia Denim. Certamente ele vence o 830. Lumia 930 será meu próximo celular. Mas meu 920 branco está ótimo

Dan, what about with 1020? The 1020 has bigger ram and obviously higher level camera, wouldn't it make more sense for Lumia 920 owners to get a 1020 now instead of 830?

The downside of the 1020 is its processor. Jumping from a 920 to a 1020 and you will not see any performance benefits, nor get any of the cool new stuff outlined here.

Can you do a similar comparison between the 1020 and the 830?

What's the point? The only difference between the 1020 and the 920 that makes any tangible difference is the extra gig of ram, and THAT camera!
If you need a 41megapixel shooter with a xenon flash, go for it. These phones are cheap now!

I've kept my 920 and gone sim-only. Awaiting a better upgrade in 12 months time. 920 does everything I need. Cracking phone

f2.0 is better than f2.2. The lower the number the larger the hole, the more light gets in.

No offense, but life and cameras are not so simple. Lower aperture can also mean softer focus. There are many factors that go into image IQ and just going by specs (or aperture) is not the smart way to decide these things.

Haha....grose over-simplification :)!
If you like bokeh, and don't mind a large proportion of your photo being soft-focused, go for the F2.0.
Personally, I hope the 1030 (if/when it comes) has an F2.2 aperture. It'll be nice to have a bit more flexibility in low light without having to resort to the xenon.
F2.0 is pushing it IMO.

I owned the Lumia 920 back in 2012 and loved it, however I only got faulty units, so that i had to buy a Nexus 4 after 3 Month without a phone. Today I ordered the 830 for 314€ from amazon and have still one question: Daniel, could you say something about the 830s display in comparision to the 920?

Very similar. You just get less PPI due to the half-inch larger display on the 830.

Thanks for the quick response. I was happy with the 920s display and pixel peeping is not my thing, so I think that will be fine. Was just wondering about viewing angels and co, but if they're quite similar - great. Since you have both devices, one last question: Do you prefer the 830 or the 730/5 (let's put aside the price)

Honestly, it's a toss up. I keep switching between the both of them. Both are excellent.

Sounds awesome and thanks again. All there is is left to me now, is waiting :)

Could you please do a comparison between the 830 & 730/5?? It seems the 730 is cheaper off contract & although the camera is lower, looks like it can hold its own from the shots I've seen.

I dont think so after that vid 720 vs 830 screens in low light

This should've been the "930" if it had a 800 series chip. Design wise and carrier availability will end up.pushing me to it this holiday season. I enjoy the expandable memory and chipset? Ahhh it's fine 1gb ram should be enough for most of the games I have. Can't wait for the removable.battery though

Daniel please do anTuTu for both !

Lumia 830 coming soon to bell mobility soon on bell site

Lumia 1520 is better than both anyway... and that is my next

Thank you DAniel and WPC for this extremely useful comparison!

Thanks for the comparison. Given there's no 930 on AT&T, I was hoping for more than a sidegrade. On the bright side that's 100-200 I don't have to budget for in November.

So basically the 830 is the modern day version of the 2 year old 920 a littler slimmer and with negligible camera upgrades mostly due to software. Thanks but no thanks. Microsoft is going to loose flagship buyers over this and they know it. The iPhone 6 is already here and a new Galaxy S will be out before we get a Lumia flagship. SMH! They can talk that affordable flagship garbage all they want, AT&T 920 buyers are the real people that believed in the platform and no matter how you say it, they are screwed having no real upgrade path. 920=830 is a step backwards.

Thought AT&T users had choice of 735, 830, 930 and HTC One M8. What are you on about? :S

Nope. The 930 doesn't exist in the US. If you want a Lumia Flagship on AT&T your only option is the 1520/1520.3. The M8 is cool but HTC doesn't have the greatest track record of support for a phone once its sold. The 4MP ultra camera also is a limitation.

The 930 exists in the US as the icon on Verizon.

No longer being sold however...

Isn't that just rumor? I haven't read a creditable source.

If you go into stores, it's no longer available: it's no longer on shelves or display, and associates say it's been out of stock for ages. It's basically no longer sold by its sole carrier.

Add to that, with the iPhone 6/iPad Air 2, you get just as much connectivity with the Microsoft ecosystem (touch Office 365, One Drive, Xbox, Skype, One Note) as with any Lumia device.

A determining factor will of course be price. If it's closer to $300 for the 830 I'll get it, if it's closer to $400 then I'd say wait for 2015.

Here in Canada our prices are always the same as yours however as of late they have had to up our prices by 10% due to our falling loonie. It got proced outright for 450, so that confirms it you guys in the states are going to get it for $400

I think I'll renew my plan and get an iphone 6... then when the next big thing comes out hopefully if its awesome like when they relase the L920... then I sell the iphone at a great value hehehe =D... but still 2 more months for this... so anything can happend... I am really courious about windows10 in phones.

Seems like it's not worth it. Was considering doing a upgrade to the 830 and selling it off later on, but for that price I could get the 1520 OEM locked. It's really unfurtunate not having a real flagship for the christmas season.

Lateralgrade aside. I am reluctant to use my a new two year agreement for the 830. I think it might be worth buying a 635 off contract and saving the "upgrade". My concern with the 830 is how tough it is vs the 920 with comparable usage. I think MSFT/ATT really missed a raft of potential upgrades by not releasing a more upscale phone. That being said I am sure they did the math and have good reason to move the direction (830) they did? But because I love new shiny things I'll get at least one (830), most likely...

Waiting for Lumia 10...or whatever they will call their next flagship

Are you going to make o full review for the Lumia 830?

Well... Removable battery and SD card are the only two things that make the 830 an upgrade from the 920 which is not enough... I just don't see an reason to buy this phone with my 920 still working fine.

SD is like Qi wireless... Once u have it, you'll want to find some devices with the same feature...damn at&t I want my Lumia 1520 with Qi...

Get the 1520.3 from newegg.com. Problem solved.

Unfortunately this phone is sold out :( Its really popular http://www.newegg.com/Product/Product.aspx?Item=N82E16875205393

Firday November 7, about two years ago I picked up my Lumia 920 and started reading this awesome site. THANK YOU DANIEL! I LOVE ALL OF YOU FOLKS.

Will tmobile be getting the 830?

Can't believe my Lumia 920 is nearly two years old and so is my At&t contract....

This would have been the Nokia high-end flagship phone in 2012. Nearing the end of 2014, a handset that just slightly out performs a 2 year old device doesn't excite me that much. The 830 is what it claims not to be (a flagship device). Microsoft has, for reasons which I am sure are entirely valid, chosen to hold back on what could have been a real winner in this device. (Perhaps a deal was struck with HTC promising not to go head-to-head with them if they released their flagship Android phone running Widows Phone 8.1?? We may never know...) This phone is just a processor tweak away from being universally adored.

True. I find the CPU and display weak. Do we have something with specs like Moto X this year? Can't imagine how my 1520 is still one of the most powerful windows phone (next to M8) even its almost an year old.

You can't really take them that seriously when the 930 and 1520 are already out. It's a "flagship" like the Moto g is a "flagship".

What's the contract price between this and the icon?

I'll work an extra shift and go for the 930/icon. It'll probably have a longer life span (future proof) than the 830.

One more difference, 830 has miracast support and 920 does not. If you care about that. I do so the 830 looks to be the right upgrade for me.

IMO. The 830 is a worth upgrade over the 920 , much better gpu and CPU , and screen and nearly every thing , but I really want to see anTuTu benchmark. On the 830 , since the Moto g 2014 got 17900 (or something like that but I'm sure its over 17500)
I want to see how the 830 compares to the Moto g 2014

I am thinking along the same line. The L830 may not be a "flagship", but from the review and comparison to the L920, it appears to be a more than decent phone. My L920 served me very well, but it's badly bruised (cracked screen and faulty volume buttons). The L830 has the features that I desire right now which includes: 5" screen, good camera, expandable memory, reliable and fluid operation in an attractive design.

Much better GPU? Have a look at the benchmarks in the article....the 920 gives the 830 GPU a jolly good spanking!

Spinzero ,benchmarks isn't always everything

Ok, let's just go with the specifications. Lumia 920 - Adreno 330 Lumia 830 - Adreno 305 The 830 is 2 years younger, yet is still fitted with a less capable graphics chip. I guess that explains why the 920 beats the 830 on GPU intensive tasks. & in this instance, the benchmarks back up the hardware reality... *Edit - the 920 isn't rocking an Adreno 330...the website I plucked that info from was wrong. Since the 920 is running an older Adreno chip, who knows why it outperforms the 830!

Spinzerowl , I searched it , the 305 is kinda slower than the 225 but the 305 outperforms the 225 in performance , the speed may did this , source: Xda developers

Would have thought a comparison to the 730/735 would have made more sense, as they look rather similar. Guessing the comparison was made to the 830 as it's available on AT&T? While the 735 may possibly someday make an appearance in US, I wouldn't count on it. For me the design of the 830 is beautiful and easily wins out over the 920.

Sadly i don't think there will be a Lumia flagship to replace the 920 this year. I think they plan to give us the HTC One with Windows, and the L830. The HTC one will be the windows phone flagship for AT&T. Microsoft will release a new flagship next year as the first phone designed totally in house by Microsoft since the joining of the two companies.

Can you guys please do a similar comparison between the 830 and One M8?

The M8 will crush it in almost every aspect except the camera. There, did one for you. Here, Daniel did a 1520 vs One M8 comparison already: http://www.wpcentral.com/htc-one-m8-becomes-fastest-windows-phone-world

Seriously lol, not a worthy comparison. .

The 920 is better for me. There are more internal storage. Anyway both phones are almost the same and, Im still waiting for the 1525 to be release to upgrade ! :D

I think I'll wait for the new 1020.

Unaffordable flagship plz, thnx.

But can you buy one without a carrier? After being burned with the 810, I don't know if I can ever trust a carrier to support a phone at least as long as it takes to pay for it again....

my contract is due to february 2015... hoping for a kickass flagship with W10!! :)

This cannot replace my 920 it's a midrange phone end of story

Can some one tell Microsoft to release high end phones before people start forgettting about WindowsPhone operating system and Nokia again?

I don't think the 830 is a worthy upgrade. I agree it's more of a sidegrade...and even as a sidegrade...meh. Honestly, replacing a 4.5" 720p with a 5" 720p is not a good idea to me. If someone asked, I would recommend the 930 instead...and I say "would" not "will" because the 930 has way too many issues (overheating, horrible battery life, poor low light photos etc) to be worth the headache of leaving the 920 behind.

Daniel, when you say: "In real-world tests, the Lumia 830 outperformed the Lumia 920 in terms of image quality and sharpness. This difference is likely due to the sixth lens element added to the Lumia 830, the higher aperture and newer software (Lumia Denim). As an example, the Lumia 830 tended to have objects with variable distances in focus more often than the Lumia 920, which had a shallower depth-of-field. This result is expected with an f2.0 versus f2.2 comparison." It seems you are saying f2.2 is better than f2.0 which is not. There might be another reason why the Lumia 830 photos look better than Lumia 920...

"It seems you are saying f2.2 is better than f2.0 which is not. "

There is no "better" aperture. There is better

for certain situations

. Lower is better for more light, not sharpness. Higher is better for sharpness, not low light. People who shoot landscapes shoot at f/14 and higher for a reason on DSLR. I have an f1.2 55mm lens and it is a bitch to focus with it and terrible at that setting for most real-world events.

"It seems you are saying f2.2 is better than f2.0 which is not." He is clearly not saying which is better, just explaining the differences.

You're forgetting pureview phase V (830) vs Pureview phase I (920) , that's a really big difference ..

I picked 830 today from fido... And real world performance and usability is so much better than 920. Most of the apps load way faster on 830, especially Xbox music there's 4-5 sec difference in loading time.
And also the new build style.. It feels much more premium.

Welcome to the club. I love mine.

What other color is included in the box beside the green one?

Iv had the 830 a wile I prefer it to my 920 tbh lighter wait cool new look sd support better camera latest denim update I'm pretty happy

There's a big difference between resolution and ppi.

I think that for a 2 year-old phone the 920 holds surprisingly well to both the Lumia 830 and other phones in the market, so no "upgrade" for me. I'm more interested in what Microsoft is going to announce in the upcoming months. What's annoying is that we might have to wait until Build 2015 for that announcement.


Lack of OLED display on the 830 is a dealbreaker, I can't go back to LCD, it looks so gross in a dark room.

Agreed. The amoled screen on my 820 is stunning especially when using glance. The 830's oversized screen looks weak.

I find myself often preferring AMOLED too. It looks amazing on the Lumia 735.

Yup that's why I didn't buy 830..

@daniel - totally agree with you on the 920 being better....but can't we please have a nice friendly dog instead of a cat...still can't figure out what cats are good for :) :)

Awww, lol. Mark is the dog-guy around here, I'm the cat one :P

Thought after mango, WP had their head in right place. Innovation through tech was their only chance against the other's. But after the McLaren fiasco, who knows?

The 930 is the upgrade and that's that. I'm sorry most you peeps in the US can't get a hold of it due to carriers but the 930 is the only way up from the 920. CPU, RAM, 20MP, 5", bigger battery, its just awesome. And if you hold a green or orange one you will see they look sweet as well. They are not a brick as has been said, I think its even lighter than the 920. So if you can get your hands on a 930, just do it. And trust me you won't miss Glance that much either. Well I didn't, with all the other awesome features.

Wait and see until 2015.
New year, new phone.

Damn I miss my L920. I swap phones out a lot but I refused to let it go. Camera was amazing, build quality was outstanding and it was the perfect size. I ended up trading it in to help pay for my L1520, but damnit I wish I would have held on to it. The L830 however does look sharp, so it's got that going for it, which is nice.

I don't think there would be any new highly specified windows phone, as all OEMs are rather interested either to bring budget device or 2years old specs loaded phone. I can't even imagine if HTC would bring in next year.

I have had the 920 since Jan 2013 and it has been a great phone. I am still waiting to see the next flagship device for Lumia that replaces the same foot print as the 920. I am passing on the 830.

Daniel, could you compare the 730 and 830 with the iPhone 6. They seem really similar. But I don't Think people realise that.

I don't care much for iPhone's let alone comparisons with other devices. To be frank, if anyone is in the market to purchase an iPhone then they will go right ahead and buy one, regardless of what else is available.
These comparisons are therefore pointless.

Great article, goes to show that we might just get the new Lumia camera as performance is so similar.

Could you do a comparison between the 730,830and iPhone 6 Daniel? They are very similar devices in terms of specs but I'm not sure about real life performance.

I feel for you guys that have contracts up soon. I guess I'm lucky since mine isn't up for almost another year. For anyone on AT&T, look into moving to a mobile share value plan off contract and start putting away the extra money so you can buy the next phone outright when it launches. Here's to better phones in 2015!

As a 920 owner I'm waiting on the 1525, I'm hoping it will have duel sim

Even though this quick review/comparison has sort of made me less excited about the 830, I think I'm still going to swap it for my 1020. The 1020's camera has served me rather well, but I've noticed how badly it has aged in regards to speed and battery. Also as a side note to UK Windows Phone lovers, giffgaff have now increased their price of the 930 as if they knew that the similar price tag on the 830 would make people confused :(

This article shows that the 1020 would be better graphically than the 830, and only around 15% slower in system processes...
I honestly can't see a reason to leave behind the 1020 camera/xenon combo for an 830.
Just have some patience - force Microsoft to make us a proper upgrade ;)

You're absolutely right, but it's the feeling of newness, the SD compatibility and the slightly bigger screen that has me contemplating, although I do hope Microsoft see your comment and we do get a delicious 1030 relatively "soon" I'll get that on day one no matter what phone I would currently be using :P

No Daniel! I've switched to a monthly rolling contract for now. Not getting any phone until I see something decent from MS. Thanks for the video comparison though.

By this benchmark my HTC 8x has overall score of minimum 480 to maximum 502. And it was first windows phone 8 device besides 8s. Now 2 years later you get the almost same mid range device and I don't think its worth upgrade from my point of stance.

Well, conversely the argument can be made Do you enjoy the experience on the 8X? Meaning do you find it fast enough? Also, note in the video how benchmarks do not tell the whole story, see how some games and core apps like Xbox Music/ Skype perform better with quad-core. I mean, my 1520 trounces most Windows Phone, even more so with the HTC One, but that alone does not make it the winner. I keep using the Lumia 735 by choice for a reason ;) You also get better battery life and less heat with the new chips.

The 930 seems to have pretty terrible battery life by most accounts...so it doesn't seem to be a given that the new quad core chips will give enhanced battery life...
I do like the look of the 735 - it is just a shame they decided to leave out the camera button.
Microsoft's moves at the moment seem to be really ill conceived though. They want market share, yet hobble the phones that could give them some traction. This 830 is underpowered for it's price point.

I just don't think I'm going with Nokia this time around. Not worth it. Can't lock myself into a contract with the 830. Disappointing :(

The cat looks happier in the 830 picture

It would be an upgrade if it had a sharper amoled screen, a better CPU, a significantly better camera, etc. In other words if it was a better designed 930.

And the whiners are out in force!

will 920 be able to do "HAY CARTONA" ???

Haha sorry, sorry but "Hay Cartona" might be one of the funniest things I've read in a while! ##haol #sarptan #matser #chef #cartona

A 935 is what we really need in America. 5" w/ glance, snapdragon 8xx, 20+ MP, 1520 battery life, SD slot, removable/interchangeable back, thin like 1520/925

Dint forget Qi integrated!

Literally the only way I would buy this phone is if the price drops because no one wants it. I agree with Daniel that MS acquisition of Nokia probably has screwed up their release cycle but why are there zero leaks of any phone? That seems weird and troubles me greatly

The current CEO, Nadella, was against the Nokia purchase from the start. I wouldn't be too surprised to see him spin that whole division off and prep it for a sale to an OEM down the road. If anything that would boost Microsoft's stock, so he's probably keeping his powder dry until the right moment, maybe a mediocre earnings report.

I love my 920.. I'm not going to change it! Nop..

The 830 is a solid phone. I really enjoy mine.

I currently have one and I enjoy it. It does everything I need it to do. Through work I have a HTC One for windows and its cool but I don't use all of its power. Since the OS is pretty light weight I don't need the extra horse power unless I game. That doesn't happen a lot because I have a 3ds for that.

Seems like a lateral move. Still waiting for a flagship...

I just upgraded from a 920 to the Lumia 930 what a great phone the 920 still good after 2 years its aged well but the 930 is a brilliant upgrade no regrets!

The 830 is a joke. Microsoft messed up this year. I can't even believe this is what they put out before the holiday season. It's like they want to fail. By far even now best phone out there Lumia 1520. Great phone great battery life.

It's really not as bleak as it seems. As I said before, Microsoft just needs to realize the Lumia 1020 is their Surface Pro as far as phones are concerned. If they keep iterating and improving that device, it will eventually top every other phone. Every feature that needs to come to the new 1020 exists in another phone they are already making. If they put those disparate features together on one phone it would automatically become a top contender for best hardware on the market. Right now Microsoft is casting a bunch of baited hooks with Windows Phone trying to see what gets the most consistent bites but the need to concentrate on developing a vision that is reflected in every phone they sell. There are too many different groups of Windows Phone users who value a different set of features. Bring all those people to the same phone and they can increase their market share dramatically. The 830 represents the closest they've got to that concept, but they shot themselves in the foot by making it not support features they just announced. Now they have half their user base justifying why they don't need a feature they spent R&D dollars developing. It's this lack of foresight, vision, that slows Windows adoption.

I have a 920 and available for a upgrade and wondering what new windows phone to get

It might sound counterintuitive but I went with the 1020 for my upgrade, even though it's a year old. I can't justify the ever so slight side/downgrade to the 830. I'm a photobug so the 1020 is amazing. It has quirks but when you learn them, the phone is a treat to use and the photos can be stunning. :)

If you will buy any phone on contract , don't buy , just wait for wp10 or w10 phones

I wish they would release a follow up to the 925 (on T-Mobile) that is similar in design, but with a colorful body and slightly bigger screen and improved specs.

So in the last picture, I see four tiles on the screen... How??

Honestly, no I wouldn't consider switching from my 920 to an 830. As you stated it is more of a sidegrade than a true upgrade. Ideally if I'm going to upgrade, it will be for a true no-compromise high end device. With the 930 you lose some features and gain performance. With the 830 you add a few features, but are at best on par overall with the 920 performance wise. Neither options appeal to me. With the demise of the McLaren, I'm content to wait until there is more information about Microsoft's wp10 devices. There is no point getting locked into another 2 year contract with sub par hardware (for what i want), with wp10 most likely launching next year.

I guess waiting for Windows 10 only works of you are really patient, knowing the speed at which Microsoft works you won't actually have a windows 10 phone in a store until December 2015. I'm afraid high end wise we are condemned to iPhone and android for the year to come. Everything high end wise available on WP was launched (in one form or another) at least a year or more ago. Even the 930 / icon ,technology wise , are one year old phones. And seeing the improvements on ios8 and lollipop I guess WP has more catching up to do. I hope 10 will do that, I just hope they will have enough WP users left by the time it is released. Both in the high end and low end market there are a lot of better price quality phones around and new better phones are released almost daily. Chinese manufacturers are stepping into this market and their phones are about 50% cheaper than the phones we are discussing here, running on lollipop. A year from now even the samsungs and sony's of this world will see their phone business evaporate. In short, I think Microsoft should get out of the hw business asap, they just are not flexible enough to keep up with the competition. All there energy should go to making windows 10 a serious improvement over the apple and google software. If people want windows 10 for that reason, the hw makers will release the hardware and Microsoft can focus on its core business, making software!

I'm pretty sure that's what's going to end up happening, i.e. Microsoft undoing the Nokia purchase, and exiting the hardware business. The hardware division certainly doesn't have the CEOs verbal support----he's never mentioned it, and you never see him show off a current WP device. If W10 is good for running on phones and other ARM devices, Microsoft will provide the OS to OEMs, while they focus on Windows, Office and cloud services.

After reading everything... All it really means that Lumia 920 is easily one of the best phones Nokia has ever built. Even after all this time - a killer device. Yes, I know. It does have it's bugs, but not all devices suffer from it and it's not always a big issue. All in all - 920 is a beast and I'm happy I chose it as my device 14 months ago. I will definitely keep rocking it as there is simply no point in upgrading.

I gave my son my 920 and got the 1020 for myself. I loved my 920 and I occassionally hold it and clean it for old times sake. lol

Whoever got wp8, coz they thought wp8 has all these potential with its competitors os. And they picked up Lumia 920, as it was only flagship device (overall supports from Nokia, unlike htc8x), and for the users like me, we consider 925, 1020, 1520 released those period of times are niche device (1520 still holds right to be flagship till date, but still not an upgrade unless another 15xx come for those who got 1520). For the users like me we aren't getting any flagship from the particular OEM (MS) to upgrade our phone. Those who has htc8x n loayal to HTC can upgrade to M8. But what for Lumia?

I have a 920 and to be honest the 830 seems to be nothing more than the same phone with a different name. And the 1520 is way too big, I mine as well put a laptop in my pocket. I personally want to get the next upgrade to the 1020.

Sounds like ill be holding out until 2015 for a real flagship replacement of my 920

Im not going to get pissed off like some people because a once flagship phone is just as good as an "affordable flagship". This phone is for others who have IOS and android to switch over. Us WP users already know what to expect. This phone is better than an iPhone 5/6. I'll be telling my iPhone 5 friends to be switching.

I would not do it , jumping over WP from ios, to my friend. WP users do not get update all at the same time, do not get new devices. Etc. And its frustrating.

Windows actually has more features than an iPhone so im not worried about updates.

Bunch of whiners. I cannot wait to replace my 920 with an off-contract 830. If MS releases a new flagship in the spring or summer I'll revisit things then.

A flagship in Spring or Summer is way optimistic. Probably next Fall at the earliest. Even then I doubt it, because I'm convinced that Microsoft is moving to get out of the mobile hardware business, and leave the whole thing to OEMs.

Daniel, I really appreciate your work on this article. I have had a great experience with my 920, but (after 2 years) I am ready for an upgrade. However, your article really confirmed that there is no new phone that's compelling enough that I would lock into another 2 year contract. I wish we knew how long the wait will be for a flagship device with compelling features. Microsoft really needs to dangle a carrot out there for all of us early adopters whose contracts are about to expire. I'm certain there was good reason for them to cancel (or postpone) the McLaren - but without knowing how long the wait will be ...

Thanks I hear ya. McLaren does leave a big hole, and I've been saying that for awhile, now everyone is feeling it :/ Microsoft is in a transition phase right now, so it's hard times for those who want something really wow-worthy. I think if you have disposable income, getting an 830 is an awesome hold-over. Even more so with the 735 (since it is cheaper). But yeah, locking into a contract and coming from a 920...probably not smart. Then again, I think 2-year contracts are passe now. Tech is moving way too fast.

I would like to see a comparison between the new models of Lumia like the 730/830/930 with the Lumia 925. :O

I am leaning towards waiting for something greater. But I think in 2 months when they mark 830 free w/contract + wireless charger, I will jump in. That is hard to ignore. Are you with me?

Thank you for the compairson it helped me decide to keep my 820 for awhile longer until something better comes along. The 820 is very close to t he 920 in performance (same internals) plus it has a removeable battery, SD card slot etc which the 920 does not have. I had just about decided already to wait for something better; but your compairson sealed the deal. Thanks for the effort.

And where are low light pictures?Perhaps nowhere because L920 has larger sensor,and aparature(F2.0 is larger than F2.2), so has advantage in low light situation... Also L925 has 6 lens, so against L925, L830 Would have a minimal advantage in day light pictures...

Those were fairly low light, tbh. Inside, natural light, etc. I could do night photos and really push 'em.

Wow, comparing a 2 year old phone with a brand new one? Sad part is that the older phones stack pretty well against the newer phones. My son just upgraded to a Nokia 1020. Why? Because of the power and camera. Come on Microsoft, we need to have a clear upgrade. Give us a phone that makes everyone want to upgrade. I have a HTC 8x and as of yet I haven't found a new phone that makes me really want to upgrade. I want a phone that makes an upgrade really worth while. At this point only the Nokia 1520 really has turned my head and that's a year old.

Yep its pretty pathetic. The fact that an article like this has to be created is proof enough the phone is a dud. Can barely tempt someone away from a 920. Nokia Australia have got the 735 listed but no 830. I'm wondering if they will release it here at all. Its not good value for money compared to Androids in the price range and will be hard to squeeze under the 930 on contract.

Two year contract renewal? Nope, just my opinion. Sticking with my 920. Waiting for summer/fall 2015, Microsoft is planning something nice for Windows phone 10.

This the phone for the superficial. I'll hold onto my 820 till end of contract. Hopefully MS has something new released 1st quarter next year. If there's still no official F1 or MotoGP app it will be tempting to go Android.

Yeah I'm holding on to my trusty 820 till hopefully they release a high end phone with sd card support, the official f1 app would be great, but ive also been looking at android but don't think I'll go there just yet, ill wait and see what MS bring in the near future.

in technology i tend to prefer the newest rather than the highest end if it is older, but in this case i would dare to say that nokia/microsoft isnt very interested in having their 2 year old phone outperforming their newest offer, from a sales point of view it is clearly nothing unusual, the lumia 830 has better, more up to date software with the best optimizations, can you expect them to do the same with their older phone? nope, the quad core vs dual core thing? its hard to say, im confident the only part of the software actually using the four cores is the OS itself, maybe there are a couple of apps that use 2 cores at best, my expectation? in the near future, the 830 is going to outperform the 920, but in the long run, when the 830 gets old and replaced too, you will see the 920 starting to look faster again, heh, the irony...

You can't create light,where there is no light... So that is why low light photo will always look batter on L920/L925,no matter of adjusting light after taking photo...

But will the 920 even get all those fancy camera features? Like the ability to adjust lighting after taking the photo? I'm doubting we'll get those as 920 users. The 2 seconds faster will make sure you don't miss a photo. I've had instances where that matter, sure I can get good quality photos, but if the subject is gone then it doesn't matter. I suspect the 830 will also benefit from the faster performance of the Lumia Camera update and the 920 won't really see anything because seems like this will be more firmware based than app based alone. I guess what to do is wait for denim and see if your 920 is still comparable then. The biggest frustration I have now is camera start and shot to shot time, especially in 8.1 they removed the ability to shoot a photo regardless of photo. Before in 8 you can push the button and it would shoot the photo without having to focus, now in 8.1 it autofocuses first (this happens in the default app).

The Micro SD capability is a real advantage I don't understand why the 9xx series don't have it . But two remarks I like to make to Microsoft .
1) Watch the quality control of the phones . I had a 710 , and now a 925 , in both cases I had to get the motherboard changed after few months of owning the phones . That is free , but very inconvenient .
2) The look . Understand that colourful low cost phones is where the bulk of the market is. But for people like myself prepared to spend $400 or more on a contractless phone , it would be good to have some metal or half metal body (like the 925) .in colours like black , grey and white . Make the phone look classy .
My two cents advice . Cheers

The 1520 is a worthy upgrade. Nothing else.

I upgraded 920->1020 instead and then will go to later model

I'll keep my 920 thank you.

Hell no, design and specs of 920 are still better.

Side grade at best. It happened that we had to do a phone shuffle in the family so I went with the 1020. I guess next year we'll get a flagship. Nonetheless, the 1020 is absolutely amazing and I'm more than pleased with it. I can happily use this phone for a year or so. That said, I'm disappointed that a flagship replacement hasn't even been mentioned yet. If MS wants to stay in the game, they have to hit all ranges of phones. I'm impatient though so my opinion is a little biased. :)

2 years later and MS stuck in time. What an incompetent bunch. Heck after 2 years they still cant crack 10% market share worldwide.
China ain't gonna drop their iPhones or androids to switch to an 830.
Australia certainly won't.
This is a phone to sucker in the third world.

*sigh* this whole thing sums up the state of windows phone atm at least if you are on AT&T

Just bought my 830 on Rogers. Haven't set it up yet but it feels amazing. And the screen impressed me. Sidegrading from 1520

Wife has a 920. I'm waiting for the unlocked 930 price to drop a bit. Then I will get for her. For me 900->520->635. So, 830 will be a big boost for me. And, I only got a 635 for the bigger screen. My 520 served me well. Thanks for the review.

Thanks Daniel. This is what I was waiting for to make an informed decision based on facts and what matters to me. Great write up. I'm sticking with my 920 for now.

I'd upgrade if still had my 920 but went up to 1520

Daniel.please review Lumia 730 or 735.

There are people who still think the 930 is too thick/bulky in their hands. Having the 830 thinner makes it an easier sell. Any 920 owners I would say wait until 2015. The "upgrade" isn't there.

Still 920, I suspect the 1.5GHz dual core Krait processor making it still faster vs 1.2GHz quad-core proc from the 830, #justsaying

This would be a completely moot point if HTC could just put a 20MP PureView camera on the HTC One (M8) for Windows. Maybe they could fix the name too!

id go ICON if i have to replace my 920.

Worth waiting a flagship with Snapdragon 805 + decent 20mp or 41mp camera + 3500mah power, by next year. Yes I am drooling to buy 830 or 735.

1043 overall on 930........ :)

I just updated to the 830 from my (almost) two year old 920, and I love this thing. Gorgeous device, light, thin, and powerful. Very happy I made the decision to "side-grade". :)

I've been waiting to upgrade my 920 for a while now, I just haven't had reason to do so. I'll probably wait till the next year flagships are out. It suits me fine and still runs well enough. The upgrade to an M8 or a 930 just aren't worth it yet. If they had made the 1520 with the 41 mega pixel camera I may have made the plunge then. I'll probably wait now for when the hey cortana feature subset and after W10 comes on phones to upgrade. I'll be honest though. That Nexus 6 made me waver. That thing looks amazing.

Whenever the 1030 comes out or maybe 935, then I might replace my 920. 830 doesn't interest me much.

Still looking for a worthy successor to the 925

Not sure why Daniel insists on believing that the reason why the Lumia 830 CPU edges out the 920 is because it is a Quad Core. NOT BECAUSE OF QUAD CORE! It is simply an optimization issue that Microsoft needs to address. The Lumia 920 has a faster SoC, period. Read a "Multithread for Dummies" book, and compare the cores in the S4/400 platforms please.

I don't see many people burning an upgrade... What I would do if I was dead set on a Lumia flagship is use my upgrade on the latest and greatest Android whatever, perhaps the Z3 or upcoming Note 4, sell it on Craigslist, and use that money toward the dream phone when it appears. Personally, though, I'm crossing my fingers that the One for Windows comes to Bell here in Canuckistan. The camera is good enough for my needs, since I just need a shooter fast enough to capture moments with my kids, and it checks the rest of my boxes on its own merits.

If you're planning on buying, then flipping a phone, your best option is an iPhone 6/ 6+, since Apple devices tend to hold their resale value MUCH better than Android devices. I'm not disparaging Sony or Samsung quality, but it's a fact: compare used pricing on ebay or craigslist, iPhones vs alternate devices. The Apple devices have better resale value due to the brand.

My Lumia 920 Working fine no need to upgrade now

Tempted...but I'm worried this phone won't be upgradeable to windows 10(in/when if cones out). I was screwed when I purchased my old Lumia 900 when it wasn't upgradable to windows 8 and stuck with 7x. I don't wanna repeat this again. Although this is the last Nokia that will be branded Nokia. Next year we'll see Microsoft Lumias...

Conclusion : Buy the 830 if you want all the features of the 920 + removable battery and expandable storage. Buy the 930 if you want all the features of 920 - glance + passive voice.

Lumia 830 + snap 801 and awesome.. er camera = dream phone. ...
I'm not sure if something like that will ever come out. A 935 maybe.

Giving the specs alone the 830 is in no way a worthy upgrade. I don't get why the real successor of the 920 - the 930 - wasn't used for a comparison. Why would someone who has a Lumia of the high-end tier "upgrade" to a Lumia of the mid tier? Especially when it offers so little over the phone you already have.

That's why he said it was a "sidegrade". Performance is similar, but you get some slight upgrades in everything else. Bigger screen, slightly better camera, thinner and lighter

I still don't see the benefit in spending money on something that's only a small upgrade. ~300€ off-contract for a new phone that can do the same as the one you have but slightly better is too much and not very "future proof" (I hate that term but I think you'll get my point). A bigger screen (especially with the same resolution as the smaller one) is not necessarily an "upgrade". A comparison of the specs shows how inferior the 830 is to the 930. http://www.phonearena.com/phones/compare/Nokia-Lumia-920,Nokia-Lumia-830... The only real advantage I see here is the microSD slot.

It's complicated, because the Lumia 930, the Icon in the U.S., has current limited availability in North America. In the U.S. in particular, it's being sidelined and put out to pasture by its sole carrier, so it has zero availability. So Dan isn't likely to talk up a phone.......that's pretty hard to go out and find/purchase (and if you did, it would be a dead end phone----no upgrades from the carrier). What would be the point?

If anyone is wanting to upgrade and don't like WP current offerings, I would be willing to trade them my iPhone 4s for a Lumia 1520 and 50 dollars.

I am sticking with my Ativ S until Windows 10, so not considering the 830. However, I wanted to say "bravo" and thanks for a comparison piece that was a pleasure to read. Daniel, you need to hold seminars for other tech writers and show them how comparisons are done! mary beth

Lumia 920 is still the sexiest Lumia.

Awesome Video Daniel! I'm a 920 owner faced with this decision too Should I wait or settle for the 830... This video was very helpful. I'm gonna try and hold off see what windows phone 10 brings hopefully MS will come with the gloves off and blow the competition away... Its very disappointing there's no flag ship upgrade for the 920 though... Nokia or MS should have planned this better for early buyers of the 920 with expiring contracts.

I don't see why update any windows phone since they are all the same in os except some have better camera, bigger battery, bigger screen and new processor. Lumia 920 is still great phone and still competes goodly against many new Microsoft phones. I would rather buy Sony Z3 because i would want some change

My 920 will only be replaced by a 1520 and even then only next year. This thing is lined for updates till Oct '15. Plus its still a very responsive and attractive phone.

Daniel, do you find the lower PPI on the screen to be a noticeable hit vs the 920? Sorry if you have answered im trying to read all the comments on my phone and there are a lot lol

Lumia 920 is a nice phone' pity you can not expand internal hard drive or easily change the battery.

Daniel you seem intent on flogging this Lumia 830 to us. The average 920 owner got this Nokia as it was the WP flagship device at the time. Logically, such an owner/user would want to own a flagship WP device when the time arrives to replace their 920. The Lumia 830 is NOT a flagship device. Additionally, when a replacement is sought by a L920 owner/user, the desire is not merely to secure a considerably better WP, it is use a WP device that compares favourably with Flagship devices already available on other OS platforms and manufacturers. This is why the L830 is simply NOT a reasonable replacement for either a 920 or a 1020.
Sadly you know this yet you keep flogging the 830 in the hope of either (1) currying favour with Microsoft, or (2) trying to distract us from the equally sad truth that Microsoft has colossally dropped the ball by not focusing on the high-end user who seeks a worthy flagship handset that he/she can truly be proud of, enjoy and know it's the equal of any other manufacturer's handset on the market.
Please don't keep trying to convince us to settle for anything short of "Excellence"!!

Have 920 and still in love with it. 4.5" is the biggest screen I'd want (maaaybe I could go to 4.7"...), the camera is good enough and I'll be sticking with it until MS decides to drop support from it. Why change your phone when everything is fine with it?

Depending on how cheap it is off contract, I may "upgrade" my 920 to an 830 as an interim phone til the next flagships come out next year. It does have some better features than the 920, but I can't see signing a two year contract with it after a 920. Let's see what AT&T is charging.

Hi daniel .
whether the front camera lumia 830 lumia 920 as bright as the front camera ? that's what I want to know . please answer

One thing not mentioned in the video (unless I missed it) is how much better the 830's battery life is vs the 920's. I went from a 920 to a 1520 to an 830 (1520 was just too big), and what I feared missing the most was the 1520's incredible battery life. While the 830's isn't quite as good, it legitimately doubles the best battery life I've ever gotten from my 920. Very happy with the switch.

Ok now its proved, 830 IS a sidegrade to 920, now bring the folks from indian launch of 830 thread.... I still have stick in my hand...lol And wow...rarely see Daniel rubino getting involved in threads this much....

Wish Carphonewarehouse in UK would just start selling this phone. Everybody else is stocking it!

You forgot Miracast in 830.

Dear the next phone after my 920 is 930 this is the upgrade

No, not even 930 is worth 920's upgrade.. 920 guys need a good device. This is 2014 almost 2015 Microsoft you need to catch up with the rest if you want your customers to remain satisfied. Put 3gb of RAM even if it is not needed in WP , give sd card slot to flagships.. There is no need of mentioning further since Microsoft already knows what they need to do to take over. Personally I upgraded from 720 to 1520 three months ago as I was frustrated since all new good games and app needed at least 1gb of RAM. I don't need an upgrade for the next two years!!

I'm going to keep my 920 for as long as possible.

The reasons why the Lumia 920 still wins this (for me):
- Best design of all WP8 devices (look and how it feels in your hand)
- I don't like the phones getting lighter and lighter. The weight of the 920 is perfect
- wireless charging. Never going to buy a phone without it anymore.
If they would release a Lumia 920 v.2, same design, same features, with latest hardware it would be a instant buy for me...

Both the 830 and 930 are not enough of an upgrade for me to replace my 920, which is still working perfectly fine after two years of use. Even though I wish that Microsoft would soon bring out a flagship device that would qualify as a "true" upgrade, Windows 10 really seems to have complicated matters. Each potential new phone purchase has to be viewed in light of how "future-proof" it is in respect of W10 and we simply do not know enough about system requirements yet.

We don't know yet, because likely, Microsoft doesn't know yet. I'm sure they're testing W10 on a range of current ARM/ Windows Phone devices, but we won't have a definitive answer, about how it runs on older hardware, until way into next year. This isn't inside knowledge, it's common sense. No matter how they spin it, W10 on ARM/phones/tablets, is essentially another 'restart' in mobile, just what the platform doesn't need.

The 830 is not really an upgrade for the 920 or the 925 it's an alternative . Besides not sure the 920 is still manufactured . The 930 would be closer to an upgrade . Give it a sexy metal body , a micro SD slot and I might consider replacing my 925 . I leave aside the 1520 which I find too big , question of taste.

To my eye the 920's shots are more appealing and the assertion that sharper images make the 830 a better camera is debatable. The shot of the pumpkins: the 830 has too cool a cast to it, while the 920 has a more natural tone. Also, without magnification, viewed on this late 2009 MacBook's monitor, the 920's shot appears sharper and less noisy. When viewed at a larger size, in the 920 shot, on the left side coaster, I can make out the word CIRCULATORY, while the same word on the 830 shot is muddy. That may be due to noise reduction, because other elements of the coaster do appear sharper in the 830's shot. The shot of the candles: Sure, the 830 has a greater depth of field, but quality-wise I'd say the two shots are equal. If anything, the saturation is a bit much in the 830 shot—the orange in the candle is really ramped up, causing some details in the reflection on the glass to be lost. The shot of the cat: Again, pretty close in quality and sharpness—with both you can see the texture of the screen in the window, but I prefer the white balance of the 920. Perhaps the extra lens element of the 830 is beneficial, but in my opinion a slower lens is not. You refer to the 920 having a "lower" aperture than the 830—f/2.0 versus f/2.2—but in reality this is an advantage, not a disadvantage. It's a "faster" lens, which should give it additional benefits in low light situations, and permits greater ability to blur objects in the background and thus allow greater creativity. I'm also keen on sticking with a slightly larger sensor with slightly fewer pixels, as this results in better ability for the sensor to grab light and avoid noise. It's too bad you did not include some truly low light shots. I'm not so sure the 830 would be able to match the 920's performance in such a scenario. You also should do a non-close up comparison—all three shots were done at close range so perhaps some landscape or cityscape shots would provide some more perspective. Maybe that's where the 830's supposed sharpness advantage might really put some distance on the 920, but these examples—again, to my eye—don't make it a winner over the 920.

So, are we right to assume any newer high-end WP would come out in 2015? Early or late 2015? I am currently deciding on an update to my (sigh...) late Lumia 800 and definitely considering 830-930... unless we got an early 2015 (jan-feb) higher end phone! So the question is: to wait or not to wait?

Well, W10 on ARM is being announced around next, late, Summer, so I wouldn't expect any new flagship Lumias until this time next year.

Lol at the constant "Lumia 930" in the video :)

Exactly, I already have a Lumia 920. I don't want to spend money 2 years later to get a phone which is pretty much the same or worse. So I guess I'm gonna have to wait it out or get a competitor phone if I get impatient waiting for MS to release a good phone. Also no, 930 ain't good enough plus it isn't available in the US and no I don't want to get the stupid icon which is already been retired. Duck Verizon and duck ms and the carriers holding this shit back

Yeah, since the Lumia Icon is being 'retired' by Verizon, we shouldn't encourage folks to go for it. ....unless you want to be tied to a 2 year Verizon contract, using a device with no support from the outset, and will get no upgrades to W10 from the carrier. It's a waste of money.

The 920 was and is a great model. The 920 only needed better battery life but for what it does, its still in a class by itself. The 830 is a good model and should be viewed as a budget phone. MS shouldn't be building any more models with spec less than the 830. Leave that to the OEM's to do. 520 and 521 type stuff should be OEM only.

Agreed; Microsoft at this point should only be building 'reference' flagship Lumia devices like Google and Nexus phones, and leave the budget phones to the OEMs.

Thanks for removing my Post. I guess Censorship is part n parcel of stifling Freedom of Expression here at WPC

Private companies (Mobile Nations) have rules govern speech. Offensive language, insults etc. If this were a government entity, you'd have a point. It isn't, so you don't.

If I didn't already have an Icon, I would probably pick up the 830.

The 830 would be a great $250-$300 phone, bought full price, in the U.S. Anything more than that, and it's way overpriced, for what is essentially a 920 in a slimmer form factor with a slightly better camera.

I suspect the majority of people e who are negative about the 830 have never seen or held it. To me, thinner and lighter in a phone is an upgrade.... Larger screen is an upgrade......SD card is an upgrade... Ability to get the new Lumia camera is a huge upgrade, better battery life and a phone that doesn't get hot is an upgrade. Sure, many specs are similar to the 920, but the 830 will will be an improved experience overall. As Daniel said before.... Some people can't see the forest for the trees

Nope. Even Dan said above, in a comment, that he wouldn't recommend getting locked into a two year contract with a Lumia 830, if you're coming from a Lumia 920. The Lumia 830 would make a nice off contract, unlocked phone at $250, full cost. As of now, it's overpriced, and not really a bargain, at all.

agreed....I never said anything about contracts....I always go off contract!

Two things not mentioned in this comparison is that the 830 runs waaaay cooler than the 920 and that battery life is much better. Overall it's a better phone, specs be damned.

They are too similar to upgrade to the L830.

I think its kind of depressing that people are unwilling to upgrade in the hopes of something that has no evidence of ever happening (1530, 1030). No leaks, no nothing and people are saying I'll just wait for the 1530/1030.

'Kind of depressing' is pretty much the state of affairs in the Windows Phone platform at the moment.

I just cant belive that there isnt yet a suitible upgrade for the 920 yet, the 930 was such a letdown. Not including the glance screen was such a misstep that I hope Msoft fixes soon.

If the 830 had come out at the same time as the 920, I definitely would have bought the 830 over the 920, hands down. That said, I came out two years later. I'm looking for a flagship, something that says "Here is an incredible phone." Not, "Here's a slightly better phone for the cost of a nee phone." I love the 830, would recommend it to new Windows Phone users, but not something I'd side or upgrade to from a 920.

Seeing the difference in design/weight, for me I would change. But currently for me I'll keep my 1520.

So, two years later and Microsoft bring out a phone that doesn't blow away a two years old predecessor. And people wonder why Windows Phone has such a low market share.

I would buy the 930 in an instant of it was not missing glance. What a flawed upgrade!

Looks like the top corner of the back didn't want to stay on all the way. Daniel, are you see the back fit a as problem? I did not watch the last few minutes of the video, so maybe you covered that...?

Upgrade to 830 is suitable for 820 owners as this is the point. Except some minor enhancements over 920, there is nothing special in 830. Removable battery is suitable for those who want to replace it and it can be done by even local repair centers. Expandable memory is also useful for those who have 20MP camera or under 32GB for above 8MP camera. For video recording 6GB storage is enough in 920 as most people store their videos and pictures in backup storage or archive them in their PC or Cloud storage. Infact the WP that tempt me to upgrade 920 is not yet available. Unfortunately I still have to wait for 2015 to see what will happen! Although 830 is a direct upgrade to 820 which from camera to display, the superiority is obvious, 830 is not an upgrade phone; like 820 it is affordable high end phone in order to cover users' need, in less sharp addictive use of WP. If 940 arrives and meet criteria of its arrival time like 920, then I definitely use My 920 as backup phone for good and then my current backup phone may be retired, sold or RIP or may not! :)

What about battery life? One of the most important aspects is almost always neglected in reviews. Even with the most powerful snapdragon one trillion a phone would be useless if battery is exhausted by midday

Why would I buy a phone (830) that won't even take the full update that is coming next...without an s800 processor it is dead in the water. I have a 920 and still love it. Will wait for an actual upgrade before I get another windows phone. If none comes around by tax season will look hard at trying to find a 1520.3

I own a 920 and don't feel it like the 830 it's an upgrade, more attracted by the 930, make a 930 vs 920 comparison!.

Please don't upgrade we need to send a message. Still have a cracked 1520 but left for the note. Wish they just gave up on phones and let us side load windows. If they can put it on the m 8 it should be able to run on my note 3 with the same chip. Posted via the Windows Phone Central App for Android

Why didn't you compare to the 925?

Very happy 930 owner. Keep the updates in line with the actual numbering systems, but realize that as all phones improve, those lines will blur. I would not consider the 830 a replacement for the 920, which is why I spent top dollar for the 930. But it is nice to see those topline features trickle down to the lower end phones. However, I encourage Microsoft to consider expandable starage in flagships smaller than 6".

My current thought on Windows Phone is this: Microsoft needs to take the attitude that the Lumina 1020 is their Surface Pro. As much as I think the 830 is a good phone, I highly doubt it will ever see Windows 10. If a Windows Phone with W10 and whatever they have learned to improve upon Pureview can't hit it out of the park in 2015, they likely never will and the Lumia 830 will just be EOL'ed. My next Windows Phone will be the one Microsoft likes enough to support in much the same way Apple supports its iPhones.

Bit of a shame about the processor not being better, but it seems like a fairly great upgrade over my 810. At the very least I'd be able to finally shut up about the lack of support.

Since the release of the Note 4, AT&T has removed all the windows phone devices from the shelves, except the 635. That tells me all I need to know about the future of windows phone. Windows Phone is the result of what happens when two dinosaur mobile manufacturers team up. I don't see anyone outside of this forum who is willing to wait 6 months for a unknown device with little to no apps. Esp when you have outstanding devices like the Note4 and the iPhone 6+. How many 920 owners saw this lack of upgrade availability coming when they purchased their phones 2 yrs ago? This holiday season Samsung and Apple will be pushing their devices hard, windows phone will be considered DOA by the spring of 2015.

No! I don't think that the Lumia 830 is a worthy upgrade! Low specs! I just bought the 1520 yesterday and loving it!

im over here laughing and patting myself on the back, happy i made the 1520.3 purchase when it first dropped! still #KingOfTheHill

Wanted to change my phone from nokia 920 to lumia 930 as i am windows phone user for a long time, but changed my mind and will go for Samsung Alpha, main reason is VoIP dialer is not working in windows phones therefore i have to carry one android phone along with me to make VoIP calls, as in android and iOS so many good voice VoIP dialers are available (macdailer, iphonedailer, etc), in windows phone only one working dialer (itel) is available and quality is shit. In middle east (gulf) no phone will move(sell) if cannot make VoIP calls

I realize that aperture is a confusing concept for the generally non-photographer sort, so let me explain why the 920's f/2.0 aperture is better than the 830's f/2.2. A wider aperture will have a smaller f/number. A f/2.0 aperture is wider than f/2.2. This allows more light to reach the sensor which has the result of better low-light performance. The Lumia 1020 also has a f/2.2 aperture, which is why it doesn't handle low-light situations nearly as well as the 920. Or, really, why almost any camera phone doesn't. There are two side effects to a wide aperture. First, the overall sharpness will be reduced. This is because the additional incoming light is entering at even more angles than a narrower aperture, which is what causes the second side effect: decreased depth-of-field. The convergence point for the rays of light spans a very wide area with small apertures. Imagine a bunch of slightly-but-almost-parallel-but-still-intersecting lines. The point where they all intersect is called the focal point, and that is the center of the focus. At that point, the image will be at its sharpest. A narrow aperture keeps those rays (the lines) from straying too far off course, which results in the depth of the focused area being very long. This becomes increasingly apparently as the focal point gets closer to the lens. As the focal length (the distance between the lens/sensor and the focal point) is reduced, fewer "stray" rays are detected because of the aperture, and the depth-of-field becomes reduced. With the wider aperture, it's effectively like taking those lines and spreading them further apart as they move from the focal point, causing everything beyond the focal point (in both directions) to become more blurred. This change is logarithmic, so it increased nearly exponentially as the aperture widens. This means that the depth-of-field shrinks more and more rapidly as that aperture widens. The difference between f/2.2 and f/2.0 is noticeable, but the difference between f/2.0 and f/1.8 is much more noticeable. With my photography setup, I have two prime (fixed-zoom) lenses, both with f/1.8 apertures (which can, of course, be made narrower to reduce the amount of incoming light while increasing the depth-of-field). This makes those lenses great for portrait shots or anything where the background should be blurred, but because the aperture can be narrowed, they can still be used for general-purpose shooting as well. At f/1.8, they also exhibit exceptionally good low-light performance, much like the f/2.0 on the 920. However, when you decrease the aperture width, in addition to increasing the depth-of-field, you also reduce the amount of incoming light, reducing low-light performance. The camera comparison presented here is...wrong. The difference in lens elements will certainly affect sharpness, but the depth-of-field is entirely due to the aperture. The lens elements only affect the clarity of the image, not the blurring of out-of-focus objects. Additionally, the lack of a low-light comparison is totally unfair, because the 920 will blow away the 830. Both sensors are backside-illuminated with mechanical OIS, but the wider aperture on the 920 will allow it to perform better as the amount of available light decreases. Saying that the background blurring is a negative is completely false, as I actually use that in a lot of my semi-pro photography, especially when people are my subjects. For out-of-box comparison, sure, the review is somewhat accurate, but the number of test shots/scenes needs to be increased to cover a proper range of capabilities for both devices. If you want to do a real camera comparison, you MUST use fixed settings on both phones. However, I don't think the aperture can be adjusted, so you can never truly compare the two accurately. It is important to highlight differences like this, which is what prompted me to write such a lengthy comment. Your average user may not care about anything other than the low-light performance, but your photography-minded individual who uses his or her phone as an always-there camera will definitely care about those small details. One last note--the 1020 takes outstanding photos, but the narrower aperture makes them so much less desirable than what I was getting from my 920. Plus, the loss of low-light capability is huge, and the 830 will suffer from both problems when compared to the 920.

The problem I have with the 920 is that after the 8.1 upgrade is that the battery life is now 4 hours max. This is with 2 Phones. One had the developer preview, the other waited for the normal Cyan 8.1 release. Same thing - battery is crap. Funny thing, if you remove the SIM so it only has WiFi access, the phone lasted a full 2 days on a charge.

The issue I have with the 830 as a 920 user isn't that it's taller, or that it's locked to three colums of icons wheras the 920 can use two or three. It's the combination of both factors, meaning that the phone is bigger and the icons are smaller, making it difficult for somebody like me with average sized hands to hold the phone and reach accross to the top corner with my thumb without streching or having to move the phone in my hand to do so.

I am on a Lumia 920 and am due for upgrade on Dec 20. i would be happy with a 1520. Just not sure about the size. I would be ok with the size if att had wireless charging. I would even like to see maybe some refreshed internals ( snapdragon 805 or 810, and just call it a Lumia 1521) I would think about a 930 if they brought it to att. I am all about wireless charging. I like peek and would miss it, but I like the wireless charging more. I am not sure how I feel about the SD card. I could be fine without it but i don't want to lose the 32gb internal then. I may just wait for spring and see what flagship comes out then. I have no interest to switch to any other OS and will stick with windows.

So far I'm using 830 from past week. Bought with in 2 days released in india. I'm impressed . With the design and spread. But there are some issues with mobile. It's getting restarted automatically and some time it is not responding. Previously I used 520 I faced this problem v rare. But after buying with in a week I'm upset. As I'm fan to Windows mobile. These things are not hurting but still. I need good product releases from Microsoft. Thank you

I just switched from my beat-up 920 to the 830 and am really liking it so far. Not too different but different enough to feel like a new phone. Only problem is that the earpiece doesn't work. Speakerphone and Bluetooth headset work fine but I get no audio from the earpiece. Anyone else have this problem?

Just got the 830.. Side grade to my old 920 with a broken screen... Pretty good option I think.. Love it already

What amazes me is that outside of the Icon (and 1520 but it is a differen class of device with a 6" screen) the Lumia 920 that is now 2 years old is still basically on par with pretty much every phone Nokia/Microsoft has launched since! The 1020 gives you a better camera and a RAM bump. The 830 & 735 give you an extra .2 or .5" screen real estate, 2 more processor cores (cores clocked lower than the cores on the 920, and a bump in Adreno chip, marginal camera upgrade. With all Windows Phone 8 devices getting the mobile version of Windows 10 you could theoretically get another 2 years out of the Lumia without any real drawback to upgrading. This speaks to how well Windows Phones scales on aging hardware and lower spec hardware. Of course, it also speaks to the lack of Microsoft launching a proper flagship for the market in general.

Wow, the 830 is terrible... Here are my 950XL's results. Different intentions I know but....