Lumia 830 available on Fido starting at $80 on-contract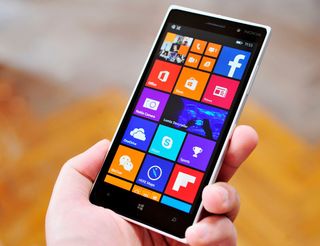 Canada's Fido has announced its pricing for the Lumia 830. The "affordable flagship" device will be available for $80 up front with one of Fido's Tab24 agreements on a Smart plan, and $200 on a Tab24 agreement with a standard plan. With monthly and prepaid plans, you'll need to shell out $400 to get your hands on the 830.
The Lumia 830 is a Windows Phone 8.1 device with a 5-inch, 720p display, a 10MP camera with optical image stabilization, along with a 1MP front-facing camera. It's powered by a 1.2GHz quad-core processor, has 1GB of RAM, and comes with 16GB of internal storage, expandable with a microSD card. The 830 also features changeable back covers, letting you get the look you want.
Will you be grabbing the Lumia 830 from Fido? Let us know below in the comments.
Source: Fido
Thanks to Shane for the tip!
Windows Central Newsletter
Get the best of Windows Central in your inbox, every day!
Hopefully Koodo will be doing a similar deal in time

$400 isn't that bad, I don't think. I'm in the market for a new phone. my iPhone 4 is beat to shit, cracked on the front and back, a piece on the front even comes off. The up side, the phone is unlocked and still works. haha

I hear that, my brother keeps telling me to get a new phone or at least get a new screen. I'm saving coin for the new device

What's the difference between the smart & standard plans and what's comparable to AT&T? I can imagine they'd put this on the market for $199 down here.

Smart plans are $5 more per month than standard plans on fido, but if you bring an unlocked phone to fido you can get 10% of standard plans

$400 is a great deal, but someone will be selling this phone like new on kijiji for $250 in a month:)

I dunno, I still can't see how the $400 price range competes for what is essentially a 250-300$ internal device. But the general reactions seem to be all ok with it, but I'm unsure most external buyers (considering WP for the first time) with enough time to research will find it compelling at that price. So here's to hoping you're right about that kijiji (what's that btw?).

Yes, this. It should be priced at the most $300, but for some reason people are okay with $400+.

with Kijiji or Craigslist, you run the risk of the seller turning around after getting your money and reporting the phone stolen.

I'm looking for an 830 that I can use in the U.S. on Straight Talk (using the AT&T system) - anyone know if this will work and if so, will internet sharing work?

In the past, Canadian Lumias have been pentaband and they should work just fine.....rogers and fido use same frequencies as ATT. With our current exchange rate and cheap unlocks in Canada..... It might be a good pick up for you

$0 on contract on Rogers. $80 with Fido. Rogers owns Fido.

$0 down is the correct pricing for this phone. Off contract should be $300 anymore and you're better off buying the 930 on eBay.

Yeah but rogers plan for that phone is a killer

ya, thats some twistedness. but im glad fido is carrying WP now. i can finally use those FidoDollars on something now

Rogers plans are more expensive than fido.... At least they are in Manitoba... So that is the difference in price structure

I'll be getting this today...:)

Here's an idea. How about a review! Seems like WPcentral would be a good place for one, but nothing, I don't get it.

Daniel already did an unboxing and "quick" overview and said a full review is still coming. Same for the 730.

According to the Rogers site it also sports AWS frequency for Wind, Mobilicity and T-Mobile

To me the l735 is the better phone than the l830, 830 has 1or2 different spec's than the l735 which to me doesn't matter but the price difference is unreal

Sounds like decent pricing, maybe. Does that mean that it will be about $450 in the US. Just did a quick currency conversion. I'm sure there are several other factors that make a straight conversion more of a guesstimate tool, but just trying to get a ballpark idea.

$450 here in the US gets you a 930.

Except he's not talking Canadian dollars, so $450 US is $450 US.

Except, this is a Canadian carrier so $400 CAD ~ $349 USD

I understand what you're saying, but the poster specifically states that he believes that it will be $450 in the US, nothing about purchasing a Canadian version. So my initial post is correct, for $450 purchase a 930 instead.

You obviously missed the fact I was correcting his initial conversion. So, you can get a 930 for $450 or an 830 for around $350 in the U.S.

Isn't FIDO a CDMA carrier? Like Sprint and Verizon?

No, Rogers/Fido have always been GSM. In the last few years every carrier, that I am aware of, has switched to GSM in Canada.

I wouldn't buy from Fido. I'll wait until my carrier launches it. 830 is coming to all major Canadian operators at some point. Bell and MTS recently announced that they will give Microsoft Mobile a try.

Loving the phone right now

I like lumia.my 625 Is good but i want to upgrade to 830.can i?

Still think it is a little expensive though I probably will end up buying one though not just right away! Glad it will work with Wind. I don't have a contract right now so will want to buy it outright. Wish phones hadn't gotten so expensive.

Will be able in Australia?