Nokia Lumia 920 and 820 get pricing for the UAE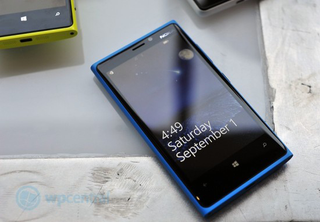 With both the Windows 8 and Windows Phone 8 (opens in new tab) launches over we are seeing more (opens in new tab) and more (opens in new tab) devices with pricing and dates appearing around the world.
Today we've confirmed the release date and pricing of the Nokia Lumia 920 and Nokia Lumia 820 in the Emirates with an official Nokia store. We spoke to Nokia at the Bawadi Mall in Al Ain, United Arab Emirates to get the following details:
The Nokia Lumia 920

(opens in new tab)

will be available by the 15'th November latest coming at a price of Dh2349 (that's $639).

The Nokia Lumia 820

(opens in new tab)

will also be available by the 15'th and will be at a price of Dh1800 (that's $490).
The devices are unlocked, and are not on contract.
Why is the 920 so expensive in the UK? 470 pounds? 639 dollars is 400 pounds.
I am really expecting the 920 to get cheaper in the UK.

You can't directly convert prices. for UK you need to realize price is including 20% VAT. So a clean compare would be to convert £383 which would come to about $599 at this moment.

Yeah, thanks. Figured something was wrong there. So, as I was going to ship the phone where I live anyways I figure I shouldn't order it in the UK (which was easier, because I have friends there) but order it in UAE and have it shipped from there.

Don't blame anyone but yourself if the UAE variant firmware has restrictions or differences against the general ROW variants such as they are in the UK. Also keep in mind you may have to pay VAT and import taxes when the phone arrive at the border.

Also UAE does not have VAT at all.

AgentTheGreat, all electronics in UAE are much cheaper than any other country cz they don't have taxes on them. When the lumia 800 was priced at 600$ in EU, it was less than 500 $ in UAE.

I've learnt my lesson many times, never buy a new phone in the first three months of release otherwise you end up paying over the odds for it

Anyone up for pestering AT&T and/or Verizon for a release date?

Hell yeah, I don't there but know a couple of people that go to Dubai all the time, now where did I put their number...

I already put money down on a white 920 at Marina Mall in Abu Dhabi I think the price was roughlt the same. This my first time buying a phone outright so I feel like One I see the white in person i'll keep it a put a black case on it, but will it prohibit wireless charging?
Ironically, I just got my At&t Lumia unlocked yesterday.. SMH

Bear in mind the phone inscriptions might not be in English ... as long as you're fine with that.

hey I will be in abu Dhabi tomorrow but unfortunately will not be there on the 15th. How did you put money down for the 920 at Marina Mall if it's not out yet?

They are Taking Pre Order at Nokia Outlets. I did a pre Booking by paying one third of the price at Dubai Mall's Nokia Outlet.

What colors available at launch?? can you find out??

Finally my ex will finally understand what I was talking about since 2010

Simmms Legit

Nice New looks guys WP Central rocks
nokia lumia 920

Really?? The fricking United Arab Emirates gets pricing and release date details before the USA?? Good grief.

You know that USA is not the center of the world right?

Umm, yes.

You know that UAE has a population of 8 million, and the USA has a population of 310 million, right?

;)

So India should get it a lot sooner than the USA, just saying.

Sorry Nokia. I really love what you are doing. And I really love WP. But the Nexus 4 is half the price of your Lumia 920! That's a huge difference!


Make sure you buy two because LG hardware is crap.

Half as good looking too. Infact the whole Nexus line looks boring. No LTE either. But, you what you pay for.

Cool!
Now lets do this for the rest of the countries too

i didnt know there's such a gorgeous blue L920

Oh sure. UAE and everybody else gets launch details, but good old AT&T slaps us in the face every chance they get. :(

I live in UAE/Dubai and I am a happy person :D

+1
need to check out the available colors!


Red, Yellow and Black will be available in Dubai.

URGH! UAE already have the pricing... but my country, the Philippines does not??? URGH!!! Frustrating!!!

Nokia Lumia 920 price in Finland is 599 €. Or you can buy it for 16.60 € per month deal (36 month deal and total price with this deal is 597,60 €, 0% intrest).
Here is the list of deals per month:
- 12 kk 49,80 €/kk
- 24 kk 24,90 €/kk
- 36 kk 16,60 €/kk
You can also have it with or without the operator contract and it`s SIM free.
http://saunalahti.fi/lumia/


Colors available at launch on nov 15; white, black and yellow.
other colors like red will be available later. When asked about cyan, the answer was "no, no idea!"
pre order / booking price AED 1500 or $410 approx.
no wireless charging available on nov 15. Will be available after 15 to 20 days.
All info from Nokia store, Marina Mall.

Is that for the 920 or 820? - The $410 price.....

Sorry I wasn't clear. The Lumia 920 costs AED 2349 / $ 620 approx.
pro order / booking down payment for lumia 920 is AED 1500 / $ 410.
the balance amount to be paid on 15th when you pick up the phone.

What? Why is India not yet announced? I hope Nokia does not commit another blunder like launching the Nokia 900 after the Nokia 920 was announced. They really are making some silly moves.

I don't think there is any way we are getting the 920 before december. They just spent some major bucks on advertising the 900 for Diwali. I doubt they would have done that if the 920 was coming around diwali time.


Well that is definitely good news. As I have heard here in WPCentral that HTC, Microsoft & STC have signed a deal to launch HTC new WP8 phones in Saudi Arabia I am waiting to see what Mobily does with Nokia (if any) or would STC again take the lead on this. I never buy on contract so it doesn't make a difference to me as I am going for a Lumia 920 from the UK (clove probably shipped to Saudi Arabia with no VAT) :)

great news, I think its affordable but HTC 8X is a little cheaper
I'm from Riyadh and I think we will have the same price at KSA
I wish that they will tell us if the cyan will be available or not


Just in case if anyone is interested. I rang up Nokia Store in Mirdif City Center and they confirmed the prices as AED 2349 for the 920. Colors; they have black and white. I pressed them for Red or Yellow, the guy was like its bit difficult because they are popular but can arrange. So basically they have all the launch colors, just depends on availability.
Now here's the deal, you cant just walk in on 15th and purchase it. Its only if you prebook it now! Prebooking starts at AED 1500 and AED 800 if you have a Shukran card. Seems like they have limited quantity.

According to the regional manager of Nokia in KSA I spoke to, initial shipment will be of a very limited quantity. They will be calling those who have put their names on the list at their stores and give them first dibs at purchasing it. Mobily stores will also be selling the phone. Price would be similar to that in UAE, adjusted for exchange rates, which comes to roughly SAR2466-2499.

thanks!
When will be getting it in ksa? Can I preorder now?
Windows Central Newsletter
Get the best of Windows Central in in your inbox, every day!
Thank you for signing up to Windows Central. You will receive a verification email shortly.
There was a problem. Please refresh the page and try again.