Nokia Lumia 920 featured at Radio Shack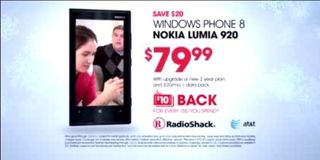 One of the Nokia Lumia 920 Windows Phone's latest cameos is in Radio Shack's (opens in new tab) recent television advertisement. There's not much to the sixteen second spot beyond a teenager showing off her mad texting skills at the amazement of her elder.
According to the promo, Radio Shack is offering the AT&T Lumia 920 for $79.99 after two year contractual discounts (new purchase or upgrades). Which isn't a bad deal on a very nice Windows Phone. You may want to check the availability of the Lumia 920 at your local Radio Shack before you head to the store. We had trouble finding the Lumia 920 listed online and the $79.99 might be an in-store only deal.
Source: Panda App; Thanks, Elchicos, for the tip!
George is the Reviews Editor at Windows Central, concentrating on Windows 10 PC and Mobile apps. He's been a supporter of the platform since the days of Windows CE and uses his current Windows 10 Mobile phone daily to keep up with life and enjoy a game during down time.
WalMart selling for free and 40$.

Wsa just going to say the same thing. Although, do you still get the free wireless charger? I would assume not so in reality, it only saves you about $10 after factoring in the price of the charger.

No free wireless charger. Its ok, not big deal for.

Radio Shack I stopped at did not have a single WP of any variety.

Old news, saw this Thursday

Next time we'll check with you first.

Lol some of these people are just unreal!

Yeah, I know! But without them, reading comments would be only half the fun!

I love the way you post comments Dani. It makes me laugh.

Congrats do you want a cookie?

But at least they are accurate and check their sources unlike the other that announce nonsense like Nokia making an android phone -.-

@ejlee072006 Always late? Surely you jest. We break more Windows Phone stories than any other site out there. And we don't just post any junk that lands in our mail box like other sites e.g. WP7.8 being released last Wednesday. What's with this YouTube mentality of being first--Do you really think that's how news is suppose to work in 2012? Because we aim for a quality. If you want a tabloid WP "news" site, you know exactly where to go...

Thanks for all the hard work Daniel!

And please keep up the good work sir!

Thanks for doing a great job of giving us solid information. I come here first for my WP news. It's like the meat and potatoes for info. Other sites feel like Aunt Alice's fancy desert. Looks tasty on the outside but more than likely is puke worthy after a few good bites.

Agreed Daniel, love this site , always has constantly updated articles and factual reporting!(and honestly, the best pics of windows phone 7.x, 8 devices!!)

Bullshit. Articles appear here a day sometimes even 2 days before Engadget. WPCentral is also the only place that consistently alerts consumers with deals and giveaways as well.

This is the de facto site for WP news. Seeing people say something is old is, well, old. If you've seen it elsewhere then move along. Geez, people these days.

Fine. Go read crap WMPowerUser then. Wpcentral is way better. The app actually looks good (thanks jay).

Come on bro I read more news on here than any other site I visit

dude... did you read what I said?

WPCentral gets sourced very often by other sites so how are they "always late"!

WPCentral is the source of WP news used by other sites very often, so how are they "always late"?!

These commercials suck. They do NOTHING to illustrate what makes the Lumia 920 a great phone. You could insert ANY phone into that slot with the same effect.

At least they're advertising it.

This is true. But really, how hard is it to just MENTION the wireless charging? Or the incredible camera? Or the video quality it can take? Instead we get...
"It's all fast and you can type on it fast and stuff is fast."


These third party companies usually charge more for your calling plan and have a higher cancellation fee than Att

Wish some of these haters in the comments would pack up and leave. The people who run this site do an excellent job! They deserve some props, not senseless comments...

Just glad its getting more exposure.

I don't mind exposure. Still, I found the other news from a day ago rather disturbing: "Windows Phone on German chrismas markets" - hell, present them anywhere but leave my "Weihnachtsmarkt" alone! :)

Nokia is the way to go if u want a window phone, period. Best prices, specs, experience, and customer service..

So I get a warning for commenting on a stupid question, but others get away with these posts? Shame the reality!

I think it's about time RadioShack carried some WP phones instead of just android and apple. Now I wish my brother was still working there so I can get a sweet discount. :)
Windows Central Newsletter
Thank you for signing up to Windows Central. You will receive a verification email shortly.
There was a problem. Please refresh the page and try again.