Nokia Lumia 920 now available on O2 in the Czech Republic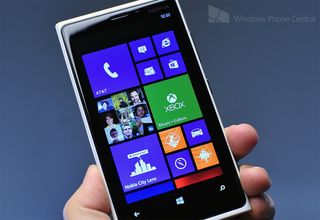 Hot on the heels of the Lumia 620 going on sale in India, Nokia has now made the Lumia 920 available for O2 users in the Czech Republic. If you're a Czech on O2 and have been waiting to get your hands on the Lumia 920, now you can.
The asking price is 15,995 CZK (about $811) for a Lumia 920 running on O2s network. You can however grab one of the most beautiful phones on planet earth in a variety of other fashions with O2 depending on which monthly plan you purchase with them. Full price list here.
Check out our review of the Lumia 920 if you're interested in grabbing one. You'll get a 4.5 inch display running 1280x768 pixels powered by a 1.5 GHz dual-core Snapdragon S4 processor. 32GB of onboard memory, but the only way to expand it is through SkyDrive. Full details on the Lumia 920 here.
Anybody in the Czech Republic thinking of grabbing this handset on O2?
Source: O2 Czech
Thanks for the tip Martin Z!
Windows Central Newsletter
Get the best of Windows Central in in your inbox, every day!
Yeah, I wanted Lumia 920 on Vodafone three months ago. Went for 8X instead. We are always late here in Czech Republic. No Surface RT yet for example.

Already have a yellow one couple months. Couldn't wait and bought it abroad.

Two of us here :-) (except for that I bought the black one and the whole range of cc-1043 covers :-) ).

Three of us :-) I got mine from Orange PL a few weeks ago ;-)

Three months too late for me, the worst operator and ridiculously overpriced. Love mine since December, grey import from DE...

I already have it. Mine is from Poland and it is even cheaper than the official one! Here in Czech republic you can buy it for 13000,-.

This is all great but does Nokia really think they can beat the market with this pricing (O2 did not put that much atop the base cost set for CZ)? The 920 is a well designed phone and Nokia adds exclusive apps, but does this all worth 3500CZK (~140€ or 175$) over the HTC8X? I don't think so.. They price for hardware which was top two years ago the same money as for the high end Android phones (or cheapest versions of iPhone5). Even the new top HW Xperia Z is priced the same! This way Nokia will not sekl as much aas they could If they would price more reasonably (13500CZK tops) and push operators to promote Nokia and WP8 in general, because now they don't do that at all.

It's actually exactly what they should do given the availability.

Too late.. Have One from black market. Cheaper and available for 3 months..

Czechs are more likely to buy unblocked gray-market device than the one locked to operator. It's also usually a lot cheaper. L900 is available here for some time already for as low as 11.000czk

Hahah so funny, i just bought my lumia 920 yesterday from the gray market (much cheaper). But still, makes me wanna laugh, how they sell at full price when its 4 months old HW.
Btw, is it just my piece or is the vibration feedback of the L920 when keys are pressed very weak and short?

There is no reason to celebrate. Official avaiability starting too late (about 4 months) and with realy high price. Czech's market is not so important for Nokia such as other near countries (Poland, Germany, Austria). If anybody wanted L920 - has it from "grey market" for about 11.500 - 14.000 CZK.Personaly I have my Lumia 920 from Poland since 1/2013 for 13500 CZK.
If someone dont want to "risk" grey market phone, much better choise than L920 from O2 is Samsung Ativ S for about 11.000 CZK. Yes, all Lumias have EU warranty, so grey market doesnt mean any difficulties, but not much people in CZ know it ...

100% agreed. I bought it from grey market only because i knew it wasnt a problem.
Windows Central Newsletter
Thank you for signing up to Windows Central. You will receive a verification email shortly.
There was a problem. Please refresh the page and try again.