Black, cyan Nokia Lumia 920 sold out at AT&T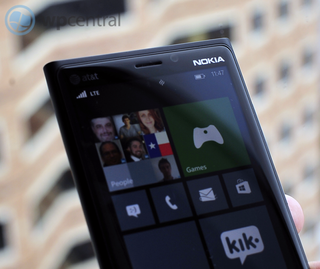 The Lumia 920 has sold out at AT&T in the US. Both the black and exclusive cyan variants are reported as so on the online store, which further shows high levels of demand (or minimal amount of stock). We're still looking forward to reporting on just how many Lumia Windows Phones Nokia has managed to ship and sell to consumers in its next document release.
AT&T has had the Lumia 920 on offer for the weekend to celebrate Black Friday, as well as offering early adopters $50 to match the new pricing. Overall, it's good to see the product selling out except for those who are actively attempting to pick one up. White, red and yellow colours are still reportedly available for purchase from AT&T, however.
Source: AT&T (black (opens in new tab) / cyan (opens in new tab)); thanks, Joeri, for the heads up!
Rich Edmonds is Senior Editor of PC hardware at Windows Central, covering everything related to PC components and NAS. He's been involved in technology for more than a decade and knows a thing or two about the magic inside a PC chassis. You can follow him over on Twitter at @RichEdmonds.
I was hoping to get the cyan 920, but I'm trying to leave Verizon and hope to have a replacement phone before my next billing cycle. That red one is a thing of beauty too (heck, doesn't look like you could go wrong on ANY of them!).

I am going to have an extra cyan phone with me. I am supposed to get that in the next few days. Let me know if you need it and its going to be brand new as well.


I just upgraded online to the cyan 920 (~15 mins ago). It didn't say anything about being out of stock/backordered. I went to my local store today and they only had white and red. He called three other stores, only black, white, and red. I went to the store that had black but they wouldn't give me the $50 dollar deal with the wireless charger (he said the $50 black Friday deal was for the phone only).
So I just went home and ordered my cyan 920 and white charger for $99. Hope it's not really out of stock. It certainly let me make the transaction without any warnings.

Hopefully it works out for you. I just went to att.com and the black and cyan are listed as out of stock. White and red look to be alright, and it says that yellow will ship in 7-14 days. I'll probably head to the store tomorrow and see some of these in the flesh...or is it "in the polycarbonite shell"...to see if some of these glossy finishes grow on me.

Uugggh I hope Att will let my wife and I upgrade the 1st if December with the $50 price tag.

It shows as $99 for me. Was it on sale only on Friday?

The Lumia 920 for $50 is in store only, it is not available online or over the phone. Also, when checking for in store availability of the 920 at AT&T's website it says SOLD OUT.

Get it from Walmart.com it is 69.99 for all colors but the yellow which is 49.99. They all have a 36 activation fee but they come with a 100 walmart gift card.


Was the $50 Lumia 920 only on black Friday? I tried to do a price adjustment yesterday but they wouldn't give it to me

Idk about that, I was looking at at&t's website this morning, it said it was available at stores(in san Francisco) and on line as well. Also, all the other colours are available for online order.

I ordered my Yellow 920 from ATT about 2 weeks ago and still haven't seen it yet.

It took my yellow one about 2 weeks. I also got the discount.

Glad I got my Cyan early.

Ordered my Cyan Online on Friday. Hopefully it will ship soon.


Ordered a cyan on 11/11 and still haven't seen anything.

Ordered my Cyan last Sunday and according to FedEx, it's scheduled to arrive tomorrow Monday. At the time of order, the website said it was out of stock, but I ordered it through the local store. I don't know if that's supposed to work better or not if you want the phone? Maybe store reps have access to special inventory? Interesting....

Well, I went to local ATT store to order cyan lumia 920 and her system didn't show cyan option so she couldn't order for me. How did your store ordered it for you? Did you order online (in store though) or using their system software?

When was that $50 price offered? I went to at&t black friday at 9am and it was marked 99.99. the same as the website. You typed "exclusive cyan" but I think you meant elusive cause I can't get my hand on that thing at all. That is the hottest color phone ever and sold out everywhere.

I think the black Friday deal was only good in certain states. The reps in NY that I spoke to had no knowledge of it and there was no advertisement in the store for it.

I also ran into this in Vermont

Luckily I wanted a white Lumia 920 and got mine on Friday. I love it!

I have about five Black 920 left at my store. One red one left as well. I'll sell em.

I can confirm this. I tried to swap my 920 for another one due to dust under the FFC. Went to 2 at&t corporate stores, Dedham and Natick ma. First time the rep said they didn't have any colors, they've been "selling like crazy". Told me Natick had some. Guy at Natick said they got a shipment for 20 for black Friday which lasted no time. He said they were all out, had plenty of 820s but 0 920s. Or iPhones for that matter. Still its a good sign for the phones to actually be selling. That 2.5 million number definitely seems more realistic to me now.

I got mine at my local Rogers store on Friday. They had a good amount still in stock here as far as i know. They are truly a thing of beauty, and by all means get one if you have the opportunity. They are just available from Rogers in black for right now of course, but i don't mind. I am loving it, and no issues with anything so far.

Oh.....and i got it for 0 dollars on contract.

Got plenty of stock at the Danbury, ct mall store. All colors. Rep said it was selling at about 1/3rd rate of galexy s III. 1/10 rate of iPhone at that store.

Well i guess that happens, when i walked in there everyone in the danbury store basically diverted me to the iPhone section then got the standard "why would you want that?" I was just there to check it out, I have to use verzion due to AT&T signal problems where i live.

Yea, its iPhone city around here

Not marketing WP8 hard enough.

1/10 rate of iPhone at that store

Well, the iPhone 4S sold 34M units last winter quarter, and I'd certainly deem the 920 to be a success if it could sell 3.5M units.

:-)

Yesterday all were available online as I was looking to get my wife the white one and surprised how they were all re-stocked. Looks like demand remains high. At the store they only had white available which worked out for us.

I just ordered the white 920 for $50. And got early upgraded because I said I would leave and go to Verizon. The reo also said if I find a cyan one I can exchange my white one for it within 14 days.

Apparently red also, tried to get an exchanged because the led light stopped working.. He said none were available until further notice smh

What do you mean led light??

Guess we're all gonna have to exchange because none of us have working led lights! :)

I ordered the Red 920 online on Friday, it's getting delivered tomorrow (Monday)
I feel quite lucky

All stores in central Iowa are out except for a few lingering black models.

I originally anted one of the color ones but decided on black because I thought it would be easiest to get. Glad I made that decision. Ordered online and got it on the 9th when it released. :-)

I ordered a yellow a week ago, still says pending shipment and the store told me 3-5 days, so it seems like yellow is sold out as well for the time being. In the store they only had white ones available, nothing else.

The phone is simply amazing. Exceeded my expectations in every area with only one small issue (soft daylight images, which is being fixed shortly by firmware update).

I think it was just for Friday! I was able to get mine $49.

I just returned my Cyan 920 to order the Yellow..

Try WalMart.. They have a lot

Im thinking its short supply because even the gs3 didnt sell this fast...and its much more popular :/ i love the yellow version of the 920 though :D i want all phones to be yellow

I got the red one from the store on launch day, I wanted the yellow one. it is an amazing phone. I had to exchange it for black screen issue, but they only had the black one. I was a little reluctant to it. But I am happy I got it. It is so classy and elegant . You can't go wrong with the matte black.

http://wireless.amazon.com/Nokia-Lumia-920-Windows-Phone/dp/B00A2V7BA4/r...

The above link redirects you -- Don't click above - virus alert.. (from my trend micro warning alert) - Site admin - please remove the above message.

WARNING: DO NOT CLICK ABOVE LINK. MORE INFO BELOW: The URL that you are attempting to access is a potential security risk. Trend Micro OfficeScan has blocked this URL in keeping with network security policy. URL: http://go.redirectingat.com/?id=23432X820453&site=tipb.com&xs=1&url=http... Risk Level: Dangerous Details: Verified fraud page or threat source

Nonsense. The URL is a valid Amazon Wireless URL. Your TrendMicro has had too much turkey on Thanksgiving day and it can't move to verify the URL properly. On second thought, why not use a bit more reputable AV?

Your AV has issues the link works perfectly fine

Love my red 920. It looks like the Ferrari I never got to fulfill my mid-life crisis. Without saying, my wife is thankful for Nokia

In Boston areas most att stores have white and black phones in stock. I found only one, in Saugus MA, offering red one as well. Cyan and yellow ones are a myth.

I really hope Nokia didn't drop the ball and only shipped small quantities. The Lumia 920 is an awesome device.

Ordered my cyan 920 friday... All it says is attention for the status .. I have no idea what that mean

Hmm, finally got a rep to let me upgrade early, process took so long that they only charged me the upgrade fee. That was spiffy.

I'm gonig to say high interest. No way did the slip and didn't have millions of units ready to do.

None of the att stores had any color 920 in my area so I went to the Microsoft store and they had 1 (last one in stock) cyan. So I bought mine there.

the other colors are available for purchase...but are a week out for delivery.

I got my Cyan Lumia 920 at Fry's Electronics yesterday. Last one in stock at $79.99 with $50 gift card and waived activation fee. Every other store that I visited had the Cyan out of stock. Lucky me.

I got mine the day after the phone launched and I've been loving this phone ever since. By far the best WP 8 out!

My son got a black 920 on launch weekend, I fonally got my cyan this last Wednesday. Still waiting for my charging plate. Plus side I was able to call AT&T and get an additional $50 credit for each phone due to the black Fridy sale.

I bought my black 920 at my local ATT store. The sales professional said that I got the last black 920. This was on Wednesday BEFORE Black Friday...I guess thats a good sign.

My cyan 920 is still on order with wireless.walmart from about two weeks ago. Says shipping date TBA

you should try to hit them up for their new deal where phone is $69.99 and you get $100 walmart gift card http://wireless.walmart.com/eCommerce/SpecialOffer.aspx?cid=36575_f750b6aaff7445ccacc2555f0c25d66d

Gotta say the Black with the high contrast on is pretty sweet

Took 2 weeks to get my Cyan one.

Phew, got my order in yesterday morning. I talked to support at ATT on Wed of last week and they said they had plenty of cyan left. I was holding out because i didn't want to leave verizon and i wanted a good deal on the phone. But VZ killing group texting was the final straw.
I ended up buying it through my BoA's Add it up program. They were offering $50 off at ATT. I thoguht about canceling to take advantage of the $100 off Walmart deal, but for $50 it's worth it not to go through hassle of trying to unport and report number and i will hopefully get the charging plate.

I ordered my second Lumia 920 from ATT last week on the 20th. I placed the order by phone because I still had 13 months left on the contract on that phone(iPhone 4S). I wanted to see what kind of price I could get by paying for one outright and paying off that contract. It was easier than I expected. They waived the iPhone contract and sold me the 920 for $99 with the free (cyan) wireless charger and a new contract. I ordered the Cyan model and was told that they were out of stock by the rep. The website was also showing the unit as out of stock. On Friday, the 23rd I checked my order to see the status and was surprised to see a tracking number on the phone and Sim. My phone is Out for delivery today with UPS 2nd day air. Im not sure what the deal is with their stocks but I wouldnt count on what the reps say or the websites as far as quantities available. Now to fill out the Nokia form for the free earbuds.

I was told by a AT&T rep that they have a blue 920 along with cyan and other colors

My red 920 came today via UPS. Ordered it last Wednesday. Can't wait to get home.

Ordered Red for the wife and Cyan for me on Friday via phone rep through ATT Premier. Despite it being an early upgrade on my number, I got the $99 price for both. Sweet. Red is on its way. Talked to a rep this morning, allegedly Cyan is backordered, but the warehouses get new stock every two days. My credit card has been charged so it may have missed the order window on Friday and be staged to go out already. Worst case, the rep guessed that it would be the next two days to get the shipping confirmation based on previous orders she has been asked to check on which means getting the Friday or Monday. I am cool with waiting on the Cyan, especially given that I got it for the new contract price.

My wife picked up a black Lumia 920 on Saturday. That and white were the only colors still available in-store and they didn't have many left of either one. And I was surprised to see that, in addition to everyone still wearing Windows 8 shirts, WP8 phones dominated the front of the store and iPhones were moved to the back...which is the complete opposite of how it was earlier this year when I switched to WP7. Surface tablets weren't at the very front, but they had a nice little station set up and many of the employees were promoting them. Anyway, I just thought I'd mention that even though she bought her phone in-store and she was simply renewing (instead of opening a new plan), she still got it for the $0.99 promotional price (plus tax). Not too shabby!
Windows Central Newsletter
Thank you for signing up to Windows Central. You will receive a verification email shortly.
There was a problem. Please refresh the page and try again.