Nokia Lumia 925 coming soon to Latin America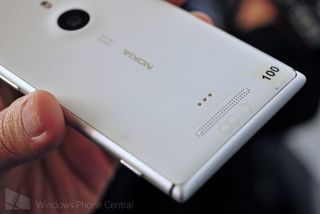 Depending on who you ask around the Windows Phone Central water cooler the Lumia 925 might be their favorite phone. Compared to other Windows Phone devices, it's very different, but in a good way. It's sleek, aluminum body makes it a joy to pick up and use all the time. So far, it's only been available in various markets around the globe. European markets picked it up first in early June, with the U.S. joining a month later in July. Since then it's slowly been spreading around the globe. Soon, users in Latin America will be getting their hands on the aluminum Lumia.
You'll be picking up the Lumia 925 first if you find yourself in Mexico, Colombia or Peru. The device is expected to join other countries sometime in September. It also happens that the Nokia Lumia 625 is listed as "coming soon" alongside the Lumia 925 on Nokia Mexico.
We'll reach out to Nokia and see if we can get firmer dates for all these devices and which specific markets you can see them in.
Source: Nokia Mexico (opens in new tab), Via: WindowsPhoneApps.es
Windows Central Newsletter
Get the best of Windows Central in in your inbox, every day!
This premium space for rent. PM me for rates.

I didn't get it .-. wtf is he offering?

Was just trying to rent the premium space to anyone that wanted to buy it just to say "first".

That's a quick way to go to the time out corner. Better watch yourself.

In a Nokia store here in Goiânia, Brasil they told me it will be coming on october.

Siiiii,,, es mucho Buenos❕❕❕❕❕

I think he/she does know how to speak, but you just don't understand.

He/she doesn't. That is not proper Spanish. Es muy bueno**

Oh because us English speaking idiots don't use slang or improper verbiage these days. I think we invented the downfall of modern language. Examples: Twitter, texting, tweenies, oh and Miley Cyrus

If he does know, then he is not showing it.

It's all for the greater good.....THE GREATER GOOD (if you've seen Hot Fuzz,you'll get it).

Funnier if you don't spoil it in advance, lol.

Im saving now... Cheers from Colombia!

This is great news for us mexicans. People that didn't like the bulk of the 920 can now get the 925 with it's better looking body and a slightly better camera.

I'm eager to get one of the next generation of devices at the end of the year or early 2014. I hope it's the latter as the holiday season can drive sale up for new WP devices.

I actually prefer the signature look of the 920.. It's got that instantly recognizable Nokia Lumia look to it.. But, I also love the look of the 925, and the 928... Let's just be honest here.. All of Nokias phones are great looking..

Let's be honest, you don't know what you like.

Ha ha ha nist got you again rodneyej.

Would have bought it if t-mobile had the 32gb version. Oh well now I'm waiting for the 1020. I wouldn't spend another dime at AT&T.

I have one L925 is amazing. Buy im and enjoy is very veey good and beauty device.
Cumps from portugal

Hurry up and get here to Chile, everyone here loves you

I may pick up one on AT&T in black... so slick!

that'd be great and hopefully with some kind of offer to battle against the androids and blackberrys here in Venezuela.

Yesss finally Lumia 925 in Mexico, will be a must buy. Add one unit purchased more to the Lumia 925. Sorry for my poor inglish, greetings from Mexico.

Viva Mexico Cabrones! :D Lol

Brickish 920 design with weight pushing 190 gr is a joke. Nokia got the design wrong. Big time. 925 is best Lumia phone. Still no match for Ativ S.

Not trolling, but the Lumia 925 > Ativ S anyday. Everyday.

Pues ya era hora de que se acordaran de América Latina. Ojala sacaran un modelo de 32Gb, cuando menos. Mientras tanto, me la sigo sollando con mi 920.

Y ojala Nokia sacara un modelo con al menos 128Gb de almacenamiento.
Así, podríamos cargar todos nuestros contenidos multimedia en un solo dispositivo.

wil get mine nxt tuesday :D

I hope to bring it to Argentina also.

I am waiting for this phone but I'm not sure about the 16GB, should I get the 920?
Windows Central Newsletter
Thank you for signing up to Windows Central. You will receive a verification email shortly.
There was a problem. Please refresh the page and try again.