Nokia Lumia 925 now available for pre-order at Vodafone UK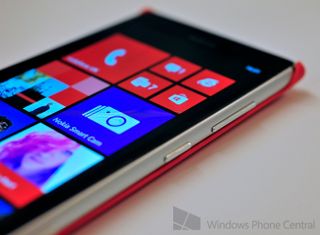 UK mobile operator Vodafone has today announced that the Lumia 925 is now available for pre-order. The new flagship Windows Phone from Nokia was unveiled last month in London and Vodafone was also there to show support for the platform and latest hardware. We've already covered Vodafone Germany and the Lumia 925, so it's time for UK consumers.
The 4G ready Windows Phone will be able to take full advantage of Vodafone's upcoming upgrades to its network, which will introduce 4G LTE connectivity for customers. As well as this capability, the operator also has the 32GB Lumia 925 exclusively in black - there's no microSD support so that's enough storage taking into account music and game fans.
So how much will you be expecting to pay for the Lumia 925 with Vodafone? The handset is free on the Vodafone Red L plan, which includes unlimited minutes, SMS and 2GB of data allowance for £34 per month. The Windows Phone is also on the Data Test Drive, enabling customers to use as much data as desired for three months. Vodafone would then inform the customer exactly how much data was used and whether or not the chosen price plan suits said needs.
To recap on what the specifications are for the Lumia 925, we're looking at a dual-core 1.5GHz chip, 1GB RAM, 32GB internal storage (no microSD support), a 4.5-inch PureMotion HD+ AMOLED display, 2000mAh battery, 8.7 PureView main rear shooter (with front-facing camera) and sports NFC and wireless charging - though optional cases are required for wireless juice transfer.
Should you purchase the Lumia 925 with 4G in mind, Vodafone will be contacting customers when LTE is available in their area. There's a cost to adding 4G to a monthly plan, but this information is yet to be made public.
Source: Vodafone
Rich Edmonds is a word conjurer at Windows Central, covering everything related to Windows, gaming, and hardware. He's been involved in technology for more than a decade and knows a thing or two about the magic inside a device chassis. You can follow him over on Twitter at @RichEdmonds.
Don't worry, it should get to T-mobile in a few months, definitely before 2014 :'(

nah, just kidding. We should get he 925 right after they announce the EOS.
The T-mobile/WP8 equation is simple: [(last year's tech)+(6 months of improvments)+(3 months of internal testing)]*(your frustrations)/[(the price you want to pay)*(150%)]=a really, really small number representitive of your satisfaction.

Announcement should come in a few weeks, and should be available next month.. The specs will be slightly modified for TMO.

Not sure, Nokia rep just said she the specs were not exactly the same and she thinks she should get hers within a week or so to come show me. But they are for sure looking towards an early July launch. I'm hoping they add in WiFi calling, not sure what else tmo specs would be "necessary".

Yeah i mean.. i'm using the Lumia 521 right now from T-Mobile and it has the Wifi Calling, whch is actually a seperate APP.. so i'm sure any Lumia on T-Mobile will have it.


I hope it also means 32 GB storage. A video from phonedog already confirmed WiFi calling onboard.

Hopefully the 32GB one is available SIM free elsewhere, Vodafone (and O2 & EE's) pricing is laughable.

Anybody else thinking about buying this unlocked? I'm on AT&T (fml). Just curious as to whether it will work with their LTE.

The RM-893 version has AT&T LTE bands.

How would I find that version in the USA when it comes out?

You would go to a T-mobile store or their website.

Just go and ask for the RM-893 version?

Wonders if this phone will be released in Australia???

This gives me hope...http://www.expansys.com.au/nokia-lumia-925-lte-unlocked-16gb-grey-249890/

Anyone have any idea when this will be release on three UK? Seen some decent deals already and my contract has just become available for an upgrade! :)

It's available for pre-order now, with free wireless stand and case. Release on 21 June.
http://www.three.co.uk/Discover/Nokia_Lumia_925?typeSearch='lumia%20*'

Thanks! I search for the 925 earlier that day and on the page it didn't show the plans and just a form saying they would email me telling me when it would be available.

This was the best looking phone I ever owned :) Though the worst ergonomy due to the rounded edges it slipped out of my hand several times. Camera was big time overrated as well. I was very bad quality actually... And Windows phone didn't get any traction. Very sad...
Windows Central Newsletter
Get the best of Windows Central in in your inbox, every day!
Thank you for signing up to Windows Central. You will receive a verification email shortly.
There was a problem. Please refresh the page and try again.