Nokia N9 not heading to some European countries?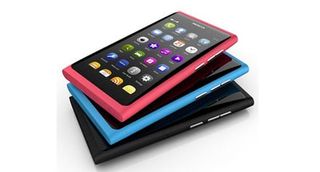 We already understand that Nokia is fully backing Windows Phone 7 with devices coming later this year (opens in new tab) and through 2012, but their support for MeeGo was questionable with only a single device being launched. Now it seems as though the N9 might not be available in some parts of Europe if their website product availability checker is to be held for reliability.
You'll also notice that France, Italy, Germany and Spain are also absent from the list. Could we be seeing Nokia planning to bring only Windows Phone handsets to these countries? Shame if this becomes a reality. While I'm very much looking forward to purchasing a Nokia WP7 device (especially if it's anything like the previewed Sea Ray (opens in new tab)), the N9 does look like a smashing phone.
So fellow Brits (and European neighbours), would we be that bothered if the N9 is not available in the countries above (I believe I'm asking a silly question on a WP7 website but still interest could be present)?
Source: Nokia (opens in new tab), via: Telegraph (opens in new tab), T3 (opens in new tab)
Rich Edmonds is Senior Editor of PC hardware at Windows Central, covering everything related to PC components and NAS. He's been involved in technology for more than a decade and knows a thing or two about the magic inside a PC chassis. You can follow him over on Twitter at @RichEdmonds.
perhaps they some contractual arrangements already in place regarding the N9 and not so in those countries not listed for the launch?

Most predictable answer you will get: I don't give a rats arse about N9 not being released in my country (UK). I'd rather it not being released at all anywhere and Nokia not wasting that 1% of resources on something that has no future.

does anyone else find people moping about Meego silly?I mean when the OS was alive no one cared about it, but now that Nokia (smartly) decided to finally give up on it, everyone is like, where is Meego?! Where did Meego go? :P WTH, lol

Whether you can purchase the phone on Nokia's website has nothing to do with whether you can buy the phone in a particular country. Case in point, you can buy the N8, E7, C7 (Nokia astound), etc in America and use them on T-mobile or At&t despite the fact that Nokia no longer sells phones through their website or through Nokia branded stores in the U.S. (or Great Britain for that matter).Anyhow, who knows what networks in Great Britain will pick up the N9, it has had a pretty positive response from onlookers, and Expansys already says they'll be selling the phone. Though, I think we can be sure it would be a surprise if any networks in the U.S. picked it up as they see Nokia phones as mostly toxic waste since no one wants to buy them - ditto for Windows phone's prospects if Nokia doesn't have a Windows phone super hit above the level of the Galaxy S2 really soon.

I generally read all the SPE sites and I am disappointed that the N9 is not going to be a viable at first even in the US but I am buying the phone as soon as possible from Amazon most likely .I would not worry about Windows Phone Nokia phones not being sold world wide because they will be sold threw 3rd party shops and carries rather than Nokia directly.

I can see why it wouldn't come to some countries.Microsoft is very US-centric; there are a lot of countries that have very little support for Windows Phone's features. For instance, at this point, there's no music search in Mango for Canada, and no music or podcasts in the Marketplace. That's Canada we're talking about here, not Zimbabwe. They've been promising it would come since the Zune 2, which I bought expecting to be able to get a Zune Pass within months of my purchase, but it kept being pushed further and further until they just withdrew the whole Zune line from Canada.Nokia is a very international company, they're probabaly worried that Microsoft won't support their customers properly in their traditional strongholds (India, China, the Middle-East, Africa, Eastern Europe). Of course, that's part of the reason the deal between them happened, but until Nokia can get their structures in place for Windows Phone 7, the N9 is probably going to be offered exclusively in countries where WP7 isn't yet a compelling option.
Windows Central Newsletter
Thank you for signing up to Windows Central. You will receive a verification email shortly.
There was a problem. Please refresh the page and try again.