Nokia Purity Pro Headphones honoured at CES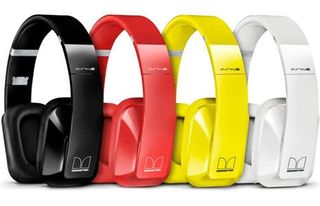 The Nokia Purity Pro headphones have been honoured at CES with a prestigious innovations award. The wireless headphones support both NFC and Bluetooth, which makes the accessory perfect for use with Windows Phone hardware. With Monster on-board, Nokia has been able to produce something special for those who enjoy music while on the go and now efforts have been recognised at this year's electronics event.
Available in a number of colours, including red, yellow, black and white, the headphones fit in perfectly with Lumia Windows Phones that sport matching accents. Tomi Penttila, head of Nokia Gear, had the following to comment on the award:
The expensive (reportedly €299) headphones are expected to hit retailers at the end of January, providing ample time for consumers to take out personal loans in order to be able to afford such quality.
Source: Nokia
Windows Central Newsletter
Get the best of Windows Central in your inbox, every day!
Rich Edmonds was formerly a Senior Editor of PC hardware at Windows Central, covering everything related to PC components and NAS. He's been involved in technology for more than a decade and knows a thing or two about the magic inside a PC chassis. You can follow him on Twitter at @RichEdmonds.
We can't even buy it what's the point. Is it out for sale yet?

Agreed. I don't know where anyone can buy them. In fact, idk if any Nokia accessories are currently being sold in canada

If Nokia's Canadian site is any indication, Nokia accessories are available for us to gawk at online, but not to purchase.

People need to learn to read
"The expensive (reportedly €299) headphones are expected to hit retailers at the end of January"

oh okay, but stil, what about the older accessories? they're nowhere to be found in canada

Still can't get it. I get a Bluetooth Receiver instead of my old headset. the quantity is better in audio system. I found in this page click here

I have been trying to buy these for god knows how long ended up going with pro beats

Same as you. Waited for these about a month then bought the sennheiser and beats.

Why did you buy Beats headphones?

Because? I didn't wanna wait for this to be released and I'm more than satisfied.

So you like getting ripped off for inferior headphones?

no i would have gotten purity pro headphones but i dont like to wait 100 years for stuff to hit market. i was really close to getting an 8x because of the same thing. sometimes just sometimes my impatience gets the better of me. but so far my beats play my music wonderfully and i have no complaints. thanks

What I'm saying is that Beats and Nokia's Purity headphones aren't the only headphones available and that there are better headphones for less money.

Nice. I have the non-pro version and enjoy it a lot. Nice gear.

What about the in ear ones? I know they came out last year, but first you can't buy them from AT&T and second, if I buy it from amazon, they don't sell the yellow ones yet. And they barely update their website and social netorking pages.

Why can't they make something cheaper.. Too damn expensive..

Because they partnered with Monster...

They are beautiful, but I wonder if they sound as good as my V-Modas?

Anyone know the hardware specs that they garner such a high price ie. frequency response range, sound pressure, bass driver? (Is it that it's Monster branded, ie.). How does it compare to Dr. Dre phones?

Monster brand is the maker of dr dre headphone as far as i know.so im sure they will sound almost similar..

They look good, they compliment the phones just as good. Unfortunately until Nokia gets them out to the general public it means nothing.

According to the article above, these are supposed to hit retailers at the end of January. Is that worldwide or only in select markets? Rich, do you know? I'm waiting patiently for them here in the U.S.

Finallyyy some news on these babies. Was originally wanting to get the yellows to match the yellow Lumia i'll never get. Now that I have the white Lumia instead..I'll get the white ones. I hope these sound good though. f'real

These are awesome! But I'm happy with my "beats" Nfc and wireless would be dope though.. Ok, I take it back, I WANT THESE!

last I read they arent out yet

website still says coming soon
http://www.puritybymonster.com/en/#page_over-ear

Still waiting on word about Nokia/JBL playup speakers? Thought for sure they'd be available for the holidays,Nokia needs to get it together

It said in the article they will be available @ the end of the month

Of course they were. They have actually innovation. Something not in apples dictionary.

I just ordered the jbl power up from Amazon for $149.99 just gotta wait for them to get more in stock. Can't wait to get it. Verizon has it in stock for $249.99 but I saved a 100 worth te wait.

I too saw this on Amazon but I'm kinda worried. The model is shown as MD-51. But I'm getting conflicting search results that MD-51 looks like a round speaker. The JBL Power UP should be MD-100, no? I'm thinking Amazon has the wrong item pictured....

Check the model number of the speaker you ordered. The correct model number for the PowerUp is MD-100W ($299 at Amazon & ATT; $249 at Verizon). Amazon has a speaker listed for $149 that they call the PowerUp (with a picture of the PowerUp) with model number MD-51W. The MD-51W is actually the portable JBL PlayUp speaker. That product listing is incorrect. If you look up the PlayUp on Amazon, you'll see that the model number is MD-51W. I think what you ordered is actually the PlayUp speaker for that $149 price. You may want to double-check with Amazon.

I'm just wanting the play up speaker to come out already.

Where is it not out, in Sweden it came the same day as the phones (29 november). Its not so easy find since the holydays but there is a couple To be found. BTW It is a Lovely speaker.

The US, it was finally listed a few weeks ago on amazon. But even the day that it was listed it was out of stock and they have yet to be in stock. So far that's it no store has them yet, nor do they have it listed as even being out of stock they just don't have them at all.

There is no Cyan. They didn't mention it and i don't see it in the picture

Unfortunely Monsters (Beats) are not that good. Had beats before broke within a month. Went with the Bose QC15. Amazing. Sorry guys but Monster or beats or whatever is not that good. paying for the name.

You're partially correct. Go to any audiophillia website, and people will praise Monster headphones and earbuds. The problem is that with Beats, they over price them due to brand name for what quality they give you. Furthermore, there are other brands with cheaper prices that will give you better quality than Beats. Sennheiser, Logitech, Bower, Audio-Technica come to mind.
I bought my Audio Technica WS55 a year ago for around 75 bucks. Blows the Beats solo or studio out of the water.

299 euros, i guess I would go for Sennheiser or AKG instead. I would prefer the previous range of Purity HD that was released with Lumia 800, the one that works over a wire, 3,5mm jack which is cheaper. I dont like wireless (though, less hassle), sound quality never matches those that uses wire.

When are these going to actually be released and what date?

I can't wait for these to get released. I've been waiting too long for great bluetooth headset. Had some troubles finding it but I hope these will suit me well. Also, I found some great reccomendations on one site my friend told me about so I thought, why not to sure it with you? It contains some great reviews of many bluetooth headsets.
Bluetooth Headset

It is launched now right? I found from this site best bluetooth headset guide is that plantronics voyager legend is the best headset for win 8. Is it true?