Nokia unleashes updates for Ringtone Maker, Network+, Touch, Care and Treasure Tag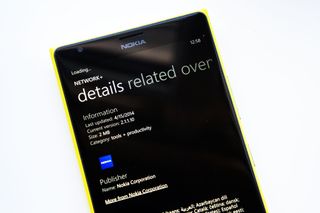 Microsoft Mobile – or what we'll still to refer to as Nokia for now – has been busy this morning, pushing out no less than five updates for some of their Lumia system software. These are those little apps that help things run smoothly on your device, and are considered pretty important.
Of course, that implies we know what was fixed and in this case, we don't. However, you can guess at the usual bug fixes, and we wouldn't be surprised if there were a few optimizations for Windows Phone 8.1 devices (fingers crossed). Regardless, there's no harm in doing these updates, so let's have at 'em.
Ringtone Maker
Nokia provided their own app to make ringtones for Lumia devices, which is a nice touch. The app is now updated to version 1.3.1.6. The last time we covered this app was nearly one year ago with version 1.2.6.11. We haven't run this app ourselves in nearly that long of a time, so if you find what's new, tell us in comments and we'll update.
Find Ringtone Maker here in the Nokia Collection.
Network+
Network+ was last updated 15 days ago to support the dual-SIM function for new Windows Phone 8.1 devices like the Lumia 630. Today, we're seeing a bump to version 2.1.2.3, which probably includes some optimizations for said feature. This app is necessary to "ensure you get the most from your mobile network and your phone", so it seems quite handy.
Pick up Network+ here in the Collection.
Touch
Touch is a real important app as it controls how well the screen responds to input. If Lumia 1520 users just got real interested, we'd understand why (that device still has a false scroll/tap issue). Like these other updates, we're not positive on what this addresses, but we're going to give it a go anyway. The app was last updated in February and brought a new 'disable key-vibration' feature.
Pick up version 2.3.0.7 here in the Nokia Collection.
Nokia Care
This little app gives you tips on pointers on your Lumia, including a nice little tips and tricks thread. Unfortunately, this app is no longer available for us on our Windows Phone 8.1 device, which is interesting in and of itself. Luckily, you're on WPCentral and probably know more than this app.
Pick up (if you can) version 3.1.1.10 of Nokia Care here in the Store.
Nokia Treasure Tag
Remember Treasure Tags? Those little doohickeys that let you track where things are using your Lumia? Yeah, we barely do as well, but in case you somehow have one, you can update the necessary app for it to version 2014.430.712.5527. That's pretty specific. By the way, Treasure Tag should be available to be purchased soon, though we'll look into it some more.
Pick up Nokia Treasure Tag here in the Store.
Find anything exciting with these updates? Try to separate it from placebo and let us know in comments!
Thanks, everyone, for the tips!
Get the Windows Central Newsletter
All the latest news, reviews, and guides for Windows and Xbox diehards.
Daniel Rubino is the Editor-in-chief of Windows Central, head reviewer, podcast co-host, and analyst. He has been covering Microsoft since 2007 when this site was called WMExperts (and later Windows Phone Central). His interests include Windows, laptops, next-gen computing, and for some reason, watches. Before all this tech stuff, he worked on a Ph.D. in linguistics, watched people sleep (for medical purposes!), and ran the projectors at movie theaters because it was fun.
In the touch update there is now an option for navigation bar!

No, that's old news. I even say so.

But that header is new I think.....

Not new, just changed the title from "windows keys" to "navigation bar"

Then that's "new". Jodonjoy1986 said the header is new, the header, originally being "Windows Keys". This is likely an update for upcoming on screen navigation key devices (vs. Current physical capacitive button devices)

The one I use the most is the ringtone maker. The Beta version seems abandoned so I've stopped using it.

honestly, does anyone even use/has the nokia tresure tag??

No, its not available yet.

As I mention in the article, it hasn't gone on sale yet (or it's just starting to now), so the answer is kind of an obvious no, not really. That doesn't mean Nokia can't make it work well though (it will co-launch with the Lumia 930, may even ship with it).

Store description says it requires Lumia Cyan?

I could have sworn the description used to say it required the black firmware - now it says cyan. Am I going made?

Somebody please get Nokia / Microsoft Mobile to use the release notes section introduced in WP8.1

Can anyone tell me if navigation bar can be activated on phones with hardware buttons? Not going to enable it for long. Just want to know if there is an option.

when "official" WP 8.1 will be release...?

Can anyone confirm if tethering on WP8.1 Preview is lost or Noh?
Lumia 1520.3

Tethering on a 1520 with 8.1 works flawlessly for me.

Where at do I find the tethering options? (I've never used this feature.)

Settings, internet sharing

Has been working fine for me.

I know. I was asking about the effect after this update before i downloaded it.

Yes I know. My answer is still the same.

Ok :) update underway. Gracias.

Don't know about 1520 but tethering on the 810 WP8.1 works for me.

It works better for me on my AT&T 920. Before, I used to have to restart my phone at times.

Any apps that allow reverse tethering?

on my 925 and 1520 is fine after update, but ativ s i have lost the ability.

Someone please tell me where and when I can get a treasure tag.. Been dying to get my hand on that thing

From Nokia, when they start selling it.

Nokie Care says no longer published on the Windows Phone Canada store. http://www.windowsphone.com/en-ca/store/app/nokia-care/ccfdca81-e2fe-44b... Same with US. I haven't checked any others though.

Same in Thailand, on my Lumia 920.

Same here in US. Says "not available for your device", yet I already have it installed???

Same in Indonesia. Xbox Music too. I need to change my region to get the updates. Lumia 520.

Same in India Lumia 1320. Any idea why has the app is no longer published?

Same in South Africa not sure why though mabye it hasn't been given/updated to have compatabilty with wp8.1

Wish my nokia was done at the repair center, had a issue with a unresponsive screen, even after a downgrade to windows phone 8.0 i still had the unresponsive screen. Currently using a HTC8X

I hope it does fix the 1520 scroll/tap issue.

Sadly I just experieneced it again. Doesn't fix it.

Have you guys tried changing the touch sensitivity from high to normal? The three 1520's I've had never had this problem (first one was replace since the first att update messed up the charge time, second one had a large amount of white spots on screen)

That was a workaround and not a proper solution e.g. we shouldn't have to disable a feature. Regardless, no, it often did not work. The issue was some users did get their scroll/tap issue fixed with the last Touch update, for others it did not take.

I restarted the phone, while I am not sure this fixed it now, it SEEMS to be working good now.

I noticed on my Lumia 1520.3 that issue is no more after removing my screen protector.

The only change i noticed in ringtone maker is the least time limit is now 1 sec....dat means we can nw even cut a ringtone of 1 sec like for our notification tones purposes....earlier the limit was 4 sec :v

Sweet! I have a few text tones in mind that I wasn't able to make them due to the minium of 4 sec rule

Thanks for that buddy I have few in my head.. +1020

I am say when internet explorer will update to fill full the lack in wp 8.1

Dan, your link for the Ringtone Maker works okay, the tag however points to an obsolete version of the program. Didn't know it was possible.

yo! finally got the developer preview! i am fm india... after the update i hav speech language english US,region also US... everything US... still cortana is absent... what should i do to have her? btw 8.1 rocks :D

Did u change your keyboard to US ???

Forums. Search on the site. Comments are not a help section

Daniel plz give him a forum address to find easily and faster ...

should have changed before updating to wp8.1

Region language& keyboard set to USA & location turned on

Ringtone Maker is not compatible on my Nokia Lumia 925 Error : "This app only works on devices with the following screen resolution * WVGA (480*800)

Try the link instead, not the tag. The links works.

One little thing I've noticed is that touch used to say that double-tap would drain your battery faster, and it no longer has that warning.

Hi. On my 1520, touch issue seems to be gone. Also i've noticed smoother experience. Greetings.

Really!? About bloody time!

Not on mine. Touch issue hasn't improved noticeably.

Ok. After a while, touch issue is NOT completely gone, but it is a lot better now.

Nokia Care says its not available for my device. Mine is 520 with black update from India.

Not sure "unleash" is the word I would use for minor updates like this.

So far no touch issues with 1my 1520 after installing update.

Ringtone maker is fixed, now finally allows you to make ringtones from ALL PURCHASED MUSIC!

By the way had a conversation with a Nokia care centre. He told me that he had asked a question regarding guarantee on phones running dev preview. Nokia told him categorically that there will be no guarantee till release for general consumers. So., enthusiasts be careful

common knowledge, if you ever need to bring it in reflash it with nokia's recovery software to 8.0

Yes, I've noticed the touch issue to, hope this fixes it!

Nothing major in general. On Ringtone Maker, there are very slight UI and words tweaks. On Touch, words are tweaked and no warning on battery life. Everything else seems the same however.

Ringtone maker for new alerts tone making, i didn't use it bcoz i don't think of changing it for a while Touch for navigation

Treasure Tag on Lumia 810 just opens and automagically closes. Assuming it's because 810 never got past Amber.

None of the apps are showing up as updates on my 1520. Weird. I did read the article by the way. My wife's 928 is having major touch issues, I hope this update fixes it. I updates her phone right away right now. :)

Why are we still calling it Nokia? When can we start acknowledging the brand as Microsoft Mobile?

Microsoft themselves have not given formal guidance on the matter. So long as it says 'Nokia' in the Store and 'Nokia Collection', we'll refer to it as such.

Am I the only one who feels that treasure tag is going to be scrapped faster than Zune was?

I'm with you. Spending money on unnecessary things. But remember they need to release new products so that they aren't seen as ' not innovative'.

I've noticed that the settings apps don't appear in the update history in WP8.1 after I've downloaded and updated.

same here. not for 8.1 apparently :(

I was successful in updating the apps, they just don't show in the history.

False scroll/tap bug is still on :(

Do you tether more often with your 1520? I returned two 1520's cuz tethering ruined the network, the phone stopped receiving network services.

I wonder why nokia is not using the "new in this version" feature of the store while submitting updates?

Please bring glance for 520

52x's cheap screens are incapable of running in the low power consumption mode required for glance.

Nokia Care has never been available for me, I figured it was just for people outside the US

Didn't update yet, but "touch" is definitely the problem. Hard resetting (before the uninstall trick of OEMs came about) and not updating touch, I didn't experience that problem. Hopefully this fixes it.

Haven't had the ' false tap' bug on the 1520 since the last US firmware update about a month ago. I still get it occasionally, but not as much as I did before the firmware.

Can anybody tell me how to share multiple docs from the office app

The need to fix glance or RDP. The glance screen appears upside down after using the RDP app.

For now, if you return to the RD app and rotate the screen the opposite way you had it before then exit the app again and it should be back to normal... Pain but a work around....

That worked...thanks for the tip!


Weird I just uninstalled Ringtone Maker. With it on my phone I couldn't see all of the ringtones I had on my phone that were in the folder. I went to RM in order to see if I could find the file and recreate it and then I noticed there were duplicate entrys and some listings of stuff that wasn't on my phone. I uninstalled RM and then Notifications showed everything.


As far as I can see, all the touch update did on my 1520 was remove the warning about draining battery for the double tap to wake feature.

Hopefully microsoft can update its own apps to become transparent also cause it is ruining my beautiful start screen mainly the xbox and office apps oh and triva buff is also updated along with oh clock. Camera 360 is also updated bringing in time mode

What's up with Nokia care,I can't download it

Off topic question but curious: do apps and notifications refresh every 1min as soon as you update to 8.1 or do developers have to support their apps with this first to work?

Pretty sure the developers have to enable that option. Apps like clock tiles will obviously take advantage updating every minute.

Network+ won't start. It just goes back to the settings list. I restarted the phone (520) twice. I think I'll reset... :( EDIT:No I won't. I'll reinstall the app using the trick Mark showed in a video for uninstalling oem apps It worked

Network+ working here in 1520

The change log for the Ringtone Maker is included in the app's description in the store:

improved usability notification alerts for messaging, emails, reminders and also alarm clock available with the latest OS update minimum ringtone length is 1 second

the double tap to wake thing doesnt say it will drain the battery anymore

Those who tether often with their 1520, do you have strong network? Cuz tethering killed my 2 1520's, this is the third Nokia gave to me but I refused to tether with it cuz I don't want it to get spoilt (no network) like the others.
Anyone with such experience? (tethering coursing no network problem on 1520).

Just updated all 3 and now my Glance screen isn't working on my 925.

Updated Network+ and Touch and Glance is working fine here in my 1520

Nokia Care cant ne updated, Even When im using wp8 not the wp8.1

Now im able to update the nokia care

Ringtone Maker. The new feature I found is that now you can select the time of the song is 1 minute, before were only 40 seconds.

its been 1min from the start

Hopefully network+ still left me user call waiting. It doesn't work anymore. Try and add another call to your conversation, it doesn't work on Lumia 920.

Network+ now has the "voice call counter". Nice touch-up. The ringtone maker is a cute little app except for the DRM thing. After this update, any song I select is not valid. Probably more DRM stuff.

it was on the last update already i mean voice call counter

Now that they have removed the battery drain warning with regards to 'double tap to wake up' feature, does that mean that they have fixed something and hence the battery drain would be marginal or not as bad as earlier?

Looks like Touch update may have reduced time it takes to hold down search button to launch voice search. Seems snappier now.

umm for me i think its the same amount of time NL1020

I juz got touch update and navigation bar is also available but when I switch on that and rebooted it, it doesn't works on my Lumia 525...