Nokia Wireless Car Charger - provide juice to your Windows Phone in the car without cables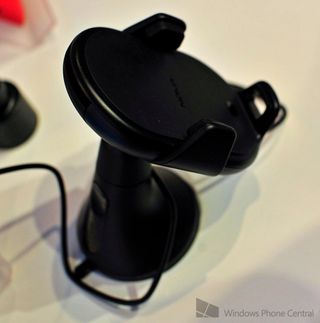 Nokia isn't just about mobile phones today at Mobile World Congress. The company is also showing off a new wireless charger for vehicles. Should you use your Lumia 920 (or other Windows Phone) in the car for navigation, etc. you may well be interested in a wireless charging unit that will provide juice to your device without cables.
Much like the Nokia wireless chargers we've come to own and love, the car charger works just as one would expect. Note that this charger is for the dashboard, not the windscreen, and comes with a plate that will help secure the product in place. Of course, the device supports the Qi standard of wireless charging.
Nokia were kind enough to walk us through some features of the charger:
It's quite neat and easy to adjust to accomodate different sized hardware. The charger also features NFC. Simply tap the charger unit and bam, Nokia Drive could then open up and the journey may begin. It's almost like dark magic. But how much will the charger set consumers back? We're told the RRP will be 69 euro and to expect availability this coming May.
Windows Central Newsletter
Get the best of Windows Central in in your inbox, every day!
Rich Edmonds was formerly a Senior Editor of PC hardware at Windows Central, covering everything related to PC components and NAS. He's been involved in technology for more than a decade and knows a thing or two about the magic inside a PC chassis. You can follow him on Twitter at @RichEdmonds.
Now this I'm excited about...

definitely getting one :)

I'm kinda surprised that no one did this type of charger yet.

Nice , about time Nokia !
I hope more auto manufacturers do like Chrysler/Dodge/Jeep/Mopar/SRT & offer a wireless charging plate accessory that blends with the interior design ! Kinda like the Dart & the Viper ! Quick question though ,
How will the sun & the charging plate effect the phone ? Won't that rise the temperature of it & might damage it ?

In the UK this is not an issue. we have no sun

Nice , unfortunately over here (Jeddah , Saudi Arabia) Its always sunny here ... Even in the winter :)

Maybe you get a Nokia private sun with it

For sure gonna get one :)

Is there a rubber pad on the bottom support? The CR-123 was just hard plastic, but that was removable, don't like the idea of plastic rubbing against plastic. Also, the CR-123 also came with a dash plate(the mounting arm looks to be identical) but I use it on the windscreen fine, have I been doing it wrong all this time.. Anywaz, do want. :p

I'm not quite understanding the NFC implementation into Nokia's wireless charging dock and now this. Why would I tap on bottom part of charger first to initiate, then bring phone back towards me to hit accept, and then finally place into the cradle? Is there reason that the NFC chip, or whatever it is, cannot be placed on the center of the cradle where it would align with the phones NFC, granted there are different size Lumias with NFC in slightly different locations compared to the 920s, or would the actual wireless charger render the chip useless because of the magnetic waves being generated to charge. I really would like to know the reason for this, because it seems more productive to open drive with one tap on start screen and then place into cradle.

Agreed. It makes no sense to me either, and it's one of the reasons I just ignore the NFC on the charging stand.

Actually, I've turned off NFC on my phone... so far I can't do anything with NFC that's interesting. I can't share with non-WP's and I can't pay-and-go. I have two devices that feature it, and neither make it that compelling.

I'm not calling NFC a flop, just unfulfilled promise.

Same. From my understanding AT&T doesn't support the payment method that tap-to-pay uses... :/ The lack of sharing with non-wp phones isn't cool either. Tried tap to share with a GS3 and hoped since they were both recent phones all would go well. No dice.

GS3 uses that Beam protocol instead of Bluetooth. I don't know of any other devices I could test it with though so I'm with you, very annoying.
And to be honest, the transfer rate is so slow that after much experimentation at the office we determined emailing or texting a file is a much faster way to do it than via NFC/Beam anyway. It's incredibly useless for sharing data. It took 50 seconds to send a small picture between two GS3 units.

It works only with links for me.

ATT is not the only one at fault for the lack of NFC payments. Wallet requires a secure SIM card which needs to be supported by the carrier, and also your bank needs to follow the Wallet protocolls. Right now MS is not done with Wallet, so there is nothing for banks to work around, and carriers like ATT cannot make the secure sims. This is a Microsoft problem, and they need to get it fixed soon. If they do not then there are a lot of us who are going to move over to Android phones which have supported NFC payments for over a year now. Just about every major retailer in my area either already takes NFC, or will be installing NFC payment capabilities soon. MS wants to do this in as secure a way as possible, but this is one case where what is 'best' is not always best. Yes, NFC payments are a little scarry as ID theft potential is there... but at the same time I need a pin to get into my phone, and another pin to access Wallet, where as if someone wanted my money they could simply mug me and have free reign with my cash or credit card much easier than they could use my phone for payment. They simply need to get the platform figured out so that banks, carriers, and phones can use it.

NFC file transfers work just fine with non Windows Phones. NFC is a platform agnostic protocoll just like Bluetooth or the 802.11 standards, and will work with any NFC capable device. The major issues rise more with augmentations to the NFC standard used by various OSs or device manufacturers. All of the Android users that I know (except 1) who have NFC capability either have it turned off by default because it drains their battery too quickly, or they have not purchased the NFC capable cover to enable the feature. In either case it is much easier to transfer contacts, links, and photos to them via email or some other means. The other issue (as mentioned by LiquidLearner) is that stock NFC only transfers data via bluetooth which is extremely slow. Going from WP to WP, or SGS3 to SGS3 is fine because they go outside of the stock NFC protocoll to transfer stuff via a direct wifi connection (for Samsung this is called Beam), but as wifi sharing is not natively standardized for NFC it does not work across other OSs (or in the case of Android it does not work across brands).
But I do have one Android friend at work with a SGS3, and we use NFC to share contacts and web links occasionally, and as those are really small the transfer is nearly instant. My wife and I both have Lumia 920s and use NFC on a regular basis and it is quite quick for simple file sharing. As more people have NFC capability on their phones, and enabled, then it will become more useful.

Honestly, literally the only thing that I use NFC for is to slightly more quickly jump to the Internet Sharing screen so I can connect my Surface. If someone would just release an app already that let me pin that to my homescreen, I'd never use NFC either.

If you put the NFC chip immediately behind where it triggers on the sensor, the phone will continually detect it. This would consume battery life as it will have to read it every time the NFC check cycle occurs and it would have to recognize that it is the same chip it just scanned as well.
The point is that, one handed, you can hop in your car with your phone, reach over tap the NFC, slip it into the cradle as you set down your coffee - start the car - put down your laptop etc, then as you settle in you can tap accept and Drive opens.
I do this with mine, I have an NFC sticker on the back plate of my windshield mount. The backplate is not tall enough for the sticker to be in constant contact with the NFC chip sensor (I know it's too short, I tried it near the top) and as I settle into my car I can do this one handed while paying attention to getting my door closed, coffee in the holder, seatbelt on.. etc. It is actually useful. but it only reduces my effort by seconds.

Its rare. I have a crandle and in it i have 2 nfc stickers. One with nokia drive and other one with roadpilot mobile.
If i put the phone with power conector in left side, its load the nfc sticker of roadpilot.
If i put the phone with power conector in right side, its load the nfc sticker of nokia drive.
The nfc sticker only load the first time y acept and the program launch. the message never apears. If i take out the lumia of crandle and put it again, the nfc launch again.

Sorry for my english, i tried to explain

With all this innovation Nokia is doing with wireless charging I feel like I need to get not only the car charger but the regular stand too! Keep these great accessories coming Nokia!

As it is many companies tried to sell cell phone replacement batteries with charging pads for years but it was bulky and since Nokia implemented it in their Lumia 920 I am sure there will be more competition!

And I was just thinking of modifying a car holder for my Otterbox equipped 8X so it would accommodate a wireless charger. Moving on....

That's good about the mount, as here in California we aren't allowed to mount anything (other than the rear view mirror of course) on the Windshield.

Oh how I wish that was the rule in the UK too, some people put their sat navs in totally stupid locations...pet hates of mine are underneath the rear view mirror, and literally right in front of the drivers face. You'd be amazed how many people are that stupid...

It's not illegal in California, just not practical. You can only mount within the lower 5" corner on the driver side or the lower 7" corner on the passenger side. Just the right position to make keeping it plugged in a pain in the ass.


CA legislators are very bored and use tax payer dollars very wisely.

Haha, my exact thoughts as well, only in Cali do we see this type of nonsense lawmaking, our money should be allocated elsewhere for higher priority issues that make a difference on economy, infrastructure, etc.

This is what I'm waiting for!

Been looking for something like this

Shut up and take my money!

I would love one of these just so I can wirelessly charge while I drive and navigate... although I wonder if wireless will actually keep it charged well enough. Nokia... err, HERE... Drive is quite a power-hungry app.

I have to wonder that too. GPS eats up battery on any device and the wireless is slower then a plug charger. I guess it will if anything slow the drain down.

Ok Nokia, open your pockets so I can dump my money in them.

Please make it available in thailand

My only beef would be is do not make it a fixed size otherwise no sale! Make it expandable like current cellphone holders!!

Did you even read the article or watch the video? It is expandable....

Anyone know if that NFC tag in the holder can be re-programmed for example to take me to the Bluetooth settings page? Or is the imbedded tag in the holder hard coded to only open up Drive?

Oooh I really want this!!

Shut up and take my money!

Considering it takes Nokia about 4 months just to receive their Lumia 920 case, this being released in May means I might have it a few weeks before Christmas this year. Haha

When will this be available in the 1st World Market (aka NAmerica) ?!?

I need one now not sure I can wait till may. Might have to get non wireless mount for now

Would have been good to integrate Bluetooth and have an aux jack that plugs into your car stereo!

I agree with you 100%! I hope someone capitalizes on this idea!

I want this. BUT just like the Nokia playup, 920 cover cc-1043 will it be hard to find. For short time the charging plate and stand here in Houston was hard to get when the lumia came out.

I own 2 wirless charging stands...so easy to recharge, have just ordered another and pre-ordered 1 for the car....
Such good products!!

SHUT UP AND TAKE MY MONEY!!!!


This will solve the USB vs Bluetooth issues my HTC 8x has too. I can't wait!!!

It's available: http://www.mobilefun.co.uk/nokia-wireless-charging-nfc-car-holder-cr-200-p38310.htm

A great product idea with good functionality but extremely poor execution. Nokia should be ashamed for creating such a cheaply built product and for not recalling it. The charger's clamping mechanism that holds the phone broke after two weeks of normal use. Nokia refused to refund or exchange the product. Instead, I was instructed to pay myself the shipping to a Nokia Repair Centre to get the product assessed. For a product of this cost it is unacceptable. Before buying, I wish I would have read the posts where users have been taken the matter into their own hands and built replacement parts to replace the cheap, plastic part that keeps breaking. To make matters worse Microsoft Store where I bought product from refused to refund or exchange the broken product. It is shameful that a company like Nokia who prides itself with the quality of their products will allow this to happen and do NOTHING about it. Fans of Microsoft and Nokia both need to be more critical with the products these companies put out and the way they support them - it is an important feedback loop that is critical to the success of the very products that are being reviewed and criticized.

As you can see the zapatillas Asics is a shoe that has the runner in mind. It has all the great elements that come together to create a shoe that is comfortable and high performing. This is definite must have and you will not regret your purchase.

Si vous êtes à la recherche de burberry sac, vous pourriez vouloir vous connaissez le où vous les trouverez. Beaucoup de femmes entendent parler de l'autre marque de sacs à main de regarder des émissions de télévision, ou sur entendre quelqu'un parler d'une marque particulière qu'ils aiment, puis veulent les vérifier, mais ne savent pas où chercher. Il ya effectivement beaucoup d'endroits que vous pouvez trouver ces sacs à main.

Bienvenue à acheter les meilleurs Chaussures Tod's en ligne. Vous pouvez obtenir la qualité officielle et le prix pas cher à notre magasin. Livraison gratuite!!!

i like the phone very much.can you give me more informaiton about the phone http://www.satisfiedcases.com
Windows Central Newsletter
Thank you for signing up to Windows Central. You will receive a verification email shortly.
There was a problem. Please refresh the page and try again.