Nokia's affordable Lumia 520 range storms the Amazon Best Sellers chart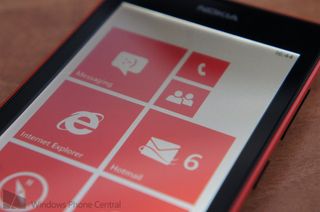 Nokia launched its most affordable Windows Phone this year, the Lumia 520. T-Mobile, being a US mobile operator, had to have its own version of this handset for its customer base, so you then had the Lumia 521 released. Both of these Windows Phones are currently topping the charts over on Amazon US, when looking at best selling no-contract mobile devices.
Grabbing both first and third positions in the list is a solid result, especially when it's a basic Samsung model that separates the two siblings in position two. The Samsung Galaxy S3 is way down in 14th position with numerous other handsets filling the gaps. While no other Windows Phone made it into the list, the Lumia 928 and Lumia 1020 are battling it out against high-end Android hardware in the contracted mobile phone chart (opens in new tab).
This isn't the first time we've seen the Lumia 520 top the charts and become rather popular with consumers. As well as Amazon US, three mobile operators in Finland revealed that the affordable Windows Phone brushed all other mobile devices aside to take the top spots.
Source: Amazon (opens in new tab); thanks, Aaron, for the tip!
Windows Central Newsletter
Get the best of Windows Central in in your inbox, every day!
Rich Edmonds was formerly a Senior Editor of PC hardware at Windows Central, covering everything related to PC components and NAS. He's been involved in technology for more than a decade and knows a thing or two about the magic inside a PC chassis. You can follow him on Twitter at @RichEdmonds.
Lumia 520 truly is a remarkable achievement for Nokia. Great job Nokia!

Great. Now bring some high end games and nerf it down to 512mb versions.

Bud...Thats why exists High End (Premium) Phones.

They could shave a megapixel off the camera and add 1gb of ram instead.

Agree with that improvement anyone will be enable to run newer apps as heavy games,,,,

Somehow I think your average budget consumer would prefer a better camera over an extra 512MB of RAM that they don't understand or know why they need. I got this phone for my wife and father in law and neither of them are going to play Call of Duty 4 or whatever on their phones. But everyone takes pictures.

I do not even consider portable consoles as game consoles. I would take a better camera phone than better gaming phone.

Buyers of the 520/521 are probably avid facebook users so they would rather have a phone that takes decent pictures than be able to play games on it.

The target demographic -- first time smartphone users, teens/tweens whose parents buy them these, one's own parents leaving a complicated Android -- all these users need a well-rounded 5MPx camera more than 1 GB of RAM, especially when making the decision to purchase.

Ayee and soon we should see 92x devices do the same

I wish it could mean something positiv but there have to be a mad amount of handsets sold before it will have any impact. Most people still get contracts.

Since Windows Phone shipments surged 77%, yes, yes it does have an impact. http://m.cnet.com/news/windows-phone-shipments-surge-77-percent-in-secon...

In m opinion, this phone will be written into Nokias' history as the best selling WP.

I hope not, this may be a good improvement but I want Nokia to sell far more devices than this.

It's already best selling WP phone

A great replacement for a damaged contract phone.

I dropped my 820 and the screen had to be changed. During that I needed a phone, so I bought an 520. It's a bit slower and the screen is not so good, but the WP8 user experience is the same. I like my 520 so much that now I use it at work every day and 820 on my free time.

Can you compare the battery life for me please?

Battery life of 820 is the worst among Lumias

Not a bad idea if you have a rugged job. Smashed a phone in my pocket when I worked construction once.

At this price it's the best phone money can buy. Bar none. No Android stands a chance in hell. I have one and it's amazing. I love it.

Good thing is Lumia 1020 is in 13th position (first time entered the top 20) on Contract phones list.
Lumia 928 is in 8th and 11th positions and its consistently in top 20 list since it released in May. Verizon selling more Windows phones than AT&T even though Verizon always got mid range phones.

I hope Nokia releases the phablet on all major carriers simultaneously. They can keep EOS device as a timed exclusive (3 months Max) to AT&T and 900 flagship to Verizon.

Ideally, I would like it to be 900 series on all carriers, EOS on AT&T ( 3months), Phablet on Verizon (3 months).

I was on AT&T using the Titan. i still had 6 months on contract and paid the early termination fee, picked up a 521 on T-mo and loved it. the step up from WP 7.x to WP8 is huge. I am saving a pile of money on my phone bill, so i picked up the 925 last week. Its a great phone but i wish there was a backup battery attachement that clipped on like the wireless charging back does. or maybe a camera grip like the 1020 has. that would be nice.

you can pick up one of the generic external battery pack from Amazon for $20...

Here's one http://www.amazon.com/Anker®-Astro-3000mAh-External-Battery/dp/B005X1Y7I2/ref=sr_1_6?s=wireless&ie=UTF8&qid=1376316837&sr=1-6&tag=hawk-future-20&ascsubtag=UUwpUdUcU497371 for $30, you can get double the battery. its not a clip on, but does the job nonetheless.

Two summers back, I had purchased a "high end" feature phone for almost $200. The fact that you can get a good smartphone for less than $130 is amazing. Nokia really nailed it with the 520 and 521.

I had to visit 2 stores to get one. They can't keep them in stock. Beyond that, this device is surprisingly nimble. It is buttery smooth. Even low light photos ain't half bad. My daughter is finally on Wp8 after working with her Focus for a year or so. This is a very nice update for her and you cannot beat the price.

Bought one for my 14 year old nephew as his first smart phone. I, and he, was very impressed with it. Not an 8X or a 925 but for his needs it's brilliant. Especially as he's dyslexic, he finds the autocorrect and suggestions a real bonus.

I bought a 521 for my sister who has the basic needs of a smartphone and her only complaint was instagram not being there. I use the 925 and they are both very much good phones.

Why doesn't she just use Instance?

she has been but she constantly reiterates that it isnt the same as on her old droid.

Instragram just keeps haunting on WP users. Dumb app but seemingly many wants it.

This! I have no use for it either, but yet it pops up in every single WP article so obviously there is a large demand for it. I don't understand why Facebook won't just work with one of the 3rd party developers and deem one of them the "Official Instagram App". That would eliminate the "too much time and money to invest in a small market" excuse.

I picked up a 521 two weeks ago as a garbage phone, replacing the literal piece of garbage the huawai comet. It's such an awesome little device, I loaded it with north America maps, and my topos and will have it as my rugged, don't care if it gets smashed on a pile of rocks, phone.

The way the 520/521 is selling, I wouldn't be surprised if it contributes greatly to WP8 surging in popularity. My best friend recently got a 521 from HSN.com and was a little bummed out that there's no flash in the camera and the lack of an equilizer for playing music, but she absolutely loves the phone and told me just yesterday she's so glad she bought it and that she'll be using it for a long time to come. She went from a 710 running 7.5 to this, by the way.

equalizer is in settings

it should be in the music player but oh well

The Lumia 520/521 in particular does not have an equalizer. Part of the cost cutting measure apparently.

On the top list on hsn also + in India and China.
Great news :)

I still don't believe that this is significant since there is no Verizon low-end. Until they decide to release Lumia 522 (?) or L528 (?) on Verizon, I don't think they're going to be able to flush the crappy droids from the american streets. They also have to invade all Sprint MNVOs if they really want to penetrate the US market. That's where most crappy droids full of malware originate.

Nokia was never really big with the CDMA providers. I remember reading years ago that one of the 2nd tier OEMs (Kyocera?) was actually producing phones for Nokia to sell through Verizon. Shame, I really like their hardware.

Nokia did their own CDMA hardware on a low-scale from late 90s till mid 2000. But with a consistent 35-39% global market share, the role of a couple of US-based CDMA carriers was negligible and not worth bothering about back then.

People are still buying flip phones? omg...

My son is on T-Mo and he still uses a flip phone. He had a bad dream one night that involved his phone. In that dream he dreamt he picked up his phone and threw it except, he really DID pick up his phone and throw it. Broke the bezel. Still refuses to upgrade. Guess who the manufacturer is? One guess, Vasilly, and one guess only. It starts with "N".

Well yeah. They're REALLY REALLY REALLY cheap. I still see people with flip phones. Some people are just old fashioned.

Haha!
The other phone is just $14!

I picked up a 521 for my 12 year old niece. She really loves the device, it really blows away the Android junk at the $100 price point. Her only complaint is that it has no front facing camera. Good job Nokia.

Just keep in mind Amazon keeps listing ChromeBooks as high sellers.
That has so far gotten ChromeOS a 0.07% marketshare after two years of availability.

So Amazon might not actually count for much in reality.


look at it now the lumia 520 is in 2d place now

The 900 is somehow on the top 20 list also. That definitely can't be ignored. Also the 928 has been in the top 20 consistently for months. I'm glad to see the 1020 on that list even with the $249 price. Those commercials must be doing something.

I just cancelled my iPhone AT&T contract and switched to a Lumia 521. I gotta say I'm fairly pleased with my Windows Phone thus far. What won me over was the $30/month T-Mobile plan. I'm missing a few things from iOS but it wasn't worth an extra $60/month.

520 gophone owner, formerly WP7.5 (HTC Arrive). Enjoying this new WP8 experience, battery life of my Nokia also defines how I use my phone more productively than before. Offline Drive talking nav has been great thus far. The size and matte backing is comfortable in hand, my friend who owns a 920 preferred mine for its svelte size and feel. I like the available option for a backup battery & expandable memory. Drive Sense not available unfortunately. Hopefully will be upgradable to WP8.1 when it arrives. Best $99 I have ever spent on a gadget!
Windows Central Newsletter
Thank you for signing up to Windows Central. You will receive a verification email shortly.
There was a problem. Please refresh the page and try again.