Now Available: Windows Phone Central app v4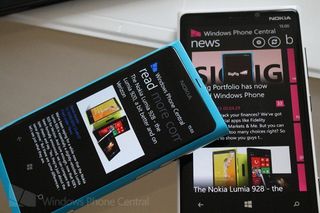 Over the weekend we gave you a sneak peak at version 4 of our official app for Windows Phone, and we're pleased to say it has now passed certification and is available on the marketplace right here.
So as always please download at your own leisure and enjoy the new features (which we've listed again below). Please note though that voice commands is a paid only feature and is currently only available in US and UK english, something which we're working to improve!
New Iconic live tile option
Full support for the Unification system
Voice commands and read-back (UK & US only)
Launching of app from external websites or apps
Social network sharing in the forums
Fixed time display bug in forum threads
Fixed issue with Windows Phone 7.8 live tiles
Improved live tile setup process
Several other minor bug fixes or UI corrections
We've seen one known issue which was not found in our extensive beta testing which can affect some Windows Phone 8 devices. If the app launches and then immediately exits it means your phone somehow does not have any speech languages installed or is set to use a language you haven't downloaded. This shouldn't be possible but I have seen it on a few development devices. Just go to your phone's settings > speech > speech language and select your language again (if it has a MB size listed that means it's not installed). Your phone will then go through an update process to add the chosen language. In the meantime we're working on a fix to be released soon.
We always appreciate your feedback so feel free to use the app's feedbackk button, or to get in touch through the comments and forums!
Windows Central Newsletter
Get the best of Windows Central in in your inbox, every day!
I know right? I think WPCentral was the first app I actually paid for and it was definitely worth every penny.

Now if only the update notification actually worked. I just checked and I had two updates, but one was for Foursquare and the other for Unification. Going to WPCentral's app page in the marketplace gave me the option to update though. Not sure why this is even an issue. Is it like this in WP8? I'm still on 7.8.

The store is an odd place. I might be wrong but I believe there is a certain time, which might differ between areas that determines when updates show up on the list. Mine is at like 2 o clock in the morning and somewhere in the middle of the day. But I have the amazing wpcentral team keeping me updated. So I rarely miss an important update.

About time best app on windows phone.

Please make it free. For a while at least. AAWP, Engadget, all have their own free apps.

It isn't exactly expensive?

Jesus, its .99c for a quality app. Don't tell me you cant afford that. Its also a small team, not some behemoth studio, behind the app, and they deserve to get paid for their fine work.

The small team is one man, Jay, i believe?

Wow, what a man. He does good work.

The only reason why I can't buy it is that I don't have any payment options :(

No credit card? No PayPal?

Unfortunately no. I'm a student. :|

Well i had my first credit card when i was a student :P

you must have a bank account right? get a debit card then (but make sure it's compatible first)

Does debit card work? I'll check it.

yes it works for me, no problem

From India here, and Debit card not working. No Paypal, nothing. Just credit card which I dont have unfortunately.

Exactly. Same here, that's why I asked. I think there's some other requirement with the debit card.

A debit card works if its a Visa or a Master Card. Ask your bank to issue one of those. The other ones like Maestro won't work.

Thanks, I guess that's the reason why it doesn't work. :-/

Indian here. My HDFC Visa Debit Card works just fine. It opens up Verified by Visa in IE after you enter your card details and you are good to go.

get a prepaid credit card!

And students often get into debt and you have no payment option?? Not even a bank account?? Where are you living in ancient times??

My debit card is not visa/mastercard. that's why it doesn't work (as GreatDharmatma pointed above). For basic student needs, it is enough.

You could join Bing rewards and get a 5 dollar gift card for free after getting 525 credits by doing searches.

How does that work? edit: Bing rewards is not available in my region. :(

The trial version is unlimited, it is just add supported and some of the functionality found in the paid version is not available, but it works! I was using the trial version for awhile and it was fine, but I wanted those additional features so I paid for the full version.

There is no operator billing there? That's how I pay for mobile purchases.

nope. I wish it was available.

Some people really have no conception of the amount of work that goes into these apps.

I stay in India .. HDFC as well as ICICI debit cards work .
I hope u activate online banking on that card first or else it won't work

Check under your car seats and couches, you will find 99 cents,

Would install this update, but sadly Other folder says NO...

Just use shrink storage :)

I am over 9GB in my "Other" storage, on my 16GB Lumia 822. Would like to shrink it, but the firmware update is not available yet to enable the Storage Checker application from Nokia. Any ideas how to do this before that is available? I guess I could do a phone reset and start from scratch, but I don't want to do that. I have 252 MBs left, but it is running out quickly. Thankfully I have a 64GB micro-SD for my Photos, Videos, and Music. I literally only have my apps installed locally (3.59 GB). The rest is the Other (9.10 GB) and the System (1.91 GB). This is really a problem. I need to kill the Other!

I would take out the micro-SD card and install the app "phone storage cleanup" or "shrink storage". Run it a couple of times and that should clear memory from the "other" storage. I used both and I really liked the phone storage cleanup and I managed to get the other section down to 1.55GB on my 810.
Good luck! Let us know if that works.

I tried the Shrink Storage app before and it didn't help at all. I tried both again, like you suggested. The Storage Cleanup app didn't remove anything. The Shrink Storage this time actually freed up some storage this time, albeit only 42MB (262MB to 304MB). I tried running them again and I actually lost 14MB, now I am back to 290MB free after putting the SD card back in and rebooting. Better than nothing, but I think I need the firmware update really clear out this mess. Thanks.

I tried it 5 times before, it doesn't free any memory up.
And i hate that htc doesn't create an app for cleaning like nokia...
Just makes me upset that i tried WP... I like everything about it but memory managing is horrible...

Don't take it out on WP as much as HTC. Look at all the corners they cut on android too, before the ONE. If you even remotely liked WP then give NOK a shot because they're the leader and you'll get the support and quality out of your device.

Do you have a Lumia? If not bad luck.. Choose Nokia unbranded/unlocked devices lol

Updated :) thanks for letting us know

Best WP8 app just got better.

hmmm, today the existing wpcentral would crash on me after about 5 seconds.

I just downloaded this update and the app crashes right away it wont open.

IM on 620 in the u.s. did a reinstall and still doesn't work.



ya, can't get it to work, anybody else having crash issues?

Paid version crashes, free don't. Tried several times.

The live tile does not flip, don't know what I did wrong, but as far as I am concerned it is enabled in the settings, etc. WP 7.8

The same with my Lumia 820.

Uninstall reboot reinstall

Still doesn't work. I had no issues with the app prior to this, until this morning. Nothing changed on my phone.

Now it wont work at all, just crashes at the load screen. Odd, this sucks.

Read the article, you may have the speech issue i mentioned ;)

doing now, hope it works.

dammit, it forced me to go through the cogs of death to install. wtf. this thing better not brick.

Yeah I hate when I have to go to the update screen since Nokia doesn't provide international warranty is always thrilling because if it bricks then I'll have to reflash it :(

that is what i am afraid of, i dont want to go through flashing.

ok that fixed it. whew. thanks!

I'm having the same issue. Didn't have it before today. I have updated and still have the issue. My phone language is set to English UK and I'm in the uk.

It's your speech language that needs setting, and before you think it's definitely set you should check because I have seen some devices have their speech language set without the pack actually being downloaded

I'm positive that the speech language is set to English UK and the language pack is downloaded. Any other suggestions?

Hmm, send me a screenshot of your installed speech languages if you can. Otherwise uninstall and then redownload the app

I've emailed the screenshots to the app feedback ok? If you want to see first hand evidence then email me and I'll send you my skype address.

thank you it worked like magic, I have Lumia920 the speech was set on english UK

I'm already buy this app , today I'm upade and run it but close quickly , uninstall and reinstall and force close again , uninstall and installed from marketplace and I choose try over buy and it's work but after buy won't work

Change spech to US and that's OK

Happened to me before update too and it would just go back to standby. Kept happening whilst Nokia live link was on air. Maybe WP Central got bogged down

Mine crashes right at the logo screen.

I can see the app but can't download it... Only WP8 bug ?
EDIT : That's ok for me !

Yay 7.8 live tile is alive again!

what is the UNIFICATION NOTIFICATION for?

there is an app called unification, its a notifications hub for 3rd party apps.

Unification works perfectly for apps that support it. If your apps don't support it, its a shame, as its AWESOME. So glad WPCentral app has it now!

Anyone else having issues connecting Unification in the new app? Other ones work fine, but WP Central just kicks me back to the settings page after logging in.

This app is the only app I have we unification support, and it doesn't work. Both apps authorised against my account and nothing happening.

woohoo. yo, next release yall should make it so metrotube opens instead of standard yt app for videos! they just announced it can be done..

That is already in progress ;)

This is an epic feature!!!

Use this app every day. Thanks for the update :)

Did anybody notice the brief post about the instagram twitter sight for WP? i thought i had saw it on the wpcentral app before it crashed and now its gone.

hmmm, assuming its a fake thats why the article was pulled?

Noticed that as well weird. Maybe it was so fake it was not worth reporting?

Nice Spot. The article title was: "New Instagram Twitter account appears, what could it mean?". Sounds like teasing to me, maybe they jumped the gun a little too early? And so had to pull it back. Here's hoping anyway. Or else it's fake :(

Yes to get it pulled that quickly, im thinking it was minutes seem odd. You can take it two ways though.

It was such a fake, no point of keeping it up causing another bitch storm on the comments section.

Or its legit and it wasn't supposed to be announced yet or supposed to be secret.

All i know is, wpcentral have posted about many things that turned up to be hoaxes and left up the story, odd they would just pull this one that quickly for this situation. We all know instagram is a touchy subject however.

It's a fake guys, nothing to see here I promise

Now nokia us is also following it. Hard to ignore fact

I want to know if anyone actually managed to read it. When I tried it said access denied.

Hey!!!!! Ok I didn't dream about that. I saw the little pic and title on my Wpcentral live tile but when I opened the app the article was not there.....

Updated! I've been waiting for this! :)

Amazing app and well worth the money. Gonna a wait until the app update pops up on my store tile though. Wanna see if the update function works.

Updated, thanks for letting us know!

It's a great app. My only complaint is I was hoping for a fix to the way forums work. In a previous version, If I was in the Windows RT forum, and hit the back key to go to the list of forum tiles, it would take me back to the tiles with the forum I was just in on that screen. Now (and in the prior version this one just updated) it takes me all the way back to the first forum tiles. Then, I have to scroll all the way back to where I was. This is a problem when you want to go from the Windows RT forum to the Windows Surface Pro forum. If you were just in the RT forum, you have to scroll all the way from the first forum in the list to the Pro forum. Since it's right next to the RT forum in the list, it would be better to just go back to the forum list with the forum you were just in on the screen.

Hope you can fix this in an upcoming version.



I'll add that to the list, in the meantime try tapping the forum title on that screen, you can jump straight to the forum rather than swiping :)

That works great! Thanks for the tip!!!!

FAST!! It was never slow, but holy smokes its butter now.

its more fluid now than ever on my wp7.8. can opening app from link be done for wp7.8 as well?

Unfortunately not as it's a wp8 sdk feature :(

Loving the Unification support! So nice to see a clean history of everything and search via Unification for the exact articles I want! Awesome job guys!

Is it working for you, mine doesn't appear to be working yet. Do I need to do anything? It is working with giffgaff.

Ignore, seems to need toasts enabled

Is there any way to sign in to the app when the only way I'm signed up to the site is with my Microsoft Account?

Not at the moment but it's on the bucket list, for now you need to use the site to create a mobile nations password for your Microsoft account

Still cannot 'Like' comments in the forums using the app - you have to use the browser; I wanted to purchase the app, but it seems that I can accomplish everything thing I need via Internet Explorer on my device. Will definitely purchase once that functionality is incorporated into the app.

Sheesh, so it isn't worth 99c without a like button!?!?

Give yourself a pat on the back

It's the second App that supposedly supports Unification...but it doesn't work (the other one is Social Reads). So far I haven't found any use for Unification.

You need toasts enabled and for a toast notification to come through before anything will appear in unification :)

Ah, toasts, that is the answer thanks :-)

This app is not available for your phone...

Not available for 7.8 version?

Havn't you read the article? It clearly says fixed problem with WP7.8 live tiles

Having some problems with the new version, when loading older articles app just freezed. Restarted reinstalled no luck..sometimes clicking on a article opened the wrong one.WP7.8 L710

I have that problem that it just closes after you open it.

OK, now I have checked that speech settings and now it's all working ok.

Still the same only app as before. I dont see any new additions.

Best 99 cent i ever spent, nice to be first in the loop about news and updates! Cheers from ireland !! L920...

Cannot pin the Custom Wide Tile on Samsung Omnia W (WP7.8), although iconic tile works ok in the wide mode. As nobody has compained yet, I think I'm doing something wrong. Pls help.

Same here, can't get double wide tile on my l900 7.8. And is the live tile now no longer suppose to have a brief description, just picture?

Yes. When I configure custom tile and pin WPCentral to start, I get only small & medium tile options. But if I configure iconic tile, then double wide tile is available.

Ok. Just saw the message in custom tile settings that double wide tile is not supported for WP7 devices... :/

As Jay stated, the only way to have a doublewide tile on 7.8 is with the Iconic tile. He dropped support for the double flip tile.
You're not doing anything wrong. It's by design, :)

Is just me or is the iconic tile missing a backside?

The iconic tile is not supposed to have a backside. It's like the messaging tile. It doesn't have a backside because all of the info is shown at once. :P

Using it now. But on the HD 7, which means WP 7.5 mango. Can't get all the goodies.

Wow! You can now pull down the system icons in the app. I'm pretty sure that's new. Overall it's a great update. Congrats to Jay! YOU SIR IMPRESS ME.

Nice. Now about that surface/win 8 version?

Live tile on lumia 900 wp7.8 not working. I set it up and it goes back to a static tile each time.

Have you tried in the Settings menu of the app to set the iconic tile? That's the one that has double wide option on 7.8 and it's live but static.
That's not to say you can't use the flip tile if you want. That's also live. If not, I would suggest you reinstall the app.

Thanks guys,I would love this app on my Surface. Are we going to see that anytime soon?

Great, but still, the comments are in the wrong order. Other way round would definitely be better.

The update downloads but won't install, gives an error and says to try later. Not sure if that is an issue with speech but I definitely have both US and UK installed.

When in tile setup, the finish button is not the complete width of the screen. Just like the other buttons.

Just upgraded to V4 on my Lumia 620, and the advert bar has appeared.. EDIT: just uninstalled and reinstalled and now crashes just after launch screen

You have the language issue from the article, read that for how to fix it :)

a windows phone app that doesn't follow the Windows Phone guidelines, why is the setting and refresh button not placed in the bottom bar, feels inconsistent and android-ish,
other than that I don't have any complain, I like it.

Thanks Jay....great job, and I appreciate it

Still having live tile issues with 7.8 8862 even though this update was supposed to fix them. Sent an email with my feedback.

Have you tried to use the iconic tile?

Yaay! Fixed the crashing by updating the speech language...

OK, the App crashed at startup.
Reinstalled the speech language as suggested in the article.
The phone rebooted, and now I am stuck at the turning cog wheels!
BRICKED!!!
EDIT:
It stayed on the cog wheels for approx 5 min. Then it rebooted and started to recover my data ... in 4 passes ... Took 10-15 min.
I was just able to start the App....
And it looks like I am back in business
(Sorry for the false alarm)

How long has it been installing the language pack for? It absolutely should not brick and I've never heard of anyone being bricked from a language pack install

Glad to hear everything is sorted for you now :)

Thx guys reinstall fixed everything

Is lock screen support coming in a future update?

It's doing a number on my battery.

GUYS!!!!! Instagram for WP is real look : https://twitter.com/InstagramWP/following. That is too much evidence to say otherwise...

I may have been charged again for downloading 4.0. I had to uninstall 3.0 because the update was rolling back.

Flip wide tile worked just fine before on WP7. Why eliminate it?

You are the first person to tell me your wide flip tile worked on wp7, which is why it was removed :(

Fantastic, quick and smooth as silk

Boom! Can you tell me whats going on? I noticed a crash issue on my HTC 8S. Works fine until I scroll news down to where Rubino's post about Lumia 925 forums are. When I reach that post, WPcentral crashes.

That is completely bizarre... I'd suggest a reinstall there

Made no difference. No matter if I scroll down to that point fast or slow, crashes around same spot every time. I'll give my two cents to the very limited space on this phone. Temp file might get too big to fit in. IF there is some kind of temp for loaded news. If not, I can't provide more useful tips.

This is the best community ever!

WPCentral app is amazing. Buy this app guys.

Updating and toast message do not work on WP7.8. Tried every setting.

I had paid for this app around version 2 but now it's asking me to buy again. Did something change?

I think it's not possible to log in in the app with a Microsoft account, as in the site...when will this be possible ?

7.8 double wide tile is gone; tried repinning but no change, regular and small work however

Where is fast resume feature

Never had any bugs before this update now I do! Fails to notify live tile story count and whilst scrolling comments they sometimes disappear, for the best WP news app massive FAIL

Won't update on my 920. Fails half way through...

Just uninstalled old version because it wouldn't update went to download new version and now wants me to pay again. What's going on? AT&t Lumia 920

I'm not sure why, but I didn't receive the update. I even tried uninstalling and purchasing the app. Nothing. I hope the app is aesthetically pleasing like Wiki. Lumia 920. AT&T.

So I buy the app AND I get the pleasure of viewing ads? Rule of thumb, charge for your app OR put ads in, not both. Raise the price to cover whatever shortfall you have, but don't ask me to pay money AND watch ads. Come on guys.

If you bought the app you absolutely should not have adverts. You have either accidently downloaded the trial version or something failed when your phone tried to mark the app as a full paid one. You might need to re-download the app to see it as the full version. Believe me we would never charge for an app that wasn't fully featured, to do so is a ridiculous proposition for consumers.

Something funny happened with the store, perhaps. I had purchased this app since V2 but I was not able to complete the upgrade to V4. The bar would go halfway and then fail. I tried deleting the app to reinstall, and I get the surprise that I need to pay for it, and seeing these kind of comments, I will probably wait a bit with just the trial for now.
I love the app, congrats on the great work, and would buy it again! I just want to make sure that I can get the full version if I do.

I've had the same issue in that upgrading to version 4 errored out and I uninstalled the one I had. At first, I accidently installed the trial so I uninstalled it and tried to "buy" the v4 like you would normally do with purchased apps. Except this time I'm being asked to pay again.
Went to view my purchase history on windowsphone and I'm not seeing nearly any of the apps that I had purchased over the past several years. Nothing before 3/14/2012 and I've had my phone since 11/2011. Something obviously wrong with the app store.

Good! It works like a charm.

It may just be my L920 but since this update, the app no longer updates live tile and it seems to be happening after I setup Liquid Daffodils' Notification app. Only two updates happened in the notification app on day one and none since. Now no updates come at all on either apps. And council here?

Hey,
Got a new Lumia 620 yesterday, other one died... SAD TIMES!!!
Anyway, I've just installed the language packs and re-installed WPC app but it's doing that CRASH at start again.
I've un-installed, change language etc. but the WPC app will not load.

Any help is appreciated, thanks!

When is this update happening? Stays v4 when I load app but nothing has changed. Would really like to see this update. AT&T. Lumia 920.

Purchased! Great App! great Site! Keep up the Great work!! And Thanks :)
Windows Central Newsletter
Thank you for signing up to Windows Central. You will receive a verification email shortly.
There was a problem. Please refresh the page and try again.