The Windows 10 Fall Creators Update Fast Ring build is now stable enough to rely on
The Windows 10 Fall Creators Update is now stable enough to install on your PC or laptop.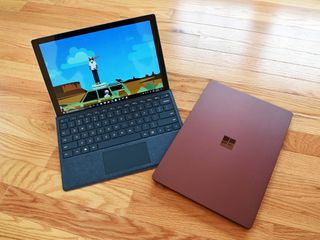 On the last few Windows Central Podcasts, I answered this frequent question from our audience: Is the Insider Fast Ring Windows 10 Fall Creators Update now stable enough to install on your main PC or laptop?
The answer to this issue has been a solid "no" ... up until now. Using the last few builds of Windows 10 Fall Creators Update in the Fast Ring, I feel the time is now if you want to get the update before it officially rolls out on October 17 to the general public.
The latest build, 16299, released on Tuesday, September 26, is turning out to be very stable, fast, and seemingly dependable.
What changed
It's no secret that Microsoft is putting the final polish on the Windows 10 Fall Creators Update (a.k.a. "Redstone 3" or RS3), but I think it's now a reality.
I have been critical of the Fall Creators Update, noting that new "killer" features are few, and even the performance was not exceptional. However, in running build 16299 on my Surface Studio, Surface Pro (2017) and Surface Laptop, I feel some of that has changed, specifically the performance part. With build 16299, the OS animations are zippier, there is less stutter with the Start menu, and I have not experienced any show-stopping bugs or even annoyances.
My litmus test for all this is simple. I have many PCs and laptops (including a few Surface Laptops), and the one I grab when I travel is my metric. Starting last week, I've been exclusively using my Surface Laptop and Surface Pro Core i5 with the Fast Ring release of Windows 10. When I traveled to Microsoft Ignite in Orlando, Fla., earlier this week, my only PC was running build 16926. That was the first time I relied on a Fast Ring build for RS3, and it was because I preferred it over the current production build.
Granted, I still find new killer features lacking with the Fall Creators Update, but I'm coming around to the new Action Center layout, Fluent Design changes, emoji search, and more. You can read about all the changes in our Fall Creators Update guide.
If you don't know how to enroll into the Slow or Fast Rings, you can read our quick guide on getting started with the Windows Insider Program.
The important takeaway is that Windows performance, stability, and reliability are now on par with the current production release (build 15063.608).
Your experience may vary ...
Perhaps the hardest part of adequately answering the question of whether the current Fast Ring build is stable enough for your computer is the sheer variety of PCs on the market. I tend to use the latest and greatest laptops and PCs, but your particular hardware may get different "mileage."
In that sense, I am not guaranteeing that build 16299 is perfect or you won't have issues. Instead, I am stating that I plan to push the rest of my laptops and PCs here onto the Fast Ring because of my confidence. Microsoft is expected to push out a few more releases before October 17, so there is likely even more polish (and fixes) coming between now and then. As always, use the Feedback Hub to submit any bugs you may experience.
Don't forget to opt-out after October 17
If you decide to enroll in the Windows Insider Program Fast Ring, you might as well have Cortana set a reminder so that you remember to opt out once the Fall Creators Update begins for everyone.
We recently wrote a guide on how to unenroll in the Insider program, as well as a list of reasons why.
Windows Central Newsletter
Get the best of Windows Central in in your inbox, every day!
Daniel Rubino is the Editor-in-chief of Windows Central, head reviewer, podcast co-host, and analyst. He has been covering Microsoft since 2007 when this site was called WMExperts (and later Windows Phone Central). His interests include Windows, laptops, next-gen computing, and for some reason, watches. Before all this tech stuff, he worked on a Ph.D. in linguistics, watched people sleep (for medical purposes!), and ran the projectors at movie theaters because it was fun.
I like the bookmark improvements in Microsoft Edge, specifcally the ability to right click on bookmarks to perform various functions. Edge is becoming my go-to browser, especially on tablet devices.

Swiched 3 devices to the latest fast ring yesterday. Definitely not a good experience on 2-7 year old devices for me. Dell Venue 11 pro lost speakers and MIC. No apparent fix that I can find so far. Switching from desktop mode to tablet mode while in portrait causes the home screen to go totally wonky. All-apps scroll menu is always wonky no matter what is done, third party on-screen track pad is now unusable, etc, etc. Dell venue 8 pro is similar. Older Sony VAIO is having OneDrive and trackpad issues along with lagging and a cooling fan that now runs at full speed all the time. Have wasted about 10 hours troubleshooting these issues but have not yet been able to fix any of them. BTW, I posted as a reply because adding a new post wasn't showing up on the browser.

Some of my machines just started getting the "Creators Update" (1703), updated two with both being a disaster. First desktop ended up not booting because it couldn't find my primary HDD (SSD), after much ado was able to roll back to previous version, haven't attempted again on this PC. Second time was a laptop, during install just halted at a black screen and wouldn't recover no how. Was able to get into repair menu with a complete refresh being the only option that worked, it's now running 1703. As you can see 2-for-2 against and we still have 5 more PCs to go, definitely doesn't entice me to attempt round two.

3 of 4 regularly used PC in my house are now on 1703 - for about a month on average. While I like trying the betas - in a virtual PC, I now wait several months if I can for the spring fall bugathon releases in the not so sure or certain hope that the worst of the bugs has been fixed.

may want to update your driver the dell venue 11 pro got new bios update on March 2, 2017, for 8.1 and 10

I have the same issue with my Dell Venue 11 Pro losing speakers and jack after each new build. It seems that during the upgrade Microsoft is picking a new driver, which just doesn't work. What you can do to fix it, is to grab the latest Atom Z3900 driver pack from Dell and installing that. At least, this has worked for me so far. I hope it helps you too.

If one were to upgrade to 16299 in the Fast Ring now coming from 15063, what would happen to the latest app versions? Would you lose those and downgrade to the ones that have been in the Fast Ring or would you keep them?

I think they may get downgraded, not really sure. I have some new apps on Fast Ring on one device, at least. There will be more info about A/B testing of inbox apps from the Insider team though in the coming weeks, good stuff.

Well, I don't want to downgrade my apps so I guess I will wait until the FCU makes it to Release Preview. It's not far off anyway. Thank you for the information! :)

Any idea how to make 16299 install on my second computer? It only offers 16251 slow or 16278 fast. :( On my first computer, it installed 16299 without issue with the same Microsoft Account. (I want the Cortana Integration on my Android phone to be at least as capable as it is on my 950 but, I cannot do that without the 16299 build, at least.)

Does it have a watermark...

Which is interesting because a previous build did not have the watermark

If you don't opt out of the fast ring, you will be getting the RS4 insider preview builds after October 17.

Files-on-demand is a big killer feature to me on the consumer/user side, unfortunately it still isn't stable enough for me, but perhaps that's because I'm on Skip Ahead. For enterprises, some of the security advancements are pretty good. Other than that I agree, much of the stuff is incremental, not fully fleshed out (such as Fluent Design) or not there (as in timeline). We're still waiting for: Full implementation of Fluent Design Full implementation of Project Rome (for timeline and other cross device experiences) Home hub and home automation in general Andromeda and C-Shell Further maturation of UWP to enable much richer apps including support for PWA) Whiteboard app, Groove Music Maker, Movie Maker (OK, they never said anything about such an app, but I want it, Photos Remix is not enough yet) Better support for Thunderbolt 3 that they have been said to be working on with Intel (can't remember where I read it and I'm too lazy to find out) Kill control panel! (I mean, seriously, it's been dragging out since Windows 8) UWP file explorer... well, UWP everything, even Notepad. Finalize support for Linux on Windows, or as I like to call it: Windows is Microsoft's Linux distribution In addition to the above mentioned things, I am wonderuwhen they will simply not release 32-bit versions of Windows anymore. In fact I'd like to see a pure 64-bit Windows S-like SKU - much like Windows Mobile - stripped of all WIN32 support, with an ultra lightweight kernel, only optimized for modern hardware, none of the legacy stuff, not even Core 2 Duo, must be newer than that. Pure UWP. I am curious to see how that would run on a PC. It might be a total failure, but I'd like to see it anyway.

Anyone else having VPN Internet pass through issues??? I've been having them for a while now. Have to copy from server when connected to VPN to my local drive, Then I have to toggle off VPN to use internet and work (since it is highly research based).

I am not as excited for it as I was for the Creator's update released in spring of this year. As you know, it has been slow arriving to Windows devices. Let's hope the Fall Creator's Update is faster coming to devices then the spring one was.

Somewhere in there, you made mention of a build "169xx" that gave me a scare, cos the Slow Ring update I did yesterday gave me a "16296" which scared me, now I know that was a negative, Pheww!

Thanks for the heads up. Though, to be honest... I've waited this long, 20 extra days won't kill me.

after timeline becomes available the most searched item will be ...............HOW TO DISABLE TIMELINE . We all know why 😉

I also like Edge very much, just for me it has a problem remembering open tabs. Several times per week I lose the open tabs from previous session :( Very unpleasant. I wonder if it can be related to my vpn, some places I connect and some not. Anyway, if this problem did not exists it would be my daily browser.

Does the latest build have the story remix feature? I'm on insider build and over last two weeks I've noticed 2 curious changes. in the photos app...
1. I had the story remix feature once and then after an update it was gone. Now i have the old photos app even when the desktop has written on bottom right corner "evaluation copy".
2. The photos app, again, had a new tab called "bing". It was, i understood, a photo search page by Bing, like the Google image search, but reverse. You upload a picture and Bing gave you more such images. IN THE PHOTOS APP.

I'm kind of expecting the RTM build today, in order for it to be Version 1709 it needs to be compiled by the end of this month...

This would be great except for one thing, my second computer will only update to 16251 on the slow ring or 16278 on the fast ring. My other computer went right to the 16299 on the slow ring though. (I want the Cortana integration with my Android phone.)

I still am not going to install a build on my primary computer which has an expiration date. That means that there are builds still to come. And remember that preview builds are not supported by MSFT so why run a build on a production device which is not supported? An issue can arise that is unrelated to a preview build but I still couldn't get help from the Answer Desk. I just think that is bad practice.

I don't use preview builds on my pc either, I run Fast ring on Hyper-V and release preview on my main pc

While I'm not an insider can I make one plea please. I'm a graphics designer and I really hated that the Paint3D app took over my system as the default image viewer. I rely on many of the tools from Irfanview for quickie fixes and every time I would set it back as my default viewer the system would have a hiccup and reset it and Paint3D was back as the default. This was a huge issue with my default PDF viewer, Foxit. Kept being reset back to Edge browser. Look, I get that MS wants it's software to be the leader in all things MS but as a person involded with computers for 20 years I have my favs too and since it's my system I think my favs should trump the MS favs. So please let us end users decide for ourselves what we want as our go-to apps of choics without having the dreaded fly out telling us that things have been reset to "default" again. It took me scouring the web to find a fix for getting Paint3D uninstalled and I don't relish having to go through that crap again. THANKS

I installed the update on a three year old HP Envy Phoenix desktop and it gave me some issues, including, write protecting *all storage* including USB flash drives and even the internal hard drive. I searched for a solution, but no amount of cmd line workarounds fixed it. Apparently the latest update breaks the storage settings on some PCs. Had to roll back to the previous W10 version.

I'm not gonna grab it early for one simple reason. There's no hardware available yet in the UK to support Mixed Reality, which is the feature I'm most excited for in Fall Creators Update.

Perhaps the hardest part of adequately answering the question of whether the current Fast Ring build is stable enough for your computer is the sheer variety of PCs on the market. I tend to use the latest and greatest laptops and PCs, but your particular hardware may get different "mileage." Your statement above, as I understand, the upcoming builds and the release of Fall Creators Update on 17October, won't work well in old pcs or laptops? Don't tell me that in order to benefit for the good features of Windows 10, we should have the new generation compuers and/or laptops with the new generation processor(?) e.g. i3, i5? sorry I am not "that" techie... I am just an ordinary retired employee who's enjoying the use of a laptop for emails and/or social media, eg Facebook, Twitter <sometimes> Messenger, Skype... But I love Windows 10, since it was introduced I am one of those who immediately upgraded from 8.1 to 10... and mind you... i have only one laptop and it crashed already three times because of this W10 builds i do not mind taking the risk... I learn from the experience. Bringing my laptop to the service to fix and reinstall or factory reset cost me a lot considering that i am a retired employee and no extra income. Good for you.. you have several top of the liine laptos/computers and enjoying using them all. My question is still should we buy new generation laptops to fully appreciate Windows 10?
Windows Central Newsletter
Thank you for signing up to Windows Central. You will receive a verification email shortly.
There was a problem. Please refresh the page and try again.