Why Insiders should opt-out of the program when Windows 10 Fall Creators Update launches
If you're an Insider, you should consider leaving the program after the Windows 10 Fall Creators Update releases — here's why and how to do it.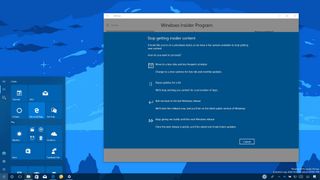 After a short few months of development, Microsoft is now ready to unleash the Windows 10 Fall Creators Update on the world — and that also means that it's time for Windows Insider Program members to consider opting out.
If you're presently enrolled, then you know what it's like to get developer preview builds of Windows 10 to test upcoming features and changes. While the most recent preview releases have been great, with the Fall Creators Update out of the way Microsoft is now moving on to the next version of Windows 10, which will result in buggy, incomplete, unstable early releases for willing Insiders.
If that's not something you want, you can gracefully opt-out of the Insider Program without having to reinstall Windows 10 like you did on enrollment. This is thanks to the confluence of version numbers — the preview releases and the public release are all the exact same version of Windows 10.
In this Windows 10 guide, we'll walk you through the steps to safely opt-out of the Windows Insider Program without having to erase your files, settings, and apps -- even if you install a new build after the Fall Creators Update releases.
How to gracefully opt-out of the Windows Insider Program
You can follow these easy steps to leave the program:
Open Settings.
Click on Update & Security.
Click on Windows Insider Program.
Click the Stop Insider Preview builds option.
Select the Keep giving me builds until the next Windows release option.
Click the Confirm button.
Click the Restart Now button.
Once you've completed the steps, your computer will continue to receive previews but only until the Windows 10 Fall Creators Update is finalized. After the new version is available to everyone, it will continue to receive security and maintenance patches.
Just remember not to take too long to opt-out, as the program doesn't conclude because of a new release. If you keep your device enrolled, it'll continue to receive previews for the next version as soon as they're available, and you won't be able to use these steps to stay in the version 1709.
How to opt-out even after installing a new preview for different version
If you didn't leave the Windows Insider Program on time, it's still possible to go back without losing your files and system configuration.
However, it can only be done during the first ten days since the first new build was installed on your device. Otherwise, Windows 10 will automatically delete the Windows.old folder that contains a copy of your previous installation to free up storage space, and doing so, it'll also remove the option to roll back.
You can follow these steps to go back to the previous version and gracefully opt-out of the Windows Insider Program:
Open Settings.
Click on Update & security.
Click on Recovery.
Under "Go back to the previous version of Windows 10," click the Get started button.
Select a reason you're removing the current build and click Next.
Click the No, thanks button.
Click the Next button.
Click the Next button again.
Click the Go back to earlier build button.
Open Settings.
Click on Update & security.
Click the Stop Insider Preview Builds button.
Select the Keep giving me builds until the next Windows release option.
Click the Confirm button.
Click the Restart Now button.
After completing the steps, your computer will no longer receive Insider builds after the Windows 10 Fall Creators Update releases, and you can keep your installation without having to reinstall anything.
If the option to go back to the previous version isn't available, the only way to go back and unenroll is performing a clean install of Windows 10 with the Creators Update.
Of course, when you're ready, you can always enroll your device again in the program to help Microsoft shape the future of Windows.
Are you staying enrolled or you're planning to enjoy the new update for a while? Tell us in the comments.
More Windows 10 resources
For more helpful articles, coverage, and answers to common questions about Windows 10, visit the following resources:
Windows 10 help, tips, and tricks
Windows Central Newsletter
Get the best of Windows Central in in your inbox, every day!
Mauro Huculak is technical writer for WindowsCentral.com. His primary focus is to write comprehensive how-tos to help users get the most out of Windows 10 and its many related technologies. He has an IT background with professional certifications from Microsoft, Cisco, and CompTIA, and he's a recognized member of the Microsoft MVP community.
Main PC is Insider release preview so I get early app updates, I run Fast ring on Hyper-V so I can carry on testing new builds

Thanks for this! I was actually just wondering if it was like the phone and I had to wait till the build numbers matched before opting out.

Have been out of insiders on our Surface Pro's and mobiles for some time now, I was down to release preview on my desktop that got retired a couple of weeks ago, but I suppose it would be an idea to plug it back in, take option one restart then turn off, wait till after the big update is released, switch it back on, update it then put it into a cupboard or something (Just incase). Good reminder

Same recommendation for W10M? or not much changing there anyway to warrant stopping? I'd think a bunch of us Fitbit users got on the Preview wagon just to get notifications on our bands...

I'm opting out too. Just too many bugs in the last few preview releases to be able to enjoy the early view of features and still keep being productive.

Done and done! Thanks for the heads up, been wanting to get out of the insider program without a wipe for a while... The "stable" build of Windows 10 is unstable enough for me!

why not move to release ring or slow ring

Already on RS4, so no thank you. 😁

I think the time is right to upgrade and leave insiders on my desktop. But I'm doing it dial boot with Windows 7, I still don't trust Windows 10 with driver issues. Reason to upgrade is that windows 10 fall creators update system is m more stable and install better system for and finish on the desktop side, new Edge features and improved Edge performance and improved Windows Update with smaller and more efficient update packages. For two of my surface devices. One is still on Windows 8, the other on Windows 10 insiders. Windows 10 still hasn't reached an basic adequate tablet experience. There are still many u finished features and experiences. Such as lack of multiple live tile editing (supported in Windows 8!!!), More control over more refined live tile personalization, lack of support for pinning all file types as a live tile, the fact snapped apps in tablet mode can not rotate between landscape and portrait orientation and the user can not snap apps one above the other in portrait orientation (similar to multitasking on android on a note 8), and other minor UI control such as hiding the start menu side bar, swipe gesture for calling the app list, a time and date clock in action center, and ovetall smoother animations of app switching, similar to desktop mode, and possibly optionally horizontal scrolling of the live tile dashboard (similar to Windows 8), and wishfully the long awaited interactive live tiles, and inline ink to text conversion as a function of Windows ink.

Looks like a lot of folks in the comments are running Insider builds on their primary PC, which Microsoft recommends against. I'll stay on the Slow Ring; as it's my way of being able to provide input to and participate in the Windows development process. Also, I have some edge use cases that Microsoft is unlikely to test for sufficiently themselves.

Been wanting to take my Lumia 950 out for a while because I don't like signing up for the full suite of diagnostic monitoring nonsense MS requires to participate. However, it seems unwilling to let me opt-out without signing up for that same stuff I'm trying to avoid signing up for in the first place. As such, I get occasional alerts about needing to update my account to accept the terms, and I sit in what appears to be severe update limbo (not that it matters when mobile's getting no real attention in recent years).

I suppose it depends on why you became an Insider in the first place. I had been running Previews on two of our four PC's at home and switched to skip-ahead as soon as I was able. I do wait a day or so to see if there are any problematic issues now that we are back to"early" builds. I like to feel like a part of making Windows better and don't want to miss out on trying something new. I guess I have learned to like the Kool-Aid.

I opted out from Insiders last time around. The update rendered my Lenovo Yoga 2 in 1 useless. Even to this day, the windoze store doesn't work at all, and no amount of trying has fixed it. W10 is an appalling mess at present. Linux runs better on this machine than windoze....and no adware.

Build 16296 seems to have removed the "Windows Insider Program" link! Now, how do I get out of the Insider program?
Windows Central Newsletter
Thank you for signing up to Windows Central. You will receive a verification email shortly.
There was a problem. Please refresh the page and try again.