NVIDIA GeForce MX150 graphics card: Everything you need to know
The NVIDIA MX150 packs a considerable punch. But what can it actually be used for?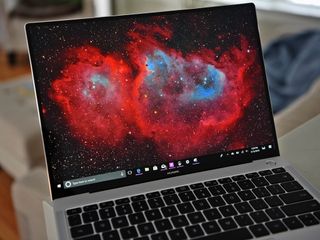 NVIDIA's lineup of discrete graphics chips (GPU) for notebooks hasn't gone stale, with the GeForce MX150 effectively replacing the aging GeForce 940MX. It was announced about a year ago, but it's starting to show up in more and more high-profile laptops, like Samsung's 15-inch Notebook 9 (opens in new tab), Huawei's MateBook X Pro, and the ASUS ZenBook (opens in new tab). The MX150 also promises considerably increased performance over integrated processor (CPU) graphics, but what can it actually be used for? Let's take a look.
See our laptop buyer's guide
What does the NVIDIA MX150 replace?
The NVIDIA GeForce MX150 with 2GB of GDDR5 VRAM is primarily intended to replace the GeForce 940MX, which can still be commonly found in many laptops. In general, the new discrete GPU is about 25 percent more powerful than the older model. The MX150's Pascal architecture allows (in many cases) for a lower or similar thermal design point (TDP) without sacrificing any of the 384 CUDA cores, and it also has support for newer APIs.
This is essentially the mobile version of NVIDIA's GT 1030 desktop GPU (opens in new tab), an enticing low-cost product intended to add a bit of graphics acceleration to your home PC.
Is the NVIDIA MX150 meant for gaming?
Make no mistake, the MX150 is not intended as a high-end gaming chip, though it can certainly provide an enjoyable experience. A lot of well-optimized, popular games should be more than playable (as long as the rest of your hardware can keep up) at 1080p, but don't expect to hit 144 frames-per-second (FPS) in PlayerUnknown's Battlegrounds with ultra settings. For an idea of how well an MX150 performs with some of the most popular games today, check out this video from YouTube user yasin erkan:
In most cases, 30FPS can be averaged as long as you don't mind tweaking in-game settings to sacrifice a bit of detail. For a low-cost option, I'd say this is certainly acceptable performance.
NVIDIA didn't just market the MX150 for play; you're going to get the same performance boost for video and photo editing apps, making it a suitable piece of hardware for anyone who often needs to make some quick edits when they're on the go. If you are looking for a great GPU for gaming, be sure to check out our collection of the best graphics cards.
How does the NVIDIA MX150 compare to other hardware?
Benchmark testing reveals the promised performance boost over the 940MX. With the 15-inch HP Spectre x360 using a 940MX, a Geekbench CUDA test brought back a score of 28,868. In comparison, the new Samsung Notebook 9 with MX150 brought back a score of 48,536.
Testing with Geekbench OpenCL, the 940MX in Lenovo's IdeaPad 320S got a score of 30,539, while the MX150 in Acer's Aspire 5 got a score of 45,812.
While it's certainly a step up against the previous mobile GPU, the MX150 begins to pale even against the full-sized but low-end GTX 1050. You can expect a Geekbench CUDA score somewhere around 80,000 for a GTX 1050, which is almost double the score of the MX150.
Buying an NVIDIA MX150
Unfortunately, not all MX150 GPUs are the same, and NVIDIA hasn't really been clear on a designation. Reported by Notebookcheck, MX150s come in 25W and 10W variants, each with a considerable difference in performance.
To save room, some slim Ultrabooks are receiving the 10W chip that has "1D12" in the device ID. This chip has, in some cases, up to 25 percent less performance than the standard 25W chip, which has "1D10" in the device ID.
Our own testing of the Huawei MateBook X Pro (using the 10W chip) and the Samsung Notebook 9 (using the 25W chip) shows a big difference in performance. The former received a Geekbench CUDA score of 41,593 compared to the latter's score of 48,536.
The bottom line here is that if you're in the market for a laptop with an MX150 inside and want the best performance possible, do some research to ensure you're getting the 25W version.
As for comparing notebooks with full-sized GPUs, it really comes down to price. If you can find a laptop with a GTX 1050 inside for a similar price as one with an MX150, know that you'll be getting considerably more performance from the former device. The performance gap with 10-series GPUs only increases from there.
If you're an AMD fan, you can likely find a laptop with a comparable Radeon RX 540 for a bit cheaper depending on the CPU and other hardware inside. The RX 540 is a real performer in the right circumstances, though it's commonly paired with an ancient CPU that can't stand up to an MX150 and eighth-gen Intel Core CPU combo. Best thing to do is read plenty of reviews before making a final decision.
More resources
Check out these other links for more information about GPUs!
Senior Editor, Laptop Reviews
Cale Hunt is a Senior Editor at Windows Central. He focuses mainly on laptop reviews, news, and accessory coverage. He's been reviewing laptops and accessories full time since 2016, with hundreds of reviews published for Windows Central. He is an avid PC gamer and multi-platform user, and spends most of his time either tinkering with or writing about tech.
Good stuff Cale! I'm looking forward to the day when we can atleast get gtx 1060/rx580 8gig performance in a laptop the size of a spectre/xps. I'm a designer and videographer. In no world do it ant to carry around an ugly gaming laptop, I was a premium looking laptop that compact that can handle 1060/rx580 8gig type of performance at the least. I can have an ugly maxed out desktop at home haha.

What's the max resolution that is supported by this graphics card?

What's that beautiful red wallpaper on first image? Where can I download it?

I'm not sure nebula this is but it may be the flaming star nebula.

I'm not sure which exact nebula this is but it may be the flaming star nebula.
Windows Central Newsletter
Thank you for signing up to Windows Central. You will receive a verification email shortly.
There was a problem. Please refresh the page and try again.