NZXT HUE 2 Ambient review: Add some smart color to your monitor setup
By Rich Edmonds last updated
NZXT's Ambient Lighting Kit is a handy package for adding some glow to your computing.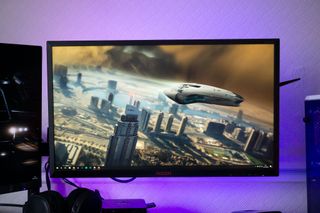 Ambient lighting is becoming more of a thing in the PC industry. You can find it on some high-end monitors, and companies like NZXT are now capitalizing on this trend with the new Ambient Lighting Kit. The aim is to better immerse you in games or create ideal moods for productivity and media consumption. Does it work and is this kit worth the rather steep price?
$110 at AmazonBottom line: While not perfect, NZXT has created one of the best lighting kits for adding ambiance to your PC setup.
For
Cool lighting effects
Eight RGB strips included
Improved adhesive
Supports different display sizes
Updated April 11, 2019 I've updated this review to reflect the revamped model released by NZXT. This "version 2" comes rocking 90-degree caps to make corners easier to manage and the adhesive on the rear of the strips is much more sticky. You'll find yourself pressing the strips against your monitor less often, if at all.
What you'll love about the NZXT HUE 2 Ambient
NZXT is going all out with its RGB lighting collection. You can not only kit out the inside of your favorite PC case to have it light up like a rave, but also your monitors too. What makes the Ambient lighting kit rather special is the ability to create quite the ambiance by reproducing colors currently shown on-screen, be it from the desktop or certain games.
The kit supports monitors up to 35 inches. There are two versions of the HUE 2 Ambient kit, depending on the size of your monitors:
21-25, 34-35 (UW) inches: 2x 300mm, 4x 250mm, 2x 200mm.
26-32 inches: 4x 300mm, 4x 250mm.
The strips need to be attached to the rear of a monitor, alongside the controller module, which allows for up to two channels to be used. You can daisy chain numerous strips on each channel, depending on which is easier for cable management, and NZXT thinks of this with the inclusion of cable clips.
Image 1 of 4
Image 2 of 4
Image 3 of 4
Image 4 of 4
There are two channels on the module unit, and you need to have at least three strips connected to either (or both) to activate the ambient feature — all other effects work with any number of strips. The module itself can be attached to a monitor via magnets or included sticky velcro strips.
Once you've hooked up all the strips and the module, connected it to a power outlet and your PC via USB, CAM should then detect the ambient kit and allow you to configure everything. Using the ambient kit with other NZXT HUE products makes for quite the light show.
While the lighting effects you can set up for the ambient strips are pretty to look it, it's the smart ambient lighting effect that really brings your monitor to life. Matching what's displayed on-screen, you'll see colors replicated beyond the display. It looks awesome and is great in supported games.
What you'll loathe about the lighting effects
The strips supplied with either version of the HUE 2 Ambient kit are attached to the rear of your display with adhesive or magnets. The latter is brilliant for those monitors with some metal in the design, but those are few and far between as the majority of displays are plastic and as such you'll rely on adhesive. This means you'll likely need to apply your own adhesive should you wish to move the strips after installation.
There are still issues with the CAM software, which you're required to use. It's just not a great user experience, something with NZXT is currently aware of. The company has put together a task force to tackle all the complaints and bugs that riddle the software so this shouldn't be a drawn-out issue. There's also the limited game support.
Should you buy the NZXT HUE 2 Ambient?
Should you be a little bored with your current PC setup and want to add some color into the mix, the HUE 2 Ambient is a great way to use what's on-screen to create an ambient effect around the display. The lighting itself is fantastic, as is the overall experience when everything just works with CAM, but there are a few drawbacks like the adhesive and software when it doesn't play ball.
Starting at $110 for the kit that fits 21-26 inch monitors, it's a lot of money to put down on ambient lighting for your monitors. If you happen to have some budget from your PC build left over, it's a great option to add some light to your office or room with support for some games and what's being displayed on-screen.
Ambient display lighting
Add some color to your PC

Attach these strips to the rear of your monitor(s) to create an ambient glow behind the screens you'll be gazing at for hours at end. Not only does it look cool, but can even be synced with gameplay currently being displayed on-screen.
Rich Edmonds is a word conjurer at Windows Central, covering everything related to Windows, gaming, and hardware. He's been involved in technology for more than a decade and knows a thing or two about the magic inside a device chassis. You can follow him over on Twitter at @RichEdmonds.
I have been meaning to DIY something like this with an Arduino and led strip for over a year. Since i haven't had the time this may be a a better option. Is there a supported games list somewhere? Or could you elaborate on the limited game support please?

Go s step further... while a bit more costly, and requiring more work, this option seems to be the best idea. https://hyperion-project.org/ Ambient lighting that matches what's on screen FTW

110 usd? For lights behind your screen? Damn, capitalism is messed up. Billions still not eating properly, but I'll drop a 6 month salary for half the earth's population on lights BEHIND my screen.

And here's what a DIY 318 LED Ambilight Clone on my 77" SONY KD-77A1 looks like: https://youtu.be/uA6foAEfQdk
Soldering skills required ;)
Windows Central Newsletter
Get the best of Windows Central in in your inbox, every day!
Thank you for signing up to Windows Central. You will receive a verification email shortly.
There was a problem. Please refresh the page and try again.