The Oculus Rift S is just $299 from now until Christmas eve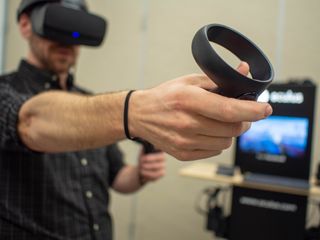 (Image credit: Windows Central)
One of the most exciting VR headsets around, the Oculus Rift S is great for pc-powered VR gaming. The only thing that could make it better is a $100 discount that runs until Christmas eve...
Would you look at that, the Oculus Rift S is in fact down to just $299 (from $399) direct from Oculus from now until December 24, 11:59 pm.
The latest Rift
Powerfully simple VR

The Oculus Rift S is the latest PC-powered headset from Oculus. With better lenses, a decrease in screen-door effect, and no external cameras or sensors to setup, the Oculus Rift S is the easiest way to dive into PC VR.
The Rift S was released in May of 2019 alongside the Oculus Quest. It's the next iteration of Oculus, a PC-powered VR experience featuring improved Fresnel lenses, higher pixel density, inside-out tracking (so no external sensors), and better comfort and weight distribution.
It also runs on the same platform as the original Oculus Rift, which means you get access to all the exclusive and high-quality VR content you could previously enjoy on the old one. The biggest improvement over the old one is the display, from our guide:
This is an absolute steal on one of the best VR headsets around, and you've got until Christmas eve to take advantage.
Windows Central Newsletter
Thank you for signing up to Windows Central. You will receive a verification email shortly.
There was a problem. Please refresh the page and try again.