Office 365 Admin gives administrators quick access to their Office 365 service status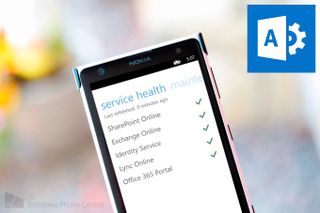 Running Office 365 as an IT administrator? Then you're definitely going to want to get the new Office 365 Admin app for Windows Phone 8. Office 365 Admin gives you power over your organizations service status while you're out and about. Let's check out what else you can do with Office 365 Admin for Windows Phone after the break.
Office 365 Admin allows administrators to view service health information and maintenance status updates via their Windows Phone device. You can also filter information by service subscription and configure the app data to refresh in intervals.
Is this an app you'll be using? Let us know!
In the meantime, it's free and available only on Windows Phone 8. Get it in the Windows Phone Store, use the QR code below, or swipe to the right in our app.
Via: WMPU
Nice looking app and nice idea!

Works great! Now I can proactively inform my customers in case of general issues. Very cool!

It would be great if they gave us a way to perform service administration like user management.

Agreed. It would be awesome to be able to reset a user's password!

Hopefully a update or another O365 admin app will be released

Definitely. It's nice to be able to quickly check the service status, but I'm left wanting a bit more. I don't need full user management but yes, simple things like resetting use passwords would be so convenient!

Doesn't look like it has a life tile though... Getting possible issues shown on the live tile would be even more awesome. User management would be great, I agree. I would at least want to be able to lock a user account on the go in case a device gets lost or stolen. But since im getting the 1520, using the portal in that case should be ok

364 is way better. If you can stay in the lines. I need help with that sometimes.

What's so good when many can't even connect to their office. http://windowsphone.uservoice.com/forums/101801-feature-suggestions/suggestions/2281269-add-eap-tls-authentication-support-for-wifi Fire the phone head.

stuck with a freaking IBM product with absolutly no mobile apps... UGGGGGGGGGGGGH!!!!!!!!!!!!!!!!!!!!

At $20 an install, Office 365 is an awesome deal. Get four friends and you're golden.

Wrong O365 you're talking about. This is for the business plans, namely plans E, M, P and K. The consumer version won't work with this app.

Will come in handy as we're migrating our school to O365 at the moment! I'll be able to keep an eye on things! It's silly, but I don't like the icon...

Downloading...will be using this big time. Hope more features come soon.

Will give it a try, thanks

Maybe someday. My business partners are Scroogle lovers. It's sad.

Not bad, just need to add some more features

Microsoft Announces Office 365 Message Encryption, Available In Q1 2014 http://blogs.office.com/b/office365tech/archive/2013/11/21/introducing-office-365-message-encryption-send-encrypted-emails-to-anyone.aspx

I have 15 customers that have used O365 since it was still BPOS. There have been 3 incidents during that time (& one had the portal offline so the app wouldn't have worked either). So, the chances that I would need Mobile access to this is very, very low. That I would need a live tile as someone suggested is a bit overkill. I would prefer a touch friendlier portal I could pull up on the Surface RT I use while onsite.
Password resets would be a nice feature add though.

MS are utter eff-wits at integration. I had to install an app on Windows phone that allowed me to accept an invite viewed on Windows phone - which was sent to me via erm...Outlook! .ics should associate automatically

Plus new Ex-hell hangs often if you have other Ex-hell workbooks open & dare to open Ex-hell attachment in erm...Outlook! Office needs a lot more work MS, plus bring back right click add category to emails. F( &k Google limitations, work around them.

Pretty nice "at a glance" indicator of our clients' Office 365 service health. Now if only a Live Tile and Delegated Admin views for each client, plus user and license management. Let us change passwords, add & remove users and licenses, assign admin rights, etc. Nice start. Will use this every day.
Windows Central Newsletter
Thank you for signing up to Windows Central. You will receive a verification email shortly.
There was a problem. Please refresh the page and try again.