Oggl and Oggl Pro updated, you can now share to Tumblr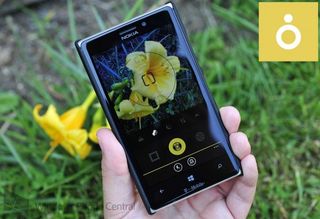 Hipstamatic has been putting out frequent updates to their Oggl and Oggl Pro applications and that's something we can get behind. The apps launched in June for Windows Phone, but was met with questionable performance and bugs. The team at Hipstamatic and Oggl haven't once rested on their laurels, with updates to both bugs and performances coming out at very frequent intervals. Today both Oggl and Oggl Pro receive updates. Let's check them out.
Last Friday was when the most recent update dropped. It mainly brought the ability to use photos from your camera roll. Here is what's new in version 1.0.11.119 for both Oggl and Oggl Pro:
Added support for sharing to Tumblr
Updated imaging processing engine for improved stability. More performance enhancements coming shortly.
Fixed bug with presets not being saves as they should.
Fixed orientation bug during post processing.
General app stability and performance improvements
Added back in support for gyroscope indicator in landscape. (Oggl Pro)
The biggest change is now the ability to share to social network Tumblr. Fans of Tumblr will be happy to post their edited images directly from within the app now. Various bugs and performance enhancements are inbound as well. For example, some users reported problems saving presets that you create using the various filters and "gears". A fix is in the latest update to address users with that problem.
What's on the horizon for Oggl and Oggl Pro? The team is promising more performance enhancements. The next update should also feature the ability to crop and zoom during post processing. Very welcomed features indeed. At the rate that Hipstamatic is updating on Windows Phone they may have a very compelling app and social network sooner than later.
Want Oggl and Oggl Pro? You're going to need a Windows Phone 8 device. Grab them in the Windows Phone Store (Oggl and Oggl Pro), use the QR codes below (Oggl Pro on the bottom), or swipe to the more section in our app.
Whoo I like the fact that they are moving at fast rate for a company this size.

A company that size should move at a fast rate. But even though i've no interest in these photo filtering apps it's good to see big companies giving so much time to WP. Makes me finally feel we are being taken seriously.

Almost everytime I update I lose my library and all the downloaded gear and it is a PITA to re-download those. I'm waiting for a restore or download all option before I do all of that again.

I'm with you there. I downloaded all of the gear when the app first came out and the first updated deleted everything and I didn't want to go through that process again.

Did they fixed that problem that was affecting pictures imported from the hub?

Can't say that I use this app on daily basis, but seems like the dev is supporting WP platform quite well, hope the app will keep getting better

Well, it loads faster and the centering problem seems fixed...except now not only you can't move around a non square imported photo but if you import a scare photo, the app sooms. Shame. But hopefully it gets fixed in the next update.

What's the difference between oggle and oggle pro ?

Oggl Pro is only for the 1020 and has some extra features.

Still no 512 mb support! They are losing a large number of WP users!

Totally.
But the pic in the article shows a Lumia 720, I guess, doesn't it?

Definitely not 720. Phone edges are different, front camera is on the other side of the earpiece.

That's a 925 with a case on it lol

What 925 cover are you using in this pic? It looks a lot like an official Nokia design from the front at least...

And my HTC 8x is not longer supported. Shame on you Htc!

I'm sorry that this question is off topic but I bought my 920 from UAE and haven't turned it on until I was in Jordan so will it follow the UAE updates or the Jordan one ?

If Nokia is like Motorola when it comes to updates schedule , the update will available in the middle east area in the same time

Fuck me. WP is definitely not short on photography apps

Fuccccc... Only for 1gig phones

an app so simple does not make sense to be available only to 1gb. Installed via proxy in lumia 520 and works very well.

That proxy thing never works for me.. Don't want those apps no more

I have done through the app, but by changing the WiFi settings tutorial

"That proxy thing never works for me..." I have Lumia 620. :/

Does it still crash everytime on the HTC 8X ?

Htc 8x owners can still update oggl via this proxy think. App works, no crashes!
Windows Central Newsletter
Get the best of Windows Central in in your inbox, every day!
Thank you for signing up to Windows Central. You will receive a verification email shortly.
There was a problem. Please refresh the page and try again.